Philippine Airlines is the national carrier of the Philippines and is based in the capital city of Manila.
Philippine Airlines global flights.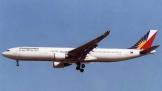 Philipine Airlines is a great global carrier which currently does not fly into Europe. It operates an extensive domestic network serving 32 destinations from hubs at Manila and Cebu. Internationally China, Indonesia, Singapore, Thailand, Taiwan, Vietnam, South Korea and Japan are served within Asia plus Canada and the United States in North America and Melbourne and Sydney in Australia.
Philippine Airlines - classy operator.
Philippine Airlines is a great airline which we would like to see come back to Europe, soon! It's a long story, but we were on one of the last flights from Manila to Europe having visited their head office in Manila to discuss how to market their services in the UK. We couldn't tell you what the service was like down the back – but up at the front and a self inflicted hang-over was quickly eradicated by the most attentive cabin staff, many glasses of water and some memorable food.
If you're looking to fly on a route served by this classy airline and the price is close to that offered by the competition we reckon that – for once – its worth paying a few dollars more to fly on a "PR" flight.
Philippine Airines operate a mixed fleet of 43 jet aircraft including Boeing 737's, Boeing 747's, Airbus 319's, 320's, 330's and 340's plus 7 Bombardier 300 and 400 turbo props.

Philippine Airlines starting Manila to Jeddah in 2016
World Class carrier, Philippine Airliines, has added two new cities to its expanding global network with the launch of new services from its home base of Manila to Kuwait City and Jeddah via Dubai  starting in January 2016.
Philippine Airlines offers unlimited domestic travel
Philippine Airlines is offering unlimited domestic travel to 20 different destinations for a set period this year.
Philippine Airlines reports increase in international passengers
Philippine Airlines has revealed that in the first quarter of 2011, it enjoyed a seven per cent year-on-year increase in the number of international passengers using its services.
Book Philippine Airlines flights to Manila for World Bazaar Festival
Holidaymakers who enjoy shopping while on their breaks may want to book Philippine Airlines flights so they can take part in the World Bazaar Festival in Manila.