AirAsia Philippines Tickets and Reservations with Alternative Airlines
Book Your AirAsia Philippines Flight Tickets and Find Some Amazing Deals
---
About AirAsia Philippines
Philippines AirAsia is a low cost airline based in metro Manila in the Philippines. AirAsia Philippines operates more than 500 weekly domestic and international flights from its hubs in Manila, Clark, Cebu and Kalibo.
Philippines AirAsia was established in 2012, when the airline received its Air Operator Certificate from the Civil Aviation Authority if the Philippines, which allows the airline permission to fly within Philippines airspace.
Top Tip: Plan on discovering the Philippines? Check out our guide to domestic flights within the Philippines for airline and airport information, along with top tips and FAQs!
About AirAsia
Philippines AirAsia is the Philippine based affiliate of AirAsia, a low-cost airline company based in Malaysia. The AirAsia Group is comprised of: AirAsia Berhad (Malaysia), AirAsia Indonesia, Thai AirAsia, Philippines AirAsia, AirAsia Japan, AirAsia X, Thai AirAsia and Indonesia AirAsia X.
Along with AirAsia Philippines, the AirAsia family also includes:
---
AirAsia Philippines Baggage
Carry-On Baggage
Each passenger is allowed one piece of cabin baggage, plus 1 laptop bag OR 1 handbag on-board. The main cabin baggage shall not exceed 56cm x 36cm x 23cm and must not weigh more than 7kg. The additional small bag must not exceed 40cm x 30cm x 10cm. All cabin bags must fit under the seat or in the overhead compartment.
Checked Baggage
Business passengers: The airline's business package, called 'Premium Up' includes 40kg of checked luggage allowance.
Economy passengers: Checked baggage is not complimentary and will need to be purchased. This can be done during the Alternative Airlines booking process, or at the airport (additional fees will apply). More information can be found on our guide to adding bags to your flight booking. Quantities of checked baggage available online include:
Domestic flights – 15kg/ 20kg/ 25kg/ 30kg/ 40kg
International flights – 20kg/ 25kg/ 30kg/ 40kg
Flights to/from the United States - 1 piece (20kg), 2 pieces (20kg each)
Checked baggage must not exceed the following dimensions: 81cm (H) x 119cm (W) x 119 cm (D). Checked luggage must not weigh more than 32kg in weight.
---
Check-In Information
Online Check-In
Passengers travelling with AirAsia Philippines can check-in online via the AirAsia web check-in page. Online check-in is available 14 days before scheduled flight departure time, and closes one day before. Online check-in can also be completed via the AirAsia mobile app.
Airport Check-In
Passengers can also check-in at their departure airport, by presenting their travel documents to one of the agents at the AirAsia check-in desk.
On all international flights, airport check-in opens three hours before and closes one hour before the scheduled departure time of the flight.
On all domestic flights, airport check-in opens two hours before scheduled flight departure time and closes one hour before departure.
---
AirAsia Philippines Destinations
Domestic Destinations
| CITY | AIRPORT | IATA |
| --- | --- | --- |
| Bacolod | Bacolod–Silay Airport | BCD |
| Cagayan De Oro | Laguindingan Airport | CGY |
| Caticlan | Godofredo P. Ramos Airport | MPH |
| Cebu | Mactan–Cebu International Airport Hub | CEB |
| Clark | Clark International Airport Main Hub | CRK |
| Davao | Francisco Bangoy International Airport Hub | DVO |
| Iloilo | Iloilo International Airport | ILO |
| Kalibo | Kalibo International Airport Hub | KLO |
| Manila | Ninoy Aquino International Airport Hub | MNL |
| Puerto Princesa | Puerto Princesa International Airport Hub | PPS |
| Tacloban | Daniel Z. Romualdez Airport | TAC |
| Tagbilaran | Bohol–Panglao International Airport | TAC |
| General Santos* | General Santos International Airport | GES |
| Zamboanga* | Zamboanga International Airport | ZAM |
*Starting march 2020
International Destinations
| COUNTRY | CITY | AIRPORT |
| --- | --- | --- |
| China | Guangzhou | Guangzhou Baiyun International Airport |
| China | Shanghai | Shanghai Pudong International Airport |
| China | Shenzhen | Shenzhen Bao'an International Airport |
| Hong Kong | Hong Kong | Hong Kong International Airport |
| Indonesia | Denpasar | Ngurah Rai International Airport |
| Japan | Osaka | Kansai International Airport |
| Macau | Macau | Macau International Airport |
| Malaysia | Kota Kinabalu | Kota Kinabalu International Airport |
| Malaysia | Kuala Lumpur | Kuala Lumpur International Airport |
| Singapore | Singapore | Singapore Changi Airport |
| South Korea | Busan | Gimhae International Airport |
| South Korea | Seoul | Incheon International Airport |
| Taiwan | Kaohsiung | Kaohsiung International Airport |
| Taiwan | Taipei | Taipei Taoyuan International Airport |
| Thailand | Bangkok | Don Mueang International Airport |
---
Economy Class
Economy Class is the basic fare on AirAsia Philippines, providing all you need to enjoy your flight, with extras being available to purchase at an additional cost.
Economy Class Facilities
Baggage is usually included on AirAsia Philippines flights, which is usually 1 cabin baggage (fees apply for hold luggage), but make sure you check your allowance on your flight itinerary or e-ticket. In-flight entertainment, food, drinks and lounge access is all available for a additional fee.
Economy Class Seats
Passengers can choose their seat when flying with AirAsia, to give them the preference of if they want an aisle seat with more leg room, or the window seat with great views and less disruption. Seat selection is available during the booking process.
---
Premium Economy Class
There is currently no premium economy class on AirAsia flights, as passengers have the choice of flying in economy or in business for a flight which is truly luxurious.
---
Business Class
Business Class in AirAsia is called 'Premium Up' or 'Premium Flatbed', and provides a luxurious and enjoyable flying experience. The experience is focused around the innovative premium flatbed, which is a fully lie-flat air seat.
Business Class Facilities
'Premium Up' includes 40kg of checked luggage in the price of the ticket. Meals are also included on board, with a wide selection of dinners and snacks for you to enjoy in the clouds. Amenities such as pillow and duvet are available in business class. Passengers also have a swift airport experience, with a express check-in counter, priority boarding and baggage service. There is also access to the AirAsia Premium Red Lounge included in the ticket. Inflight entertainment is also included in this ticket.
Business Class Seats
Business class passengers enjoy a spacious seat with plenty of legroom and full recline into a flat-bed for passengers to enjoy a good nights sleep before arriving at their destination.
Lounge Access
Access to the 'AirAsia Premium Red Lounge' is complimentary for Premium passengers departing from klia2. Services include VIP room, newspapers/magazines, food and beverages, showers, work stations, charging areas, air-con, and flight monitors.
---
First Class
This airline doesn't currently have the facilities for first class. Instead, opt for Business class which provides a great premium flight experience.
---
In-Flight Meals
As a low-cost airline, meals are optional but not included in the ticket price. For Economy passengers, fees will apply. Meal options will depend on the destination code of the flight, and are available to pre-book during the flight booking process, or by contacting our customer service team up to 24 hours before departure. The airline offers an assortment of meals, drinks and snacks for sale aboard all of their flights.
Special Meals
Vegetarian options are available to pre-order. However, there are no specific special meals that can be pre-ordered, such as Gluten-Free or Kosher etc. Passengers are welcome to bring their own snacks on-board.
---
WiFi
WiFi is available on AirAsia flights - subject to route restrictions. Connect to the airline's WiFi during the flight to choose the right plan for you.
---
AirAsia Philippines Fleet
The AirAsia Philippines fleet contains only of Airbus 320-200. It has 24 aircraft, each with 180 passengers.
---
Airline Alliance
AirAsia Philippines, along with AirAsia, is not part of an airline alliance program.
---
Frequent Flyer Program
AirAsia BIG
AirAsia BIG is the airline's frequent flyer program, designed to reward our members for flying with AirAsia. There are 4 status in the programme (Red, Gold, Platinum and Black) and each offers members a wide range of rewards and privileges. To collect points, simply select 'AirAsia BIG' from the drop down options on the payment page, and add your membership number.
---
Special Services
Special service requests might include mobility assistance, flying with a special service animal, requesting an extra seat or flying with medical equipment.
Whatever your need, Alternative Airlines can help with your booking. Requests for special services can be made at the time of booking, by completing the special request form - we then pass this information on to the airline. Or, you can contact our customer service team - more information can be found here.
---
Hub Airport
Ninoy Aquino International Airport
Ninoy Aquino International Airport is the airport serving the city of Manila and its surrounding metropolitan area. Along with Philippines AirAsia, the airline is a hub for: Cebu Pacific, Cebgo, PAL Express and Philippine Airlines.
Other airlines which fly to and from Manila International Airport include Air China, Air Niugini, All Nippon Airways, China Airlines, China Eastern, China Southern, Delta Airlines, Emirates, Ethiopian Airlines, Japan Airlines and many others.
Top Tip: If you plan on flying from NAIA you may be required to complete a departure card. You can find out more about arrival and departure cards here.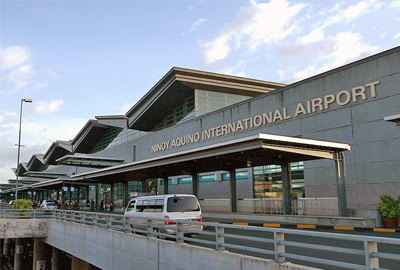 ---
Alternative Airlines
---
AirAsia Philippines News
26 February 2020
Philippines AirAsia schedules new domestic routes for summer 2020
Philippines AirAsia has announced that at the launch of summer 2020 it will be adding a number of new domestic routes, with services to General Santos and Zamboanga. New route will include daily services between Cebu and General Santos, Cebu and Zamboanga, Clark and General Santos, and Clark and Zamboanga.
January 20th, 2020
AirAsia Philippines to fly to even more destinations in 2020
AirAsia has increased the frequency of multiple existing routes in high demand to both domestic and international destinations from the Philippines. The airline has stated that it is pleased to welcome the new year with additional flights, and to be able to offer more options for its guests.
Increases in frequency on the existing network will begin from March 2020. The following popular routes will increase in frequency from three to four times daily:
Cebu - Kuala Lumpur
Clark - Tacloban
Cebu - Puerto Princesa