Search & Buy PAL Express Flights
Let's fly!

Select your payment method to view total prices including any payment fees:
Airlines will always try to sit children with their parents (subject to check-in)
Some airlines will allow travel for unaccompanied minors. Please email us to check.
The fare is based on the child's age on the date of travel.
More detailed information can be found here Traveling with children
Most airlines will let infants travel with their parent(s) for free. However some airlines will charge up to 10% of the adult ticket price. Click on 'Price Breakdown' to find out more.
If you are pregnant, but due before the flight departure date, please contact us once your baby is born and has a name. We can then add him/her to your ticket.
Infants will not be given a seat. The airlines expect parents to travel with them on their lap.
Airlines regard infants as being under 24 months old.
The fare is based on the child's age on the date of travel.
More detailed information can be found here Traveling with children

Buy
PAL Express

Flights

Search and Buy PAL-Express Flights Online with Alternative Airlines
Make a PAL-Express booking and find some amazing deals
---
About PAL Express
PAL Express is part of the parent company Philippine Airlines (PAL). PAL Express, which was formerly known as Air Philippines and Airphil Express, is a low-cost airline. Air Philippines ceased operations until Philippine Airlines invested in the airline and was then re-launched as PAL Express.
PAL Express operates domestic and international flights to from Philippines to Malaysia, China, Hong Kong and United Arab Emirates. The Philippine airline also operates flights from Manila, Cebu, Davao City and Zamboanga. You can easily book your PAL Express tickets with Alternative Airlines by looking for flights in the search bar above. Make your PAL express booking with Alternative Airlines today.
---
PAL Express Destinations
China: Hangzhou; Shanghai
Hong Kong
Malaysia: Kuala Lumpur
Northern Mariana islands: Saipan
Philippines: Bacolod; Basco; Busuanga; Butuan; Cagayan de Oro; Calbayog; Catarman; Caticlan; Cebu; Clark; Cotabato; Davao; Dipolog; Dumuguete; General Santos; Iloilo; Jolo; Kalibo; Laoag; Lagazpi; Manila; Masbate; Naga; Ozamiz; Puerto Princesa; Boxas; Surigao; Tablas; Tacloban; Tagbilaran; Tawi-Tawi; Tuguegararo; Zamboanga
Singapore
UAE: Dubai
---
PAL Express Fleet
The Pal Express fleet includes 10 Airbus A320-200, 6 Airbus A321-200, 2 Bombardier Q300 and 5 Bombardier Q400 and 7 Bombardier Q400 NextGen.
---
PAL Express Baggage Allowance
Checked Baggage
The baggage allowance for Economy Class passengers of domestic flights with PAL Express, is one item of free baggage up to the weight of 20kg. For Business Class passengers flying domestically, the weight limit is 30kg. For international flights, passengers flying in Economy Class on Philippine Airlines are allowed to two pieces of checked baggage at 23kg per bag if they're flying to Europe, the Middle East, Japan, USA/Canada or Guam and two pieces of checked baggage at 32kg per bag if they're flying to Asia or the Pacific. The overall dimensions of all baggage checked onto your PAl Express flight can't exceed 158cm (length + width + height). One item of baggage can't exceed the weight of 32kg. You can add baggage to your Pal Express booking after you've booked your flight by visiting the airline website. Additional baggage can be booked up to 4 hours before the flight departure.
Carry-on Baggage
Passengers flying on Philippine Airlines are allowed one of checked baggage that must not weight more than 7kg and must not be bigger than the overall dimensions of 115cm. In addition to this, passengers may also bring on a small item, such as a small handbag, blanket or a laptop in a bag. This applies for both domestic and international flights.
---
PAL Express Promo Codes
Save money with PAL Express promo codes and flight coupons.
---
PAL Express Check-In
Web Check-In
Passengers can check-in online with PAL Express through the Philippine Airlines check-in page. Web check-in opens 24 hours before your flight and closes one hour before your flight.
Aiport Check-In
Passengers that wish to check-in at the airport on PAL Express should allow check-in at least two hours before their flight for domestic services and at least three hours before their flight for international services. PAL Express check-in desks close 45 minutes before flight departure time.
---
PAL Express Route Map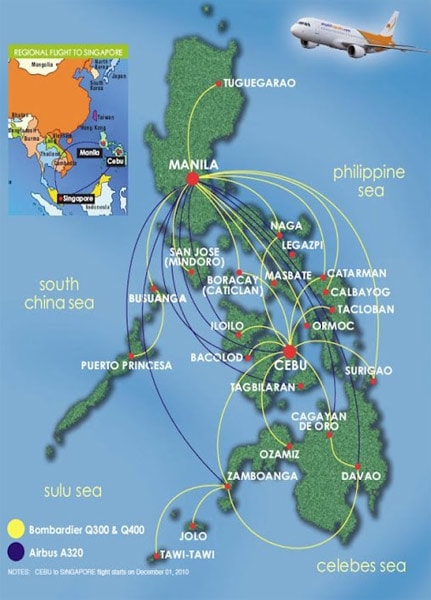 ---
Alternative Airlines to PAL Express
Please click on the logos below to find out more about airlines that fly similar routes to PAL Express:
---
PAL Express Hub Airport
Ninoy Aquino International Airport
Ninoy Aquino International Airport is the airport in Manila and the hub airport for PAL Express. The airport was opened in 1935 and was previously known as Manila International Airport. The airport is split into four different terminals, which are all numbered — Terminal 1, Terminal 2, Terminal 3 and Terminal 4. Ninoy Aquino International Airport is the main gateway into the Philippines.
Ninoy Aquino International Airport is also a hub airport for Cebu Pacific, Cebgo, Philippine Airlines and Philippines AirAsia.
---
PAL Express News
19th May 2018
PAL Express and DOT Form Partnership to Advertise the Philippines
The Department of Tourism (DOT) for the Philippines recently approached PAL Express in order to form a partnership. This is to promote tourism for the Philippines in other countries across the world. The 2 organisations are now in association to create commercials promoting their home country to the rest of the globe. Makati City Tourism Secretary Bernadette Romulo Puyat stated that "DOT and PAL Express will create adverts together that will run globally in an attempt to sustain tourism".
Besides Cebu Pacific, the DOT has also agreed to a partner with Cebu Pacific and Oishi Food Group to create commercials for the Philippines.
30th May 2018
Pal-Express may be affected by the increase of flight prices in the Philippines
Philippine airlines, such as Pal-Express, may need to consider raising ticket prices to compensate for rising fuel costs as the local currency takes a dive. The Philippine Peso is currently at a 12-year low and may cause Philippine Airlines to experience a lack of demand for air travel. Philippine Airlines, owned by industry giant Lucio Tan, incurs $11 million a year in additional costs for every $1 increase in the price of a barrel of fuel. For this reason, other airlines like Pal-Express may have to adjust their prices accordingly.
9th April 2018
Philippine Airlines to launch direct flights from New York to Manila
Philippine Airlines is expanding its route capacity by adding a new non-stop flight between the capital of the USA and the Capital of the Philippines. The new route to JFK airport is part of the airline's winter schedule. At 15 hours of flight time, the new route gives passengers a choice to leave out the odd stopover (although for some people a stopover is like an extra holiday). The current Philippine Airlines service to New York, which only recommenced in 2015 after a 17 year hiatus, includes a time-sucking and inefficient stop in Vancouver. The airline—which was recently upgraded from three to four stars by Skytrax, also flies to the American cities of San Francisco, Los Angeles, as well as the Canadian capital Toronto, from Manila.
2nd March 2018
Philippine Airlines is looking at Seattle-Manila flights with new aircraft
Philippine Airlines is expanding its fleet, was accepted for the TSE-Pre expedited security screening program at U.S. airports, and earned a coveted SkyTrax four-star rating for great customer service. As well as this, Philippine Airlines is planing on launching a Davao-Siargao route this month. The new route will begin on March 25, flying on Mondays, Wednesdays, Fridays, and Sundays, said PAL in a statement on Monday, March 5. "We envision Davao to become a major hub in our network in the years to come that will spur tremendous economic and tourism activities in the region," said PAL senior assistant vice president for Visayas and Mindanao Harry Inoferio.
PAL Express flights cancelled due to bad weather
The PAL Express flights between Manila and Legazpi had been cancelled due to inclement weather, according to the Manila International Airport Authority (MIAA). In its advisory on Saturday, the MIAA announced the cancellation of the following PAL Express flights:
2P 2921 – Manila to Legazpi
2P 2922 – Legazpi to Manila
30th May 2017
PAL Express flights recognissed for its significant contribution to eco-tourism
The International School for Sustainable Eco-Tourism (ISSE) recognized legacy carrier Philippine Airlines for its significant contribution to the development and promotion of eco-tourism and sustainable tourism practices which help the lives of the people in various communities.
The 2017 Subic Eco-Tourism Festival Award was received by PAL SAVP Passenger Sales Philippines Harry Inoferio - for PAL President and COO Jaime J. Bautista - at the Subic Bay Exhibition and Convention Center, Subic Freeport Zone.
Dr. Mina Gabor, Chairman and President for Sustainable Ecotourism and Robert Lim Joseph-Vice Chairman for Sustainable Ecotourism presented the award to PAL.
---
Alternative Airlines Ltd - Incorporated in England: 02885223 © 2019 All rights reserved