Sky Pasada Reservations with Alternative Airlines
Make an Sky Pasada Booking and Find Some Amazing Deals
---
About Sky Pasada
Sky Pasada is a Filipino airline operating in the Philippines and was founded in 2010. The airline is based in Manila, Philippines. WCC Aviation is the parent company of Sky Pasada, but they choose to operate under the name Sky Pasada. They are a regional airline, operating domestic flights with destinations all located within the island of Luzon. Sky Pasada currently operate their service with a fleet of two planes.
They describe themselves as the 'jeepney of the sky', relating to being the most popular mode of transport with native Filipinos and also relating to the multiple stop-over nature of their routes. Their slogan 'OK sa trip! Mabilis, safe at reliable pa' emphasises the company's safety and reliable and fast nature.
---
Where does Sky Pasada fly?
Sky Pasada are a domestic airline for the Philippines, operating in the northern island of Luzon. Their current destinations within Luzon are Batanes, Binalonan, Maconacon, Palanan and Tuguegarao.
---
Sky Pasada Baggage
Sky Pasada charge for baggage, which you can choose when booking. The price of baggage varies when flying with Sky Pasada, as price is calculated depending on the selected routes and the weight of the bag, which ranges from 5-25kg.
---
Sky Pasada Check-In Information
Online Check-In
Sky Pasada do not currently offer online check yet for any of their flights.
Airport Check-In
Sky Pasada require passengers to check-in to airport staff a set time before departure flight. However, like with baggage, the check-in time will depend on the chosen route and the departure airport. The check-in time and information will be issued and provided when booking your ticket.
---
Alternative Airlines to Sky Pasada
Please click on the logos below to find out more about airlines that fly similar routes to Sky Pasada Airlines:
---
Sky Pasada Route Map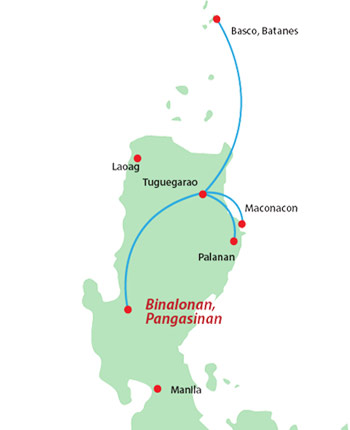 ---
Sky Pasada Hub Airport
Ninoy Aquino International Airport
Ninoy Aquino International Airport (MNL), also often referred to as Manila International Airport or NAIA, is a airport located in Manila, the Philippines. It was built in the 1930s and has continued to develop and grow since, with 2017 seeing over 42 million annual passengers, an increase of almost six percent from the previous year 2016. The airport currently has four terminals serving two runways.
---