Book Direct with Air Asia X and Alternative Airlines

Air Asia X or Air Asia X Berhad is a long-haul, budget airline based in Malaysia and is a sister company of AirAsia. Air Asia X flies to many destinations including Abu Dhabi, Adelaide, Beijing, Busan, Chengdu, Chongqing, Delhi, Gold Coast, Hangzhou, Jeddah, Kuala Lumpur, London, Melbourne, Mumbai, Nagoya, Osaka, Paris, Perth, Seoul and Shanghai. Air Asia X was established in 2001 and has hubs in Kuala Lumpur, Kota Kinabulu, Penan, Johor Bahru and Kuching. 
Air Asia X's affiliate airlines including Indonesia AirAsia X and Thai AirAsia X. 
Indonesia AirAsia X is a joint venture of AirAsia X. It serves Indonesia AirAsia's regularly scheduled long haul international flights from Bali's 
Ngurah Rai International Airport
. Indonesia AirAsia X was planned to launch its first destination to 
Melbourne
 on 26 December 2014 
but was delayed till 18 March 2015 due to delays in route approval from Australian authority.
 Instead, 
Taipei
 became Indonesia AirAsia X first destination by launching service on 30 January 2015. 
Thai AirAsia X is a joint venture of AirAsia X in Thailand. Thai AirAsia X is Thailand's first long-haul low-cost airline and began operation since its maiden service from Bangkok to Incheon, South Korea on 17 June 2014 and followed by Tokyo Narita and Osaka Kansai in Japan.
AirAsia
 X is the long-haul, low-cost affiliate carrier of the AirAsia Group that currently flies to destinations in the Asia Pacific region. The airline currently serves 19 destinations across Asia (Sapporo, Tokyo, Osaka, Seoul, Busan, Taipei, Xian, Beijing, Hangzhou, Chengdu, Shanghai, New Delhi and Kathmandu), Australia (Sydney, Melbourne, Perth, and Gold Coast), New Zealand (Auckland) and the Middle East (Jeddah). AirAsia X operates a core fleet of 29 A330-300s as at (March 2016), each with a seat configuration of 12 Premium Flatbeds and 365 Economy seats. The airline has carried over 15 million guests since it commenced long-haul service in 2007. 
AirAsia X was the first long-haul, low fare carrier to introduce Premium Flatbed seats, which have a standard business class specifications of 20" width, 60" pitch and stretches out to 77" in a full-recline position. The Premium flatbeds feature universal power sockets, adjustable headrests and built-in personal utilities such as tray table, drink holder, reading light and privacy screen. Premium seat guests also enjoy premium complimentary products and services including Pick-A-Seat, Priority Check-in, Priority Boarding, Priority Baggage, 40kg Baggage Allowance, Complimentary Meal and use of a Pillow and Duvet.
On top of that, AirAsia X offers "Quiet Zone" cabin on all its long-haul flights across its network. The service enhancement is exclusively for guests who are above age 12. The "Quiet Zone" cabin features a new ambiance with soft lighting, offering a more relaxed cabin atmosphere, which will ensure a more pleasant journey for guests. AirAsia X was awarded the World's Best Low Cost Airline Premium Seat and the World's Best Low Cost Airline Premium Class titles for three consecutive years at the 2015 Skytrax World Airline Awards, which took place at the Paris Airshow. The AirAsia Group also received its seventh consecutive year title as the World's Best and Asia's Best Low Cost Airline at the 2015 Skytrax World Airline Awards. As at 31 December 2015, AirAsia X Group employs 2,893, AllStars from 23 different nationalities around the world.
Route Map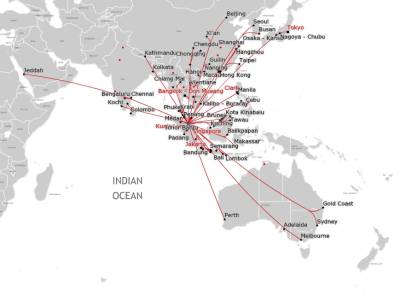 Popular Routes
Kuala Lumpur  

  Taipei
Bandung  

  Johor Bahru
Kathmandu  

  Kuala Lumpur
Chongqing  

  Kota Kinabulu
Kuala Lumpur  

  Colombo
Kota Kinabalu  

  Chongqing 
Make an Air Asia X reservation and find some amazing deals with discounted Air Asia X tickets at Alternative Airlines. Air Asia X flies to many destinations worldwide, offering a cost effective and safe service to all its passengers. Let Alternative Airlines help find you cheap Air Asia X tickets and make international and domestic flight reservations on Air Asia X today.
Browse the most popular Air Asia X flight routes to cities worldwide. Alternative Airlines can help you make reservations on Air Asia X for international flights to lots of destinations. Use the following list of routes to help you plan your next flight. Book Air Asia X flights on Alternative Airlines to save big! Alternative Airlines is an online travel agency, specialising in booking lesser known airlines and remote destinations. 
Air Asia X is the long haul subsiduary of Kuala Lumpur based low cost airline Air Asia who will be flying budget flights to London from spring 2009. Air Asia X Flights Air Asis X logoAir Asia X, is the medium/long haul budget airline and is a subsidiary of Air Asia which is Asia's largest low cost airline and operates flights of four hours or more. The airlines first flight departed on 2 November 2007 to Gold Coast (Coolangatta) in Australia from its home base at Kuala Lumpur's LCC terminal. In addition to Gold Coast Air Asia X operates low cost flights from Kuala Lumpur to Perth and Melbourne in Australia, Hangzhou in China and next year will fly to Tianjin (China) and London Stansted airport. This will be the only service of it's kind when flights commence in spring 2009. On board there are two "classes" of travel, choose an economy seat or pay more to upgrade to the XL option. The XL seat is wider that the economy seat and offers greater legroom and is the type of seating found in some airlines Business class. However no priority check or other facilities afforded to Business class passengers are part of the deal. Air Asia keep the cost down in various ways and do not expect any frills. Food can be ordered and paid for in advance and snacks are available for purchase on board, as are a full range of beverages. Air Asia A330All long haul flights have the opportunity of connecting to Air Asia's low cost route network via Kuala Lumpur which currently stands at over 3000 weekly flights to well over 100 destinations in India, Australia and throughout Asia and the Far East. Air Asia X operates a fleet of very new, very modern Airbus A330 aircraft seating up to 330 passengers in either Economy or XL seating. Air Asia X Longhaul Flights Air Asia is the pioneer of no frills air travel in the Far East and is fantastic at providing affordable fares to everyone and making air travel cheap, easy and convenient. Its sister company Air Asia X is now following in it's footsteps offering excellent value flights on longhaul services of over four hours. Air Asia X low, low fares and fantastic value for money on the longer routes which are making very popular with the travelling public. Last year the Air Asia group carried almost 9 million passengers which was an increase of a full 3 million over the previous year. As well as a steadily growing network passengers benefit from the comforts that brand new Airbus A 330 aircraft offer. Why not pay a little extra and upgrade to XL seating for greater comfort and extra room, a perfect way to start and finish your journey. Book your Air Asia X flight now with
We will all be looking skywards today at 15:55 for the first appearance of Air Asia X's Airbus A340 as it arrives at Gatwick Airport for the first time inbound from Kuala Lumpur.
Korean Air joins Vietnam Airlines and Air Asia X with flights from London Gatwick
Korean Air have just announced the launch of a new three times weekly direct service between London Gatwick and their operating base at Seoul's Incheon Airport.