Search & Book Air Asia X Flights
Let's fly!

Book
Air Asia X

Flights

Book Flights Direct with Air Asia X and Alternative Airlines
Flights to and from Malaysia
Air Asia X (or Air Asia X Berhad) is a long-haul, budget airline based in Malaysia and is a sister company of AirAsia.
Air Asia X flies to many destinations including Abu Dhabi, Adelaide, Beijing, Busan, Chengdu, Chongqing, Delhi, Gold Coast, Hangzhou, Jeddah, Kuala Lumpur, London, Melbourne, Mumbai, Nagoya, Osaka, Paris, Perth, Seoul and Shanghai.
AirAsia X is a low-cost affiliate carrier of the AirAsia Group that currently flies to destinations in the Asia Pacific region. Within the AirAsia family, other subsidiaries include:
Malaysia AirAsia
Air Asia X was established in 2001 and has hubs in Kuala Lumpur, Kota Kinabulu, Penan, Johor Bahru and Kuching.
Air Asia X's affiliate airlines including Indonesia AirAsia and Thai AirAsia X.
AirAsia X operates a core fleet of 29 A330-300s as at (March 2016), each with a seat configuration of 12 Premium Flatbeds and 365 Economy seats. The airline has carried over 15 million guests since it commenced long-haul service in 2007.
AirAsia X was the first long-haul, low fare carrier to introduce Premium Flatbed seats, which have a standard business class specifications of 20" width, 60" pitch and stretches out to 77" in a full-recline position.
The Premium flatbeds feature universal power sockets, adjustable headrests and built-in personal utilities such as tray table, drink holder, reading light and privacy screen. Premium seat guests also enjoy premium complimentary products and services including Pick-A-Seat, Priority Check-in, Priority Boarding, Priority Baggage, 40kg Baggage Allowance, Complimentary Meal and use of a Pillow and Duvet.
AirAsia X offers "Quiet Zone" cabin on all its long-haul flights across its network. The service enhancement is exclusively for guests who are above age 12. The "Quiet Zone" cabin features a new ambiance with soft lighting, offering a more relaxed cabin atmosphere, which will ensure a more pleasant journey for guests.
AirAsia X was awarded the World's Best Low Cost Airline Premium Seat and the World's Best Low Cost Airline Premium Class titles for three consecutive years at the 2015 Skytrax World Airline Awards, which took place at the Paris Airshow. The AirAsia Group also received its seventh consecutive year title as the World's Best and Asia's Best Low Cost Airline at the 2015 Skytrax World Airline Awards. As at December 2015, AirAsia X Group employs 2,893, AllStars from 23 different nationalities around the world.
---
Indonesia AirAsia
Indonesia AirAsia is a joint venture of AirAsia X. This airline serves Indonesia AirAsia's regularly scheduled long haul international flights from Bali's Ngurah Rai International Airport.
Indonesia AirAsia X was planned to launch its first destination to Melbourne on 26 December 2014 but was delayed till 18 March 2015 due to delays in route approval from Australian authority. Instead, Taipei became Indonesia AirAsia X first destination by launching service on 30 January 2015.
---
Thai AirAsia X
Thai AirAsia X is a joint venture of AirAsia X in Thailand.
Thai AirAsia X is Thailand's first long-haul low-cost airline and began operation since its maiden service from Bangkok to Incheon, South Korea on 17 June 2014 and followed by Tokyo Narita and Osaka Kansai in Japan.
The airline currently serves 19 destinations across Asia (Sapporo, Tokyo, Osaka, Seoul, Busan, Taipei, Xian, Beijing, Hangzhou, Chengdu, Shanghai, New Delhi and Kathmandu), Australia (Sydney, Melbourne, Perth, and Gold Coast), New Zealand (Auckland) and the Middle East (Jeddah).
---
News
25th August 2017
AirAsiaX bags two gold at 31st international ARC awards
AirAsia X Berhad's 2016 annual report has won two gold awards at the International Annual Report Competition (ARC) Awards for the first time ever. The airline won the top prize in two categories, Best Non-Traditional Annual Report (Airlines) and Printing and Production (Airlines). It also bagged silver in the Cover Photo/Design (Airlines) category. The annual report, themed "Realising Dreams", features a memorable cover of three adorable children – a boy donning a pilot's uniform, a girl wearing a cabin crew uniform, and another boy in ordinary clothes with a boarding pass in his pocket like a passenger – to inspire children to strive to make their dreams come true. Established by MerComm Inc in 1987, the ARC Awards aims to encourage noteworthy and vital writing, as well as imaginative and original design. The ARC Awards is the world's largest international competition honoring excellence in annual reports. Winning an ARC award is highly coveted due to the impartiality of the judging organisations, which boasts global representation.
22nd August 2017
AirAsia introduces Johor Bahru hub to its first route to India
AirAsia, the world's best low-cost airline today introduced its Johor Bahru hub to its first route to Kolkata, India. The new Johor Bahru-Kolkata route is set to commence operations on 28 November 2017 with 5 times weekly direct flights.
The unique route, which will further expand the connectivity from the airline's southern hub, will be the airline's 15th route from Johor Bahru and sixth international destination from the hub.
AirAsia currently operates 150 weekly flights one way to Johor Bahru's Senai International Airport. In addition to Kolkata, AirAsia also flies to five other international routes from Johor Bahru; Bangkok, Guangzhou, Ho Chi Minh City, Jakarta, and Surabaya as well as nine other domestic routes from Johor Bahru; Kuala Terengganu, Kuala Lumpur, Penang, Langkawi, Kuching, Miri, Tawau, Sibu, and Kota Kinabalu. Kolkata is the capital city of West Bengal. Also known as the 'Cultural Capital of India,' the city is rich with attractions such as Indian Museum, one of the most significant and the first museum to be founded in India; Victoria Memorial, a majestic architecture which echoes the design of the Taj Mahal; Belur Math, a temple which stands as an icon of the unity of all religions and many more. In addition, the world's-famous Darjeeling tea plantation is just a train or bus ride away from Kolkata. Moreover, the 'City of Joy' is also well-known for its silk fabric; Tussar and Vishnupuri Silk besides delicious street food such as Jhal Muri, one of the most popular Bengali street snacks of puffed rice and other condiments; Pani Puri, a hollow chip filled with spiced potatoes, dunked into tamarind water; and Ghugni Chaat; a mix of hot yellow peas with vegetables.
2nd August 2017
AirAsia X may restart Adelaide service
Malaysian low-cost carrier Air-Asia X is eyeing restarting its axed Adelaide services and putting on new flights to Canberra and Cairns as it delivers a bullish assessment on the outlook for low-cost carriers in the region. The long-haul sister of Asia's biggest budget airline, AirAsia, is also considering services to Cairns and Canberra, though over a longer time frame.
25th July 2017
AirAsia X Q2 operating performance above expectations
AirAsia X carried slightly more than a third more passengers in the second quarter (Q2) ended June 30 compared with a year earlier, with the total distance traveled by these passengers expanding by about the same percentage. Announcing its preliminary operating statistics on Tuesday, the long-haul budget carrier said operating performance in the period trended slightly above expectations despite the second quarter historically being the leanest quarter. The number of passengers who flew with AirAsia X Malaysia grew 34.4% to 1.39 million compared to a year earlier, while revenue passenger kilometres grew 35.0% to 6.79 billion. During the quarter under review, AirAsia X Malaysia added frequency to two routes: Kuala Lumpur – Shanghai and Osaka. AirAsia X Thailand carried 387,959 passengers in Q2, 26% higher against the same period last year. Meanwhile, AirAsia X Indonesia re-launched its A330s service in May 2017 with daily flights from Denpasar to Mumbai via Kuala Lumpur (starting May 19), and followed by Denpasar to Narita (starting May 24).
19th June 2017
AirAsia X treats Rohingya kids to Raya do in School
AirAsia X treated 50 Rohingya schoolchildren to a Hari Raya bash in their school. AirAsia X tries to fund programmes that do not get much exposure in the hope of more people supporting good causes such as the Rohingya Community School. The three-storey rented shoplot where the school operated was full of songs and laughter as the AirAsia X team celebrated with the Ro­­hingya children, singing Hari Raya songs and enjoying a lunch of traditional Malaysian cuisine. The Community School, run by MRA since 2009, provides preschool and primary school education to some 60 Rohingya children aged three to 14 years. While some of the children were born in Malaysia, some were from refugee families from various settlements in Kampung Cheras Baru here.
29th June 2017
AirAsia X marked history as flight D7 001 landed at Daniel K. Inouye International Airport
AirAsia X marked history as flight D7 001 landed at Daniel K. Inouye International Airport with a load factor of over 90%, marking the airline's first foray into the United States (US). The inaugural flight carrying guests, members of the Malaysian media and AirAsia X management.
Passengers were greeted with local Hawaiian cultural dance and being bestowed leis upon arrival.
Also on board the flight were AirAsia X Chairperson Tan Sri Rafidah Aziz and Chief Executive Officer Benyamin Ismail.
The airline flies four times weekly from Kuala Lumpur, Malaysia for Honolulu, Hawaii via Osaka, Japan.
June 2017
Air Asia X announced it was launching its inaugural flight from Kuala Lumpur to Hawaii via Osaka, Japan. Low-cost airline AirAsia X entered the U.S. market Wednesday, arriving in Honolulu on an inaugural flight for a new route between Malaysia and Hawaii. The AirAsia X flight departed Kuala Lumpur, Malaysia, and stopped in Osaka, Japan, before landing at Honolulu International Airport. The new flight will operate four times per week utilizing Airbus A330-300 aircraft with 12 premium flatbeds and 365 economy seats.
Last week, AirAsia was named the World's Best Low Cost Airline for the ninth consecutive year, while AirAsia X won the World's Best Low Cost Airline Premium Cabin and Premium Seat awards for the fifth year in a row at the Skytrax World Airline Awards held at the Paris Air Show. AirAsia X flies from Kuala Lumpur to Honolulu via Osaka four times a week. AirAsia X, an affiliate of the AirAsia Group, operates in 24 destinations in Asia, Australia, New Zealand and the Middle East.
---
Route Map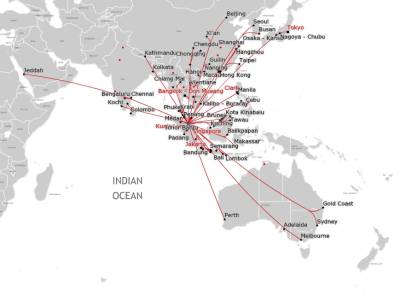 Popular Routes
Kuala Lumpur

Taipei
Bandung

Johor Bahru
Kathmandu

Kuala Lumpur
Chongqing

Kota Kinabulu
Kuala Lumpur

Colombo
Kota Kinabalu

Chongqing

---
The Fleet
---
Kuala Lumpur International Airport
HUB Airport
Kuala Lumpur International Airport is Malaysia's main international airport and is one of the busiest airport in South East Asia. It is the hub airport for Malaysia Airlines, AirAsia, AirAsia X and Malindo Air. Other airlines which fly to and from Kuala Lumpur International Airport include Air Astana, Air China, Air France, Air Maurtitius, AirAsia, Cathay Pacific, Korean Air, Kuwait Airways, Lion air, Lufthansa and many others.

---
---
Book Flights with AirAsia X
Make a AirAsia X reservation and find some amazing deals with discounted AirAsia X tickets at Alternative Airlines. AirAsia X flies to many destinations, offering a cost effective and safe service to all its passengers. Let Alternative Airlines help find you cheap AirAsia X tickets and make reservations on AirAsia X today.
Browse the most popular AirAsia X flight routes to destinations within the Asian regions. Alternative Airlines can help you make reservations on AirAsia X. Use the following list of routes to help you plan your next flight. AirAsia X flights on Alternative Airlines to save big! Alternative Airlines is an online travel agency, specialising in booking lesser known airlines and remote destinations.
Alternative Airlines is an Online Travel Agency bonded by the International Air Transport Association (IATA). We specialise in finding the best available fares on the widest range of airlines and making them available to you online, with prices in the currency of your choice.
Alternative Airlines handles all your travel arrangements and payments, complete with ticketed confirmation. We do not direct you to other websites or service providers.
We help you through the process. This is what makes us Alternative Airlines.
Browse for flights, find some amazing deals, make a reservation and pay in the currency of your choice today with Alternative Airlines.
Let Alternative Airlines help find you the best prices and make international and domestic flight reservations with us today.
Join the Alternative Airlines Members Club and get £100.00 back on your 5th booking with Alternative Airlines. You will have insight to many benefits and exclusive deals on over 650 airlines. Click on the Members section on the Alternative Airlines website for more information and join today.
We are open every day from 8am until 8pm (UK local time).
Air Asia X is the long haul subsiduary of Kuala Lumpur based low cost airline Air Asia who will be flying budget flights to London from spring 2009. Air Asia X Flights Air Asis X logoAir Asia X, is the medium/long haul budget airline and is a subsidiary of Air Asia which is Asia's largest low cost airline and operates flights of four hours or more. The airlines first flight departed on 2 November 2007 to Gold Coast (Coolangatta) in Australia from its home base at Kuala Lumpur's LCC terminal. In addition to Gold Coast Air Asia X operates low cost flights from Kuala Lumpur to Perth and Melbourne in Australia, Hangzhou in China and next year will fly to Tianjin (China) and London Stansted airport. This will be the only service of it's kind when flights commence in spring 2009. On board there are two "classes" of travel, choose an economy seat or pay more to upgrade to the XL option. The XL seat is wider that the economy seat and offers greater legroom and is the type of seating found in some airlines Business class. However no priority check or other facilities afforded to Business class passengers are part of the deal. Air Asia keep the cost down in various ways and do not expect any frills. Food can be ordered and paid for in advance and snacks are available for purchase on board, as are a full range of beverages. Air Asia A330All long haul flights have the opportunity of connecting to Air Asia's low cost route network via Kuala Lumpur which currently stands at over 3000 weekly flights to well over 100 destinations in India, Australia and throughout Asia and the Far East. Air Asia X operates a fleet of very new, very modern Airbus A330 aircraft seating up to 330 passengers in either Economy or XL seating. Air Asia X Longhaul Flights Air Asia is the pioneer of no frills air travel in the Far East and is fantastic at providing affordable fares to everyone and making air travel cheap, easy and convenient. Its sister company Air Asia X is now following in it's footsteps offering excellent value flights on longhaul services of over four hours. Air Asia X low, low fares and fantastic value for money on the longer routes which are making very popular with the travelling public. Last year the Air Asia group carried almost 9 million passengers which was an increase of a full 3 million over the previous year. As well as a steadily growing network passengers benefit from the comforts that brand new Airbus A 330 aircraft offer. Why not pay a little extra and upgrade to XL seating for greater comfort and extra room, a perfect way to start and finish your journey. Book your Air Asia X flight now with
Korean Air joins Vietnam Airlines and Air Asia X with flights from London Gatwick
Korean Air have just announced the launch of a new three times weekly direct service between London Gatwick and their operating base at Seoul's Incheon Airport.
READ MORE ABOUT AIR ASIA X
How to pay
You can pay for your flights with Air Asia X in the currency and payment method of your choice when booking through Alternative Airlines.
We accept PayPal making flight purchases with Air Asia X easy and more secure for customers. PayPal is one of the leading forms of online payment, with more than 169 million accounts worldwide.