AirAsia X Reservations with Alternative Airlines
Make an AirAsia X Booking and Find Some Amazing Deals
---
About
AirAsia X (or AirAsia X Berhad) is a long-haul, budget airline based in Malaysia and is a sister company of AirAsia. AirAsia X is a low-cost affiliate carrier of the AirAsia Group that currently flies to destinations in the Asia Pacific region.
Within the AirAsia family, other subsidiaries include: AirAsia, Thai AirAsia, Indonesia AirAsia, AirAsia X, Philippines AirAsia, Thai AirAsia X, AirAsia India and Malaysia AirAsia.
AirAsia X was established in 2001 and has hubs in Kuala Lumpur, Kota Kinabulu, Penan, Johor Bahru and Kuching. AirAsia X operates a core fleet of 29 A330-300s as at (March 2016), each with a seat configuration of 12 Premium Flatbeds and 365 Economy seats. The airline has carried over 15 million guests since it commenced long-haul service in 2007. AirAsia X was the first long-haul, low fare carrier to introduce Premium Flatbed seats, which have a standard business class specifications of 20" width, 60" pitch and stretches out to 77" in a full-recline position.
The Premium flatbeds feature universal power sockets, adjustable headrests and built-in personal utilities such as tray table, drink holder, reading light and privacy screen. Premium seat guests also enjoy premium complimentary products and services including Pick-A-Seat, Priority Check-in, Priority Boarding, Priority Baggage, 40kg Baggage Allowance, Complimentary Meal and use of a Pillow and Duvet.
AirAsia X offers "Quiet Zone" cabin on all its long-haul flights across its network. The service enhancement is exclusively for guests who are above age 12. The "Quiet Zone" cabin features a new ambiance with soft lighting, offering a more relaxed cabin atmosphere, which will ensure a more pleasant journey for guests. AirAsia X was awarded the World's Best Low Cost Airline Premium Seat and the World's Best Low Cost Airline Premium Class titles for three consecutive years at the 2015 Skytrax World Airline Awards, which took place at the Paris Airshow. The AirAsia Group also received its seventh consecutive year title as the World's Best and Asia's Best Low Cost Airline at the 2015 Skytrax World Airline Awards. As at December 2015, AirAsia X Group employs 2,893, AllStars from 23 different nationalities around the world.
AirAsia X have won global awards for its service, including being the cheapest airline in the world for international flights in 2018. You can read more about Alternative Airline's ranking of the cheapest airlines in the world here.
---
Baggage
Carry-on Baggage
Passengers are permitted 1 carry-on bag and 1 personal item (such as purse or laptop). The maximum allowed weight of this is 7kg, and the maximum dimensions must not exceed 56 x 36 x 23cm.
Checked Baggage
Passengers travelling in economy class do not have any free checked bags included in their ticket price. Passengers in business class are permitted a maximum of 20kg of baggage, with the maximum combined dimensions (length + width + height) of 158cm.
---
Check-In Information
Online Check-In
Passengers can check-in online from 7 days before flying with the web check-in service. This service will close 4 hours before your scheduled departure time. We adivse that customers check-in online for a quick and easy process at the airport.
Airport Check-In
Passengers wishing to check-in at the airport can do so between 3 and 1 hour(s) before your flight is scheduled to depart. Complete check-in by visiting staff at the airline's check-in counter at the airport. Please allow at the airport early in order to avoid long queues.
---
Economy Class
AirAsia X's Economy Class is one of two cabin classes that the airline offers.
Economy Class Facilities
Passengers are given a free cabin bag included in the price of the ticket.
Passengers can purchase meals, snacks and drinks from the airline's inflight menu. For an extra fee, passengers can also gain access to the airline's AirAsia X inflight entertainment system, checked baggage and a comfort kit.
In addition, AirAsia X's Economy Class has a child-free 'Quiet Zone', which allows passengers with an adult ticket to sit in a section of the cabin that is away from children. The Quiet Zone is available at an additional cost and must be purchased pre-flight.
Economy Class Seats
Seats in Economy Class are comfortable and of a standard size. Seat are set out in either a 3 x 3 x 3 or a 2 x 3 x 2 formation.
---
Premium Economy
AirAsia X Premium Economy, 'Premium Up' is more comparable to Business Class than Premium Economy on other airlines. The cabin class gives lots of extra space, perks and has a separate section within the aircraft.
Premium Economy Facilities
Passengers in Premium Economy are given complimentary meals from the airline's inflight menu, the option to pick their seat, unlimited flight changes, priority boarding and baggage, as well as access to the AirAsia Premium Red Lounge Access.
Passengers can also enjoy access to AirAsia's inflight entertainment system 'Xcite Inflight Entertainment', which comes with a complimentary pair of noise-cancelling headphones.
Premium Economy Seats
Premium Economy seats are set out in a 2 x 2 x 2 formation. Each seat can be adjusted to slope towards the floor, giving the passenger the ability to lie down on the chair. There is a total of 12 seats in the Premium Economy cabin.
---
Business Class
AirAsia X doesn't have a Business Class cabin. However, its Premium Economy cabin is very similar to Business Class on other airlines.
---
First Class
AirAsia X doesn't offer First Class.
---
Alternative Airlines to AirAsia X
Please click on the logos below to find out more about airlines that fly similar routes to AirAsia X:
---
In-flight entertainment
Find hours of movies, TV series, music, games, magazines and more all on the Xcite Tab. This preloaded tablet, with six hours of battery life, is the perfect way to help pass the time on board your AirAsia X flight. The Xcite Tab is available for rent on board all AirAsia X flights (except flights to New Zealand, Nepal, Saudi Arabia, Bali and Male).
TV
Find all your favourite TV shows loaded onto your Xcite Tab. From favourites like the Big Bang Theory to crime thrillers.
Films
There's films for every taste on board your AirAsia X flight. Find films in a variety of languages from Hollywood to Bollywood there's something for you in the AirAsia X selection.
---
In-flight Food
AirAsia X's in flight meal service is known for offering a delicious range of Asean, International and vegetarian food options. You can either pre-book your food, or buy in flight.
---
Destinations
| AIRPORT | COUNTRY |
| --- | --- |
| Sri Guru Ram Dass Jee International Airport (ATQ) | India |
| Indira Gandhi International Airport (DEL) | India |
| Jaipur International Airport (JAI) | India |
| Chhatrapati Shivaji International Airport (BOM) | India |
| Gimhae International Airport (PUS) | South Korea |
| Jeju International Airport (CJU) | South Korea |
| Incheon International Airport (ICN) | South Korea |
| Avalon Airport (AVV) | Australia |
| Gold Coast Airport (OOL) | Australia |
| Perth Airport (PER) | Australia |
| Sydney Airport (SYD) | Australia |
| Bandaranaike International Airport (CMB) | Sri Lanka |
| Daniel K. Inouye International Airport (HNL) | Hawaii, USA |
| Ngurah Rai International Airport (DPS) | Indonesia |
| King Abdulaziz International Airport (JED) (seasonal route) | Saudi Arabia |
| Velana International Airport (MLE) | Maldives |
| Tribhuvan International Airport (KTM) | Nepal |
| Kuala Lumpur International Airport (KUL) | Malaysia |
| Kaohsiung International Airport (KHH) | Taiwan |
| Taipei Taoyuan International Airport (TPE) | Taiwan |
| Lanzhou Zhongchuan International Airport (LHW) | China |
| Shanghai Pudong International Airport (PVG) | China |
| Tianjin Binhai International Airport (TSN) | China |
| Wuhan Tianhe International Airport (WUH) | China |
| Xi'an Xianyang International Airport (XIY) | China |
| Beijing Capital International Airport (PEK) | China |
| Changsha Huanghua International Airport (CSX) | China |
| Chengdu Shuangliu International Airport (CTU) | China |
| Chongqing Jiangbei International Airport (CKG) | China |
| Hangzhou Xiaoshan International Airport (HGH) | China |
| Narita International Airport (NRT) | Japan |
| Haneda Airport (HND) | Japan |
| Chubu Centrair International Airport (NGO) | Japan |
| Kansai International Airport (KIX) | Japan |
| Fukuoka Airport (FUK) | Japan |
| New Chitose Airport (CTS) | Japan |
---
Fleet
As of May 2021, Air Asia X consists of the following aircraft:
Airbus A330-300
Arbus A330-900
Airbus A321XLR
---
Hub Airport
Kuala Lumpur International Airport
Kuala Lumpur International Airport is Malaysia's main international airport and is one of the busiest airport in South East Asia. The airport is located Sepang, Selangor, Malaysia and serves Klang Valley, Northern Selangor, Negeri Sembilan and Malacca. In 2020 Kuala Lumpur International Airport handled over 13 million passengers. Kuala Lumpur International Airport has three parallel runways - the 3 runway system operates over 100 flights a hour. Kuala Lumpur International Airport is only an hour car journey or 1 hour and 30 minutes by bus to the city centre.
It's the hub airport for Malaysia Airlines, AirAsia, AirAsia X and Malindo Air. Other airlines which fly to and from Kuala Lumpur International Airport include Air Astana, Air China, Air France, Air Maurtitius, AirAsia, Cathay Pacific, Korean Air, Kuwait Airways, Lion air, Lufthansa and many others.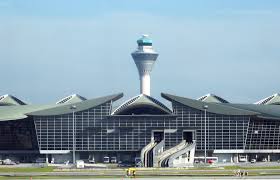 ---
FAQ's
Can I buy AirAsia X flights on finance?
AirAsia X doesn't offer flights on finance however through Alternative Airlines you can buy AirAsia X flights and pay in instalments. Alternative Airlines has partnered up with many payment plan providers such as Klarna, Spotii, Zip, afterppay, affirm and more. You can purchase AirAsia X flights today and pay at a later date.
Who owns AirAsia X?
AirAsia X was founded in May 2007 formerly known as AirAsia X. AirAsia X is the sister company of Air Asia. Air Asia is a low-cost carrier operating all short haul flights and Air Asia X operates all medium and long haul flights.