Search & Buy Kuwait Airways Flights
Let's fly!

Select your payment method to view total prices including any payment fees:
Airlines will always try to sit children with their parents (subject to check-in)
Some airlines will allow travel for unaccompanied minors. Please email us to check.
The fare is based on the child's age on the date of travel.
More detailed information can be found here Traveling with children
Most airlines will let infants travel with their parent(s) for free. However some airlines will charge up to 10% of the adult ticket price. Click on 'Price Breakdown' to find out more.
If you are pregnant, but due before the flight departure date, please contact us once your baby is born and has a name. We can then add him/her to your ticket.
Infants will not be given a seat. The airlines expect parents to travel with them on their lap.
Airlines regard infants as being under 24 months old.
The fare is based on the child's age on the date of travel.
More detailed information can be found here Traveling with children

Buy
Kuwait Airways

Flights

Search and Buy Kuwait Airways Flights with Alternative Airlines
Search and buy Kuwait Airways flights online and find some amazing deals with discounted Kuwait Airways tickets at Alternative Airlines
---
About Kuwait Airways
Kuwait Airlines is the national airline of Kuwait, with its head office based in Kuwait International Airport, Al Farwaniyah Governorate.
The airlines operates scheduled international services throughout the Middle East, to the Indian subcontinent, Europe, Southeast Asia and North America, from its main base at Kuwait International Airport.
Kuwait Airways flies to many destinations including London, Paris, Kuwait, Jeddah, Bahrain, Madinah, Cairo, Beirut, Istanbul, Rome, Geneva, Paris, Frankfurt, Tehran, Mashhad, Islamabad, Lahore, Delhi, Kochi, Colombo, Bengaluru, Mumbai, Ahmedabad, Dhaka, Manila and Bangkok.
Kuwait Airways has codeshare agreements with Air India, Alitalia, Ethiopian Airlines, Etihad Airways, Saudia and Turkish Airlines.
Kuwait Airways is a member of the Arab Air Carriers Organization and is wholly owned by the Government of Kuwait.
Kuwait Airways' fleet consists of Airbus A330s, A320s, A330-200s, A340s and Boeing 777s.
Make a Kuwait Airlines online booking today and save with Alternative Airlines!
---
Kuwait Airways Class Type
Kuwait Air has 4 types of classes to fly with:
Royal Class
First Class
Business Class
Economy Class
---
Kuwait Airways Frequent Flyer Program
Kuwait Airways operates a frequent flyer program called Oasis Club to reward regular passengers with the airline.
There are three tiers of memberhip:
Oasis Blue
Oasis Silver
Oasis Gold
Oasis Gold members are entitled to preferential seating, elite mileage bonus, waitlist priority, dedicated check-in, extra luggage and lounge access.
Kuwait Airways offers first class passengers at London Airport limousine services.
---
Kuwait Airways Baggage
Checked Baggage
Kuwait Airways baggage sizes vary for different classes.
Kuwait Airlines entitles passengers on flights from the US:
Royal Class - 3 x pieces of checked baggage of up to 32 kgs - 90cm x 65cm x 75cm
First Class - 2 x pieces of checked baggage of up to 32 kgs - 90cm x 65cm x 75cm
Business Class - 2 x pieces of checked baggage of up to 23 kg - 90cm x 65cm x 75cm
Economy Class - 2 x pieces of checked baggage of up to 23 kg - 90cm x 65cm x 75cm
All other destinations - Standard Baggage Policy:
First/ Royal - 2 x pieces of checked baggage of up to 23 kg
Business Class - 2 x pieces of checked baggage of up to 23 kg
Economy Class are only entitled to 1 piece of baggage of up to 23 kg each piece.
---
Kuwait Airways In-flight Entertainment
Kuwait Airways offers complimentary music and movies on board its flights as well as magazines and newspapers.
Kuwait Airways Movies
Kuwait airways offers complimentary movies on long haul flights.
---
Kuwait Airways Food
Kuwait Airways Meal Options
Kuwait Airways offer complimentary meals on their flights. What is offered will depend on the flight duration, departure time and destination. A standard menu is offered to passengers on board the plane, so passengers will not be able to view their meal before flying.
Kuwait Airways Special Dietary Requirements
Kuwait Airways offer passengers with special dietary needs the ability to order a special meal. Special meals must be ordered at the time of booking, online via the Kuwait Airways website allowing plenty of time before flying or by contacting Alternative Airlines customer service team. All meals served onboard are halal meals.The following is a list of all special meals available to order for religious, dietary or medical reasons:
Bland Meal
Child's Meal
Diabetic Meal
Hindu Meal
Jain Meal
Low fat Meal
Non Lactose Meal
Low Salt Meal
Seafood Meal
Fruit Platter (FPML)
Vegetarian Hindu meal
Vegetarian Oriental meal
Vegetarian Lacto-Ovo meal
Kuwait Airways Drinks & Alcohol
Kuwait Airways provide all passengers a complimentary drinks service on board. However, no alcohol is to be served or consumed on board, regardless of a destination.
---
Kuwait Airways Seat Selection
You can now pre-book seats when booking your Kuwait Airways seats! Don't be left disappointed with your seat on the plane and reserve your favourite place to sit ahead of time. Find window seats, aisle seats and even seats with extra legroom for your Kuwait Airways flights.
---
Kuwait Airways Economy Class
Kuwait Economy Class offers comfortable settings with a range of facilities to enjoy for the budget traveler.
Kuwait Airways Economy Class Facilities
Kuwait Airways Economy Class facilities include entertainment options, with up to date films and music that can be played on the entertainment systems placed on the rear of seats.
Hot meals are available with a starter, main and desert and a selection of beverages. You can choose from three halal meals, however please note pork is not permitted to be served on the aircraft. Breakfast is also provided with a pastry, coffee, tea two hours before your arrival.
2 x 20kg of baggage is included in the Kuwait Airways Economy Class fare and 7kg carry-on.
A blanket and pillow are also included in Economy Class.
Kuwait Airways Economy Class Seating
Seating is comfortable and can be requested at a small fee. You can also request an extra seat if you are carrying musical instruments or various other elements. The extra seat request will be charged.
---
Kuwait Airways News
31st May 2018
AUSTRIAN GOVERNMENT MAY BAR KUWAIT AIRWAYS BECAUSE OF ANTI-ISRAEL BIAS
Kuwait Airways is slated to start flights in and out of Vienna in June.
However, Austrian Economics Minister Margarete Schramböck said on Wednesday she could not rule out denying landing rights to the state-owned airline in response to allegations of antisemitism for its refusal to serve Israeli passengers.
The Austrian Press Agency and the daily Der Standard first reported that Austria's government will consider punitive measures against Kuwait Airways. Nathan Gelbart, the Lawfare Project's German counsel representing an Israeli passenger who sued Kuwait Airways for denying him service because of his nationality, told The Jerusalem Post on Wednesday: "I welcome that the government in Vienna is obviously considering sanctions against Kuwait Airways because of their discriminatory transportation policy. The most effective way to fight antisemitism is to fight antisemites. I am confident Berlin will join these considerations very soon."

Schramböck, a member of the Austrian People's Party, said she explicitly rejects antisemitic conduct.

Oskar Deutsch, the president of the Jewish community in Vienna, told Der Standard on Wednesday that the conduct of Kuwait Airways is clearly antisemitic and unacceptable. "The Republic of Austria should not accept when companies use antisemitic laws to discriminate against Jews. Perhaps it would be best when the Austrian government jointly with the German government and the EU commission applies pressure on this airline and Kuwait. The best would be not when Kuwait Airways is not allowed to fly to Vienna, but when Kuwait changes its antisemitic law."

The Kuwaiti monarchy passed a law that forbids Kuwait from doing business with Israelis. Kuwait Airways is slated to start its flights in Vienna in June.

A spokesman for Israel's embassy in Vienna told Der Standard, "The official policy of Kuwait Airways does not correspond to the values of the Western world. We regret the fact that this airline will also now start flights from Vienna's airport and hope that responsible authorities will take the necessary measures."

The Kuwait Airways case is viewed as a test for Germany's declared fight against antisemitism. Germany's Transportation Minister Andreas Scheuer announced this year that Kuwait Airways will face "negative consequences" if the airline does not change its behavior. However, Scheuer has not penalized the airline. It is unclear if the German government wants to allow the conflict to fizzle out to avoid sanctioning Kuwait Airways.
14th March 2018
Kuwait Airways to Boost Munich Capacity
Previously, Kuwait's national carrier served the Kuwait City – Munich route three times a week. From June 07 to September 10, a Boeing B777-300ER service will operate the service, replacing the previously used Airbus A330-200 aircraft on the route.
Overall, the upcoming seasonal route is scheduled to be offered from June 07 to October 27. Along with facilitating an improved passenger experience, Kuwait Airways' route expansion aims to raise the quality of services across its expanding network.
7th January 2018
China Southern plane clips tailof Kuwait Airways aircraft on runway
Kuwait Airways flight 118 was involved in a minor collision on the tarmac at New York City's famous John F Kennedy Airport on Saturday. Just after midnight, as the Boeing 777 prepared to head back to Kuwait city, its tail was clipped by the right wing of a China Southern plane. Both aircrafts were damaged in the collision. The passengers inside the plane were not harmed in any way and were transferred to a hotel to await alternative flight arrangements. An investigation is underway to determine the cause of events, however the Kuwait Airways plane was completely stationary as it was awaiting clearance to take off.
15th November 2017
Kuwait Airways promotes 2035 vision
Later this week, Kuwait Airways will promote their 2035 vision at the Kuwait Air Show. According to the General Directorte of Civil Aviation, the goal of this event is to tranform Kuwait into a trade and economic hub. The Air Show will feature 125 local, regional and international civil and military companies, also displaying 70 planes. The Air Show has the capacity to improve the efficiency of Kuwait International Airportand get acquainted with state-of-the-aret aviation industries and ground services. The national carrier will be displaying the new Boeing-777 in its fleet and take part in an Air Show with the Kuwait Air force.
15th November 2017
Kuwait airline in draft deal for 25 Airbus A320neo jets
Airbus said on Tuesday it had signed a preliminary agreement to sell 25 A320neo aircraft to Golden Falcon Aviation, the exclusive aircraft supplier to Wataniya Airways of Kuwait. The memorandum of understanding, worth $2.7 billion at list prices, was signed at the Dubai Airshow. Wataniya Airways resumed flights in July, six years after ceasing operations due to its financial situation and political instability in the Middle East.
6th September 2017
Kuwait Airways grows summer seat capacity by 33%; now operating nine 777-300s; expecting to pass the three million passenger barrier in 2017
Kuwait Airways received its first 777-300 back in December 2016. The carrier is now operating nine of the type, with its tenth and final one expected in Q3 this year. As a result of these aircraft joining the fleet, Kuwait Airways' seat capacity in S17 is up by nearly 33%, with three million passengers expected to be flown by the airline in 2017.
Kuwait Airways is currently in the process of a five-year turnaround plan, which includes an ambitious fleet modernisation programme. Among the fleet additions are 10 777-300s, with the last one expected in Q3 2017, as well as 15 A320neos and 10 A350s which will begin to arrive from 2019. The Middle Eastern airline has fallen short of fellow hub carriers in the region during previous years, with it struggling financially. The state-run airline has also faced several management changes, with Ebrahim Al-Khuzam replacing Rasha Al-Roumi as CEO in May. Al-Roumi was charged with leading the five-year turnaround plan of the airline, but left with her reasoning being "lack of government backing." Despite these boardroom arrivals and departures, the impact of the initial phases of the five-year turnaround plan seems to be taking effect.
1st September 2017
Kuwait Airways expands Dhaka flights from January 2018
Kuwait Airways in the first quarter of 2018 plans to increase Kuwait City – Dhaka service, as it schedules 12 weekly flights from 03JAN18, instead of 10 weekly. Boeing 777-300ER operates all 12 weekly flights.

KU285 KWI0155 – 0955DAC 77W x47
KU283 KWI1950 – 2350DAC 77W D

KU284 DAC0120 – 0450KWI 77W D
KU286 DAC1115 – 1435KWI 77W x47

Operational schedule listed above is effective 03JAN18 – 12FEB18.
April 2017
Kuwait Airways' latest Boeing 777-300ER has been delivered to the national carrier of Kuwait, the sixth of 10 of the jetliners on order, which began deliveries just four months ago.
The new aircraft, which was delivered from Paine airfield in Washington, is to be called Meskan – named after the small Kuwaiti island just off the wast coast of the mainland. The addition of Meskan brings Kuwait Airways' operational fleet up to 25, with the five 777-300ER aircraft already in service. The plane arrives during a summer season that Kuwait Airways said has seen an increasee of 16 per cent in weekly flights across its network – a total of 324 per week. The 777-300ER's introduction has also boosted seat capacity by up to 58 per cent on certain routes of its 36-destination network. Some routes are now exclusively served by the new aircraft, including London, New York, Frankfurt; and soon to be added Dhaka, Bangkok and Manila.
April 2017
Kuwait Airways revamp plans
Kuwait's Minister of Social Affairs and Labor and State Minister for Economic Affairs Hind Al-Sabeeh has unveiled plans to revamp ailing national carrier Kuwait Airways (KU, Kuwait) through outside assistance and investment.
The most likely offering entails the Kuwaiti state retaining a 51% stake in Kuwait Airways with the strategic partner controlling 24%. 20% will be offered up via an IPO with 5% retained for employees inclusive of a 2% stake for pensioners. In May 2017, Kuwait Airways announced it was doubling Mumbai service to twice a day as market share increases. Kuwaiti national carrier Kuwait Airways is to complete switching over its booking, ticketing and reservations system to the Amadeus Altéa Suite of products within the next six months. The switch is the latest stage in efforts to revive the airline, which had fallen behind the curve in comparison to competitors in the Gulf. Kuwait Airways' elderly fleet is being renewed, the workforce is being thinned and a new terminal planned. Amadeus is the latest factor in the modernization equation.
June 2017
Kuwait Airways considers new US flight routes
Kuwait Airways announced it was considering adding a flight to Washington DC or Chicago despite mounting US travel restrictions, as the Gulf carrier revivies long-standing efforts to better compete with its more propserous regional rivals.
The additions, which could also include new service to Seoul; Manchester, England; Sarajevo, Bosnia-Herzegovina; or airports in China, Morocco and Saudi Arabia, are part of a wide-ranging restructuring as Kuwait Air aims to return to profit and lure more high-end customers. Kuwait Airways, one of the Gulf's most successful airlines before the 1990 Iraqi invasion of the country destroyed many of its planes, has been trying to counter the growth of its bigger rivals Emirates and Etihad Airways for years. Its ambitions are being hampered by tough business conditions, with challenges ranging from US travel restrictions to reduced spending power in the region due to low oil prices.
July 2017
Kuwait Airways announced it was welcoming its 8th Boeing 777-300ER into its fleet
Kuwait Airways, the official national airline of the State of Kuwait, welcomed the eight of the 10th Boeing 777-300ER aircraft it has on order to Kuwait International Airport on 1st July. The eight aircraft has been named 'Auha' after the small island situated 41km east of the Kuwaiti mainland. Following the recent partnership with ALAFCO, the Kuwait-based aircraft leasing company, the last four aircraft will now be financed as part of a 'sale lease back' agreement, each on 12-year leases.
July 2017
Kuwait Airways announced it had been removed from the March laptop ban for carry-on bags to the United States
The announcement came the same day as Royal Jordanian Airlines also left the list of nine airlines flying from 10 airports in eight countries. Etihad, Emirates, Turkish and Qatar Airways were removed in the past week. That leaves EgyptAir, Royal Air Maroc and Saudi Arabian Airlines having not yet announced their removal from the ban on electronics larger than cellphones in the cabin of flights to the U.S.
In December 2016, Kuwait Airways announced it had confirmed the ordering of the first of 10 Boeing 777-300ER. Arriving as a non-commercial, non-stop flight from Boeing's factory to Kuwait, the Boeing 777- 300ER will now undergo some regional flight tests, before entering full commercial service within weeks. It is understood that the aircraft's maiden commercial flight and route will be to London, although the exact dates will be revealed in a later announcement. Kuwait Airways, the national carrier of the State of Kuwait, announced yesterday that two new routes have been added to its network of international destinations, with the Munich route having already started and Najaf, Iraq, to be added from 1st December 2016. The addition of Munich has added to Kuwait Airways' existing network into Germany, served through Frankfurt, and is now operating three flights per week to the Bavarian capital. Including Frankfurt, this brings the total number of flights to the EU's most populous and largest economy to seven flights per week. Flights to Najaf, Iraq, will start from December 1 and offer a twice-weekly service, every Sunday and Thursday. As part of the national carrier's five-year transformation plan, Kuwait Airways recently announced that it had introduced a new "Winter Schedule", which saw a revision to its departure and arrival timings across its network, increased frequencies on key routes, and is now seeing the addition of new destinations.
November 2016
Kuwait Airways announced a new strategic partnership with Amadeus to transform its business processes.
Kuwait Airways has undertaken to implement a bold new strategy designed to revive the airline's once pioneering legacy in regional aviation, with clear infrastructural changes and new technologies that will see it become the preferred airline linking Kuwait to the world, by 2021. The airline is announcing its adoption of a complete suite of Altéa solutions including Revenue Management, e-Commerce, Loyalty Programs, Inventory, Reservation, Departure Control, Payments, as well as Mobile and Travel Intelligence.
---
Route Map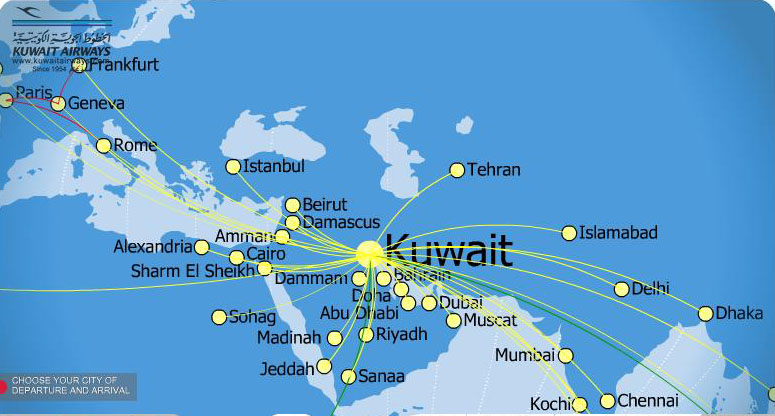 Popular Routes
Kuwait

Tehran
Kuwait

Islamabad
Kuwait

Instanbul
Kuwait

Delhi
Kuwait

Dhaka
Kuwait

Chennai

---
The Fleet
Airbus A300-600R
Airbus A330-200
Airbus A310-300
Airbus A340-300
Airbus A320-200
Boeing 777-200ER
---
Kuwait International Airport
HUB Airport
Kuwait International Airport is located in Farwaniyah, Kuwait, 15.5 kilometers south of Kuwait City, spread over an area of 37.7 square kilometres. It serves as hub for Jazeera Airways and Kuwait Airways. A portion of the airport complex is designated as Al Mubarak Air Base, which contains the headquarters of the Kuwait Air Force, as well as the Kuwait Air Force Museum.
Airlines that fly from and Kuwait International Airport include KLM, Qatar, Lufthansa, Etihad, AlMasria Universal Airlines, Ethiopian and Air India. Mihin Lanka used to have flights to this airport, prior to it ceasing operations in 2016.

---
---
Book Flights with Kuwait Airlines
Make a Kuwait Airlines booking and reservation and find some amazing deals with discounted Kuwait Airlines tickets at Alternative Airlines. Kuwait Airlines flies to many destinations worldwide, offering a cost effective and safe service to all its passengers. Let Alternative Airlines help find you cheap Kuwait Airlines tickets and make international and domestic flight reservations on Kuwait Airlines today.
Browse the most popular Kuwait Airlines flight routes to cities worldwide. Alternative Airlines can help you make reservations on Kuwait Airlines for international flights to lots of destinations. Use the following list of routes to help you plan your next flight. Book Kuwait Airlines flights on Alternative Airlines to save big! Alternative Airlines is an online travel agency, specialising in booking lesser known airlines and remote destinations.
Alternative Airlines is an Online Travel Agency bonded by the International Air Transport Association (IATA). We specialise in finding the best available fares on the widest range of airlines and making them available to you online, with prices in the currency of your choice.
Alternative Airlines handles all your travel arrangements and payments, complete with ticketed confirmation. We do not direct you to other websites or service providers.
We help you through the process. This is what makes us Alternative Airlines.
Browse for flights, find some amazing deals, make a reservation and pay in the currency of your choice today with Alternative Airlines.
Let Alternative Airlines help find you the best prices and make international and domestic flight reservations with us today.
Join the Alternative Airlines Members Club and get £100.00 back on your 5th booking with Alternative Airlines. You will have insight to many benefits and exclusive deals on over 650 airlines. Click on the Members section on the Alternative Airlines website for more information and join today.
We are open every day from 8am until 8pm (UK local time).