Find Yemenia Flights with Alternative Airlines
Make a Yemenia Booking and Find Some Amazing Deals
---
About Yemenia
Yemenia is the national airline of Yemen and is based in Sana'a. Yemenia operates scheduled domestic and international flights to destinations in Africa and the Middle East from its hub at Sana'a International Airport. Yemenia flies to many destinations including Abu Dhabi, Addis Ababa, Aden, Al Mukalla, Asmara, Bahrain, Beirut, Cairo, Dhaka, Frankfurt, Dubai, Frankfurt, Jakarta, Paris, Riyadh, Nairobi, Rome, Sana'a, Seiyun, Sharjah, Socotra, Ta'izz and many others. The network was enlarged by codeshare flights operated by Felix Airways.
Yemenia is a member of the Arab Air Carriers Organisation. The airline's fleet consists of a mix of Airbus aircraft which it uses to operate scheduled services to over 29 destinations. In March 2015, Yemenia was forced to suspend all operations until further notice due to a military disruption at Sana's International Airport. In August of the same year, the airline moved to Aden International Airport, Saudi Arabia until the problem was resolved. In February 2016, Yemenia was given permission to return to Sana's International Airport, which it now uses as its hub today.
---
The Fleet
Airbus A310-300
Airbus A320-200
The airline also has orders for the following aircraft:
Airbus A320neo
Airbus A350-900
---
Yemenia Baggage
Carry-on Baggage
Passengers are entitled to one item of carry-on baggage on Yemenia flights. This baggage must be able to fit in the overhead lockers above your seat.
Checked Baggage
Passengers flying in Economy Class on Yemenia flights are entitled to one item of checked baggage that must not exceed the weight of 23kg. Passengers flying in Business Class on Yemenia flights are entitled to two items of checked baggage. Each piece of baggage must weigh no more than 32kg per piece.
---
Yemenia Check-In Information
Passengers must check in at the airport with plenty of time from the departure time. Usually, you will need to arrive at the airport around 3 hours before your flight is due to depart.
---
Class Information
Passengers can enjoy food from the in-flight menu, comprised from a range of soft drinks and juices, hot drinks and fizzy drinks. Food may also be served, depending on the duration and time of your flight. Seats are comfortable, and staff are friendly and engaging, giving you a enjoyable flight.
---
Yemenia Route Map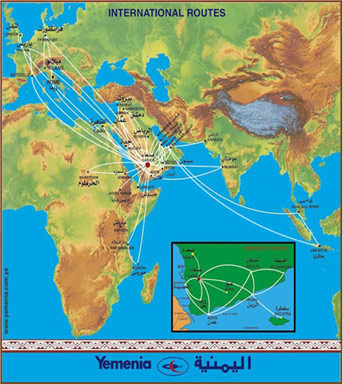 ---
Yemenia Destinations
Yemenia flies to the following destinations in Northern Africa, the Middle East and South Asia:
Cairo - Cairo International Airport Sudan Khartoum - Khartoum International Airport Asia Middle East Jordan Amman - Queen Alia International Airport Saudi Arabia Jeddah - King Abdulaziz International Airport Riyadh - King Khalid International Airport Yemen Aden - Aden International Airport Hub Seiyun - Seiyun Airport Focus Socotra - Socotra Airport South Asia India Mumbai - Chhatrapati Shivaji Maharaj International Airport
---
Alternative Airlines to Yemenia
Please click on the logos below to find out more about airlines that fly similar routes to Yemenia: