Search and Buy Jazeera Airways Flights with Alternative Airlines
Make a Jazeera Airways Booking and Find Some Amazing Deals
---
About Jazeera Airways
Jazeera Airways (full name: Jazeera Airways K.S.C) is a scheduled airline based at Kuwait International Airport. The airline was founded in 2004 and made history as the first non-government-owned airline in the Middle East. Although not owned by the government, Jazeera Airways have worked to establish itself as one of two national airlines of Kuwait.
The airline commenced flying operations in 2005, bringing with it competitive and new low-cost business models to the Middle East. The airline commenced its operations on a fleet of brand new Airbus A320s.
Jazeera Airways operates scheduled services from the Middle East to over 30 destinations in the region, but also to India and Europe.
Jazeera Airways is the largest carrier serving flights out of Kuwait Airport, having handled a quarter of all aircraft movements year on year. The airline also successfully operated flights for more than 1 million passengers in the first half of 2019.
The airline has been hugely dynamic in popularising low-cost carriers in the Middle East and won the 'Middle East Low-Cost Airline' by Arabian Aviation magazine in 2017. This is one of the reasons it has been featured in our blog about the cheapest and best-value airlines in the world.
---
Jazeera Airways Fleet
The following table summarises the Jazeera Airways fleet as of August 2019. The airline was the first Middle East airline to have deliveries of the Airbus A320neo, which is now used for their Dubai route.
---
Jazeera Airways Destinations
Since 2018, Jazeera Airways have focused on expanding its available routes to more destinations in the region. They now fly from its Kuwait base to destinations in Europe and the Middle East.
Domestic Destinations
| CITY | AIRPORT |
| --- | --- |
| Kuwait City | Kuwait International Airport (KWI) |
International Destinations
| COUNTRY | CITY | AIRPORT |
| --- | --- | --- |
| Azerbaijan | Baku | Heydar Aliyev International Airport (GYD) |
| Bahrain | Manama | Bahrain International Airport (BAH) |
| Bangladesh | Chattogram | Shah Amanat International Airport (CGP) |
| Bangladesh | Dhaka | Hazrat Shahjalal International Airport (DAC) |
| China | Xi'an | Xi'an Xianyang International Airport (XIY) |
| Egypt | Alexandria | Borg El Arab Airport (HBE) |
| Egypt | Assiut | Assiut Airport (ATZ) |
| Egypt | Cairo | Cairo International Airport (CAI) |
| Egypt | Luxor | Luxor International Airport (LXR) |
| Egypt | Sharm El Sheikh | Sharm El Sheikh International Airport (SSH) |
| Egypt | Sohag | Sohag International Airport (HMB) |
| Ethiopia | Addis Ababa | Bole International Airport (ADD) |
| Georgia | Tbilisi | Tbilisi International Airport (TBS) |
| India | Ahmedabad | Sardar Vallabhbhai Patel International Airport (AMD) |
| India | Chennai | Chennai International Airport (MAA) |
| India | Delhi | Indira Gandhi International Airport (DEL) |
| India | Hyderabad | Rajiv Gandhi International Airport (HYD) |
| India | Kochi | Cochin International Airport (COK) |
| India | Mumbai | Chhatrapati Shivaji International Airport (BOM) |
| Iran | Mashhad | Mashhad International Airport (MHD) |
| Iraq | Najaf | Al Najaf International Airport (NJF) |
| Jordan | Amman | Queen Alia International Airport (AMM) |
| Kazakhstan | Almaty | Almaty International Airport (ALA) |
| Kyrgyzstan | Osh | Osh Airport (OSS) |
| Lebanon | Beirut | Beirut–Rafic Hariri International Airport (BEY) |
| Nepal | Bhairahawa | Gautam Buddha International Airport (BWA) |
| Nepal | Kathmandu | Tribhuvan International Airport (KTM) |
| Oman | Muscat | Muscat International Airport (MCT) |
| Oman | Salalah | Salalah International Airport (SLL) |
| Pakistan | Karachi | Jinnah International Airport (KHI) |
| Pakistan | Lahore | Allama Iqbal International Airport (LHE) |
| Qatar | Doha | Hamad International Airport (DOH) |
| Qatar | Doha | Doha International Airport (DIA) |
| Saudi Arabia | Dammam | King Fahd International Airport (DMM) |
| Saudi Arabia | Jeddah | King Abdulaziz International Airport (JED) |
| Saudi Arabia | Medina | Prince Mohammad bin Abdulaziz International Airport (MED) |
| Saudi Arabia | Riyadh | King Khalid International Airport (RUH) |
| Saudi Arabia | Ta'if | Ta'if Regional Airport (TIF) |
| Turkey | Bodrum | Milas–Bodrum Airport (BJV) |
| Turkey | Istanbul | Istanbul Arnavutköy International Airport (IST) |
| Turkey | Istanbul | Istanbul Sabiha Gökçen International Airport (SAW) |
| United Arab Emirates | Al Ain | Al Ain International Airport (AAN) |
| United Arab Emirates | Dubai | Dubai International Airport (DXB) |
| United Arab Emirates | Sharjah | Sharjah International Airport (SHJ) |
| Uzbekistan | Tashkent | Tashkent International Airport (TAS) |
---
Jazeera Airways Route Map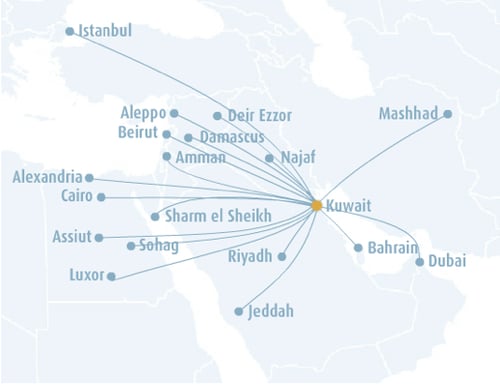 ---
Jazeera Airways Baggage
Carry-On Baggage
Any item of carry-on baggage must not exceed the dimensions of 55 x 40 x 20cm (21 x 16 x 8in), regardless of the class you are travelling in.
All carry-on pieces must be declared at the check-in counters and Jazeera Airways' carry-on tags must be attached to every carry-on piece. Infants are not allowed any checked-in or carry on baggage, although if you're travelling with infants, you're permitted to carry an additional 10kg / 22lbs of hand baggage.
Economy
If you're travelling in Economy Class, you're permitted 1 item of carry-on luggage, weighing a maximum of 7kg / 15lbs.
Business
If you purchased a Business Class fare, you're permitted 2 items of hand luggage, which must not exceed 15kg / 33lbs for combined total weight.
Carry-on Baggage
Regardless of your individual baggage allowance, every item of baggage must not exceed 32kg / 70lbs in weight, and not exceed the combined linear dimensions (L+H+W) of 158cm / 62in for each bag.
Economy
If you have an Economy ticket, you're allowed 30kg / 66lbs of checked baggage (40kg / 88lbs for certain flights according to fare rules). Economy class passengers are permitted a maximum of 2 items of checked baggage.
Business
If you have a Business ticket, you're allowed 30kg / 66lbs of checked baggage and 50kg / 110lbs (60kg / 132lbs for certain flights according to fare rules). Business class passengers are permitted a maximum of 3 items of checked luggage.
---
Jazeera Airways Check-In Information
Online Check-in
You can check in online for your Jazeera Airways flights from 24 hour hours before flying and up to 1 hour before the flight departure time. Simply head to the Jazeera Airways website to proceed with web check-in. Web Check-in also allows you to check in your luggage in advance, select your seat, meal options (if available) and many more, before you depart for the flight. Check in and print your boarding pass directly from your computer.
Airport Check-in
If you've not checked in online, you'll need to check in at the airport. At Kuwait Airport, check-in will open 6 hours before flight departure time and at all other airports, this service will commence 3 hours before flying. The check-in desks will close 45 minutes before departure, apart from at Istanbul, Egypt and Dubai Airports which close 1 hour before the flight departure time.
As of March 2019, Jazeera Airways has introduced state-of-the-art self-check-in kiosks at Terminal 5 (T5) at Kuwait International Airport which can be used to check in yourself at the airport.
---
Jazeera Airways Hub Airport
Kuwait International Airport
Kuwait International Airport is located in Farwaniyah, Kuwait, 15.5 kilometres south of Kuwait City, spread over an area of 37.7 square kilometres. It serves as a hub for Jazeera Airways and also Kuwait Airways. A portion of the airport complex is designated as Al Mubarak Air Base, which contains the headquarters of the Kuwait Air Force, as well as the Kuwait Air Force Museum.
Airlines that fly from Kuwait International Airport include KLM, Qatar, Lufthansa, Etihad, Ethiopian, AlMasria Universal Airlines and Air India.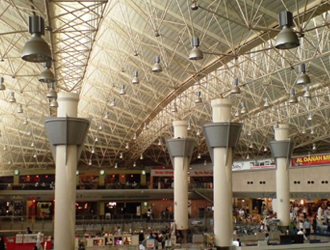 Photo credit: MuLaN™ via Wikimedia Commons under the Creative Commons Attribution 2.0 Generic license.
---
Jazeera Airways Class Information
On most Jazeera Airways routes, there are only two classes of travel; Economy and Business classes. However, on some select routes, there is a Premium Economy service in addition.
Economy Class
Facilities
Jazeera Airways' Economy Class include 30 kilograms in free baggage allowance for every passenger and a selection of onboard meals and snacks available to purchase from the Jazeera Cafe menu (options changing monthly).
Seats
Economy Class seating has comfortable leather seats with a seat pitch of 78cm / 31in.
Premium Economy
Facilities
You'll receive a generous 40kg / 88lbs of checked luggage, with your ticket including complimentary seat selection. You'll also get complimentary in-flight hot meals, with options that change monthly.
Seats
Seats in Premium Economy have additional legroom and a vacant middle seat, meaning you have more personal space during your flight.
Business Class
Facilities
Business Class passengers are treated to an exclusive flying experience, which starts at the airport with airport lounge access (dependent on the departure airport), dedicated check-in counters, priority passport control, luggage clearance and boarding and disembarkation.
In addition, if you're flying Business, you can have a very generous baggage allowance of 50kg / 110lbs total weight.
Whilst onboard, you will have an excellent flying service with dedicated business class staff, complimentary seat selection and free meals and drinks on board.
Seats
The Business Class cabin is separated from the rest of the plane, providing a quiet and private space, complete with luxurious and comfortable seating.
First Class
There is currently no First Class onboard this airline. For a premium flying experience, why not upgrade to Business Class?
---
Alternative Airlines to Jazeera Airways
Please click on the logos below to find out more about airlines that fly similar routes to Jazeera Airways:
---
Jazeera Airways In-Flight Entertainment
You can download the Jazeera Screens app before flying and connect to the plane's WiFI to access films, TV shows and music directly from the app on your own personal device. You'll have a wide choice of entertainment which includes recent Hollywood films, classic films, Arabic and Bollywood films, TV shows, Kids' TV shows and Sports.
---
Jazeera Airways Food
If food isn't included in your fare, you can purchase items from the menu in advance of flying. Choose from Middle-Eastern delicacies such as Chicken Shawarma, Falafel or international foods such as pasta, curries or omelettes. These items have to be ordered at least 24 hours before flying. All meals onboard are halal.
---
Jazeera Airways WiFi
You can connect to the complimentary in-flight WiFi which allows you to enjoy the in-flight entertainment content via the app.
---
Jazeera Airways Frequent Flyer
Jazeera Airways have a frequent flyer program called Jazeerati. This programme entitles members to a complimentary Economy Class ticket for every 10 flights made within a year.
---
Jazeera Airways Airline Alliance
Jazeera Airways is currently not part of any airline alliances.
---
Jazeera Airways Special Services
Jazeera Airways ask that you request any special services required at least 48 hours before flying
Mobility Assistance
Onboard the aircraft, Jazeera have mobility-friendly facilities such as seats with moveable armrests and handrails in toilets.
Jazeera is happy to arrange wheelchair assistance, and is happy for you to use your own personal wheelchair or mobility aid where possible. Please contact the airline directly for more advice or assistance.
Sensory Impairments
If you are hearing or visually impaired, you'll be briefed by staff on the safety briefings and they'll provide the necessary assistance.
Travelling whilst Pregnant
Jazeera Airways are happy for expectant mothers to travel with them, as long as they have proof from their doctor that they are fit to fly after 28 weeks of pregnancy. For safety reasons, if you're 32 weeks pregnant or more, you won't be allowed to fly. For more information about flying whilst pregnant, check out our advice.
Unaccompanied Minors
Minors can travel unaccompanied with Jazeera Airways when it has been prearranged and booked. Unaccompanied minors will be accompanied by airport staff through to the boarding pass, where they will board and be looked after by the friendly Jazeera staff. Once landed, the minors will be looked after by the ground crew who will deliver them to the receiving party.
Assistive Animals or Pets
Currently, Jazeera does not allow assistive animals to be transported in either the hold or cabin. Check out our advice on taking special service pets with you on a plane.
---
Jazeera Airways News
26th September 2022
Jazeera Airways launches 'Jazeera Global' in partnership with Dohop
Jazeera Airways today announced its new partnership with Icelandic technology provider Dohop. Jazeera Global will allow passengers to book connections from their Jazeera flights to other airlines to a broad range of destinations all in one transaction via the Jazeera website and App.
19th September 2022
Jazeera Airways announces first route to China
Jazeera Airways has recently announced plans for its first route to China, launching direct flights to Xian. Xian is the third largest city in Western China - Jazeera Airways will be able to service a city with a population of 12 million people, further expanding its network. Its inaugural flight to Xian will take place on the 19th of September, including a technical stop in Bishkek, Kyrgyzstan, for refuelling.
---
Jazeera Airways FAQs
Does Jazeera Airways serve food?
With Jazeera Airways, you can pre-order items from the airline's special Jazeera Cafe menu which consists of Middle-Eastern delicacies such as falafels, potato bhajis, chicken masala and chicken shawarma. You can also purchase sandwiches with halloumi, turkey, beef or cheese. Jazeera also has international meals such as penne bolognese and mushroom omelette, among others. All the meals onboard are Halal. In order to indulge in these delicious meals, you'll need to order your food at least 24 hours before flying.
Do Jazeera Airways fly to the UK?
No, Jazeera Airways doesn't currently operate flights to/from the UK. The airline used to operate flights between Kuwait and London-Gatwick, but this route was terminated in August 2020 due to the impact the COVID-19 pandemic had on the airline.