Air India Reservations with Alternative Airlines
Make an Air India Booking and Find Some Amazing Deals
---
About
Air India is the flag carrier of India. Based at Indira Gandhi International Airport, Delhi, the airline flies to over 100 destinations across Asia, Europe, Africa and North America. The airline is the biggest international airline in India with the largest international route network and is the third-largest Indian airline overall, behind IndioGo and Jet Airways. Although it has a large Indian domestic flight offering, the airline is seen primarily as the main airline flying in and out of the country.
Air India launched under the name Tata Air Services/Tata Airlines in 1932, rebranded as Air India in 1946 and gained its status as India's national airline in 1953 when it became a government-owned company. In 2007, Air India merged with India's other state-owned airline, Indian Airlines and took on all of its domestic services.
In recent years, Air India has put in multiple requests to the government of India for the privatisation of the airline. However, despite this, it is yet to get privatisation. If Air India does get privatisation, it will still remain the national carrier of India.
You can now buy Air India flight tickets in instalments - check out our Air India Fly Now, Pay Later page.
---
Fleet
The airline's fleet consists of a mix of wide-body Boeing and narrow-body Airbus aircraft.
The airline currently has a fleet size of over 130 airlines overall, made up of a mix of:
Airbus A319-100
Airbus A320-200
Airbus A321-200
Boeing 777-300ER
---
Destinations
Domestic Destinations
| CITY | AIRPORT |
| --- | --- |
| Agartala | Agartala Airport (IXA) |
| Agra | Agra Airport (AGR) |
| Ahmedabad | Sardar Vallabhbhai Patel International Airport (AMD) |
| Aizawl | Lengpui Airport (AJL) |
| Amritsar | Sri Guru Ram Dass Jee International Airport (ATQ) |
| Aurangabad | Aurangabad Airport (IXU) |
| Bagdogra | Bagdogra (IXB) |
| Bangalore | Kempegowda International Airport (BLR) |
| Belgaum | Belgaum Airport (IXG) |
| Bhopal | Raja Bhoj Airport (BHO) |
| Bhubaneshwar | Biju Patnaik Airport (BBI) |
| Chandigarh | Chandigarh International Airport (IXC) |
| Chennai | Chennai International Airport (MAA) |
| Coimbatore | Coimbatore International Airport (CJB) |
| Delhi | Indira Gandhi International Airport (DEL) |
| Dibrugarh | Dibrugarh Airport (DIB) |
| Dimapur | Dimapur Airport (DMU) |
| Durgapur | Kazi Nazrul Islam Airport (RDP) |
| Gaya | Gaya Airport (GAY) |
| Goa | Dabolim Airport (GOI) |
| Guwahati | Lokpriya Gopinath Bordoloi International Airport (GAU) |
| Hubli | Hubli Airport (HBX) |
| Hyderabad | Rajiv Gandhi International Airport (HYD) |
| Imphal | Imphal Airport (IMF) |
| Indore | Devi Ahilya Bai Holkar Airport (IDR) |
| Jaipur | Jaipur International Airport (JAI) |
| Jammu | Jammu Airport (IXJ) |
| Jamnagar | Jamnagar Airport (JGA) |
| Jodhpur | Jodhpur Airport (JDH) |
| Kannur | Kannur International Airport (CNN) |
| Khajuraho | Khajuraho Airport (CNN) |
| Kochi | Kochi International Airport (COK) |
| Kolkata | Netaji Subhas Chandra Bose International Airport (CCU) |
| Kozhikode | Calicut International Airport (CCJ) |
| Leh | Kushok Bakula Rimpochee Airport (IXL) |
| Lucknow | Chaudhary Charan Singh Airport (LKO) |
| Madurai | Madurai International Airport (IXM) |
| Mangalore | Mangalore International Airport (IXE) |
| Mumbai | Chhatrapati Shivaji Maharaj International Airport (BOM) |
| Nagpur | Nagpur Airport (NAG) |
| Nanded | Nanded Airport (NDC) |
| Patna | Jay Prakash Narayan Airport (PAT) |
| Port Blair | Veer Savarkar International Airport (IXZ) |
| Pune | Pune International Airport (PNQ) |
| Raipur | Raipur Airport (RPR) |
| Rajkot | Rajkot Airport (RAJ) |
| Ranchi | Birsa Munda Airport (IXR) |
| Silchar | Silchar Airport (IXS) |
| Srinagar | Sheikh ul-Alam International Airport (SXR) |
| Surat | Surat International Airport (STV) |
| Thiruvananthapuram | Trivandrum International Airport (TRV) |
| Tirupati | Tirupati Airport (TIR) |
| Varanasi | Varanasi Airport (VNS) |
| Vijayawada | Vijayawada Airport (VGA) |
| Visakhapatnam | Visakhapatnam Airport (VTZ) |
International Destinations
COUNTRY
CITY
AIRPORT
Afghanistan
Kabul
Hamid Karzai International Airport (KBL)
Australia
Melbourne
Melbourne Airport (MEL)
Sydney
Sydney Airport (SYD)
Bahrain
Manama
Bahrain International Airport (BAH)
Bangladesh
Dhaka
Shahjalal International Airport (DAC)
Canada
Toronto
Toronto Pearson International Airport (YYZ)
China
Shanghai
Shanghai Pudong International Airport (PVG)
Denmark
Copenhagen
Copenhagen Airport (CPH)
France
Paris
Paris Charles de Gaulle Airport (CDG)
Germany
Frankfurt
Frankfurt Airport (FRA)
Hong Kong
Hong Kong
Hong Kong International Airport (HKG)
Indonesia
Denpasar
Ngurah Rai International Airport (DPS)
Iraq
Najaf
Al Najaf International Airport (NJF)
Italy
Milan
Malpensa Airport (MXP)
Rome
Leonardo da Vinci–Fiumicino Airport (FCO)
Japan
Tokyo
Narita International Airport (NRT)
Kenya
Nairobi
Jomo Kenyatta International Airport (NBO)
Kuwait
Kuwait City
Kuwait International Airport (KWI)
Maldives
Malé
Velana International Airport (MLE)
Myanmar
Yangon
Yangon International Airport (RGN)
Nepal
Kathmandu
Tribhuvan International Airport (KTM)
Oman
Muscat
Muscat International Airport (MCT)
Qatar
Doha
Hamad International Airport (DOH)
Saudi Arabia
Dammam
King Fahd International Airport (DMM)
Jeddah
King Abdulaziz International Airport (JED)
Riyadh
King Khalid International Airport (RUH)
Singapore
Singapore
Singapore Changi Airport (SIN)
South Korea
Seoul
Incheon International Airport (ICN)
Spain
Madrid
Adolfo Suárez Madrid–Barajas Airport (MAD)
Sri Lanka
Colombo
Bandaranaike International Airport (CMB)
Sweden
Stockholm
Stockholm Arlanda Airport (ARN)
Thailand
Bangkok
Suvarnabhumi International Airport (BKK)
United Arab Emirates
Abu Dhabi
Abu Dhabi International Airport (AUH)
Dubai
Dubai International Airport (DXB)
Sharjah
Sharjah International Airport (SHJ)
United Kingdom
Birmingham
Birmingham Airport (BHX)
London
London Heathrow Airport (LHR)
London Stansed Airport (STD)
United States
Chicago
Chicago O'Hare International Airport (ORD)
Newark
Newark Liberty International Airport (EWR)
New York City
John F. Kennedy International Airport (JFK)
San Francisco
San Francisco International Airport (SFO)
Washington D.C
Washington Dulles International Airport (IAD)
---
Route Map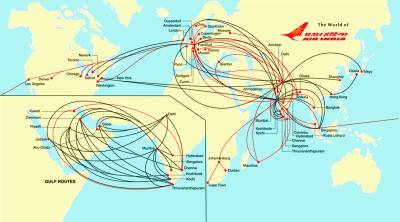 ---
Baggage
Carry-on Baggage
Air India passengers are permitted one item of free carry-on baggage, weighing a maximum of 8kg. The dimensions of the baggage must not exceed 55 cm x 35 cm x 25 cm (21.6" x 13.7" x 9.8"). This applies to all flights operated by Air India.
Checked Baggage
For Domestic Flights:
| TICKET FARE | FREE BAGGAGE ALLOWANCE | MAXIMUM DIMENSIONS |
| --- | --- | --- |
| Economy Class | 25 kg | 158 cm (62") overall (length x width x height) |
| Business Class | 35 kg | 273 cm (107") overall (length x width x height) |
| First Class | 40 kg | 273 cm (107") overall (length x width x height) |
| Infants (all classes) | 10 kg | - |
For International Flights:
International flight baggage allowance is dependent on the departure and destination airport and the class that the passenger is flying. Find out the full free baggage allowance for each route.
---
Check-In Information
Online Check-In
Passengers can check in online for their flights. This service is available on the Air India online check-in page 48 hours before departure and up to 2 hours before departure.
Airport Check-In
Alternatively, passengers can check in for their flight at the airport. This can be done either by visiting one of the check-in agents at the airline check-in desk or by using the self-service kiosks to check in.
---
Economy Class
Air India Economy Class provides a range of facilities for passengers flying in Economy, suitable for budget travellers.
Economy Class Facilities
Air India Economy Class passengers can enjoy:
Complimentary refreshments and meals on all flights
Continental and Indian food on international flights
Complimentary alcohol on international flights
In-flight entertainment
A temperature-controlled cabin
Economy Class Seats
Passengers can select seats in Economy Class on selected routes for a small fee. They can choose from having a middle seat, window or aisle.
Economy Class seats on short-haul flights have 73–76 cm (29–30" ) of seat pitch and 45 cm (17.8") of width in a 3 x 3 formation.
Economy Class seats on long-haul flights have 78–83 cm of seat pitch (31–33") and 45 cm (18") of width in a 3 x 3 x 3 formation.
---
Premium Economy
Air India doesn't offer Premium Economy on its flights. For ultimate comfort and luxury, book a flight in Business or First Class.
---
Business Class
Air India's Executive Class offers Business and Leisure passengers an exclusive and luxurious in-flight experience.
Business Class Facilities
Before boarding, Business Class passengers with Air India can avoid the hustle and bustle of the airport and enjoy exclusive check-in and lounge facilities. Once onboard, passengers are treated to delicious entrees as well as an excellent selection of wines in a spacious cabin with extra-comfortable seats.
What Are Business Class Seats Like?
Air India's Business Class on its long-haul flights operated by the 747 aircraft offers each passenger an aisle or window seat due to its 2 x 2 x 2 formation. On other aircraft on long-haul, seats are set out in a 2 x 3 x 2 formation. These seats give 193 cm (76") of seat pitch and 50 cm (20") of width.
On short-haul flights, seats are set out in a 2 x 2 formation and give 101 cm (40") of seat pitch and 53 cm (21") of width.
---
First Class
Fly in the lap of luxury with Air India's First Class. With outstanding service, excellent dining experience and pillow-soft seats, the First Class Cabin is for those that are looking for the ultimate flying experience.
Air India First Class Facilities
Air India's First Class includes an extensive menu, which differs from region to region. As well as a full drinks menu, with wine and liqueurs. Passengers can also enjoy a personal TV screen at each seat, with a full entertainment system and access to duty-free shopping.
Does Air India First Class Facilities Have a First Class Lounge?
Air India has a lounge at Delhi International Airport which is exclusive for Business Class and First Class passengers.
What Does Air India First Class Include?
In addition to its amazing food and drink menu, passengers flying in First Class with Air India can also enjoy 180-degree recline seats. The First Class Cabin is exclusive and only sits 12 passengers. This means passengers will always have plenty of room and privacy.
First Class Seats
First Class seats are set out in a 2 x 2 x 2 or 1 x 2 x 1 formation, ensuring that each passenger gets either an aisle or window seat. First Class seats give 203 cm of seat pitch (80") and 58 cm (23") of width.
---
In-Flight Entertainment
Air India offers a large number of channels and movies for passenger's inflight entertainment. This service is not currently available on board Airbus aircraft.
Air India TV
Find travel documentaries, popular Hindi shows and cartoons when flying Air India. There's something for every member of the family on board your Air India flight.
Air India Movies
When flying with Air India, you can choose from a range of films including new Hindi releases as well as Bollywood classics. There's also a range of classic Hollywood films as well as foreign language films.
---
WIFI
Air India doesn't offer Wi-Fi on any of its flights as of now.
---
Food
Air India Meal Options
With inspiration from Indian flavours and cultures, Air India provide delicious food onboard. Meal offerings vary depending on the route and class flying and the time of day, with breakfast, lunch and dinner served.
Passengers can select their preferred meal choice before flying, but if no meal is requested, an Indian Non-Vegetarian Meal will be served as normal.
First and Executive class passengers are offered a premium menu onboard their flights, to see the menu offered in the region you are travelling in, check the Air India food page and click the appropriate region.
Air India Special Dietary Requirements
Air India offers a range of different special meals for its passengers, including religious meals, medical meals and meals for infants. Passengers must request their special meal 48 hours before flight departure, especially for Economy Class. For passengers with nut allergies, Air India advise passengers to bring their own food aboard as nuts are served on board. See below for a full list of available special meals:
RELIGIOUS MEALS
Asian Veg Meal (AVML)
Hindu Meal (non-veg) (HNML)
Kosher Meal (KSML)
Jain Meal (VJML)
Vegetarian Meal (VGML)
Muslim Meal (MOML)
MEDICAL & DIETARY MEALS
Bland Meal (BLML)
Diabetic Meal (DBML)
Fruit Platter (FPML)
Gluten Free Meal (GFML)
Lacto-ovo Vegetarian Meal (VLML)
Low-calorie Meal (LCML)
Low Fat / Low Cholesterol Meal (LFML)
Low Sodium Meal (LSML)
Non-Lactose Meal (NLML)
Raw Vegetable Meal (RVML)
Seafood Meal (SFML)
Vegetarian Oriental Meal (VOML)
CHILD & BABY MEALS
Baby Meal (BBML)
Child Meal (CHML)
Air India Drinks & Alcohol
Air India offers alcoholic and non-alcoholic beverages as part of their complimentary drinks service on board if the length of the flight allows for it. Business and First class passengers are offered a wider range of beverages, with often multiple brands to choose from.
---
Hub Airport
Indira Gandhi International Airport, Delhi
Indira Gandhi International Airport is the primary airport for Delhi, India and is the hub airport for Air India. The airport is the busiest airport in India, handling around 70 million passengers per year. It currently has three terminals and three runways. However, plans to add a fourth runway and a fourth, fifth and six terminal have been put in place.
Other airlines that use Indira Gandhi International as a hub include AirAsia India, Alliance Air, GoAir, IndiGo, Jet Airways, JetLite, SpiceJet and Vistara.
---
Frequent Flyer
Flying Returns
Flying Returns is a frequent flyer loyalty program that rewards passengers who fly with Air India, members of the Star Alliance, select Air India codeshare partners and those that purchase from the airline's non-airline members. For each purchase, passengers gain miles that can be spent toward a future Air India or partner airline flight.
---
Airline Alliance
Star Alliance
Air India is a member of Star Alliance, which is the world's largest airline alliance. Air India is the main central Asian airline that is part of Star Alliance. Due to Star Alliance, Air India passengers can enjoy a range of benefits from all member airlines and will be able to reach parts of the world that are beyond Air India's route network.
---
Alternative Airlines to Air India
---
Seat Selection
View Air India seat availability on all flights and get the seat of your choice when you book Air India flight tickets with Alternative Airlines. Alternative Airlines give you the option to select your Air India preferred seats through an interactive seat map so that you can sit exactly where you want for the duration of the flight. Visit our seat selection page to find out how to book your Air India seat.
---
Red Eye Flights with Air India
Red-eye flights are flights that depart late at night and arrive early in the morning of the next day. Air India flies a handful of red-eye flights - some popular routes include New Delhi to Tokyo and Mumbai to Singapore. Read our Air India red-eye flights guide to find out how to book these types of flights through Alternative Airlines.
---
Book Air India Flights in English
Search and buy Air India flights in English. Use our simple booking process to find your flights to India with Air India. With Alternative Airlines, you can book flights in English, use the currency of your choice and rely on our trusted customer service team to help you with your booking.
---
FAQs
Where does Air India fly to?
Air India flies to over 100 destinations around the world, serving more than 30 countries, including Australia, Bahrain, Canada, Germany, Hong Kong, Myanmar, Thailand etc.
The airline is the flag carrier and the largest international carrier of India, operating a massive fleet of more than 130 aircraft.
What is the maximum check-in baggage weight allowed on Air India?
The maximum weight allowance differs with respect to fare class on Air India.
In Economy Class, a single piece of baggage isn't allowed to weigh more than 23kg (50lbs).
Whereas, in the Business and First class, a single piece of baggage isn't allowed to weigh more than 32kg (70lbs).
Who owns Air India?
The airline was previously owned by the government of India, but as of 2021, Air India has been privatised and is 100 % owned by the TATA group of companies, which is the largest conglomerate of India.