Jet Airways Reservations with Alternative Airlines
Make a Jet Airways Booking and Find Some Amazing Deals
---
About
Jet Airways is the second-largest airline in India. The Mumbai based airline operates around 300 scheduled daily flights to over 70 destinations all over the world, as well as local flights mainly to Delhi, Kolkata, Chenchai and Bangalore.
Jet Airways main hub is Chhatrapati Shivaji International Airport in Mumbai, however, in addition, Jet Airways has six additional secondary hubs. These hubs include Amsterdam Schiphol Airport, Abu Dhabi Airport, Chennai Airport and Indira Gandhi International Airport. One of Jet Airways' secondary hubs is at Brussels Airport, providing a gateway to Europe and onto North America.
In 2018, Jet Airways first reported financial difficulties. This led to the airline stopping all flights and ceasing operations the year following.
In 2020, the airline was bought out by new owners, who had planned to revive the airline in early 2021. The airline is now planned to return as a full-service carrier by September 2022, initially flying domestic flights within India but expanding internationally in time.
---
Destinations
Jet Airways flew to over 70 destinations before it under came financial difficulties and had to suspend operations. These destinations included Bangkok, Hong Kong, Singapore, Colombo, Kathmandu, Dhaka, Abu Dhabi, Ahmedabad, Amsterdam, Bengaluru, Chicago, Dammam, Dallas and many others.
Domestic
Before the cease in operations, Jet Airways flew to over 30 cities with its domestic flights.
COUNTRY
CITY
AIRPORT
Andaman and Nicobar Islands
Port Blair
Veer Savarkar International Airport
Andhra Pradesh
Rajahmundry
Rajahmundry Airport
Tirupati
Tirupati Airport
Vijayawada
Vijayawada Airport
Visakhapatnam
Visakhapatnam Airport
Assam
Guwahati
Lokpriya Gopinath Bordoloi International Airport
Jorhat
Jorhat Airport
Silchar
Silchar Airport
Bihar
Patna
Jay Prakash Narayan Airport
Chandigarh
Chandigarh
Chandigarh Airport
Chhattisgarh
Raipur
Swami Vivekananda Airport
Daman and Diu
Diu
Diu Airport
Delhi
Delhi
Indira Gandhi International Airport
Goa
Goa
Dabolim Airport
Gujarat
Ahmedabad
Sardar Vallabhbhai Patel International Airport
Bhavnagar
Bhavnagar Airport
Bhuj
Bhuj Airport
Kandla
Kandla Airport
Keshod
Keshod Airport
Porbandar
Porbandar Airport
Rajkot
Rajkot Airport
Vadodara
Vadodara Airport
Jammu and Kashmir
Jammu
Jammu Airport
Srinagar
Sheikh ul-Alam International Airport
Jharkhand
Ranchi
Birsa Munda Airport
Karnataka
Bangalore
Kempegowda International Airport
Mangalore
Mangalore International Airport
Kerala
Kochi
Cochin International Airport
Kozhikode
Calicut International Airport
Thiruvananthapuram
Trivandrum International Airport
Ladakh
Leh
Kushok Bakula Rimpochee Airport
Madhya Pradesh
Bhopal
Raja Bhoj Airport
Indore
Devi Ahilya Bai Holkar Airport
Khajuraho
Khajuraho Airport
Maharashtra
Aurangabad
Aurangabad Airport
Mumbai
Chhatrapati Shivaji Maharaj International Airport
Nagpur
Dr. Babasaheb Ambedkar International Airport
Nashik
Nashik Airport
Pune
Pune Airport
Manipur
Imphal
Imphal Airport
Mizoram
Aizawl
Lengpui Airport
Odisha
Bhubaneswar
Biju Patnaik Airport
Punjab
Amritsar
Sri Guru Ram Dass Jee International Airport
Rajasthan
Jaipur
Jaipur International Airport
Jodhpur
Jodhpur Airport
Udaipur
Maharana Pratap Airport
Tamil Nadu
Chennai
Chennai International Airport
Coimbatore
Coimbatore International Airport
Madurai
Madurai International Airport
Tiruchirappalli
Tiruchirapalli International Airport
Telangana
Hyderabad
Rajiv Gandhi International Airport
Tripura
Agartala
Maharaja Bir Bikram Airport
Uttarakhand
Dehradun
Dehradun Airport
Uttar Pradesh
Allahabad
Allahabad Airport
Gorakhpur
Gorakhpur Airport
Lucknow
Chaudhary Charan Singh Airport
Varanasi
Lal Bahadur Shastri Airport
West Bengal
Kolkata
Netaji Subhas Chandra Bose International Airport
Siliguri
Bagdogra Airport
International
COUNTRY
CITY
AIRPORT
Bahrain
Manama
Bahrain International Airport
Bangladesh
Dhaka
Shahjalal International Airport
Belgium
Brussels
Brussels Airport
Canada
Toronto
Toronto Pearson International Airport
China
Shanghai
Shanghai Pudong International Airport
France
Paris
Charles de Gaulle Airport
Hong Kong
Hong Kong
Hong Kong International Airport
Italy
Milan
Milan–Malpensa Airport
Kuwait
Kuwait City
Kuwait International Airport
Nepal
Kathmandu
Tribhuvan International Airport
Netherlands
Amsterdam
Amsterdam Airport Schiphol
Oman
Muscat
Muscat International Airport
Qatar
Doha
Hamad International Airport
Saudi Arabia
Dammam
King Fahd International Airport
Jeddah
King Abdulaziz International Airport
Riyadh
King Khalid International Airport
Singapore
Singapore
Singapore Changi Airport
South Africa
Johannesburg
O. R. Tambo International Airport
Sri Lanka
Colombo
Bandaranaike International Airport
Thailand
Bangkok
Suvarnabhumi Airport
United Arab Emirates
Abu Dhabi
Abu Dhabi International Airport
Dubai
Dubai International Airport
Sharjah
Sharjah International Airport
United Kingdom
London
London Heathrow International Airport
Manchester
Manchester Airport
United States
Newark
Newark Liberty International Airport
New York City
John F. Kennedy International Airport
San Francisco
San Francisco International Airport
Vietnam
Ho Chi Minh City
Tan Son Nhat International Airport
---
Route Map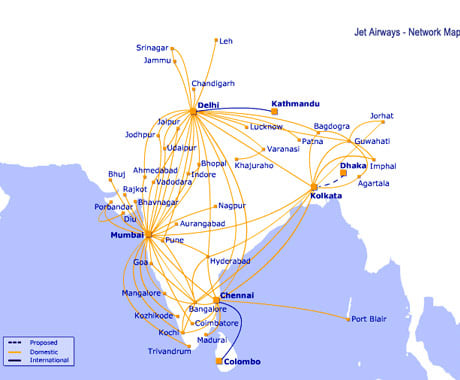 ---
Baggage
Baggage allowances are calculated depending on your route travelling, cabin and fare. However, the free baggage allowance amount is likely to change under the new Jet Airways ownership.
Carry-on Baggage Allowance
Each passenger is allowed to have one cabin bag and one personal item such as a laptop bag or handbag.
Maximum dimensions are 55cm x 35cm x 25cm and a weight of up to 7kg.
Checked Baggage Allowance
Your checked baggage allowance will depend on the destination you're flying to as well as the fare type.
The allowance usually starts with 2 bags and a maximum weight of 23kg per bag.
Please come back to this section when Jet Airways returns to the skies for full details on baggage allowance.
---
Seat Selection
Seating for Jet Airways is easy to book with Alternative Airlines. Our interactive seat map allows passengers to see the layout of the plan so that they can choose and book their preferred seat. Options will include seats in certain positions such as aisle, window or exit row seats, but also options such as seats with extra legroom. The map will also allow passengers to see which seats are available to book. Visit our seat selection page to find out how to book your Jet Airways seats.
---
Class Information
Jet Airways offers three classes of seating: Economy, Business (Premiere) and First Class.
---
Economy Class
Economy Class seating is available on both regional and international flights.
Economy Class Facilities
On regional flights, whatever be the time of day, a selection of meals are sure to leave you completely satisfied. On international flights, enjoy in-flight entertainment on your personal LCD TV. Enjoy carefully designed menus and exquisite presentations of delectable Indian and international cuisine.
What are Economy Class Seats Like?
On regional flights, Economy Class seats provide for extra legroom and come with a headrest designed especially for desired support. Seats offer a 30 inch recline and come in a 3-3 formation.
On international flights, revolutionary designed seats allow you to stretch out, while the seat automatically moves into an ergonomic position. 'Hammock' headrests, unique foot net and new 6-way headrest are designed to provide you that extra comfort.
---
Business Class
Jet Airways' Business Class is called 'Premiere', and is also available on regional and international flights.
Business Class Facilities
Before flying, all Premiere passengers can enjoy complimentary access to Jet Airways' airport lounges.
On regional flights, passengers can enjoy gourmet meals from a selection of Indian or international cuisine.
On international flights, the latest on-demand in-flight entertainment is available at your fingertips, all on your own personal touch screen LCD TV. Experience a fine dining experience onboard with a choice of having your meal whenever you please with our 'Dine Anytime' feature.
What are Business Class Seats Like?
On international flights, the Herringbone seat configuration gives easy aisle access for every seat, and with a laptop plug-in socket at every seat, you'll always be connected. The Première cabin features a revolutionary lie-flat bed, surrounded with a wall of privacy and personal space.
On regional flights, the 2-2 seating formation, with 40" extra wide seats, provide all the comfort you deserve.
---
First Class
First Class is only available on international flights, and offers absolute privacy and comfort throughout your journey. Imagine sleeping in your own private bedroom, 40,000 feet above the ocean. It's not a dream - it's the luxurious Jet Airways First Class experience!
First Class Facilities
Before flying, all Premiere passengers can enjoy complimentary access to Jet Airways' airport lounges.
On board, slip on your Bose noise cancelling headphones and switch on your 23-inch flat screen TV. Personalise your five-course meal from our selection of international cuisine, while sipping on a glass of Bollinger La Grande Année. Or choose from a collection of award-winning wines.
What are First Class Seats Like?
Step into your own private suite. With dual sliding doors, night sky mood lighting, and so much more. You can even take advantage of your private wardrobe and arrive in style!
---
Pay for Jet Airways Flights with PayPal
Pay for Jet Airways flights with PayPal when you buy your flights with Alternative Airlines. PayPal is a fast, safe and secure way to pay for flights and Alternative Airlines give passengers the option to use PayPal on all Jet Airways reservations.
Want to collect JetPrivilege points? You won't miss out! Alternative Airlines allows you to collect JetPrivilege frequent flyer points as normal when you make your Jet Airways flight reservation and pay using PayPal.
---
Frequent Flyer and Mileage Program
Jet Airways' frequent flyer program, JetPrivilege, is now called InterMiles.
JetPrivilege was an award winning frequent flyer program that offered huge benefits and incentives including different cancellation charges, access to lounges, free flights booked with points.
InterMiles members can earn and redeem miles on flights as well as hotels, shopping, fuel and dining. The program is split up into tiers where members will have access to a variety of benefits including complimentary meals onboard, priority seat selection and even lounge access depending on the tier.
---
Codeshare Agreements
Jet Airways has codeshare agreements with many airlines including Air Berlin, Air Canada, Air France, All Nippon Airways, Alitalia, Bangkok Airways, Qantas, Malaysia Airlines, South African Airways and Vietnam Airlines.
---
Fleet
The Jet Airways fleet consists of a mix of Airbus, ATR and Boeing aircraft. Here's a list of the models that the airline owns:
Airbus A330-200
Airbus A330-300
ATR 72-600
ATR 72-500
Boeing 737-800
Boeing 737-900
---
Hub Airport
Chhatrapati Shivaji International Airport
Chhatrapati Shivaji International Airport serves as the primary international airport for the capital city of the Indian State of Maharashtra and Mumbai. This airport is the primary hub for Jet Airways, Air India, GoAir, Air Deccan and JetKonnect. The airport has two runways and can handle nearly 40 million passengers every year. Other airlines which fly to and from this airport include Kenya Airways, Korean Air, Joon, Lufthansa, Etihad Airways, Malaysia Airlines, Thai Airways, Turkish Airlines and many others.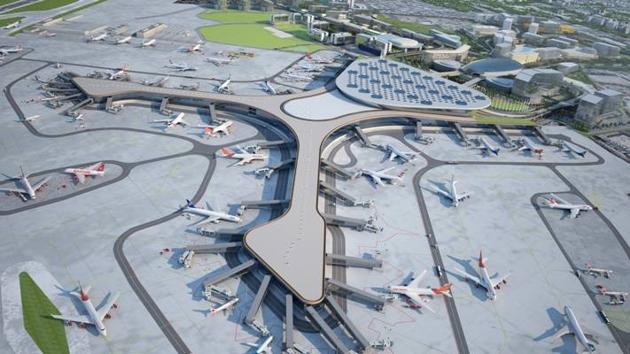 ---
Alternative Airlines to Jet Airways
Please click on the logos below to find out more about airlines that fly similar routes to Jet Airways:
---
FAQs
What is Jet Airways' flight schedule?
At the moment, there are no Jet Airways flights or schedules available due to the cease in operations in 2019, however, the airline is predicted to return by September 2022.