Joon Tickets and Reservations with Alternative Airlines
Book Your Joon Flight Tickets and Find Some Amazing Deals
---
About Joon
Joon was a French airline and now part of Air France, based at Charles de Gaulle Airport in Paris. The airline ceased operations in 2019.
Joon was aimed at the millennial traveller and flew to over 11 different destinations after commencing operations in late 2017. See the airlines below that fly similar routes to Joon:
---
Alternative Airlines to Joon
Joon focused on flying short and medium-haul destinations to destinations within Europe such as Barcelona, Oslo and Porto, as well as offering some long-haul services to Brazil, South Africa and Seychelles.
---
Economy Class
Economy Facilities
During your flight, download and use the YouJoon app to watch the latest TV shows on your mobile device or tablet. On intercontinental flights, passengers can find everything that Air France offers on your personal in-seat video screen
What are Economy seats like?
Every seat has reclinable seating, and adjustable headrests and power sockets.
---
Premium Economy Class
An upgrade on economy, enjoy extra space and comfort. The cabin is separated from economy by a divider, giving you extra peace, quiet, and privacy.
Premium Economy Facilities
Premium economy seats are complete with HD screen and USB ports, personal lighting.
You will have access to priority check-in counters. After you have enjoyed the comfort of the Premium Economy cabin, you will be among the first passengers to exit the aircraft. To help you save even more time, your checked baggage will receive priority delivery.
Depending on the time of day, savor hot pastries or enjoy a delicious meal served with a selection of beverages.
What are Premium Economy seats like?
Relax in reclinable seats, complete with duvet and pillows and stylish comfort kit, complete will all flying essentials and bottled water. The Premium Economy seat gives you 40% more space compared to the Economy cabin .
---
Business Class
Business Facilities
The Business cabin is located in the front of the plane, meaning quicker boarding and exit.
Your personal area includes: a large HD screen, noise-canceling headphones, storage areas, a USB port and a power outlet.
Enjoy a gourmet meal, with wines and champagnes served at no extra charge, which have been selected by Paolo Basso, named world's top sommelier in 2013.
What are Business seats like?
On international flights, the leather seats are fully reclinable. Doze off with the soft duvet and pillow that you'll find on your seat. You'll receive a comfort kit complete with slippers and socks.
Are lounges available?
You can access the airline's airport lounges for a fee (subject to availability), which are located in many international airports.
---
First Class
Available on most long-haul Boeing 777-300 flights.
First Class Facilities
In the La Première suite, you are free to orchestrate your trip in whichever way you see fit. Move around and make yourself at home. Make use of an individual cloakroom, storage space, and a bedside lamp. The personal touchscreen TV's let you enjoy the latest entertainment.
Are First Class seats like?
In your private suite, you can sleep soundly. Your comfortable upright seat transforms into a bed measuring 2 m / 6.5 ft in length and 77 cm / 30 in in width. It has a memory foam mattress, a pillow and a large fluffy duvet. This way, you are sure to enjoy a full night's sleep in hotel-standard comfort.
Air France makes your trip even more exclusive with items designed by the masters in the art of dining à la française (French style). Enjoy an excellent meal served at your convenience and presented on a white tablecloth and table set designed by Jean-Marie Massaud, including a Bernardaud porcelain plate and beveled Christofle glasses and flatware.
The Air France comfort kit makes your La Première suite a haven of well-being. With a high-quality cotton bathrobe, slippers and socks, enjoy your moment of relaxation in the sky.
Are lounges available?
At Paris-Charles de Gaulle airport, enjoy a peaceful and relaxing break in the La Première lounge. In the Biologique Recherche center, enjoy a personalized spa treatment from 20 minutes to 2 hours, including facials and body treatments tailored to the needs of frequent travellers.
---
Family Seating
Travelling with 2 young children? Joon has innovative, adjustable seats that make you and your family more comfortable on board. Children can sleep horizontally, on a cotton mattress, or have their own personal play space; the entire space between rows is yours.
Cosy Joon seats are available for families made up of 1 or 2 adults and 2 young children who are all on the same booking. Seats for 2 children transform into 1 bed for 2 measuring 105 x 76 cm / 41 x 30 in.
Cosy Joon seats are situated in the 4 middle seats of rows 33 to 36 on our Airbus A340 aircraft. Please note, an adult must be seated beside his or her children. For security reasons, it is not possible to use Cosy Joon seats for infants under 2 years of age.
Treat yourself to Cosy Joon for the price of a regular seat! Depending on your family, the total price is: For 1 adult and 2 children: 3 x €20 = €60 For 2 adults and 2 children: 4 x €20 = €80
---
Popular Joon Destinations
Barcelona
Berlin
Lisbon
Porto
Fortaleza (Brazil)
Mahé (Seychelles)
---
Joon Hub Airport
Paris Charles de Gaulle Airport
Charles de Gaulle Airport is France's largest airport and is the hub airport for Air France and XL Airways France. It has four runaways and can handle nearly 65 million passengers.
Other airlines which fly to and from Charles de Gaulle include Adria Airways, Aegean Airlines, Aer Lingus, Air China, Air Europa, TAM Airlines, Thai Airways, Tunisair, Turkish Airlines, Turkmenistan Airlines, United Airlines, Ukraine International Airlines and previously Air Méditerranée
Paris Charles de Gaulle is also the hub airport for Air France and ASL Airlines France.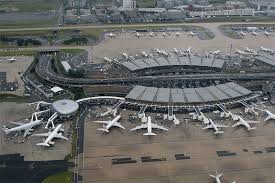 ---
Joon News
31st May 2018
Joon handles 1m pax since launch of operations
Joon handled (25-May-2018) its one millionth customer since its first commercial service on 01-Dec-2017. Joon reaffirmed plans to commence Paris CDG-Mumbai service from 18-Jun-2018, complementing other long haul destinations including Cairo, Cape Town, Fortaleza, Mahe and Tehran. Joon CEO Jean-Michel Mathieu said: "Since December we have been innovating to meet our customers' new expectations of a tailor-made travel experience and attentive service".