Search and Buy Turkmenistan Airlines Flights with Alternative Airlines
Make a Turkmenistan Airlines Booking and Find Some Amazing Deals
---
About Turkmenistan Airlines
Turkmenistan Airlines is Turkmenistan's national flag carrier, offering passenger and cargo flights from its base in Ashgabat. As the only airline of Turkmenistan, it is one of few airlines which operate domestic flights around the country, in addition to many international destinations in Asia and the Middle East. The airline has previously operated flights to Europe, but these routes to Germany, the UK and France were terminated in February 2019.
The scheduled carrier was established in 1992 and has developed its fleet and route network to its current state which serves over 10 countries and over 20 destinations.
---
Turkmenistan Airlines Fleet
Passenger Fleet
| AIRCRAFT | IN SERVICE | ORDERS |
| --- | --- | --- |
| Boeing 737-700 | 4 | / |
| Boeing 737-800 | 8 | / |
| Boeing 757-200 | 3 | / |
| Boeing 777-200LR | 2 | 1 |
VIP Fleet
| AIRCRAFT | IN SERVICE | ORDERS |
| --- | --- | --- |
| Boeing 737-700 | 1 | / |
| Boeing BBJ1 | 1 | / |
| Boeing 777-200LR | 1 | / |
| Bombardier Challenger 870 | 1 | / |
Cargo Fleet
| AIRCRAFT | IN SERVICE | ORDERS |
| --- | --- | --- |
| Ilyushin Il-76TD | 8 | / |
---
Turkmenistan Airlines Destinations
Domestic Destinations
The following tables the destinations of the domestic flights within Turkmenistan. All domestic services are currently passenger operations.
| CITY | AIRPORT |
| --- | --- |
| Ashgabat | Ashgabat International Airport (ASB) |
| Balkanabat | Balkanabat Airport (BKN) |
| Dashoguz | Dashoguz Airport (TAZ) |
| Mary | Mary Airport (MYP) |
| Turkmenabat | Turkmenabat Airport (CRZ) |
| Turkmenbashi | TurkmenbashiAirport (KRW) |
International Destinations
The below table shows the country, city and airports which Turkmenistan Airlines currently fly passenger services to. Although the airline operates cargo flights to more destinations, these are not included in the table below.
| COUNTRY | CITY | AIRPORT |
| --- | --- | --- |
| Armenia | Yerevan | Zvartnots International Airport (EVN) |
| Belarus | Minsk | Minsk National Airport (MSQ) |
| China | Beijing | Beijing Capital International Airport (PEK) |
| Germany | Frankfurt | Frankfurt am Main International Airport (FRA) |
| India | Amritsar | Sri Guru Ram Dass Jee International Airport (ATQ) |
| India | Delhi | Indira Gandhi International Airport (DEL) |
| Kazakhstan | Almaty | Almaty International Airport (ALA) |
| Malaysia | Kuala Lumpur | Kuala Lumpur International Airport (KUL) |
| Russia | Kazan | Kazan International Airport (KZN) |
| Russia | Moscow | Domodedovo International Airport (DME) |
| Russia | Saint Petersburg | Pulkovo International Airport (LED) |
| Saudi Arabia | Jeddah | King Abdulaziz International Airport (JED) |
| Thailand | Bangkok | Suvarnabhumi International Airport (BKK) |
| United Arab Emirates | Abu Dhabi | Abu Dhabi International Airport (AUH) |
| United Arab Emirates | Dubai | Dubai International Airport (DXB) |
| United Kingdom | Birmingham | Birmingham Airport (BHX) |
---
Turkmenistan Airlines Route Map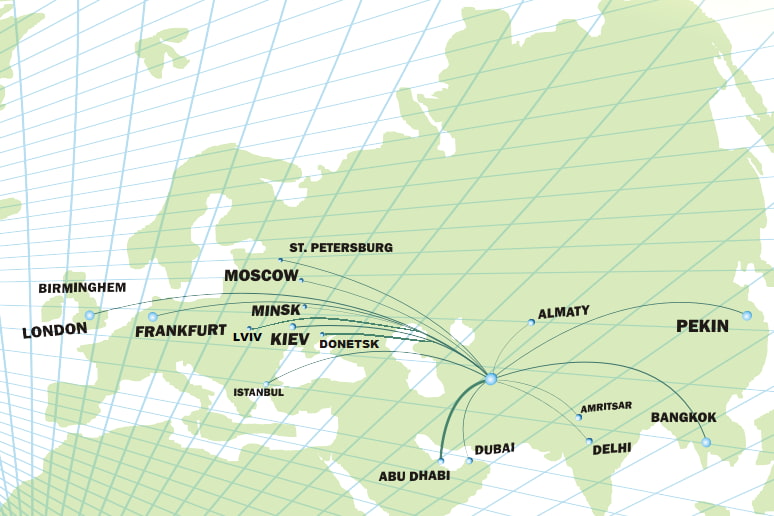 ---
Turkmenistan Airlines Baggage
Carry-on Baggage
Passengers are permitted 5kg of hand luggage for their flights. The items of hand luggage must not exceed 50 x 40 x 20cm in dimensions.
In addition to this, passengers are allowed a personal item. This item can be items such as a handbag, an umbrella, a cane, printed reading material for the flight, child's food and carry-cot or a wheelchair.
Checked Baggage
Checked baggage allowance is determined by the class of travel and the destination travelling to. Please check your ticket which will state your specific baggage allowance. Each item of baggage must not exceed 30kg in weight. As a guide, you can use the following as the general checked baggage allowances:
To/From Turkmenistan (Ashgabat)
Economy class passengers are permitted 20kg of baggage.
Business class passengers are permitted 50kg of baggage.
To/From India (Amritsar and Delhi)
Economy class passengers are permitted 40kg of baggage.
Business class passengers are permitted 50kg of baggage.
To/From Thailand (Bangkok)
Economy class passengers are permitted 25kg of baggage.
Business class passengers are permitted 50kg of baggage.
---
Turkmenistan Airlines Check-In Information
Online Check-in
There is currently no check-in service available for Turkmenistan Airlines flights.
Airport Check-in
Passengers must check-in for their flight by visiting the Turkmenistan Airlines check-in counter at the airport. Arrive at the airport to allow plenty of time to check-in and pass through security. For international flights, the check-in desk will open 3 hours before your flight departure time. For domestic flights, the check-in desk opens 2 hours before your flight departure time.
---
Turkmenistan Airlines Hub Airport
Ashgabat International Airport
Ashgabat International Airport is one of the main international airports of Turkmenistan. The airport, which used to be known as Saparmurat Türkmenbaşy International Airport, is found 6 miles northwest of Turkmenistan's capital of Ashgabat.
Although the airport is currently only a hub for Turkmenistan Airlines, there are a number of other airlines which operate from this airport including Turkish Airlines, flydubai, Belavia, S7 Airlines and China Southern Airlines.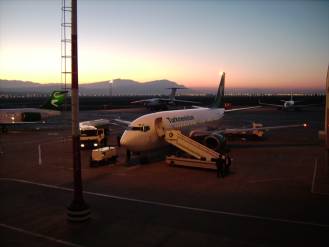 ---
Turkmenistan Airlines Class Information
Economy Class
Economy class with this airline is comfortable and efficient, offering amenities such as a free hot meal and a soft drink. Seats are arranged on most planes in a 2-2 configuration, which is well-spaced to allow enough room between you and the next seat along for a comfortable flight.
Premium Economy
There is currently no premium economy service onboard this plane.
Business Class
Business Class on Turkmenistan Airlines offers a spacious, luxurious and premium flying experience. The cabin is located at the front of the plane, which contains larger and more comfortable seating. Passengers also have a choice from premium hot meals, with a dedicated service which has a higher staff-passenger ratio. Passengers in business also have a higher and more generous baggage allowance, and will have a premium travel experience starting at the airport with separate check-in counters and airport lounges where available.
First Class
This airline is yet to offer a first-class onboard its plane. Simply upgrade to Business Class for a taste of the premium flying experience.
---
Alternative Airlines to Turkmenistan Airlines
Please click on the logos below to find out more about airlines that fly similar routes to Turkmenistan Airlines:
---
Turkmenistan Airlines In-Flight Entertainment
On selected planes, Turkmenistan Airlines offer an in-seat personal screen where passengers can watch movies, TV shows, play music and games. This service is reportedly being installed on all their planes.
In addition, there is an inflight magazine called Lachyn which passengers can read for useful travel tips and information.
---
Turkmenistan Airlines Food
All passengers receive food and drink onboard their Turkmenistan Airlines flight, regardless of their flight. Economy passengers get a free hot meal and soft drink on international flights. Domestic flights serve a smaller cold snack and soft drink. In business class, passengers get a wide range of tasty food to choose from, along with premium soft drinks.
Please note that Turkmenistan Airlines is a dry airline, and so there are no alcoholic drinks served onboard.
Special Airline Meals
Passengers flying on Turkmenistan Airlines flights can pre-order a special meal when requesting at least 72 hours before flight departure. The following meals are available to order:
Asian Vegetarian (AVML)
Diabetic (DBML)
Hindu (HNML)
Children's meal (CHML)
Milk free meal (NLML)
Muslim meal (MLML)
Low salt meal (LSML)
Low fat/cholesterol meal (LFML)
---
Turkmenistan Airlines WiFi
Currently, there are no WiFi services onboard this airline's flights.
---
Turkmenistan Airlines Frequent Flyer
There are currently no frequent flyer programs in operation by this airline.
---
Turkmenistan Airlines Airline Alliance
Turkish Airlines does not currently participate in any airline alliance schemes.
---
Turkmenistan Airlines Special Services
Special Services Animals
Turkmenistan Airlines do not yet allow animals in the cabin, but they can be transported as cargo in the checked luggage. See our advice on travelling with a pet, or contact the airline for more information.
---
Turkmenistan Airlines News
February 2018
Turkmenabat city, Turkmenistan, opens a new international airport!
An opening ceremony for the brand new international airport was held in Turkmenabat City, the administrative centre of Turkmenistan's Lebap province. The airport, constructed by Gundogdy, a local company, is located 13 kilometres from the city in close proximity to the Ashgabat-Turkmenabat highway and the Ashgabat-Kerki railway. The complex can withstand 500 passengers per hour. A new runway with a length of 3,800 meters long and 65 meters width is equipped with state-of-the-art ground support facilities - light-signal and meteorological systems, which allows servicing aircraft of all types.
The cargo terminal with storage facilities is designed to handle 200,000 tons of cargo per year. The automated meteorological system, radio engineering, light-signal and ornithological equipment have been installed in the aerodrome. In 2013 it was reported that "Turkmenhowayollary" State National Service (Turkmen Airlines) intends to conclude a contract with Altcom Road Construction LLC (Ukraine) for the construction of a new international airport in Turkmenabat city.
---