ASL Airlines France Reservations with Alternative Airlines
Make an ASL Airlines France Booking and Find Some Amazing Deals
---
About
ASL Airlines France is a French airline which operates mail and cargo flights for the postal service and newspapers dispatch as well as passengers. They were rebranded in June 2015 from Europe Airpost and now flies to many destinations including Sal Island, Boa Vista, Salzburg, Pula, Split City, Dubrovnik, Larnaca, Kittila, Ajaccio, Bastia, Bordeaux, Brest, Dole, Grenoble, Lyon, Limoges, Paris and Rennes. It's main hub is at Charles de Gaulle Airport in Paris.
---
The Fleet
The fleet includes three Boeing 737-300QC, six Boeing 737-700, two Boeing 737-300F and fou Boeing 737-400F aircraft.
---
Baggage Allowance
Excess Baggage
If your luggage exceeds the allowance, you will have to pay an extra charge in accordance with our excess luggage grid. REMINDER: Under no circumstances may your luggage exceed 32 kg. If it does, it will probably not be checked in the hold.
Special Baggage
Transportation of golf bags, bicycles, diving equipment, skis, canoe-kayak, windsurfing boards, water skis, are accepted in hold and are subject to specific rates available in our excess luggage grid. Strollers (one per infant) and wheelchairs are transported free of charge.
Prohibited Items in Checked Baggage
E-cigarettes and spare batteries for their use are forbidden prohibited items.
Carry-on Baggage
You are entitled to carry a single piece of hand baggage.
---
Check-in Information
Online Check-In
ASL Airlines France are yet to offer online check-in.
Airport Check-in
It is recommended that passengers check in at the airport at least two hours prior to flight departure time. Check-in counters close 40 minutes before scheduled departure time.
---
Economy Class
Economy Facilities
The cabins are WiFi enabled, allowing passengers to stay connected. According to the length of the flight, a food and beverage service may be provided for free. Chargeable snack options will also be available. On some flights, a series of duty free products are sold.
What are seats like?
The airline offers comfortable seating.
---
Business Class
Although ASL Airlines doesn't have a specific Business Class service, on board its charter flights it aims to provide customers with optimum comfort and entertainment. Passengers can access the airlines' in-flight WIFI service on the airlines' B737-700 aircraft and gain accesss to games, movies, documentaries, and magazines on their personal devices. Passengers will also be served free food and drinks in accordance with the duration of their flight.
---
Destinations
ASL Airlines France flies to a number of destinations in Europe and Africa including Algiers, Chlef, Oran, Sal Island, Boa Vista, Oujda, Brussels, Paphos, Kittila, Ajaccio, Bastia, Bordeaux, Brest, Clermont-Ferrand, Dole, Grenoble, Limoges, Lyon, Marseille, Montpellier, Nice, Paris, Rennes, Strasbourg, Toulouse, Eilat, Tel Aviv, Naples and Seville. Here is a full list of destinations that the airline flis to:
Domestic Destinations
Ajaccio
Bastia
Bordeaux
Brest
Clermonth-
Ferrand
Dole
Grenoble
Limoges
Lyon
Marseille
Montpellier
Nice
Paris
Rennes
Strasbourg
Toulouse
International Destinations
| | | | |
| --- | --- | --- | --- |
| Algiers | Belgrade | Boa Vista | Brussels |
| Chief | Eilat | Kittilä | Naples |
| Oran | Oujda | Paphos | Sal Island |
| Seville | Tel Aviv | | |
---
ASL Airlines France Hub Airport
Charles de Gaulle Airport
Charles de Gaulle Airport is an international airport in Paris, France and is the hub airport for ASL Airlines France. The airport is the biggest and busiest airport in France and is one of the largest airports in the whole of Europe.
Charles de Gaulle Airport is split into three separate terminals — Terminal 1, Terminal 2 and Terminal 3, from which all international and domestic services are shared across. When Terminal 2 was originally built, it exclusively facilitated services flown by Air France. However, over time, the terminal has welcomed other airlines and it now facilitates a large number of different airlines. Terminal 3 is mainly used for low-cost carriers, as well as cargo services.
Other airlines that use Paris Charles de Gaulle Airport as their hub include Air France and XL Airways France.
---
Route Map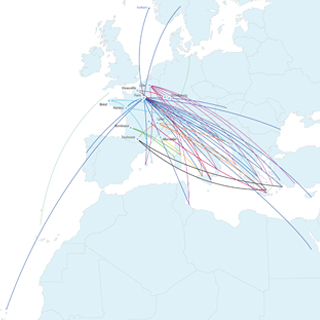 ---
Alternative Airlines
Please click on the logos below to find out more about airlines that fly similar routes: