Search & Buy Air Mauritius Flights
Let's fly!

Select your payment method to view total prices including any payment fees:
Airlines will always try to sit children with their parents (subject to check-in)
Some airlines will allow travel for unaccompanied minors. Please email us to check.
The fare is based on the child's age on the date of travel.
More detailed information can be found here Traveling with children
Most airlines will let infants travel with their parent(s) for free. However some airlines will charge up to 10% of the adult ticket price. Click on 'Price Breakdown' to find out more.
If you are pregnant, but due before the flight departure date, please contact us once your baby is born and has a name. We can then add him/her to your ticket.
Infants will not be given a seat. The airlines expect parents to travel with them on their lap.
Airlines regard infants as being under 24 months old.
The fare is based on the child's age on the date of travel.
More detailed information can be found here Traveling with children

Buy
Air Mauritius

Flights

Air Mauritius Reservations with Alternative Airlines
Make an Air Mauritius and Find Some Amazing Deals
---
Air Mauritius is the flag carrier airline of Mauritius, based at Sir Seewoosagur Ramgoolam International Airport, Port Louis, Mauritius. The flag carrier commenced operations in 1972 under the company name of Air Mauritius ltd.
Air Mauritius flies to many destinations including Perth, Beijing, Chengdu, Shanghai, Paris, Hong Kong, Banglore, Chennai, Delhi, Mumbai, Nairobi, Antananarivo, Kuala Lumpur, Rodrigues, Saint-Denis, Saint-Pierre, Singapore, Cape Town, Duban, Johannesburg and London. Air Mauritius currently has codeshare agreements with Air France, Emirates, Malaysia Airlines, South African Airways and Virgin Australia Airlines. Air Mauritius is the fourth largest carrier in sub-Saharan Africa.
In addition, Air Mauritius is also a member and one of the founding members of the Vanilla Alliance. The Vanilla Alliance' initial goals are to
increase air services between the Indian Ocean islands, provide more attractive fares, and optimisation of
codesharing
. Air Mauritius currently operate using primarily Airbus aircraft including their A319, A330 and A340 aircraft. They currently own two ATR 72-500 series aircraft, they are also believed to have 4 Airbus A350 aircraft on order. The airline wants to offer an attractive product with state-of-the-art seats and in-flight entertainment facilities to meets passengers' expectations of flight services offered in today's market.
Air Mauritius is expecting two A350-900s, on lease from AerCap, to arrive in October and November 2017. A further two of the type, on order from Airbus , are due in 2019 with a final pair due in 2023.
---
Air Mauritius Economy Class
Air Mauritus's Economy Class prides itself with space and a range of onboard services to ensure you have a relaxing flight journey.
Air Mauritius Economy Class Facilities
Food is served as part of your Economy Class experience with a chef designed menu which feature an assortment of main courses and drinks. On board entertainment is also available, showing the latest movies and music albums for you to enjoy.
Air Mauritius Economy Class Seats
Spacious seating can be enjoyed with 79cm (31 inch) on a variety of Air Mauritius' Airbus fleet.
---
News
13th June 2018
Air Mauritius Amsterdam Service: The insurance policy of the Mauritius Tourism Industry
Air Mauritius has started twice-weekly operations to Amsterdam today the 26th of March 2018. The flights will operate on Mondays and Fridays with an Airbus A 340 with 34 Business and 264 Economy Class seats. A third weekly flight will be added on Wednesdays during the peak months of July and August.
The flights will be operated in collaboration with KLM Royal Dutch Airlines and Air France. To recall, KLM kicked off these joint operations in October 2017 with three weekly flights between Amsterdam and Mauritius.
"The start of operations to Amsterdam is part of our plan to develop a second hub in Europe. Many of our key routes have been built on the strong historical ties we share with the countries we operate to. Our history with the Netherlands is more than four centuries old. Mauritius was indeed named after Prince Maurits of Nassau, during the Dutch settlement in 1598. Today Schiphol Airport, the home base of our partner KLM Royal Dutch Airlines, gives us access to 50 code share destinations all over Europe. We expect Amsterdam to develop into an important hub in our network, particularly for passengers from Nordic and East European countries. This will contribute to boost tourist arrivals to Mauritius", stated Somas Appavou, CEO.
Air Mauritius' main hub in Europe is Paris from where it offers nearly 40 code share destinations in Europe, with partner Air France. Air Mauritius and the Air France/KLM group have built close ties over the years, Air France having been an important partner indeed since Air Mauritius was incorporated in 1967. In 1998 the two airlines signed a collaborative agreement to jointly operate the Mauritius – Paris route. This agreement was extended and reinforced in 2008 and 2014.
The Mauritius – Amsterdam schedule
Air Mauritius will operate 2 weekly frequencies on Mondays and Fridays throughout the Northern Summer of 2018. A third flight will be operated on Wednesdays during the peak period corresponding to July and August
22nd April 2018
Air Mauritius will serve China and increase flights to Madagascar
New test on China for Air Mauritius. After an assessment, the national aviation company decided to replace the Mauritius-Guangzhou service with a flight to Wuhan, a city in the center of the country.
The first flight will take place on July 6th.
The Airbus A 340-300 will do this route once a week. "In preparation for our annual budget, we made an assessment of routes served by Air Mauritius. It was after this analysis that we decided to abolish the flight to Guangzhou and replace it with that on Wuhan," said Somas Appavou, General Manager of Air Mauritius.
Guangzhou is the capital of Guangdong Province in southern China, home to 13 million people. For its part, Wuhan is the capital of Hubei Province, with a population of 10 million. Market studies that have been done in collaboration with Chinese operators have revealed a demand on this destination."The operators are confident," says Somas Appavou.
Flights to China are not the only ones that will change. In Madagascar, for example, Air Mauritius is negotiating with the authorities to increase flights to this destination. "We would ideally want flights to Madagascar seven days a week," says Somas Appavou. Currently, the national airline operates five flights between Ivato Airport and Mauritius. Competing airlines include Air Madagascar and Madagasikara Airways.
Other changes to be expected include flights to South Africa and India. Air Mauritius hopes to be able to operate more flights to these destinations during high periods. "We would like to operate three flights to Cape Town and four or five flights to Durban during peak periods," said the Air Mauritius general manager. For the time being, the national aviation company provides only two weekly flights between Mauritius and Durban.
On destination India too, Air Mauritius wants to operate at least one more flight per week during the most requested periods. At this moment, the frequency is four flights per week
9th April 2018
Air India expands codeshare partnership with Air Mauritius
Air India and Air Mauritius have expanded codeshare partnership, covering service beyond Mauritius as well as domestic routes in India.
The following codeshare routes have commenced:
Air India operated by Air Mauritius
Mauritius – Perth
Air Mauritius operated by Air India
Delhi – Bengaluru
Delhi – Chennai
Delhi – Mumbai
Mumbai – Ahmedabad
Mumbai – Bengaluru
Mumbai – Hyderabad
Mumbai – Kolkata
Air India operated by Air Mauritius
Mauritius – Durban
Mauritius – Johannesburg
28th March 2018
Air Mauritius began operations on its new Mauritius (MRU) to Amsterdam (AMS) service on 26 March.
It will serve the route twice-weekly (Mondays and Fridays) during S18 with a third weekly flight operating on Wednesdays in July and August. The flag carrier of Mauritius will use its A340-300s on the 9,559-kilometre sector, which will be operated under a collaborative agreement with KLM. OAG schedules show that the Dutch national carrier served this airport pair with three flights per week up until 25 March, with Air Mauritius now the sole operator.
"The start of operations to Amsterdam is part of our plan to develop a second hub in Europe," stated Somas Appavou, CEO of Air Mauritius. "Schiphol Airport, which is well served by our partner KLM, gives us access to 50 codeshare destinations all over Europe. We expect Amsterdam to develop into an important hub on our network, particularly for passengers from Nordic and East European countries.
This will contribute to boost tourist arrivals to Mauritius."
12th February 2018
SITA to keep Air Mauritius' new Airbus A350 fleet connected to key systems on the ground
Air Mauritius, the flag carrier of Mauritius, will now have SITA's wireless technology on the ground, keeping the new-generation aircraft connected to the vital back-end systems no matter where they fly. In October 2017, Air Mauritius introduced the first two new-generation Airbus A350 aircraft with a further four expected to join the fleet over the next few years. The Airbus A350 is one of the most advanced aircraft flying today. It brings with it a unique complexity with large data exchange in its own unique protocol – Media Independent Aircraft Messaging (MIAM). This is designed to exchange large amounts of data between the aircraft and ground systems using multiple communication channels.
At the gate, SITA's wireless connectivity allows the Mauritanian airline to quickly and securely exchange vital aircraft information generated during flight with both the airline's own systems as well as with Airbus and IBM. At the same time key information ahead of the next flight can be uploaded, including passenger and flight information. This connectivity allows for rapid exchange of aircraft information which will help Air Mauritius speed up aircraft turnaround times while ensuring seamless management of the aircraft's systems by ensuring complete connectivity globally. "These new aircraft have become flying data centers which rely on world-class connectivity in order to exchange information on everything from engine data, passenger requirements to updates at the destination. This requires reliable, fast connectivity no matter where the aircraft finds itself. At SITA we are working with airlines globally to support that connectivity and ensure that the full benefits of connected aircraft can be unlocked."
A total of 30% of airlines are already operating connected aircraft within their fleet and 73% of airlines will either operate or have taken delivery of connected aircraft in the next three years, according to SITA Air Transport IT Insights 2017.
22nd December 2017
Kenya Airways, Air Mauritius extend code share agreement
Air Mauritius, the flag carrier of Mauritius, has extended their codeshare agreement with Kenya Airways to offer their customers more connections at their hubs in Nairobi and Port Louis.
The agreement, which takes effect immediately, will allow connectivity to Kenya Airways customers in accessing Port Louis directly from Nairobi, the two airlines said in a joint statement.
The two airlines already have a longstanding code-share agreement under which Kenya Airways places its code on the three weekly flights operated by Air Mauritius on the Mauritius-Nairobi route.
Air Mauritius uses Nairobi as a hub from where it offers connections to a number of destinations in eastern and central Africa through KQ network.
Connection platform
Kenya Airways also uses Mauritius as a platform to connect to the Air Mauritius network.
"Kenya Airways is working towards strengthening its network and consolidating Nairobi's position as a leading hub in east Africa. The networks of both our airlines are complementary and we are confident that this agreement will allow us find the synergies for us to grow our respective networks." said KQ's group managing director and chief executive Sebastian Mikosz.
9th October 2017
Air Mauritius has revised planned Airbus A350-900XWB operation in October 2017, previously scheduled for inaugural flight on 19OCT17. Latest update as of 08OCT17 shows the inaugural rescheduled to 23OCT17, operating as Mauritius – Singapore – Kuala Lumpur, departing MRU on 23OCT17 and 25OCT17, 2 flights only.

MK646 MRU2040 – 0735+1SIN0905+1 – 1005+1KUL 359 23OCT17
MK646 MRU2055 – 0750+1SIN0920+1 – 1020+1KUL 359 25OCT17

MK647 KUL1335 – 1435SIN1605 – 1900MRU 359 24OCT17/26OCT17

Planned A350 service to Johannesburg, is now scheduled on 27OCT17. On Mauritius – London Heathrow route, revised A350 operation sees 2 flights only, on 11NOV17 and 15NOV17 (LHR 12NOV17 and 15NOV17). Planned A350 service entry to Paris remains unchanged on 01DEC17.
7th September 2017
Air Mauritius 3Q18 Amsterdam frequency changes
Air Mauritius in recent schedule update filed additional frequency for its planned Mauritius – Amsterdam service resumption, scheduled from 26MAR18. Initially, A340 aircraft will operate this route twice a week, and a 3rd weekly rotation (Wednesdays) will be added from 04JUL18 to 03SEP18.

The carrier previously served Amsterdam from May 1988 to July 1988.

MK062 MRU0940 – 1940AMS 343 135
MK073 AMS2140 – 1125+1MRU 343 135
4th Sept 2017
Air Mauritius has signed a Memorandum of Understanding with the Ghanian government over the provision of expertise in the establishment of a new Ghanaian national carrier. The agreement was signed in Port Louis last week following a visit by Ghana's Minister for Aviation, Cecilia Abena Dapaah, and her team. During the week-long stay, Dapaah held talks with Air Mauritius executives following which the preliminary agreement was signed on Thursday, August 31. Ghana is said to have also agreed on a business plan for Air Mauritius to expand in Africa. Presumably, this means the use of Accra to some degree or other.
For its part, Ghana is in the process of reestablishing a new national carrier aimed at developing the West African state's domestic, regional, and international connectivity. It is expected to launch by 2019. Earlier this year, Dapaah confirmed talks with both the Mauritians as well as
Ethiopian Airlines
(ET, Addis Ababa) over the role of consultants in the project. Ethiopian is already established in the region through ASKY Airlines (KP, Lomé) and tentatively, through Nigeria's Arik Air (W3, Lagos).
2nd Sept 2017
Air Mauritius promotes Singapore as a tourist destination
Air Mauritius recently organised a meeting with several travel agencies to present Singapore as a destination for Mauritians. This approach will in return bring visibility for Mauritius and Singapore. The meeting in Mauritius was organised in collaboration with Changi Airport Singapore and it was the occasion for Raj Deenanath, the VP Sales Support and Distribution for Air Mauritius, to review all the direct flights proposed by the airline company on Singapore since March 2016. It is confirmed that there has been a constant progress in the occupancy rate of Air Mauritius with 10 points difference between financial years 2015/2016 and 2016/2017, reaching 80.7%. The first quarter of the current financial year is very positive. Air Mauritius transported 17,000 passengers on this route representing an increase of 10% compared to the same period in 2016.
The various assets of the Singaporian hub have also been presented. Air Mauritius offers connections to 15 destinations from this hub: Shanghai, Hong Kong, Perth, Sydney, Jakarta, Denpasar, Medan, Palembang, Kuala Lumpur, Penang, Bangkok, Samui, Manilla, Phnom Penh, Ho Chi Minh. The code share agreement with Singapore Airlines also offers other options.
10th April 2017
Air Mauritius and KLM set to launch joint flights to Mauritius
From 30th October 2017, KLM will fly a direct fight from Amsterdam to mauritius in cooperation with Air mauritius, which will provide a year round product for the customers. The new flight service will be operated by KLM's newest aircraft addition - boeing 787-9, which holds 30 World Business Class seats, 45 Economy Comfort seats and 219 Economy Class Seats. The service will be on Monday, Thursday and Saturdays from Amsterdam at 17:20 (local time) and arrives in Mauritius at 07:35 (local time).
The flight leaves Mauritius at 09:45 to arrive back at Schiphol airport at 18:35.
In March 2017, Air Mauritius announced it was ready to begin service with its Airbus A350-900XB starting this November 2017.
The airline will be operating 3 to 4 weekly flights on its Mauritius-Johannesburg route starting November 18, and 3 weekly flights on its Mauritius-London Heathrow route starting December 15, as well as a daily flight on its Mauritius-Paris CDG route starting December 16. Air Mauritius is phasing in several A350-900s beginning this year with two new aircraft, followed by 2 more in 2019, and another 2 in 2020.
---
Route Map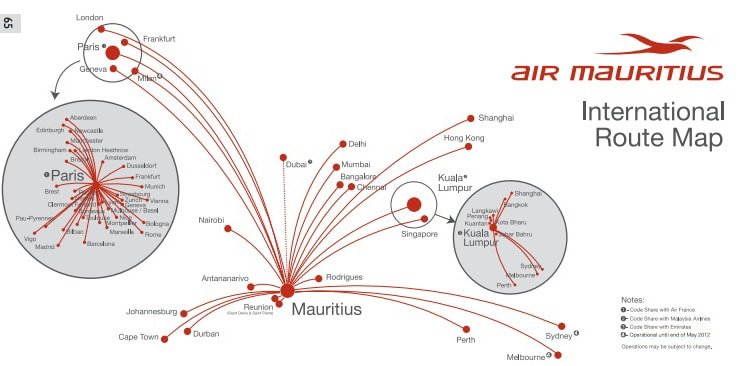 Popular Routes
Cape Town

Mauritius
Mauritius

Perth
Mauritius

Johannesburg
Mauritius

Antananarivo
Mauritius

Reunion
Mauritius

London

---
The Fleet
Airbus A319-100
Airbus A330-200
Airbus A340-300C
Airbus A340-300E
---
SSR Airport
HUB Airport
Sir Seewoosagur Ramgoolam International Airport is the main international airport in Mauritius. The airport is the hub airport for the country's national airline Air Mauritius. Airlines which fly to and from this airport include Air Austral, Air France, Air Madagascar, Air Seychelles, Austrian Airlines, British Airways, Comair, Condor, Corsair International, Mahan Air and previously Catovair before they ceased operations.

---
---