Air Austral Reservations with Alternative Airlines
Make an Air Austral Booking and Find Some Amazing Deals
---
About
Air Austral is a French airline with its headquarters at Roland Garros Airport in Sainte-Marie, Réunion, France.
This airline flies to many destinations including Saint Denis, Saint Pierre, Moroni, Paris, Chennai, Antananarivo, Nosy Be, Toamasina, Dzaoudzi, Mahe, Johannesburg and Bangkok.
For passengers who want to explore this part of the Indian Ocean Air Austral is a great choice. The airline's main base of flight operations is Roland Garros Airport.
They operate scheduled services from Réunion to metropolitan France, South Africa, Thailand, India and a number of destinations in the Indian Ocean. The airline also operates to the Comores, Madagascar, France, Thailand, South Africa, Seychelles and Mauritius giving a total of 18 airports on it's network Air Austral Indian Ocean Flights. With Paris being the European gateway to Reunion (which is where they are based) passengers have to travel via Charles de Gaulle in order to get there.
The fleet consists of ATR 72s, Boeing 737s and Boeing 777s.
One of the airline's partners is EWA Air which is their airline subsidiary in Mayotte. In connection with Air Austral flights Reunion-Dzaoudzi, EWA serves with the ATR 72-500.
---
Baggage Allowance
Checked Baggage
You free checked baggage allowance will be indicated on your ticket and booking confirmation, however, you can use the following guidelines for each cabin:
For long-haul flights:
Loisirs cabin: 25kg
Confort cabin: 35kg
Club Austral cabin: 40kg
For flights between Reunion and Guangzhou:
Loisirs cabin: 2 x 23kg
Confort cabin: 2 x 23kg
Club Austral cabin: 2 x 32kg
For regional flights:
Loisirs cabin: 25kg
Confort cabin: 30kg
Club Austral cabin: 40kg
For flights between Saint-Pierre and Rodrigues:
15kg
Any item of checked luggage should not exceed 180 x 80 x 40 cm.
Carry-On Baggage
Passengers are permitted 1 x carry-on bag, weighing a maximum of 10kg. It must fit within the dimensions of 55 x 45 x 20cm.
---
Check-In Information
Online Check-In
Passengers have the option to check-in online for their flights. This service opens 24 house before your flight, closing 1 hour before.
Airport Check-In
Passengers can also choose to check-in at the airport. Your ticket will provide you details with the check-in open and closing time, so be sure to allow plenty of time to arrive at the airport. As a guide, you can use the following:
Long Haul flights: opens 3 hours before flying, closing 1 hour before.
Regional flights: opens 3 hours before flying for B777, 2 hours before for B737 and 1h30 for ATR, closing 45 hour before.
---
Route Map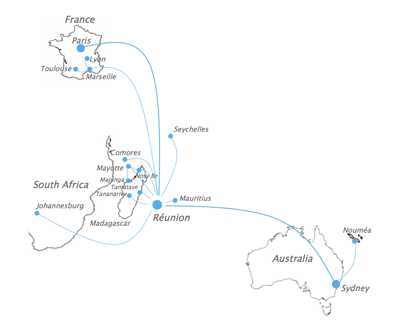 ---
The Fleet
ATR 72-500
Boeing 737-800
Boeing 737-300QC
Boeing 777-300ER
---
Popular Routes
Paris

Turin
Paris

Barcelona
Paris

Billund
Amsterdam

Paris
Manchester

Paris
Antananarivo

Saint-Denis
---
Economy Class
The Economy class on this airline is branded and called Loisirs, which provides a cheap, economic and stylish flight.
Economy Class Facilities
Passengers receive a pillow and blanket on their flights to allow for a more comfortable and relaxing sleep. There will also be an amenities kit containing headphones, toothbrush, eye mask and socks. Passengers in economy can enjoy the entertainment system from their personal 23 inch personal sreen.Drinks and food are offered during the flight.
Economy Class Seats
Passengers get 83cm of legroom in economy class seats, with a 115 degree recline.
---
Premium Economy Class
Confort is this airlines name for their premium economy class, which provides flyers with a comfortable and refined flying experience. This provides a high-standard service for your flight at a great price.
Premium Economy Class Facilities
Upon boarding, passengers will receive a glass of champagne, or non-alcoholic beverage should you prefer. Passengers will also enjoy a high-quality meal, if the duration of their flight allows for it. Passengers in premium economy also enjoy priority check-in, and priority checked baggage reclaim.
On long haul flights, Confort Class passengers will have access to the airport lounges at Saint-Denis Roland Garros and Paris CDG airports.
Premium Economy Class Seats
Premium economy seats are more spacious and more luxurious, allowing you to relax more easily during your flight.
---
Business Class
Club Austral is the name for this airlines' business class, and provides an experience which is prestigious and intimate.
Business Class Facilities
Passengers can enjoy inflight entertainment from their personal 26-inch screen, including movies, music and games (newspapers and magazines are also available on request). There is no need to have to search for a flight attendant or call out in business class, simply use your remote control to request their attention.
A world-class meal is served on board, providing your flight duration is long enough. This will include many different options, and be served alongside a premium drinks menu.
In Club Austral, there is a personal cloakroom service and a premium amenity kit. As with premium economy, passengers in business can also enjoy the airport lounges at Saint-Dennis Roland Garros, Reunion and Paris CDG, along with priority check-in, boarding and baggage reclaim.
What are the Business Class Seats Like?
Seats in business have a 180 degree recline, meaning it converts into a flat bed of 186cm. More space between rows means you enjoy your own personal space.
---
First Class
There is currently no first class facilities available with this airline. For a premium experience which is closest to first class, passengers should choose Club Austral, this airlines' business class.
---
Frequent Flyer Program
Air Austral operates a frequent flyer program called Capricorn to reward regular passengers with the airline.
---
Alternative Airlines to Air Austral
Please click on the logos below to find out more about airlines that fly similar routes to Air Austral:
---

Hub Airport
Roland Garros Airport
Roland Garros Airport formerly known as Gillot Airport, is located in Sainte-Marie on Réunion. The airport is 7 kilometres east of Saint-Denis and it is named for the French aviator Roland Garros who was born in Saint-Denis.
Airlines that fly from and to Roland Garros Airport include Air France, Air Madagascar and Air Mauritius.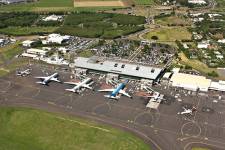 ---
News
8th June 2018
Air Austral & Air Madagascar in Strategic Partnership
The new Air Madagascar strategic partnership is being seen as a move for a new force in the Indian Ocean. It was on the 30th November of last year that this airline entered into a partnership with Air Madagascar with 409% shares.
In the arena when competition has been intensifying on the run Paris - La Reunion, Air Austral has been developing a strategy of diversification to be better positioned as the leader on the Indian Ocean Route.
With this partnership Air Austral is planning to reinforce its regional network with added services to new Madagascar airports and will be able to offer a more comprehensive network in the Indian Ocean with flights programmed to Mauritius, Seychelles, Mayotte over and above Madagascar.
Congratulations to Air Austral and Air Madagascar in this consolidation of resources. The Indian Ocean Vanilla Islands is in need of better air connectivity to be able to continue the development of two or three island holiday packages for key tourism source markets.
15th May 2018
Air Austral to start using fuel-saving app
This airline has singed an agreement with Panasonic and Safety Line to use a fuel-saving app called OptiClimb. Created by Safety Line, OptiClimb is a software program designed to reduce fuel consumption during the climb phase of a flight.
Air Austral currently operates between 14 different countries, so partnering itself with this software will hopefully have great environmental and economic benefits.
16th March 2018
Air Austral to charter a Hifly aircraft for the upcoming months
Air Austral will carter an Airbus A330-200 from Hifly as part of a maintenance operation. This mandatory grounding was planned for the low season so as to impede as few people as possible and maximise the impacts on its program. Air Austral maintains its flight schedule and recommends that its passengers take the necessary precautions so that they can arrive at their airports before check-in time.
---