Search & Buy Air Niugini Flights
Select your payment method to view total prices including any payment fees:
Airlines will always try to sit children with their parents (subject to check-in)
Some airlines will allow travel for unaccompanied minors. Please email us to check.
The fare is based on the child's age on the date of travel.
More detailed information can be found here Traveling with children
Most airlines will let infants travel with their parent(s) for free. However some airlines will charge up to 10% of the adult ticket price. Click on 'Price Breakdown' to find out more.
If you are pregnant, but due before the flight departure date, please contact us once your baby is born and has a name. We can then add him/her to your ticket.
Infants will not be given a seat. The airlines expect parents to travel with them on their lap.
Airlines regard infants as being under 24 months old.
The fare is based on the child's age on the date of travel.
More detailed information can be found here Traveling with children
Buy
Air Niugini

Flights
Air Niugini Reservations with Alternative Airlines
Make an Air Niugini Booking and Find Some Amazing Deals
---
About Air Niugini
Air Niugini is the National Airline of Papua New Guinea, connecting the capital, Port Moresby, with major cities in Pacific Asia and serving 20 destinations within PNG.
The airline operates scheduled flights from Hong Kong, Singapore, Manila, Tokyo, Honiara, Port Vila, Nadi, Cairns, Brisbane and Sydney.
Air Niugini can offer a variety of convenient connections from Europe and the United Kingdom with great value through-fares.
Alternative Airlines offer you exclusive access to our unique relationship with Air Niugini as well as very competitive inclusive fares in USD, UK Pounds or Euros and many more, with guaranteed through connections from Europe to PNG.
---
Air Niugini Destinations
Asia
Hong Kong
Hong Kong International Airport
Indonesia
Japan
Tokyo - Narita International Airport
Philippines
Manila - Ninoy Aquino International Airport
Singapore
Singapore Changi Airport
Oceania
Australia
Brisbane - Brisbane Airport
Cairns - Cairns Airport
Sydney - Sydney Airport
Fiji
Nadi - Nadi International Airport
Micronesia
Chuuk - Chuuk International Airport
Pohnpei - Pohnpei International Airport
Papua New Guinea
Alotau - Gurney Airport
Buka - Buka Airport
Bulolo - Bulolo Airport
Daru - Daru Airport
Goroka - Goroka Airport
Kimbe/Hoskins - Hoskins Airport
Kavieng - Kavieng Airport
Kundiawa - Chimbu Airport
Lae - Lae Nadzab Airport
Lihir Island - Kunaye Airport
Lorengau - Lorengau Airport
Madang - Madang Airport
Manus Island- Momote Airport
Los Negros Island - Momote Airport
Mendi - Mendi Airport
Moro - Moro Airport
Mount Hagen - Mount Hagen Airport
Popondetta - Girua Airport
Port Moresby - Jacksons International Airport HUB
Rabaul - Rabaul Airport
Tabubil - Tabubil Airport
Tari - Tari Airport
Vanimo - Vanimo Airport
Wapenamanda - Wapenamanda Airport
Wewak - Wewak International Airport
Solomon Islands
Honiara - Honiara International Airport
Vanuatu
Port Vila - Port Vila Airport
---
Air Niugini Frequent Flyer Program
Executive Club is Air Niugini's lounge and affiliated privileges.
3 memberships (Blue Card, Green Card, and Corporate) allow certain benefits to membership holders.
Blue Card memberships give advantages such as additional baggage allowance, advance seat selection, discounts on duty-free purchases, priority baggage handling, and domestic Paradise Lounge access.
Green Card memberships provide all Blue Card privileges as well as extra benefits such as international Lounge Access in Sydney, Brisbane, Cairns, Manila, Tokyo, Singapore, and Hong Kong.
Corporate memberships are made up of Blue and Green Cards.
---
Air Niugini Route Map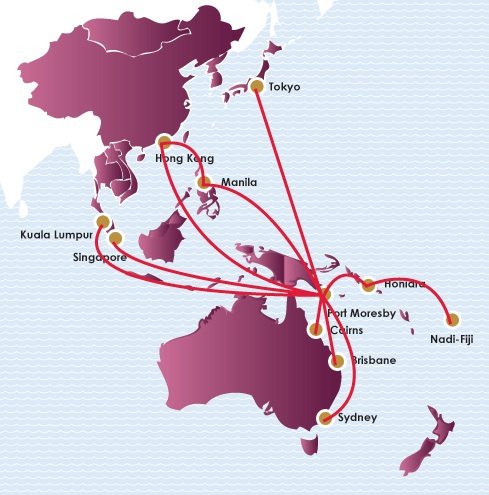 Air Niugini Popular Routes
Port Moresby

Tokyo
Port Moresby

Brisbane
Port Moresby

Sydney
Port Moresby

Singapore

---
Air Niugini Fleet
Fokker 100

Boeing 787-700
Boeing 767-300 ER

Boeing 767-300ER
---
Air Niugini Hub Airport
Jacksons International Airport
Jacksons International Airport is the largest airport in Papua New Guinea and is the main hub for Air Niugini and Airlines PNG. Other airlines which fly to and from Jacksons International Airport include Phillippine Airlines, QantasLink, Virgin Australia, Air Niugini and PNG Air.
Jacksons International Airport has one runaway.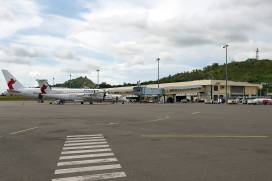 ---
Alternative Airlines to Air Niugini
---
Buy Discounted Air Niugini Tickets at Alternative Airlines
---
Air Niugini News
18th October 2017
Air Niugini continues to invest more in manpower to boost the company's operation in providing reliable air transport service to the people
The airliner has done just that with the newest batch of 21 young engineers that received their European Aviation Safety Agency (EASA) certificates in Port Moresby today after completing five years of training at both the Air New Zealand Aviation Institute and Aviation Australia.
The airline company invested more than half a million Kina for each engineer cadet to be trained up to a level where they can certify completion of maintenance of Air Niugini air crafts.

A proud Mr. Simon Foo, the company's CEO said, "To be able to receive such a license is not easy. These young Papua New Guineans have worked long and hard. It took them up to five years to have successfully completed their training before they could obtain the UK AME licenses," he said.
"This license granted by the UK Civil Aviation Authority is recognized worldwide and now allows these young Papua New Guineans to be able to certify the completion of maintenance on United Kingdom registered aircraft. They could even convert their UK Licenses to an Australian or New Zealand (NZ) License very easily and certify for Australian or NZ Aircraft."

"It is a higher level training that's recognized worldwide. With this license, I am told, these Air Niugini Aircraft Maintenance Engineers can apply for a PNG AME license without having to complete the basic license exam."
He went on to say, "Using the UK AME license, the first group of AMEs can now apply to CASA PNG for Fokker 100/70 Type rating endorsement, while the second group can apply for the endorsement and rating on Dash 8-100/200/300 aircraft."
Meanwhile, among the batch are two young ladies, Lyndah Eremas and Elena Mai who also got their certificates today.
The cadets where grouped into two groups with one group attending Air New Zealand Aviation Institute and the other attending Aviation Australia.
Air Niugini is serious about training and continues to invest heavily in the training of its staff including cadet engineers and pilots every year.
10th October 2017
Express Freight now cargo agent for Air Niugini
EXPRESS Freight Management (EFM) has taken over the full responsibility as cargo sales agent for Papua New Guinea's National airline, Air Niugini at Henderson International airport in Honiara.
General Manager of Air Niugini Cargo Limited, Mr Gus Kraus and Branch Manager of Express Freight Management (SI) Limited (EFM), Jebs Benito made the formal announcement in Honiara last week.

Both men are optimistic that this arrangement will further boost cargo services and activities in Honiara. The arrangement is supported by up to five Air Niugini flights a week from Port Moresby to Honiara, combined with sales and marketing activities along competitive freight rates.

Under this arrangement, EFM will collect all Air Niugini cargo from Solomon Airlines and take it to their Bonded warehouse closer to town making it easier for customers to collect/clear rather than driving to airport to do so.

Effective 09 October 2017, all inbound cargoes will be claimed at EFM office in Ranadi Industrial Area.