Search and Buy Virgin Australia Flights with Alternative Airlines
Make a Virgin Australia Booking and Find Some Amazing Deals
---
About Virgin Australia
Virgin Australia, or formerly known as Virgin Blue Airlines, is an Australian airline based at Sydney Airport. Launched in 2000, Virgin Australia calls itself a "new world carrier" by combining aspects of the "no-frills" approach with some extras supplies by full-service airlines and was formed by combining Pacific Blue Airlines and V Australia airlines with Singapore holding a 10% stake.
Virgin Australia has codeshare agreements with Air Mauritius, Air New Zealand, Airlines PNG, Delta Air Lines, Etihad Airways, Singapore Airlines, Virgin Atlantic and South African Airways.
In 2013, Virgin Australia acquired SkyWest Airlines and rebranded it as its full regional subsidiary, named Virgin Australia Regional Airlines.
Top Top: Book your Virgin Australia flights through Alternative Airlines and pay in instalments. Choose from Laybuy, Klarna, Afterpay and many other payment plan options.
---
Destinations
COUNTRY
CITY
AIRPORT
Australia
Adelaide
Adelaide Airport
Alice Springs
Alice Springs Airport
Ballina
Ballina Byron Gateway Airport
Brisbane
Brisbane Airport
Broome
Broome Airport
Cairns
Cairns Airport
Canberra
Canberra Airport
Christmas Island
Christmas Island Airport
Cocos Islands
Cocos (Keeling) Island Airport
Coffs Harbour
Coffs Harbour Airport
Darwin
Darwin Airport
Emerald
Emerald Airport
Gladstone
Gladstone Airport
Gold Coast
Gold Coast Airport
Hamilton Island
Great Barrier Reef Airport
Hobart
Hobart Airport
Kalgoorlie
Kalgoorlie Airport
Karratha
Karratha Airport
Kununurra
East Kimberly Regional Airport
Launceston
Launceston Airport
Mackay
Mackay Airport
Melbourne
Melbourne Airport
Newcastle, NSW
Newcastle Airport
Newman
Newman Airport
Onslow
Onslow Airport
Perth
Perth Airport
Port Hedland
Port Hedland Airport
Proserpine
Whitsunday Coast Airport
Rockhampton
Rockhampton Airport
Sunshine Coast
Sunshine Coast Airport
Sydney
Sydney Airport
Townsville
Townsville Airport
Fiji
Nadi
Nadi International Airport
Indonesia
Denpasar
Ngurah Rai International Airport
Japan
Tokyo
Haneda Airport
New Zealand
Auckland
Auckland Airport
Christchurch
Christchurch Airport
Dunedin
Dunedin Airport
Queenstown
Queenstown Airport
Wellington
Wellington Airport
Papua New Guinea
Port Moresby
Jacksons International Airport
Samoa
Apia
Faleolo International Airport
Solomon Islands
Honiara
Honiara International Airport
United States
Los Angeles
Los Angeles International Airport
Vanuatu
Port Vila
Bauerfield International Airport
---
Baggage Allowances
Carry-on Baggage
Individual carry-on baggage cannot be heavier than 7kg for safety reasons and all passengers are entitled to one personal item to bring onboard.
Economy, Economy X and Premium Economy passengers can either carry one standard carry-on baggage or two small pieces or one standard baggage with one suit pack.
Business class, Velocity Gold and Platinum members are entitled to either one 7kg standard piece, two small pieces with 7kg each or one standard piece and one suit pack with 7kg each maximum. Passengers travelling on Airbus A320, ATR and F100 are only entitled to economy class allowance.
Checked Baggage
Domestic and short-haul flights:
All checked baggage on domestic and short-haul flights cannot exceed 140cm (55") in the sum of three dimensions (length + width + height). Economy passengers are entitled to one 23kg checked baggage whereas business class two 32kg checked baggage.
International long-haul flights:
All checked baggage on domestic and short-haul flights cannot exceed 158cm (62") in the sum of three dimensions (length + width + height). Economy Light passengers are entitled to one 23kg baggage. Economy Getaway, Elevate, Freedom, Economy Reward and Premium Economy passengers are allowed to check-in two 23kg baggage. Business-class passengers can check-in with two 32kg baggage.
---
Class Fares
Virgin Australia offers four types of classes: Business Class, Premium Economy and Economy Class.
---
Economy Class
Economy Class Facilities
On most aircraft, seats are fitted with personal TV monitors that are connected to the airlines' inflight entertainment system. Passengers are also given complimentary food and drink in Economy class, with the exception of some Australian domestic flights.
What Are Economy Class Seats Like?
Economy Class seats are made from leather and have up 31 inches of seat pitch and are 17 inches wide.
---
Premium Economy
Premium Economy Facilities
It is equipped with 10.6" in-flight entertainment screen and noise-cancelling headset. A USB power outlet is also available.
What Are Premium Economy Seats Like?
Virgin Australia premium economy seats have 41" seat pitch and 9" recline. The seat also comes with pillow, blankets and an amenity kit.
---
Business Class
Enjoy maximum comfort and premium service onboard your flight with Business Class.
Virgin Australia Business Class Facilities
The Business' Service for Virgin Australia passengers begins before you even board your flight. Make the most of Priority Check-in, Boarding as well as access to the Virgin Australia Business Class lounge at the airport.
What is Virgin Australia Business Class Seats Like?
Virgin Australia provides passengers with maximum comfort in herringbone Business Class seats. Passengers are also provided with stylish and comfortable pillows to help them relax in their seat. Each passenger is able to enjoy the airline's in-flight entertainment from a 16-inch screen as well as having the chance to charge the batteries on the electronic devices from USB and universal power charging points.
---
Virgin Australia Seat Selection
You can now pre-book your Virgin Australia seats when you make your Alternative Airlines' booking! Find the seat you need to have the best experience possible on your Virgin Australia flight.
---
Frequent Flyer Program
Virgin Australia operates a frequent flyer program called Velocity Frequent Flyer to reward regular passengers with the airline. Velocity Frequent Flyer provides members with easy ways to earn Velocity Points and you can use points to purchase flights, upgrades, car hire, hotels and many others. Velocity rewards its frequent flyers.
The higher your level of membership, the greater the benefits, such as Points bonuses with many of the airline's travel partners. Silver members can enjoy Priority Check-in on international flights while Gold and Platinum members can experience lounge access and priority services.
---
Virgin Australia Inflight Entertainment
Make the most of Virgin Australi's inflight entertainment services on International Long Haul flights where you will find free of charge entertainment screens built into the seat in front of you. Business Class passengers travelling on Domestic and International Short Haul routes are also provided with Inflight Entertainment tablets with pre-loaded movies, TV shows and music.
Virgin Australia TV
Virgin Australia updates its selection of Inflight TV shows each month so that passengers can have access to the best up-to-date shows to help the time fly by on their long-haul flight. From classic shows like the Sopranos to new popular sitcoms, everyone can be entertained by the range of shows on Virgin Australia's inflight entertainment system.
Virgin Australia Movies
Find new releases and hard-hitting documentaries when flying with Virgin Australia. You'll be pleasantly surprised with the exciting range of movies on offer on your flight.
---
Virgin Australia Food
Virgin Australia Meal Options
The Virgin Australia menu varies depending on the type of flight and class flying in. Example menus can be found on the Virgin Australia website. Passengers on domestic flights flying in Economy will receive complimentary food, which will depend on the time of day and duration of the flight. Business-class passengers on domestic flights will receive gourmet food including hearty breakfast options, light snacks throughout the flight and on flights over 2 hours 45 minutes, a three-course meal for lunch or dinner. Economy passengers on international short-haul flights can choose from a variety of hot meals, salads and snacks. Sample menus for breakfast, lunch and dinner can be found on the Virgin Australia website.
On international long haul flights, all food and drink are complimentary. Meals and snacks will be served throughout your flight, with the timing varying depending on the duration and departure time of your flight. Sample menus can be found on the Virgin Australia website, for each route and class flying.
Virgin Australia Special Dietary Requirements
Passengers with special or different dietary needs can order a meal to suit their needs and requirements for their flight. If there are no meal options that are suitable, then passengers are welcome to bring their own food onboard. Special meals are only available on International Long Haul flights, and must be ordered at the time of booking, or at least 48 hours before your scheduled flight departure time. The following is a list of all the special meals available to order:
Baby Meal (BBML)
Bland Meal (BLML)
Child's Meal (CHML)
Diabetic Meal (DBML)
Low fat / Low cholesterol Meal (LFML)
Asian Vegetarian Meal(AVML)
Lacto-ovo vegetarian Meal (VLML)
Hindu Meal (HNML)
Muslim Meal (MOML)
Low Salt Meal (LSML)
Low lactose (NLML)
Fruit Platter (FPML)
Seafood meal (SFML)
Vegetarian Jain meal (VJML)
Raw vegetariam (RVML)
Virgin Australia Drinks & Alcohol
Virgin Australia offers a broad drinks service onboard their flights, from premium Australian beers, wines and spirits but also non-alcoholic beverages including soft drinks, juices, coffee and teas. On some flights, selected drinks will be provided for passengers free of charge, depending on the class flying.
---
WiFi
WiFi is available on all the international flights as well as gradually adding WiFi services on domestic flights.
---
Route Map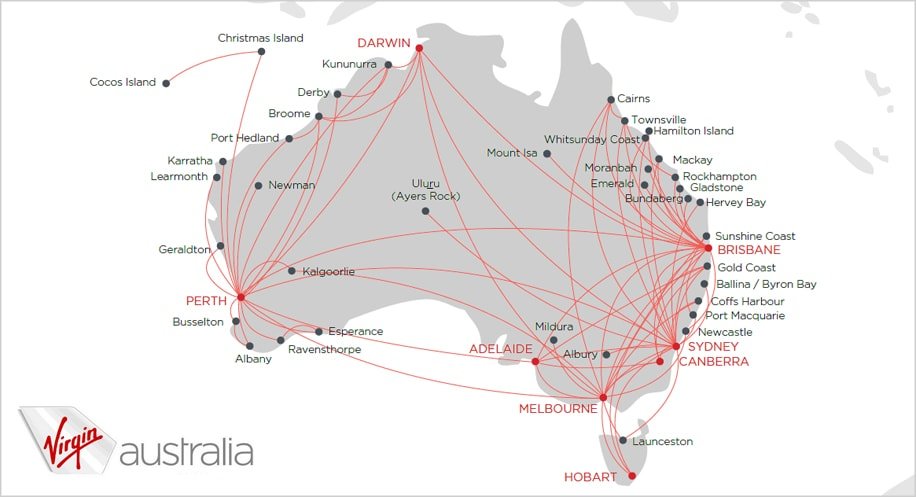 ---
Check-In Information
Check-In Online
Online check-in opens 48 hours and closes 45 minutes prior to departure for domestic flights. International flights' online check-in opens 24 hours and closes 90 minutes prior to departure time. Please check-in on the airline website or on the airline app.
Please prepare your passport, booking reference and information on your departure airport to complete online check-in. All passengers are recommended to check-in online to save time at the airport.
Airport Check-In
Domestic flight's check-in closes 30 minutes prior to departure time. International short-haul flights check-in opens two hours before departure whereas long-haul flights open three hours prior to departure. Please make sure you have enough time to check-in, go through security and proceed to the boarding gate.
At Alternative Airlines, we recommend passengers to arrive at the airport two hours before the flight to give you plenty of time to check-in and reach the boarding gate.
---
Pay with Poli
Pay for Virgin Australia airfares with Poli through Alternative Airlines, simple to do and at the checkout ready when you select to pay in Australian Dollars or New Zealand Dollars at the checkout. There are 25+ other payment options to choose from including PayPal, Apple Pay and more.
---
Fleet
As of April 2020, Virgin Australia has two Airbus A320, six Airbus A330-200, 14 ATR72, two Boeing 737-700, 73 Boeing 737-800, five Boeing 777 and 14 Fokker 100.
---
Hub Airport
Sydney International Airport
Sydney Airport is the major airport serving Sydney and is the hub airport for Qantas, Jetstar Airways, Regional Express Airlines, Virgin Australia and Tigerair Australia. Other airlines which fly to and from this airport include Emirates, Etihad Airways, Garuda Indonesia, Fiji Airways (formerly Air Pacific), Hainan Airlines, Japan Airlines, Jetstar Airways, Fly Corporate, Samoa Airways and many others.
---
Alternative Airlines to Virgin Australia
Airlines that fly similar routes to Virgin Australia include Qantas, Jetstar and Air New Zealand.
---
Virgin Australia News
12th June 2018
Large number of flights to be operated by Virgin Australia on Hong Kong Airlines behalf
Virgin Australia is expanding its codeshare agreement with Hong Kong Airlines. The new terms of the codeshare will see 26 routes operated by Virgin Australia on Hong Kong Airlines behalf. These routes will cover domestic services within Australia and Trans-Tasman routes. The existing service between Sydney Airport (HYD) and Hong Kong International Airport (HKG) will now operate under an HX-code as well.
Here is a list of Hong Kong services operated by Virgin Australia:
From Gold Coast Airport (OOL) — Canberra
From Melbourne Airport (MEL) — Canberra, Hamilton Island, Hobart, Launceston, Mildura,
From Sydney Airport (SYD) — Adelaide, Auckland, Brisbane, Canberra, Coffs Harbour, Darwin, Hamilton Island, Hobart, Launceston, Perth, Port Macquarie, Queenstown and Tamworth
4th June 2018
Virgin Australia increase perks available on Hong Kong Airlines and Hainan Airlines
Due to the expansion of the partnership between the airlines, from the beginning of July 2018, some Hong Kong Airlines and Hainan Airlines frequent flyers will gain access to airport lounges. Virgin Australia's Velocity Gold and Platinum frequent flyers will be able to enjoy lounge access on some of these airlines routes, however, many flights, in particular, those between Australia and Greater China, Velocity Gold and Platinum members will remain unable to take advantage of this perk.
On the other hand, benefits like priority check-in, priority boarding, and extra checked baggage are more widely available and will be offered on Beijing Capital Airlines and Tianjin Airlines too, as Virgin Australia also expands its codeshare network to cover more destinations in Greater China. Virgin Australia will strengthen their partnership by codesharing on Hainan Airlines' flights from Sydney to Xi'an, Changsha and Haikou; from Melbourne to Xi'an and Changsha; from Brisbane to Shenzhen and from Cairns to Shenzhen, which travellers will be able to book on a VA flight number. This will allow frequent flyers to collect more and more points.