Search & Buy Rex Regional Express Flights
Airlines will always try to sit children with their parents (subject to check-in)
Some airlines will allow travel for unaccompanied minors. Please email us to check.
The fare is based on the child's age on the date of travel.
More detailed information can be found here Traveling with children
Most airlines will let infants travel with their parent(s) for free. However some airlines will charge up to 10% of the adult ticket price. Click on 'Price Breakdown' to find out more.
If you are pregnant, but due before the flight departure date, please contact us once your baby is born and has a name. We can then add him/her to your ticket.
Infants will not be given a seat. The airlines expect parents to travel with them on their lap.
Airlines regard infants as being under 24 months old.
The fare is based on the child's age on the date of travel.
More detailed information can be found here Traveling with children
Buy
Rex Regional Express

Flights
Rex Regional Express Reservations with Alternative Airlines
Make an Rex Regional Express Booking and Find Some Amazing Deals
---
About Rex Regional Express
Rex Regional Express is a regional Australian airline which is based in Mascot, New South Wales. Rex Regional Express was founded in 2002 and currently operates scheduled regional services serving New South Wales, South Australia, Victoria, North Queensland, Tasmania and Western Australia.
Regional Express (Rex) is Australia's largest independent regional airline operating a fleet of more than 50 Saab 340 aircraft on some 1,500 weekly flights to 59 destinations throughout all states in Australia. These include Adelaide Airport, Melbourne, Sydney, Townsville, Cairns and Perth. Destinations served by Regional Express include Adelaide, Bamanga, Brisbane, Cairns, Domadgee, Esperance. King Island, Lismore, Melbourne, Moruya. Newcastle, Perth, St George, Sydney, Wagga Wagga and Winton.
Rex Regional Express is Australia's largest regional airline outside of the Qantas Group of companies. Additionally, the airline has joined forces with Virgin Australia to provide regional travellers with a convenient and cost effective method of flying around the country. Passengers flying on Rex from regional centres to Adelaide, Melbourne, Sydney, Brisbane, Cairns and Perth will be able to remain in the same terminal and connect smoothly to their Virgin Australia destination or vice versa, without the hassle of handling their own bags in between.
In addition to the regional airline Regional Express, the Rex Group comprises wholly owned subsidiaries Pel-Air Aviation (air freight and charter operator), Air Link (Dubbo-based regional airline) and the Australian Airline Pilot Academy. Rex Regional Express currently operate with a total fleet of 52 aircraft on Saab 340 aircraft. The fleet consists of one Saab 340A, twenty two Saab 340B and 29 Saab 340BPlus aircraft.
---
Rex Regional Express Baggage
Regional Express currently only use a one class cabin offering passengers 7kg of hand baggage with every ticket purchased.
Depending on fare class purchased Regional Express also allow passengers to travel with 15kg of luggage, 20kg if they are connecting internationally and 23kg if the 'Rex Flex' fare has been booked.
---
Rex Regional Express Destinations
Adelaide
South Australia
ADL
YPAD
Adelaide Airport
Albany
Western Australia
ALH
YABA
Albany Airport
Albury
New South Wales
ABX
YMAY
Albury Airport
Armidale
New South Wales
ARM
YARM
Armidale Airport
Ballina
New South Wales
BNK
YBNA
Ballina Byron Gateway Airport
Bamaga
Queensland
ABM
YNPE
Northern Peninsula Airport
Bathurst
New South Wales
BHS
YBTH
Bathurst Airport
Bedourie
Queensland
BEU
YBIE
Bedourie Airport
Birdsville
Queensland
BVI
YBDV
Birdsville Airport
Boulia
Queensland
BQL
YBOU
Boulia Airport
Brisbane
Queensland
BNE
YBBN
Brisbane Airport
Broken Hill
New South Wales
BHQ
YBHI
Broken Hill Airport
Burketown
Queensland
BUC
YBKT
Burketown Airport
Burnie
Tasmania
BWT
YWYY
Burnie Airport
Cairns
Queensland
CNS
YBCS
Cairns Airport
Ceduna
South Australia
CED
YCDU
Ceduna Airport
Charleville
Queensland
CTL
YBCV
Charleville Airport
Coober Pedy
South Australia
CPD
YCBP
Coober Pedy Airport
Cooma
New South Wales
OOM
YCOM
Cooma–Snowy Mountains Airport
Cunnamulla
Queensland
CMA
YCMU
Cunnamulla Airport
Doomadgee
Queensland
DMD
YDMG
Doomadgee Airport
Dubbo
New South Wales
DBO
YSDU
Dubbo City Regional Airport
Esperance
Western Australia
EPR
YESP
Esperance Airport
Grafton
New South Wales
GFN
YGFN
Clarence Valley Regional Airport
Griffith
New South Wales
GFF
YGTH
Griffith Airport
Hughenden
Queensland
HGD
YHUG
Hughenden Airport
Julia Creek
Queensland
JCK
YJLC
Julia Creek Airport
King Island
Tasmania
KNS
YKII
King Island Airport
Kingscote, Kangaroo Island
South Australia
KGC
YKSC
Kingscote Airport
Lismore
New South Wales
LSY
YLIS
Lismore Airport
Longreach
Queensland
LRE
YLRE
Longreach Airport
Melbourne
Victoria
MEL
YMML
Melbourne Airport
Merimbula
New South Wales
MIM
YMER
Merimbula Airport
Mildura
Victoria
MQL
YMIA
Mildura Airport
Mornington Island
Queensland
ONG
YMTI
Mornington Island Airport
Moruya
New South Wales
MYA
YMRY
Moruya Airport
Mount Gambier
South Australia
MGB
YMTG
Mount Gambier Airport
Mount Isa
Queensland
ISA
YBMA
Mount Isa Airport
Narrandera
New South Wales
NRA
YNAR
Narrandera Airport
Newcastle
New South Wales
NTL
YWLM
Newcastle Airport
Normanton
Queensland
NTN
YNTN
Normanton Airport
Orange
New South Wales
OAG
YORG
Orange Airport
Parkes
New South Wales
PKE
YPKS
Parkes Airport
Perth
Western Australia
PER
YPPH
Perth Airport
Port Augusta
South Australia
PUG
YPAG
Port Augusta Airport
Port Lincoln
South Australia
PLO
YPLC
Port Lincoln Airport
Quilpie
Queensland
ULP
YQLP
Quilpie Airport
Richmond
Queensland
RCM
YRMD
Richmond Airport
St George
Queensland
SGO
YSGE
St George Airport
Sydney
New South Wales
SYD
YSSY
Sydney Airport
Taree
New South Wales
TRO
YTRE
Taree Airport
Thargomindah
Queensland
XTG
YTGM
Thargomindah Airport
Toowoomba
Queensland
WTB
YBWW
Brisbane West Wellcamp Airport
Townsville
Queensland
TSV
YBTL
Townsville Airport
Wagga Wagga
New South Wales
WGA
YSWG
Wagga Wagga Airport
Whyalla
South Australia
WYA
YWHA
Whyalla Airport
Windorah
Queensland
WNR
YWDH
Windorah Airport
Winton
Queensland
WIN
YWTN
Winton Airport
---
---
Rex Regional Express Route Map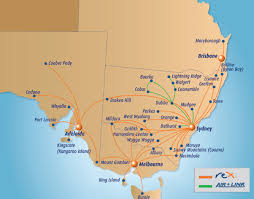 Rex Regional Express Popular Routes
Adelaide

Townsville
Cairns

Adelaide
Brisbane

Adelaide
Adelaide

Cooper Pedy
Perth

Adelaide
Adelaide

Sydney

---
The Fleet
---
Rex Regional Express Hub Airport
Adelaide Airport
Adelaide Airport is the principal airport of Adelaide and is the hub airport for Alliance Airlines, Qantas, Regional Express Airlines, Sharp Airlines and Cobham.
Other airlines which fly to and from this airport include Air New Zealand, Alliance Airlines, Cathay Pacific, Emirates, Malaysia Airlines, Singapore Airlines and Tigerair Australia.

---
---
Rex Regional Express News
13th September 2017
Rex Launches Port Augusta Services
Regional Express (Rex) will launch its new air service between Port Augusta and Adelaide on Monday 11 September 2017.
Rex was awarded the route license to operate passenger air services following an expression of interest by the South Australian government after the previous operator exited the route in May this year.
Rex will operate three return services per week on Mondays, Tuesdays and Thursdays, providing up to 10,000 seats a year. The flight schedule is available in the Annex.
The service will also extend through to Coober Pedy which means that for the first time, there will be air services linking Port Augusta to Coober Pedy, significantly enhancing the connectivity of these two cities for business, government, mining, and tourism related travel.
Regional Express Network Strategy & Sales Manager Mr. Warrick Lodge said:
"Rex looks forward to building a strong partnership with the South Australian Government, Port Augusta City Council and the Port Augusta community to ensure we can continue to provide a sustainable air service for the long-term benefit of the region."
Rex's commencement of services on the Port Augusta route has been well-received by the local community.
Port Augusta Mayor Mr. Sam Johnson said:
"We welcome Rex and thank them for their contribution and support. This is a positive sign that exciting times are upon us, with reputable companies such as Rex Airlines making an investment in a growing and expanding region."