Cheap Rex Regional Express Reservations with Alternative Airlines
Make a Booking and Find Some Amazing Deals
---
About
Founded in 2002, Rex Regional Express (otherwise known as just 'Rex', 'REX', or 'Regional Express Airlines') is a domestic Australian airline which is based in Mascot, New South Wales. The establishment of the airline was based on the result of a merger between two Australian airlines, Hazelton and Kendell. Rex operates scheduled regional flights to New South Wales, South Australia, Victoria, Queensland, Tasmania and Western Australia and has an airport base in at least one destination in each of those territories.
Rex Regional Express is owned by Regional Express Holdings, which owns a number of airlines and other aviation companies within Australia. The airline values safety, reliability and providing good services on every flight. It also strives to provide cheap fares for customers.
Looking to book REX flights? You can use the search bar at the top of the page to begin searching for flights. Remember that when you book through Alternative Airlines you can buy any Rex Airlines flight and spread the cost over time.
---
Destinations
Regional Express Airlines flies to over 60 destinations across every major Australian territory. This includes destinations such as Adelaide, Melbourne, Sydney, Townsville, Cairns, Doomadgee, Esperance, King Island, Lismore, Melbourne, Moruya, Newcastle, Perth, St George, Sydney, Wagga Wagga and Winton. Why not book a one-way flight to Australia to one of the destinations below?
Domestic Destinations
TERRITORY
CITY
AIRPORT
New South Wales
Albury
Albury Airport (ABX)
Armidale
Armidale Airport (ARM)
Broken Hill
Broken Hill Airport (BHQ)
Coffs Harbour
Coffs Harbour Airport (CFS)
Dubbo
Dubbo City Regional Airport (DBO)
Griffith
Griffith Airport (GFF)
Merimbula
Merimbula Airport (MIM)
Moruya
Moruya Airport (MYA)
Narrandera
Narrandera Airport (NRA)
Orange
Orange Airport (OAG)
Parkes
Parkes Airport (PKE)
Port Macquarie
Port Macquarie Airport (PQQ)
Sydney
Sydney Airport (SYD)
Wagga Wagga
Wagga Wagga Airport (WGA)
Queensland
Bamaga
Northern Peninsula Airport (ABM)
Bedourie
Bedourie Airport (BEU)
Birdsville
Birdsville Airport (BVI)
Boulia
Boulia Airport (BQL)
Brisbane
Brisbane Airport (BNE)
Burketown
Burketown Airport (BUC)
Cairns
Cairns Airport (CNS)
Charleville
Charleville Airport (CTL)
Cunnamulla
Cunnamulla Airport (CMA)
Doomadgee
Doomadgee Airport (DMD)
Gold Coast
Gold Coast Airport (OOL)
Hughenden
Hughenden Airport (HGD)
Julia Creek
Julia Creek Airport (JCK)
Karumba
Karumba Airport (KRB)
Longreach
Longreach Airport (LRE)
Mornington Island
Mornington Island Airport (ONG)
Mount Isa
Mount Isa Airport (ISA)
Normanton
Normanton Airport (NTN)
Quilpie
Quilpie Airport (ULP)
Roma
Roma Airport (RMA)
Richmond
Richmond Airport (RCM)
St George
St George Airport (SGO)
Thargomindah
Thargomindah Airport (XTG)
Toowoomba
Toowoomba Wellcamp Airport (TWB)
Townsville
Townsville Airport (TSV)
Windorah
Windorah Airport (WNR)
Winton
Winton Airport (WIN)
South Australia
Adelaide
Adelaide Airport (ADL)
Ceduna
Ceduna Airport (CED)
Coober Pedy
Coober Pedy Airport (CPD)
Mount Gambier
Mount Gambier (MGB)
Port Lincoln
Port Lincoln Airport (PLO)
Whyalla
Whyalla Airport (WYA)
Tasmania
Burnie
Burnie Airport (BWT)
Devonport
Devonport Airport (DPO)
King Island
King Island Airport (KNS)
Victoria
Melbourne
Melbourne Airport (MEL)
Mildura
Mildura Airport (MQL)
Western Australia
Albany
Albany Airport (ALB)
Carnarvon
Carnarvon Airport (CVQ)
Esperance
Esperance Airport (EPR)
Monkey Mia
Shark Bay Airport (MJK)
Perth
Perth Airport (PER)
---
Route Map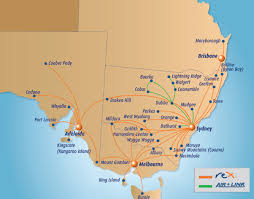 ---
Baggage Information
Carry-On Baggage
Passengers are entitled to two small bags that must fit within the dimensions of 23 x 34 x 48cm (9 x 13 x 19in) each or one briefcase and a small bag. The combined weight of this baggage must be no heavier than 7kg / 15lbs. In addition to this, passengers are entitled to bring on a personal item such as a handbag, a walking stick, an infant's food, a blanket or a camera.
Infants are not given a carry-on baggage allowance unless they have their own seats.
Checked Baggage
Baggage must not exceed the overall dimensions of 140cm (55in). The free baggage allowance weight will depend on the type of fare that the passenger has purchased. Take a look at our table below to see the free baggage allowance.
Please note that wheelchairs, crutches or prosthetics for passengers with reduced mobility are not included in the baggage allowance limitations.
| PASSENGER FARE | NO. OF FREE BAGGAGE | WEIGHT ALLOWANCE |
| --- | --- | --- |
| Rex Flex (Y) Class | 1 | 23kg / 50lbs |
| All Other Travel Classes | 1 | 15kg / 33lbs |
| International Passengers on Connecting Flight | 1 | 23kg / 50lbs |
| Infants | 1 | 10kg / 22lbs |
Excess baggage can be added to your booking when booking with Alternative Airlines subject to an extra charge. Any baggage exceeding 32kg / 70lbs will be accepted as air freight instead of checked baggage. This is due to health and safety regulations. Excess baggage may be travelling on the next available flight if the flight lacks capacity.
Dangerous goods are not allowed onboard or in the baggage hold.
---
Check-In
Online Check-In
Online check-in opens 48 hours before scheduled flight departure time and closes 60 minutes prior. Passengers can check in using the Rex Regional Express web check-in page.
Prepare your booking and photo identification details in order to proceed with online check-in.
Passengers with reduced mobility, unaccompanied minors or travelling with carers must check in at the airport.
Airport Check-In
If passengers can't check in online or would prefer not to, they can check in at the airport. This can be done by visiting one of the check-in agents at the check-in desks.
Here are the closing times for airport check-in at each airport:
60 minutes before departure time at Burketown Airport
30 minutes before departure time at Adelaide, Melbourne, Sydney, Perth and Queensland airports (excluding Burketown)
20 minutes before departure time at regional airports in New South Wales, South Australia, Tasmania, Victoria and Western Australia.
It's recommended to arrive at the airport 30 minutes before closing time at the very least.
---
Economy Class
Economy Class is the only cabin class that Rex offers. The cabin is comfortable and pleasant, with the airline's flight attendants on hand to help with anything that passengers might need.
Seats
Seats give 76cm / 30in of pitch and 47cm / 18.5in of width. There are around 30 seats per aircraft.
On select flights, REX offers a number of extra legroom seats, which are named 'Rextra Legroom'. These seats are available to purchase at an additional cost and are sold on a first-come-first-serve basis.
---
Book Extra Legroom
Extra legroom seats are available on all Rex Regional Express flights when booking through Alternative Airlines. We allow you to purchase a seat with extra legroom at the time of booking so that you can have a more relaxed journey. Rex reserves specific seats at the front and in the middle of the plane to give passengers more space when they travel.
To buy your seat with extra legroom, make sure to select 'Yes' under the 'Extra legroom seat' section when offered at checkout.
---
In-Flight Entertainment
Rex doesn't have an in-flight entertainment system installed on its aircraft, however, it does have in-flight magazines that are available to read on select flights.
Passengers are also welcome to bring their own personal electronic devices on board which can be used in flight mode when the fasten seatbelt signs are switched off.
---
Food
Passengers are offered light refreshments once in flight. Although refreshments are subject to change, these usually consist of a soft or alcoholic drink and a packet of potato chips, a biscuit or another light snack.
---
WIFI
There's no Wi-Fi network available onboard Rex Regional Express flights.
---
Frequent Flyer
Rex Business Flyer
Rex Business Flyer is the airline's frequent flyer program. Through Rex Business Flyer, passengers can earn points that they can collect and use to purchase future Rex Regional Express flights.
With Rex Business Flyer, for every eighteen flight sectors flown, passengers will earn two reward flights (exclusive of taxes).
---
Airlines Alliances
Rex Regional Express isn't a member of any airline alliance.
---
Fleet
Rex's fleet mainly consists of Saab regional jets. The airline uses 340A, 340B and 340B+WT for its flights and has more than 50 aircraft overall. As of October 2022, the airline also has a Boeing 737-800 in its fleet, allowing it to carry more passengers on its domestic flights across Australia.
| Aircraft | In Service | Orders |
| --- | --- | --- |
| Boeing 737-800 | 6 | 4 |
| Saab 340A | 1 | / |
| Saab 340B | 29 | / |
| Saab 340B+WT | 27 | / |
---
Hub Airport
Wagga Wagga Airport
Wagga Wagga Airport is an airport southeast of Wagga Wagga, New South Wales and is the base airport for Rex Regional Express. Although Rex only flies to a small number of destinations from Wagga Wagga, the airport is where it bases its fleet. Two runways are available at the airport one is an asphalt runway and the other is a clay runway. The airport is owned by the Australian Department of Defence but leased by the Wagga Wagga City Council.
Other than Rex Regional Express, QantasLink is the only other airline to fly to/from the airport.
---
Alternative Airlines
---
News
30th September 2022
Rex completes purchase of charter airline National Jet Express
REX has successfully completed the purchase of charter operator National Jet Express, allowing its major expansion into Queensland and the Northern Territory states. REX will be looking to lease 2 x De Havilland Canada Dash 8-400 turboprops to add to National Jet Express' fleet.
19th April 2021
Rex Regional set to increase even domestic routes
Regional Express Holdings (Rex), an Australian domestic carrier, has ambitious plans to ramp to services on its domestic network in 2021, thanks to new jet aircraft. This will be possible thanks to the proposed new jet services on domestic routes. Rex hopes to build up a fleet of 30-40 narrowbody jets, which will increase capacity on the carrier's popular routes. The airline has already wet-leased six Boeing 737-800s. These aircraft will initially be launched on the Sydney (SYD)-Melbourne (MEL) route, which was one of the carrier's busiest domestic routes prior to the COVID-19 pandemic.
30th March 2021
Rex launches new Gold Coast routes
Rex has launched two new routes from Gold Coast Airport, and will now fly to Melbourne and Sydney. From April, both services are operated twice-daily and are set to boost competition on two of the busiest routes from the Cold Coast. The launch of these new routes comes as domestic flights continue to grow following the Coronavirus pandemic.
---
FAQs
Where does Rex fly to?
Rex flies within Australia, to domestic and regional destinations. Domestically, the airline connects major cities, including Melbourne, Sydney, Adelaide, and the Gold Coast. These are flights which connect interstate cities/destinations. The carrier also operates an extensive regional network, flying from the major cities to destinations within each state. For example, within New South Wales, Rex flies to Grafton, Parkes, Bathurst, and many other destinations within the state.
Can I book Rex flights online?
Yes, you can book Rex flights through Alternative Airlines! Alternative Airlines is an online flight search and booking site that makes it easy to find the flights you're after. We ticket all the major carriers, and many of the smaller regional airlines, that operate within Australia.
Can I take my pet with me on a Rex flight?
Of course! When flying with REX, you won't need to leave your precious pet at home - your pet can be on the same flight with you and be safely stored away in the pressurised cargo compartment of the aircraft. The fee for taking transporting your pet via a REX flight will vary depending on the weight of your pet. Check out Rex's policy on flying with pets for more information. Or you can take a look at our blog post on the best pet-friendly airlines.