Search & Buy Tigerair Australia Flights
Airlines will always try to sit children with their parents (subject to check-in)
Some airlines will allow travel for unaccompanied minors. Please email us to check.
The fare is based on the child's age on the date of travel.
More detailed information can be found here Traveling with children
Most airlines will let infants travel with their parent(s) for free. However some airlines will charge up to 10% of the adult ticket price. Click on 'Price Breakdown' to find out more.
If you are pregnant, but due before the flight departure date, please contact us once your baby is born and has a name. We can then add him/her to your ticket.
Infants will not be given a seat. The airlines expect parents to travel with them on their lap.
Airlines regard infants as being under 24 months old.
The fare is based on the child's age on the date of travel.
More detailed information can be found here Traveling with children
Buy
Tigerair Australia

Flights
TigerAir Reservations with Alternative Airlines
Flights around Australia
Make a Tigerair Australia Booking and Find Some Amazing Deals
---
About TigerAir Australia
Tiger Airways Australia, officially known as Tigerair Australia, is an Australian airline low-cost airline based in Melbourne, Australia. The airline began operations in November 2007 from its hub ;in Melbourne, Victoria and is subsidiary of Virgin Australia. Tigerair Australia then opened a second base in Sydney in July 2012 and a third base in Brisbane in March 2014.
Tigerair Australia operates 14 A320 aircraft domestically across 19 domestic routes (21 with the addition of new routes Brisbane – Whitsunday Coast and Brisbane to Perth launching in 2017) and to 12 destinations around Australia. The airline currently operates over 400 domestic flights per week, with around 72,000 seats per week available.
In July 2013, the airline re-branded to Tigerair Australia and the joint venture between Tiger Airways Holdings and the Virgin Australia Group was launched, with Virgin Australia acquiring 60% of Tigerair Australia. These two milestones signalled a new era for Tigerair in Australia. In February 2015, the Virgin Australia Group completed the acquisition of the remaining 40% and Tigerair Australia is now a fully owned subsidiary of Virgin Australia Holdings.
---
Tigerair Australia Baggage
Carry-on Baggage
Passengers on Tigerair Australia are entitled to one item of carry-on baggage plus an additional small bag, such as a handbag, camera or laptop. The item off carry-on baggage must weigh no more than 7kg and must fit within the dimensions of 54 x 38 x 23cm.
Checked Baggage
Checked baggage is available to purchase. The amount and pricing of baggage will depend on the route that you're flying. No one piece of baggage can weigh more than 30kg.
---
Tigerair Australia Check-In Information
Online Check-In
Passengers can check-in online by visiting the Tigerair Australia online check-in page and entering their booking reference and flight departure date/city. Online check-in is open from 72 hours up until one hour before scheduled flight departure time.
Airport Check-In
Passengers can check-in for their Tigerair Australia flight up until 45 minutes before scheduled flight departure time. Passengers can choose to either visit a Tigerair Australia check-in counter or use the self-service kiosk to check-in. We recommend you arrive at least one hour and a half before your flight if you choose to check-in at the airport to give enough time before your flight departs.
---
Pay Tigerair Australia tickets with PayPal and PayPal Credit
Buy Tigerair flights on layby with PayPal Credit or buy Tigerair Australia airline tickets with PayPal when booking through Alternative Airlines. It's easy to buy layby flights with Alternative Airlines, the flight booking website when using PayPal Credit. You can also find all the ways to pay Tigerair flights on layby with all the options of buying flights on finance. PayPal is an easy and simple way to pay and book, pay your next Tigerair Australia flight with PayPal. You can also get a discounted Tigerair Australia flights with PayPal promo codes.
---
Tigerair Australia Hub Airport
Brisbane Airport
TigerAir Australia is based at Brisbane Airport, which is the primary airport serving Brisbane and South East Queensland. Over 31 airlines serve the airport who fly to over 50 domestic and international destinations. Brisbane Airport also serves as a hub for Virgin Australia and a secondary hub for Qantas and Jetstar. Other airlines that fly to Brisbane Airport include Fly Corporate, Air Niugini, Nauru Airlines, Samoa Airways and Solomon Airlines.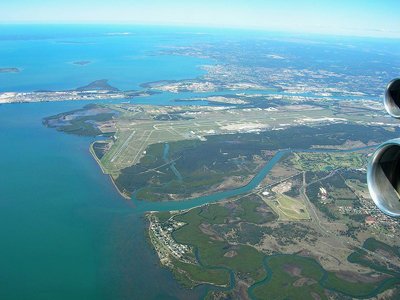 Photo credit:J Brew
---
Alternative Airlines to TigerAir Australia
---
TigerAir Australia News
26th October 2018
Tigerair Australia only low-cost airline to fly to the Gold Coast from Hobart
Tigerair recenetly announced it will recommence its Hobart- Gold Coast route. Starting from the 30th October 2018, the Australian low-cost airline will recommence the flight route three times per day. It is the only low-cost carrier to operate this route.
29th June 2018
Tigerair Australia announce new promotion
To celebrate the end of the financial year, Tigerair Australia have announced a sale, selling tickets from $40.25. These new domestic deals should keep the Australian airline warm this winter! The promotion will last for all flights during August but you will have to take a mid-week flight in order to score the best deals! All sales fares exclude checked baggage, in-flight meals and entertainment but at these prices, who cares!
23rd May 2018
Tigerair Australia named world's cheapest airline
Tigerair Australia was recently named the world's cheapest airline for domestic routes. Global Flight Pricing released a report that demonstrates that the Australian airline offers the cheapest domestic flights in the world based on the average price of tickets per km. This is the reason Tigerair Australia has subsequently been featured as one of the cheapest and best-value airlines in the world on our blog!
The report also shows that airlines from the countries of Australia, Indonesia and Chile dominate the cheapest domestic flights in the world for economy class tickets. Here is a list of the top 10 cheapest airlines in the world for domestic routes, based on the average price per km:
1. Tigerair Australia
2. Jetstar
3. Indonesia AirAsia
4. JetSMART
5. Indonesia AirAsia Extra
6. Pobeda Airlines LLC
7. Citilink Indonesia
8. Batik Air
9. Lion Mentari Airlines
10. Sky Airline
20th April 2018
Tiger Airways refuse to cancel flights out of Melbourne Airport due to meteorological disruptions
Extreme weather conditions have caused flights to be cancelled out of Melbourne Airport. low clouds and poor visibility, in the wake of an oncoming storm, have wrecked havoc on flyers plans in the last hours, including Qantas flights. Tigerair, or Tiger Airways, however, have confirmed that it did not cancel any of its services due to these conditions. Although safety Tigerair's main priority was safety, it wanted to keep passenger disruptions to a minimum.
17th April 2018
MERREN MCARTHUR TO HEAD UP TIGERAIR AUSTRALIA
The Virgin Australia Group today announced the appointment of Merren McArthur as Chief Executive Officer (CEO) of Tigerair Australia, the Group's wholly owned subsidiary, and low-cost carrier.
Since joining the Group in 2008, Ms. McArthur has held a number of key executive positions within the ailrine, most recently holding the dual role of Group Executive of Virgin Australia Regional Airlines (VARA) and Virgin Australia Cargo. She will commence in the role of CEO of Tigerair Australia on 7 May 2018.
Mark Davey, currently VARA Head of Flight Operations, has been appointed to the role of VARA Executive General Manager.
Mark has 30 years' experience in the airline industry, having held executive level positions across the areas of network, operations and commercial strategy. Group Executive of Virgin Australia Airlines, Rob Sharp, will assume responsibility for Virgin Australia Cargo.
Virgin Australia Group CEO and Managing Director John Borghetti said: "Merren has a wealth of experience in leading teams in complex commercial environments, running a customer-focused business and strengthening the operational capability of an airline. Merren has done an outstanding job in transforming and strengthening both the VARA and Cargo businesses and I am confident that she will make an invaluable contribution in this new role.
"I am also very pleased to appoint Mark Davey to the role of Executive General Manager of VARA, who will be reporting directly to me. With his extensive experience in the aviation industry and in-depth understanding of the charter business model, Mark is well-suited for the role and I have no doubt that he will continue the positive momentum of that business," Mr Borghetti said.
Ms McArthur is an experienced airline executive. She joined the Virgin Australia Group as General Counsel in 2008 and in 2011, was promoted to the role of Group Executive for Alliances, Network Planning and Revenue Management.
In this role, she was responsible for developing Virgin Australia's global virtual network strategy, establishing alliances with Air New Zealand, Delta Air Lines, Etihad Airways and Singapore Airlines to create an international flight network of more than 400 destinations.
Following this, she was promoted to the role of Group Executive of Virgin Australia Regional Airlines in 2013, a regional airline based in Perth whose primary focus is the provision of charter services to the mining industry.
Prior to joining Virgin, Ms McArthur held executive roles in a variety of industries, including Executive Partner at a national law firm, Deputy State Solicitor of Western Australia and Chief Advisor for Rio Tinto Iron Ore.
Mark Davey is also a highly qualified aviation executive, with 30 years' experience.
In 1988, he commenced his career as a Pilot and Check Captain at QantasLink before being promoted to the role of Chief Pilot and Manager of Flying Operations in 2000.
Next, he was appointed Chief Operating Officer at Network Aviation Australia (Network), providing FIFO services to the resources industry in Western Australia, where he was instrumental in formulating and implementing Network's business strategy and managing a successful fleet expansion program.
He became Head of Flight Operations at Virgin Australia Regional Airlines in 2014.
28th March 2018
Zip Co Ltd announces partnership with Tigerair Australia
The Zip Co Ltd share price is mostly flat on Monday despite the fintech company announcing a new partnership with Virgin Australia Holdings Ltd subsidiary Tigerair Australia.
According to the release, the new partnership with Tigerair Australia will see Zip's interest-free payment method added to the low-cost carrier's suite of payment options on or around April 16.
Zip CEO and managing director Larry Diamond believes that relationship with Tigerair Australia delivers on Zip's strategic vision and continues to build upon its presence in the travel and leisure sector.
He stated that: "The Zip solution complements the Tigerair Australia offering and will provide customers with a new, interest free way to pay. We look forward to taking off with Tigerair in the next few weeks."
This arrangement mirrors that of rival Afterpay Touch Group Ltd and its deal with Qantas Airways Limited subsidiary Jetstar.
That deal was signed in September of last year and was for flights booked online in Australia with transaction values between $200 and $1,000 purchased eight weeks or more in advance of travel.
Although Zip's shares have not moved higher today on the news, considering the market's sizeable drop, staying flat is not a bad outcome.
For many, blue chip stocks mean stability, profitability and regular dividends, often fully franked..
But knowing which blue chips to buy, and when, can be fraught with danger."
Each one pays a fully franked dividend. Each one has not only grown its profits, but has also grown its dividend. One increased it by a whopping 33%, while another trades on a grossed up (fully franked) dividend yield of almost 7%.
The names of these Top 3 ASX Blue Chips are included in this especially prepared free report. But you will have to hurry. Depending on demand - and how quickly the share prices of these companies moves - we may be forced to remove this report.
2nd October 2017
Hobart, Tasmania now hour closer to Gold Coast due to Tigerair Australia flights
The southernmost State in Australia is set to get a whole lot closer to the Gold Coast from December.
Tigerair Australia will launch up to four weekly return services between Hobart and Gold Coast on December 7 — just in time for the peak summer holiday season.
The two-hours and 40 minute direct flights will slice at least an hour off travel times for commuters between Hobart and the Coast.
Added to meet extra demand, the new route between Hobart Airport and Gold Coast Airport will be the only direct, low-cost travel option between the two popular tourist destinations. Currently, people travelling between the Coast and Hobart have to go through Melbourne or Sydney to catch a connecting flight.
Tourism and Major Events Minister Kate Jones said 45,000 Tasmanians visited the Coast in the past year — an increase of seven per cent on the previous year.
The Hobart service means passengers now have a direct connection to the Gold Coast from every southern capital city in Australia.
The new flights, on Tuesdays, Thursdays, Fridays and Sundays, will depart Hobart at 8.50am (AEDT) and arrive at Coolangatta at 10.20am. The return service will depart the Coast at 10.50am, arriving into Hobart at 2.30pm (AEDT).
Tigerair Australia acting CEO Peter Wilson said the service would offer faster, cheaper access to both cities for tourist, budget and leisure travellers.
"These new flights launching in December provide a welcome boost for tourism in both cities, covering the upcoming peak summer holiday travel period and the Commonwealth Games on the Gold Coast in April," he said.
The Coast is considered a key part of Tigerair's network, with the company eager to showcase the city as it seeks to capitalise on the busy Commonwealth Games period.
Tigerair offered heavily discounted fares between the two cities for as little as $10 each way in an online sale yesterday to celebrate the new route.
Gold Coast Airport CEO Chris Mills said the Hobart service would boost the Coast's connectivity to what was a growing tourist hotspot.
"It is great to see Tigerair strengthen its commitment to the Gold Coast and we look forward to welcoming Tasmanians here for some surf, sand and sun this summer," he said.
18th September 2017
Tigerair Australia roars into Canberra from Brisbane
Tigerair Australia launched its latest domestic route on 14 September, a 954-kilometre link between Brisbane and Canberra.
Flown three times weekly on its fleet of A320s, the airline will go head-to-head with Qantas (35 weekly flights) and Virgin Australia Airlines (24) on the city pair. "Whether it's seeing our national institutions or enjoying our world-class restaurants and cafes, visitors from Brisbane will find plenty to do here in Canberra. I hope to see many visitors from Brisbane in the nation's capital via this new Tigerair Australia service," commented Andrew Barr, Chief Minister of the Australian Capital Territory.
Canberra becomes the eighth destination served by the airline from Brisbane, with 100 weekly departures now being offered from the Queensland airport. For Canberra this is the second connection that Tigerair Australia offers from the nation's capital, with Brisbane joining Melbourne services which are now operated eight times weekly (twice-daily on Fridays).
---