Hawaiian Airlines Flight Reservations - Alternative Airlines
Make a Booking and Find Some Amazing Deals
---
About
Hawaiian Airlines is a US airline that offers scheduled flights. The airline is based at Honolulu International Airport, with a secondary hub out of Kahului Airport on the island of Maui. It's the biggest airline within Hawaii and the flag carrier for the state. The airline mainly links cities within Hawaii to cities within the US and to other international destinations. The airline had a domestic subsidiary, Ohana By Hawaiian, which flew inter-island flights. However, Ohana By Hawaiian was suspended in late 2020 after low-passenger demand due to the coronavirus pandemic.
Hawaiian Airlines was founded in 1929. To begin with, the airline only offered inter-island flights and established itself as the primary airline for travelling around Hawaii. In the 1980s, the airline branched outside of Hawaii for the first time and grew its route network to include ;non-stop services to Hawaii from destinations in North America, Asia and the South Pacific, as well as service to every major Hawaiian Island.
Visit our blog to find out which movie locations were filmed in Hawaii and are amazing to visit. Please visit our travel documents page to find out whether you need a passport to travel to Hawaii.
Top Tip: If you're looking to spread the cost of your Hawaiian Airlines flights, you can discover all the buy now pay later/financing options we offer here at Alternative Airlines.
---
Destinations
Hawaiian Airlines flies to many destinations including Lihu'e, Honolulu, Kahului, Kailua-Kona, Hilo, Maui, Lana'i, O'ahu, Kaua'i, Sapporo, Tokyo, Osaka, Oita, Pago Pago, Portland, Seattle, San Diego, Los Angeles, San Jose, Dallas, Las Vegas, Phoenix, Chicago, Sacramento and many others.
Domestic Destinations
| CITY | AIRPORT |
| --- | --- |
| Boston | Logan International Airport |
| Hilo | Hilo International Airport |
| Honolulu | Daniel K. Inouye International Airport |
| Ho'olehua | Molokai Airport |
| Kahului | Kahului Airport |
| Kona | Kona International Airport |
| Lanai | Lanai Airport |
| Las Vegas | McCarran International Airport |
| Lihue | Lihue Airport |
| Long Beach | Long Beach Airport |
| Los Angeles | Los Angeles International Airport |
| New York City | John F. Kennedy International Airport |
| Oakland | Oakland International Airport |
| Phoenix | Phoenix Sky Harbor International Airport |
| Portland, OR | Portland International Airport |
| Sacramento | Sacramento International Airport |
| San Diego | San Diego International Airport |
| San Francisco | San Francisco International Airport |
| San Jose | San Jose International Airport |
| Seattle | Seattle–Tacoma International Airport |
International Destinations
COUNTRY
CITY
AIRPORT
American Samoa
Pago Pago
Pago Pago International Airport
Australia
Brisbane
Brisbane Airport
Sydney
Sydney Airport
France (French Polynesia)
Papeete
Fa'a'ā International Airport
Japan
Fukuoka
Fukuoka Airport
Osaka
Kansai International Airport
Sapporo
New Chitose Airport
Tokyo
Haneda International Airport
Narita International Airport
New Zealand
Auckland
Auckland International Airport
South Korea
Seoul
Incheon International Airport
---
Baggage Allowance
Carry-on Baggage
Passengers are allowed to bring 1 carry-on bag and 1 personal item onboard their Hawaiian Airlines flight. Carry-on baggage must not exceed 114cm/45in in linear dimensions and weight no more than 11kg/25lbs.
Checked Baggage
Checked baggage must not exceed a weight of 23kg/51lbs and 157cm/62in in linear dimensions per bag.
---
Premium Class
Premium Class Facilities
International Business Class guests will enjoy complimentary access to The Plumeria Lounge, the 3,000+ square foot lounge at the Honolulu International Airport. For Business Class guests travelling on international flights to Hawaii, click here for a list of airport lounges you may utilise.
Premium Class Seating
As a guest in the Premium Cabin, you'll enjoy our highest level of comfort. Surrounded by contemporary, modern Island-style design, accentuated with our authentic Hawaiian hospitality, you'll have arrived in the Islands the moment you settle in.
You can lie completely flat, nestled in premium bedding, with in-seat power, and enjoy advanced in-flight entertainment on next-generation tablets. On flights over 8 hours, enjoy your luxury amenity kit.
---
Food
Meal Options
The airline provides a dining experience inspired by the Hawaiian islands. All meals are created by Chef Lee Anne Wong and feature enticing appetisers to tasty mains and delicious desserts.
Hawaiian Airlines offer a wide variety of menus which vary according to the class travelling in and the route flying. You can view the menu for your flight by selecting your destination, and then selecting your class you are flying in on the 'in-flight services' section on the Hawaiian Airlines website.
Special Dietary Requirements
Hawaiian Airlines launched a new set of special diet meals in October 2018, featuring vegetarian, vegan and gluten-free options. These can be ordered at least 48 hours prior to departure, and order from the Hawaiian Airlines reservations department.
For any other special dietary requirements which are not satisfied by the options offered, passengers are welcome to bring their own food onboard.
Drinks & Alcohol
Hawaiian Airlines passengers are treated to an array of complimentary drinks on board. The menu in the link above often displays the available beverages which will be available for your flight.
---
Check-In Information
Check-In Online
Passengers can check-in online via the airline website or the airline app. Check-in online is open up to 24 hours prior to departure.
For a smoother check-in, please prepare your passport and ticket details upon check-in.
Airport Check-In
Airport check-in opens four hours prior to scheduled departure time. Please prepare your ticket and passport details in order to complete check-in.
Check-in closing time depends on the destination. Closing time for neighbour islands is 30 minutes before departure. For North America, it is 45 minutes before departure and check-in close one hour before departure for international destinations.
---
Frequent Flyer Program
HawaiianMiles
The airline offers a frequent flyer program called Hawaiian Miles.
Hawaiian Miles can be earnt by flying with Hawaiian Airlines and then can be redeemed for flights, upgrades and lounges.
The most active members, are designated Pualani Gold and Pualani Platinum with privileges such as separate check-in, Premier Club Lounge, priority upgrade and standby processing or complimentary upgrades.
Hawaiian Airlines offers a Premier Club Membership Scheme to reward regular travellers with the airline.
Premier Club members receive their first two check-in bags for free, can relax in the clubs in Honolulu, Hilo, Kahului, Kona and Lihue and can get Zone 2 priority boarding with early access to overhead bins.
---
Codeshare Agreements
The airlines has codeshare agreements with Air China, All Nippon Airways, China Airlines, JetBlue Airways, Korean Air and Virgin America. In addition, several airlines place their marketing code on Hawaiian-operated flights including Air China, ANA, American Airlines, China Airlines, Delta Air Lines, JetBlue Airways, Korean Air, United Airlines and Virgin Australia.
---
Discounts and Offers
Get a Hawaiian Airlines discount on your next airfare and flight reservation with Alternative Airlines. Pay with PayPal and save big when using a Hawaiian Airlines PayPal promo code!
---
Route Map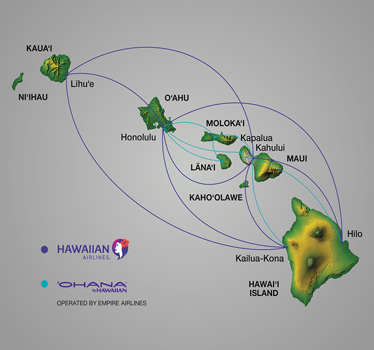 ---
Fleet
The fleet includes Airbus A321neo, A330 and Boeing B717. It also has one Boeing 787 Dreamliner on order.
---
Hub Airport
Honolulu International Airport
Honolulu International Airport is the main hub for Hawaiian Airlines as well as Aloha Air Cargo, Asia Pacific Airlines, Island Air and Mokulele Airlines.
The airport has 4 runways and can handle nearly 25 million passengers every year.
Other airlines which fly to and from Honolulu International Airport includes Air China, Air New Zealand, All Nippon Airways, China Airlines, American Airlines, Asiana Airlines, Fiji Airways (formerly Air Pacific) and WestJet. Island Air used to have its hub at this airport, before ceasing operations in 2017.
---
Alternative Airlines
---