Search and Buy Flights with Alternative Airlines
Make a Reservation and Find Some Amazing Deals
In 2016, Virgin America was bought out by the Alaska Air Group. In 2018, all Virgin America routes and services were integrated into Alaska Airlines. To find Virgin America Flights, please visit our Alaska Airlines page.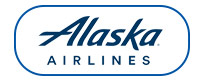 ---
Alternative Airlines to Virgin America
Please click on the logos below to find out more about airlines that fly similar routes to what Virgin America flew:
---
About
Founded in 2007 and bought out by the Alaska Air Group in 2018, Virgin America was a US-based airline which provides low-fare services between the East and West coasts of the United States. The airline was a subsidiary of Virgin and was based at San Francisco International Airport, California.
Virgin America flew to many destinations across North America but some of its most popular included Cancun, Puerto Vallarta, Palm Springs, San Diego, Denver, Fort Lauderdale, Orlando, Kahului, Honolulu, Chicago, Boston, Las Vegas, Newark, New York City, Portland, San Jose and Orange County. At the time that it stopped flying, it flew to over 35 destinations, the majority of which were taken on by Alaska Airlines.
In April 2016, it was announced that Virgin America was to be acquired by Alaska Airlines. The integration of the two airlines was completed in 2018. The Virgin American Elevate program was merged into the Alaska Airlines Mileage Plan program, allowing all passengers to transfer their air miles and membership over to Alaska Airlines.
During its time of operation, Virgin America was awarded many accolades, including 'Best Domestic Airline' in Conde Nast Traveller's Reader Choice Awards.
---
Destinations
When Virgin America merged into Alaska Airlines, it flew to several destinations across Canada, Mexico and the US. This included destinations such as San Francisco, Los Angeles, Washington D.C, Honolulu, Austin, Dallas, New York City, Seattle, Toronto, Cancun and many more.
See all the destinations below:
Domestic Destinations
STATE
CITY
AIRPORT
Alaska
Anchorage
Ted Stevens Anchorage International Airport
California
Los Angeles
Los Angeles International Airport
Orange County
John Wayne Airport
Palm Springs
Palm Springs International Airport
San Diego
San Diego International Airport
San Francisco
San Francisco International Airport
San Jose, CA
San Jose International Airport
Colorado
Denver
Denver International Airport
District of Columbia
Washington, D.C.
Ronald Reagan Washington National Airport
Washington Dulles International Airport
Florida
Fort Lauderdale
Fort Lauderdale–Hollywood International Airport
Orlando
Orlando International Airport
Hawaii
Honolulu
Daniel K. Inouye International Airport
Kahului
Kahului Airport
Kailua-Kona
Kona International Airport
Illinois
Chicago
O'Hare International Airport
Indiana
Indianapolis
Indianapolis International Airport
Louisiana
New Orleans
Louis Armstrong New Orleans International Airport
Maryland
Baltimore
Baltimore–Washington International Airport
Massachusetts
Boston
Logan International Airport
Nevada
Las Vegas
McCarran International Airport
New Jersey
Newark
Newark Liberty International Airport
New York
New York City
John F. Kennedy International Airport
LaGuardia Airport
North Carolina
Raleigh
Raleigh–Durham International Airport
Oregon
Portland
Portland International Airport
Pennsylvania
Philadelphia
Philadelphia International Airport
Tennessee
Nashville
Nashville International Airport
Texas
Austin
Austin Bergstrom International Airport
Dallas
Dallas Love Field
Dallas/Fort Worth International Airport
Washington
Seattle
Seattle–Tacoma International Airport
International Destinations
COUNTRY
CITY
AIRPORT
Canada
Toronto
Toronto Pearson International Airport
Mexico
San José del Cabo
Los Cabos International Airport
Puerto Vallarta
Licenciado Gustavo Díaz Ordaz International Airport
Cancún
Cancún International Airport
---
Route Map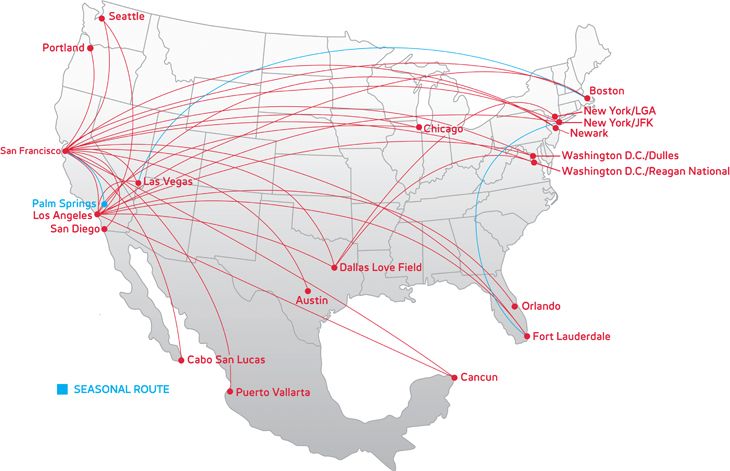 ---
Economy Class
The Economy Class cabin offered mood-lit cabins with Wifi, custom-designated leather seats, power outlets and a video touch-screen at every seatback offering guests on-demand menus and countless entertainment options.
---
First Class
On top of all the amenities that Economy Class offers, the First Class Cabin offered maximum legroom with nearly two feet of extra legroom in an exclusive cabin in addition to priority boarding and security checks.
---
WIFI
Virgin America had a WIFI network installed on the majority of its flights. Virgin America was the first and airline to offer fleet-wide WIFI as well as power outlets at every seat.
---
Frequent Flyer Program
Elevate
Virgin America had a frequent flyer program called Elevate which rewarded its passengers for continuingly buying its airline tickets. The Elevate frequent flyer program allowed passengers to earn points for every flight that they flew and redeem those points to get airline tickets for future flights on the airline. On top of this, Elevate members also benefited from a range of benefits, such as discounts from partners, extra baggage allowance and more.
---
Airline Alliance
Virgin America wasn't a member of an airline alliance during the time that it ceased operations. There were plans to create an exclusive airline alliance, which was to consist of only Virgin branded airlines. However, plans for this alliance never came to fruition.
Codeshare Agreements & Partners
Although it wasn't a member of an airline alliance, Virgin America had codeshare agreements and was partners with many different airlines. This includes the following airlines:
China Eastern Airlines
China Southern Airlines
Hawaiian Airlines
Singapore Airlines
Virgin Australia
---
Check-in
Online Check-In
As of 2018, all of Virgin American's route and services have been integrated into Alaska Airlines. For up-to-date online check-in information for Alaska Airlines please visit our Alaska Airlines page.
Airport Check-In
Since the start of 2018, Virgin American's routes and services have now been integrated into Alaska Airlines. For up-to-date airport check-in information for Alaska Airlines please visit our Alaska Airlines page.
---
Fleet
Virgin America's fleet consisted of entirely Airbus aircraft at the time it was bought out. It had a fleet size of over 65 aircraft which consisted of the following Airbus models:
Airbus A319-100

Airbus A320-200

Airbus A320neo

Airbus A321neo
---
Hub Airport
San Francisco International Airport
San Francisco International Airport was the hub airport for Virgin America. The airline was based at San Francisco International Airport for the entire 11 years that it was in operation. The airport has four terminals, numbered from 1–3 and an international terminal too. At some point, while it was active, Virgin America flew from each terminal within the airport. Although San Francisco International was its main hub, the airport also flew Los Angeles International as a secondary hub too.
Today, airlines which fly to and from this airport include Aer Lingus, Air Canada, American Airlines, Delta Air Lines, EVA Air, JetBlue Airways, United Airlines and United Express.
---
FAQs
Does Virgin America still exist?
No. Virgin America was acquired by the Alaska Air Group in April 2016. Alaska Airlines continued to operate Virgin America under its own brand until Virgin America was fully merged in April 2018.
Can I book Virgin America flights?
It is no longer possible to book Virgin America flights. This is because the airline was integrated into Alaska Airlines when the Alaska Air Group bought the airline in April 2016. Although it is no longer possible to book Virgin America flights, Alternative Airlines tickers lots of alternative airlines, including Alaska Airlines, as well as American Airlines, Delta, Untied, and Southwest. Easily compare flights to find the flights that are best for you. For more information, you can take a look at our guide to domestic flights within the US.
When was Virgin America sold?
Virgin America was sold in 2016. Flights were operated by Alaska Airlines before ceasing in 2018.
Where can I book flights within America?
Alternative Airlines tickets all major carriers, and many smaller regional airlines, that operate domestic flights within the US. No matter the airline or route, you can choose to pay using any of our payment plan options. Spread the cost over time with Zip, Sezzle, Afterpay, Klarna, Affirm, as well as many other payment options. Use the search bar at the top of the page to begin searching for flights.