Search and Buy Alaska Airlines Flights Online
---
About Alaska Airlines
Alaska Airlines, together with Virgin America and its regional partners, is a large North American airline that flies 40 million guests a year to 118 destinations with an average of 1,200 daily flights across the United States and to Mexico, Canada, Costa Rica and Cuba. Alaska Airlines has codeshare agreements with Aeromexico, Air France, American Airlines, Cathay Pacific, Delta Air Lines, Emirates, Icelandair and Qantas.
Did you know you can book multi-city flights? Check out our Alaska Multi-City flights page for more information.
---
Destinations
Alaska Airlines flies to many destinations including: Adak, Albuquerque, Anchorage, Atlanta, Austin, Baltimore, Barrow, Bellingham, Bethel, Boston, Burbank, Cancun, Charleston, Chicago, Cordova, Dallas, Detroit, Liberia, Las Vegas, Long Beach, Manzanillo, Palm Springs, Petersburg, Philadelphia, Portland and many others.
---
Fleet
Alaska Airlines' fleet consists of many aircraft including Boeing 737-900ER, Boeing 737-900, Boeing 737-800, Bombardier CRJ-700, Embraer 175, Boeing 737-400, Boeing 737-400. The First Class cabin features five inches of recline, adjustable headrests and more legroom along with Gogo Inflight Internet is available on all Alaska's fleet.
Boeing 737-400
Boeing 737-700
Boeing 737-400C
Boeing 737-400F
Boeing 737-800
Boeing 737-900
---
Baggage Allowances
Alaska Airlines allows passengers 1 carry-on bag plus 1 personal item. The carry-on bag must not exceed dimensions of 55cm x 36cm x 23cm (22in x 14in x 9in).
For checked baggage, Alaska Airlines charges each $25 USD for the first and second bag and then $75 USD for each additional bag. Checked baggage dimensions must not exceed 157cm/62in (length + width + height) and a weight of 23kg/51lbs.
---
Economy Class
The airlines' Economy Class, also known as 'Main Cabin' is the most basic class of cabin. Within the Main Cabin, there are two different fares to choose from — the 'Saver' fare and the 'Main Cabin' fare. The latter has a number of additional perks, with more options and flexibility.
Economy Class Facilities
Main Cabin has a full food and drinks menu, with meals available to order up to 12 hours before take-off. In addition, passengers can connect to onboard WIFI for general internet browsing and to connect to Alaska Airlines' inflight entertainment system.
Economy Class Seats
Economy Class seats are made from leather with ample space and a USB and power outlet fitted to each seat.
---
Alaska Airlines Premium Economy
The airlines' Premium Economy class, known as 'Premium Class', gives passengers everything that Main Cabin offers, but with little added extras to make the flight that much more comfortable.
Premium Economy Facilities
Premium Economy passengers are given a complimentary drink (alcoholic and non-alcoholic), as well as a complimentary snack. Premium Economy also offers premium boarding and seating.
Premium Economy Seats
Premium Economy seats are comfortable and made with genuine leather. Premium Economy seats have 4 more inches of legroom compared to Main Cabin seats.
---
Alaska Airlines Business Class
The airline doesn't have Business Class. If a passenger is looking to upgrade from Premium Class, we suggest Alaska Airlines' First Class.
---
Alaska Airlines First Class
Alaska Airlines First Class is the airlines' most luxurious cabin class with the highest standard of service.
First Class Facilities
First Class' complimentary meal is available to order up to 24 hours before take-off. Each passenger is given a soft quilted blanket and free entertainment tablet for the duration of the flight. First Class seats are much larger and more comfortable than the ones in Main Cabin and Premium Class, with more recline and 40 inches of pitch.
Food and drink in First Class are complimentary.
Does First Class Have a First Class Lounge?
Alaska Airlines' First Class lounge is a quiet and relaxing space for passengers to unwind before their flight. The lounge includes a variety of food and snacks, as well as complimentary alcoholic and non-alcoholic drinks.
Lounges can be found at Seattle, Los Angeles, New York JFK, Portland and Anchorage airport. Alaska is set to open a brand new lounge at San Francisco International Airport in 2020.
---
Alaska Airlines Inflight Entertainment
There are two options for inflight entertainment on Alaska Airlines flights. Passengers can either download the Gogo Entertainment app and stream TV shows and movies on their own device, or, on certain flight paths, there are inflight entertainment tablets available for rent.
Alaska Airlines TV
By downloading the Gogo Entertainment app, Alaska Airlines passengers are able to stream multiple TV shows on their laptop, tablet or mobile device. Inflight entertainment tablets, which are preloaded with a large collection of TV shows, are available in First Class. These can also be rented on flight to and from Hawaii as well as coast-to-coast flights.
Alaska Airlines Movies
With the Gogo Entertainment app, Alaska Airlines passengers can have access for free to over 500 titles which include around 200 movies to steam on their personal tablet. First Class customers also have access to in-flight entertainment tablets which are preloaded with the newest movies. Inflight entertainment tablets are also available for rent on coast-to-coast and Hawaii flights.
---
Alaska Airlines WIFI
Alaska Airlines offers one of the most sophisticated WIFI services from any airline, powered by GoGo, Alaska Airlines satellite-based WIFI gives you access to the internet from the moment you reach the departure gate up until you pass through arrivals on the other side. Alaska Airlines' satellite WIFI is brand new in 2018 and will be available on all Boeing and Airbus aircraft by 2021. Before then, you use Alaska Airlines ViaSat WIFI on certain Airbus aircraft, which allows you to access the internet inflight as normal.
Alaska Airlines WIFI Price
Alaska Airlines WIFI starts $4.95 USD and goes up depending on which plan you choose.
---
Alaska Airlines Food
Alaska Airlines Meal Options
The meal choice available on flights vary depending on the length of your trip, but for passengers in the main cabin, there will be items such as cheese platters, sandwiches and salads available to purchase for your flight. These can be pre-ordered on the Alaska Air app 24 hours before flying, or purchased in flight.
Passengers travelling in First class can choose from a range of foods, including breakfast, snacks and main dishes. These can be pre-ordered on the Alaska Air app up to 24 hours before departure.
Alaska Airlines Special Dietary Requirements
Passengers can purchase food items that suit their dietary meals, such as the 'Mediterranean tapas picnic pack' which is suitable for vegans, kosher and gluten-free. Contact Alaska Airlines direct to find out more information on how they can meet your dietary requirements.
Alaska Airlines Drinks & Alcohol
Economy class passengers receive complimentary soft drinks and tea or coffee, with liquor, wine and beer being available for purchase. All drinks, including wines, beer, spirits and non-alcoholic beverages are included in the First Class fares.
---
Airline Alliance
Alaska Airlines will be joining the oneworld alliance by summer 2021. The airline will become the alliance's 14th member along with American Airlines and others.
---
Route Map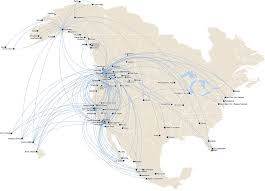 ---
Popular Routes
Los Angeles

Adak
Bethel

Los Angeles
Los Angeles

Kahului
New Orleans

Los Angeles
Los Angeles

Kansas City
Los Angeles

Nashville
---
Los Angeles International Airport
Hub Airport
Los Angeles International is the main airport serving Los Angeles Area and serves as the hub airport for American Airlines, United Airlines, Alaska Airlines, Great Lakes Airlines and Virgin America.
Other airlines which fly to and from Los Angeles include Aer Lingus, Aeroflot, Aeromexico, Air Berlin, Air Canada, Air China, Air France, Air New Zealand, Air Tahiti Nui, American Airlines, Envoy Air, Skywest Airlines, Philippine Airlines, Singapore Airlines and many others.
---
Frequent Flyer Program
With Alaska and Alaska Global Partners guests can earn and redeem miles on flights to more than 900 destinations worldwide.
Alaska Airlines operates a frequent flyer program called Mileage Plan to reward regular passengers with the airline. With Mileage Plan, passengers will earn miles every time you fly Alaska Airlines or with one the airline partners.
If you fly with Alaska Airlines enough times, passengers can qualify for elite status and as a MVP, MVP Gold or Gold 75k member you can enjoy great benefits, special treatment and even bonus miles on every flight.
Members that are having children are able to freeze their membership for 1 year.
---
Pay for Alaska Airlines with a Payment Plan
Pay for Alaska Airlines flights on a payment plan at Alternative Airlines. Alternative Airlines allows you to finance your Alaska Airlines flights with a number of different payment options. Spread the cost of your flights over time with Affirm or PayPal Credit!
---
Pay for Alaska Airlines Flights with PayPal
Looking to make an Alaska Airlines reservation and pay for your flight using PayPal? Alternative Airlines give the option to pay with PayPal on all Alaska Airlines flights! PayPal is a safe and convenient payment method and ensures that your airline ticket payment is protected.
We understand that using PayPal to buy Alaska Airlines flights and airfares makes for an easier and more convenient way to pay. You can also use an Alternative Airlines promo code to get a discount on your next Alaska Airlines PayPal payment. Please note Virgin America was bought by Alaska Airlines, therefore Virgin American now flies as Alaska Airlines. If you're looking to use PayPal with Virgin America, this is still accepted by Alternative Airlines on Alaska Airlines flights.
---
Alternative Airlines to Alaska Airlines
---