Search & Buy Ravn Alaska Flights
Airlines will always try to sit children with their parents (subject to check-in)
Some airlines will allow travel for unaccompanied minors. Please email us to check.
The fare is based on the child's age on the date of travel.
More detailed information can be found here Traveling with children
Most airlines will let infants travel with their parent(s) for free. However some airlines will charge up to 10% of the adult ticket price. Click on 'Price Breakdown' to find out more.
If you are pregnant, but due before the flight departure date, please contact us once your baby is born and has a name. We can then add him/her to your ticket.
Infants will not be given a seat. The airlines expect parents to travel with them on their lap.
Airlines regard infants as being under 24 months old.
The fare is based on the child's age on the date of travel.
More detailed information can be found here Traveling with children
Buy
Ravn Alaska

Flights
Ravn Alaska Reservations with Alternative Airlines
Make a Ravn Alaska Booking and Find Some Amazing Deals
---
About Ravn Alaska
Ravn Alaska (formerly Era Alaska) offers scheduled passenger and cargo services to more than 100 communities statewide. The airline has been connecting some of the Last Frontier's most famous destinations, including Anchorage, Fairbanks, Bethel, Cordova, Homer, Valdez, Kenai, Kodiak and beyond. Ravn Alaska offers service for passenger groups and odd-sized cargo up to 6,000 pounds, and have charter authority for anywhere in our great state, Canada and the Lower 48. Find the best Ravn airfares available and get ahead of the latest deals when you search for Ravn Alaska reservations with us! The airline recently announced a thrice weekly service between St Paul and Anchorage.
---
Codeshare Agreements
Ravn Alaska has partnerships with Corvus Airlines, Hageland Aviation or Frontier Flying Service.
In March 2019, the airline announced a new codeshare with major airline Alaska Airlines starting 1st April 2019. This allows both airlines to share benefits from being able to sell space on both airlines. There are also many benefits for the passenger, such as being able to earn air miles on both airlines, and making reservations and check-ins from one simple portal.
---
Ravn Alaska Schedule
If you want to find out when and where Ravn Alaska fly, you can view the Ravn air schedule online.
---
Ravn Alaska Route Map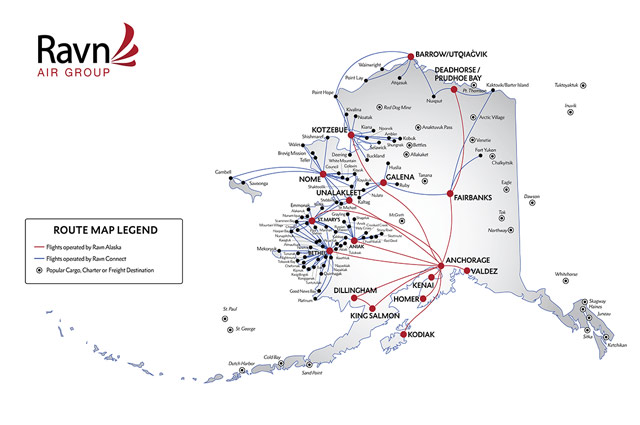 ---
Destinations
Anchorage

Aniak

Anvik
Chuathbaluk
Crooked Creek
Grayling
Holy Cross
Kalskag
Red Devil
Russian Mission
Shageluk
Sleetmute
Stony River

Barrow

Atqasuk
Nuiqsut
Point Lay
Wainwright

Bethel

Akiachak
Akiak
Atmautluak
Chefornak
Chevak
Eek
Goodnews Bay
Hooper Bay
Kalskag
Kasigluk
Kipnuk
Kongiganak
Kwethluk
Kwigillingok
Marshall
Mekoryuk
Mountain Village
Napakiak
Napaskiak
Newtok
Nightmute
Nunapitchuk
Pilot Station
Platinum
Quinhagak
Russian Mission
Scammon Bay
Toksook Bay
Tuluksak
Tununak
Tuntutuliak

Cordova

Deadhorse/
Prudhoe Bay

Kaktovik/Barter Island

Fairbanks

Allakaket
Anaktuvuk Pass
Arctic Village
Bettles
Chalkyitsik
Eagle
Fort Yukon
Kaktovik/Barter Island
Tanana
Venetie

Galena

Huslia
Kaltag
Koyukuk
Nulato
Ruby

Homer

Kenai

Kodiak

Kotzebue

Ambler
Buckland
Deering
Kiana
Kivalina
Kobuk
Noatak
Noorvik
Point Hope
Selawik
Shungnak

Nome

Brevig Mission
Elim
Gambell
Golovin
Koyuk
Savoonga
Shaktoolik
Shishmaref
St. Michael
Stebbins
Teller
Wales
White Mountain

St. Mary's

Alakanuk
Chevak
Emmonak
Hooper Bay
Kotlik
Marshall
Mountain Village
Nunam Iqua/Sheldon Point
Pilot Station
Russian Mission
Scammon Bay
St. Michael
Stebbins

Unalakleet

Shaktoolik
St. Michael
Koyuk
Stebbins

Valdez
---
Ravn Alaska Baggage Allowance
When making connections to another carrier, you will be subject to the fees of the most significant carrier's rules. For example, if you are connecting from any Ravn Alaska flight to Alaska Airlines from Anchorage to Seattle or beyond, Alaska Airlines' baggage rules and fees will apply as they are the largest portion of your journey.
Carry-on Baggage
Each passenger is allowed:
1 carry-on bag, (maximum size 18 inches long by 14 inches wide by 10 inches deep and maximum weight of 20 pounds)
1 personal item (coat or purse),
Checked Baggage
Each passenger is allowed:
2 checked bags, up to 50 pounds each, free of charge on Ravn Alaska operated flights.
An excess baggage fee will be charged for each additional piece of checked baggage.
Additional Baggage
Excess charges apply only when traveling solely on Ravn Alaska-operated flights. Styrofoam containers will not be accepted for transport. When checking more than 2 items, the additional items will be loaded on a standby/space available basis and handled in accordance with voluntary separation baggage rules: when check-in requirements are not met or you have exceeded the checked baggage piece limit (more than 2), it is possible your baggage may not arrive on your flight with you. If this occurs, your baggage will be sent on the next available flight, space permitting. It is the responsibility of the customer to return to the airport for the retrieval of the impacted baggage upon notification of arrival.
---
Ravn Alaska Check-in
Online check-in
When you purchase a Ravn Air flight with us, you can check in online via Ravn Alaska's Online Check-In Page. Just use the information from your travel document to enter your flight details on the website and you'll be up and away!
---
Ravn Alaska Fleet
Ravn Alaska's fleet consists of a mix of various different aircraft. The aircraft operates flights using Beechcraft, de Havilland, Cessna, Piper, Reim-Cessna and short aircraft. In total, Ravn Alaska has over 70 aircraft currently in its fleet. The capacity for each aircraft differs depending on the aircraft type, with some planes having the capacity for as little as five passengers and others having the capacity of up to 37.
---
Alternative Airlines to Ravn Alaska
---
Ravn Alaska News
20th February 2018
Ravn Alaska begins daily service to King Slamon, Dillingham
Ravn Alaska began a service between the cities of Anchorage, and the communities of King Salmon and Dillingham, on February 14, 2018. Ravn Alaska has two scheduled round-trip flights daily Monday through Friday and one roundtrip flight on Saturday and Sunday.
The first passengers arrived in Anchorage on Flight 940, where Ravn President and CEO Dave Pflieger greeted them with flowers in honor of Valentine's Day. Ravn's Chief Commercial Officer Derek Shanks and other management team members joined the first flight, from Anchorage to the region, and back. Ravn will be operating the Bombardier Dash-8 aircraft to King Salmon and Dillingham, and it will be configured for 29 passengers. The airline also allows each passenger two checked bags, weighing up to 50 pounds apiece.
---