Search and Buy Ravn Alaska Flights with Alternative Airlines
Make a Booking and Find Some Amazing Deals
---
About Ravn Alaska
Ravn Alaska (formerly Era Alaska) offers scheduled passenger and cargo services to more than 100 communities in the U.S. state of Alaska. The airline has a subsidiary airline in the form of Northern Pacific Airways.
The airline has been connecting some of the 'Last Frontier's' most famous destinations, including Anchorage, Fairbanks, Bethel, Cordova, Homer, Valdez, Kenai, Kodiak and beyond. As well as scheduled passenger flights, Ravn Alaska offers cargo transportation for goods up to 6,000 pounds, and has private charter authority to fly in Alaska and Canada.
Looking for flights within Alaska?
Find the best Ravn airfares available and get ahead of the latest deals when you search for Ravn Alaska reservations with Alternative Airlines.
---
Destinations
Ravn Alaska connects remote communities and major cities in Alaska. To find out more information about flying internally within the US, read our page on domestic flying within the United States. It includes information on baggage and check-in times, the best airports to go to and of course, some FAQs!
Due to the 2021 pandemic, the airline massively scaled down their operations and now only operating to 11 destinations including Anchorage, Fairbanks, Bethel, Cordova, Homer, Valdez, Kenai, Kodiak and beyond.
| CITY | AIRPORT | IATA |
| --- | --- | --- |
| Aniak | Aniak Airport | ANI |
| Anchorage | Ted Stevens Anchorage International Airport | ANC |
| Cold Bay | Cold Bay Airport | CDB |
| Dutch Harbor | Unalaska Airport | DUT |
| Fairbanks | Fairbanks International Airport | FAI |
| Kenai | Kenai Municipal Airport | ENA |
| Homer | Homer Airport | HOM |
| Saint Paul Island | St. Paul Island Airport | SNP |
| Valdez | Valdez Airport | VDZ |
| Kodiak | Kodiak Airport | ADQ |
| Unalakleet | Unalakleet Airport | UNK |
---
Route Map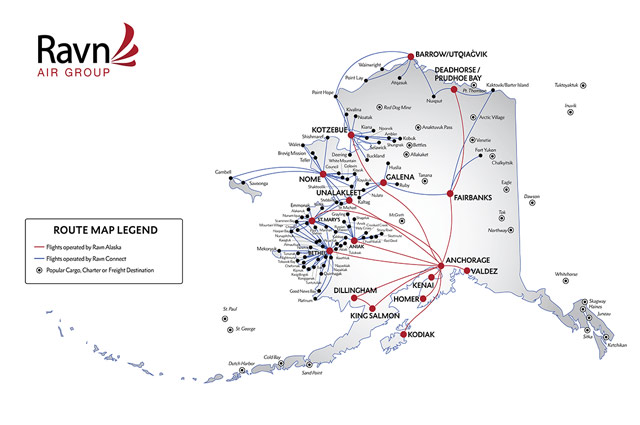 ---
Baggage Allowance
When making connections to another carrier, you will be subject to the fees of the most significant carrier's rules. For example, if you are connecting from any Ravn Alaska flight to Alaska Airlines from Anchorage to Seattle or beyond, Alaska Airlines' baggage rules and fees will apply as they are the largest portion of your journey.
Carry-on Baggage
1 carry-on bag, (maximum size 18 inches long by 14 inches wide by 10 inches deep and maximum weight of 20 pounds)
1 personal item (coat or purse),
Checked Baggage
2 checked bags, up to 50 pounds each, free of charge on Ravn Alaska operated flights.
An excess baggage fee will be charged for each additional piece of checked baggage.
Additional Baggage
Excess charges apply only when traveling solely on Ravn Alaska-operated flights. Styrofoam containers will not be accepted for transport. When checking more than 2 items, the additional items will be loaded on a standby/space available basis and handled in accordance with voluntary separation baggage rules: when check-in requirements are not met or you have exceeded the checked baggage piece limit (more than 2), it is possible your baggage may not arrive on your flight with you. If this occurs, your baggage will be sent on the next available flight, space permitting. It is the responsibility of the customer to return to the airport for the retrieval of the impacted baggage upon notification of arrival.
---
Check-In
Online Check-In
Online check-in is available via the Ravn Alaska website. When you purchase a Ravn Air flight with us, you can check-in online via the Ravn Alaska Website. Just use the information from your travel document to enter your flight details on the website and you'll be up and away!
Airport Check-In
Airport check-in times will depend on the airport you are departing from, and so it is advised to check on the airport's website.
---
Fleet
Ravn Alaska's fleet consists of a mix of various different aircraft. The aircraft operates flights using Beechcraft, de Havilland, Cessna, Piper, Reim-Cessna and short aircraft. In total, Ravn Alaska has over 70 aircraft currently in its fleet. The capacity for each aircraft differs depending on the aircraft type, with some planes having the capacity for as little as five passengers and others having the capacity of up to 37.
---
Class Information
Passengers can enjoy their flight in Rain Alaska's only class; economy.
This is a simple but effective class which offers passengers an enjoyable and comfortable flight.
Facilities
Passengers can enjoy the in-flight service, which includes complimentary soft drinks, and a selection of beers and wine available to purchase.
What are seats like?
The airline offers open seating, meaning that you choose a seat once onboard the aircraft.
---
Codeshare Agreements
Ravn Alaska has partnerships with Corvus Airlines, Hageland Aviation or Frontier Flying Service.
In March 2019, the airline announced a new codeshare with major airline Alaska Airlines starting 1st April 2019. This allows both airlines to share benefits from being able to sell space on both airlines. There are also many benefits for the passenger, such as being able to earn air miles on both airlines, and making reservations and check-ins from one simple portal.
---
Hub Airport
Ted Stevens Anchorage International Airport
Ted Stevens Anchorage International Airport (ANC) is located 5 miles from the centre of Anchorage. The airline has three active runways and two passenger terminals. The south terminal serves domestic routes within the USA whereas the north terminal predominately accommodates international passengers. Ted Stevens Anchorage International Airport is serving an average of over five million passengers annually.
Other airlines flying in and out of the airport include Grant Aviation, United Airlines, Delta, Allegiant Air, Alaska Airlines, American Airlines and many more. Mostly operating seasonal services.
---
Alternative Airlines
---
News
12th November 2020
Ravn Alaska resuming flights to six communities in Alaska
From June 2020, the airline experienced financial difficulties due to the COVID-19 pandemic, and a sale process was initiated to help save the airline. In October 2020, the airline announced that it would be resuming flights by the end of that month, but on a single route: Anchorage to Unalaska. In November, it was announced that the airline will also be resuming flights to six communities in Alaska: Anchorage and Unalaska, Sand Point, Homer, Kenai and Valdez.
14th October 2020
Remade Ravn Alaska prepares to resume flights to Unalaska
The airline is set to resume scheduled flights between Anchorage and Unalaska by the end of October, with more scheduled passenger flights on the horizon. Although yet to be confirmed, it is believed that the initial plan is to fly Dash 8 airplanes between Anchorage and Unalaska. Eventually, the airline hopes to begin using larger aircraft again.
3rd June 2020
Ravn Alaska set to avoid Liquidation
Today, Ravn Air Group, the parent company for Ravn Alaska, announced that the US bankruptcy court has authorised a sales process for its three subsidiary airlines and assets in order to keep the airline and company alive. Ravn Air Group has been given a deadline of 24th June to receive bids for the sale process.
5th April 2020
Ravn Alaska files for bankruptcy
Ravn Air Group, the parent company for Ravn Alaska has filed for Chapter 11 bankruptcy as it has struggled with financial difficulties since the loss of passenger sales throughout the COVID-19 pandemic. Since the pandemic, like many other airlines, Ravn Alaska has seen passenger traffic drop by 90%.
While filing for any type of bankruptcy isn't good, Chapter 11 bankruptcy doesn't necessarily mean the end for the airline. This type of bankruptcy will involve the court helping the airline to reorganise its debts, with a possibility that the airline will survive.