Hageland Aviation Reservations with Alternative Airlines
Make an Hageland Aviation Booking and Find Some Amazing Deals
This airline now currently operates as Ravn Connect, which is part of Ravn Alaska. Click on the logo below to find out more about Ravn Alaska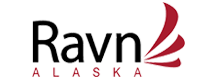 ---
About Hageland Aviation
Founded in 1981, the airline began (full name Hageland Aviation Services) as a regional American airline, now known as Ravn Connect. When the airline was launched, it was based in Anchorage, Alaska and flew regional services regional services in and around the area.
The airline operated under its founding name until 2008, when it merged with Frontier Alaska to become Frontier Alaska (Era Alaska). The airline later rebranded and now currently operates as Ravn Connect and flies scheduled passenger flights for Ravn Alaska.
---
Hageland Aviation Fleet
As Hageland Aviation, the airline notably operated services using a Cessna 180 aircraft. Since then, the airline has used a mix of different aircraft, including the Beechcraft 1900, Piper PA-31, Cessna 207 and Cessna Caravan 208B. The airline has over 45 aircraft altogether.
---
Hageland Aviation Destinations
Hageland Aviation Services operated to a total of 76 destinations under the Hageland Aviation name. These are:
Akiachak
Akiak
Alakanuk
Ambler
Anchorage
Aniak
Anvik
Atmaultulak
Atqasuk
Barter Island/
Kaktovik
Bethel
Brevig Mission
Buckland
Chefornak
Chevak
Chuathbaluk
Crooked Creek
Deadhorse
Deering
Eek
Elim
Emmonak
Gambell
Golovin
Grayling
Holy Cross
Hooper Bay
Kalskag
Kasigluk
Kiana
Kipnuk
Kivalina
Kobuk
Kongiganak
Kotlik
Kotzebue
Koyuk
Kwethluk
Kwigillingok
Marshall
Mekoryuk
Mountain Village
Newtok
Nightmute
Noatak
Nome
Noorvik
Nuisquit
Nunam Iqua/
Sheldon Point
Nunapitchuk
Pilot Station
Point Lay
Port Clarence
Quinhagak
Red Devil
Russian Mission
Savoonga
Scammon Bay
Selawik
Shageluk
Shaktoolik
Shishmaref
Shungnak
Steetmute
St.Mary's
St.Michael
Stebbings
Teller
Toksook Bay
Tuluksak
Tuntutliak
Tununak
Unalakleet
Utqiagvik
Wainwright
White Mountain