Airlines will always try to sit children with their parents (subject to check-in)
Some airlines will allow travel for unaccompanied minors. Please email us to check.
The fare is based on the child's age on the date of travel.
More detailed information can be found here Traveling with children
Most airlines will let infants travel with their parent(s) for free. However some airlines will charge up to 10% of the adult ticket price. Click on 'Price Breakdown' to find out more.
If you are pregnant, but due before the flight departure date, please contact us once your baby is born and has a name. We can then add him/her to your ticket.
Infants will not be given a seat. The airlines expect parents to travel with them on their lap.
Airlines regard infants as being under 24 months old.
The fare is based on the child's age on the date of travel.
More detailed information can be found here Traveling with children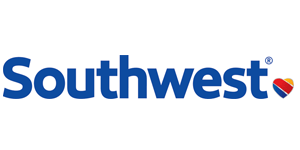 Search & Book Flights

With Southwest Airlines
Cancellation Protection
Protects
Trusted Choice
Rated 4.5 Stars. Based on 3,581 service ratings over the past year
Dedicated customer service team on hand to help
Secure payments
Cancellation Protection
Protects
Trusted Choice
Rated 4.5 Stars. Based on 3,581 service ratings over the past year
Dedicated customer service team on hand to help
Secure payments
Buy
Southwest Airlines

Flights
Search and Buy Southwest Airlines Flights with Alternative Airlines
Make a Southwest Airlines Booking and Find Some Amazing Deals
---
About Southwest Airlines
Southwest (also referred to as SW airlines or SWA) is a major US airline that provides low-cost passenger flights. The airline is based at Dallas Love Field airport operates an extensive network across the US, as well as to international destinations in North and Central America. Overall, the airline flies to more than 100 destinations. At its most popular time of year, Southwest flies more than 4,000 daily flights (pre-Covid-19 pandemic)
Southwest Airlines was established in 1967, and originally only flew between Texas' three of its biggest cities: Houston, Dallas, and San Antonio. The airline has grown massively since then and is now one of the biggest carriers in the US. It's regularly within the top 3 airlines in the US for a number of passengers carried, behind Delta and American Airlines. It's the most popular low-cost carrier in all of North America.
The airline is known for its cheap basic fares, which are sold as seat-only tickets for very affordable prices. Passengers that want extra for their flight can add on to their fare to give them what they need. Southwest is unique in that it's one of the only airlines to use open-seating. Open seating is when passengers aren't assigned a seat at check-in and choose their seat as they board the flight, on a first-come-first-serve basis.
Looking to book Southwest Airlines flight tickets?
Alternative Airlines is an online flight search and booking site, which offers competitive Southwest Airlines airfare prices. We make it easy to pay the way you want, whether that is using PayPal or splitting the cost with Sezzle, Affirm, Quadpay, or one of our other payment plan options. Check out our 'Buy Southwest flight with PayPal' page for more information. Make your flight reservation with no need to pay the full cost of your Southwest Airlines flights today.
---
Destinations
As of September 2022, Southwest Airlines travel destinations include over 100 domestic destinations in 40 states such as Chicago, Baltimore, Washington, Midway, Las Vegas, Denver, Dallas, Phoenix, Houston, Orlando, Atlanta, Los Angeles, as well as international more than 15 international destinations across Central America and the Caribbean.
Domestic Destinations
STATE
CITY
AIRPORT
Alabama
Birmingham
Birmingham–Shuttlesworth International Airport
Arizona
Phoenix
Phoenix Sky Harbor International Airport
Tucson
Tucson International Airport
Arkansas
Little Rock
Little Rock National Airport
California
Burbank
Hollywood Burbank Airport
Fresno
Fresno Yosemite International Airport
Long Beach
Long Beach Airport
Los Angeles
Los Angeles International Airport
Oakland
Oakland International Airport
Ontario
Ontario International Airport
Orange County
John Wayne Airport
Palm Springs
Palm Springs International Airport
Sacramento
Sacramento International Airport
San Diego
San Diego International Airport
San Francisco
San Francisco International Airport
San José
San Jose International Airport
Santa Barbara
Santa Barbara Municipal Airport
Colorado
Denver
Denver International Airport
Steamboat Springs
Yampa Valley Regional Airport
Telluride (Montrose
Montrose Regional Airport
Colorado Springs
Colorado Springs Airport
Connecticut
Hartford
Bradley International Airport
Florida
Fort Lauderdale
Fort Lauderdale-Hollywood International Airport
Fort Myers
Southwest Florida International Airport
Jacksonville
Jacksonville International Airport
Orlando
Orlando International Airport
Palm Beach
Palm Beach International Airport
Panama City
Northwest Florida Beaches International Airport
Pensacola
Pensacola International Airport
Miami
Miami International Airport
Sarasota
Sarasota-Bradenton International Airport
Tampa
Tampa International Airport
Georgia
Atlanta
Hartsfield–Jackson Atlanta International Airport
Savannah
Savannah/Hilton Head International Airport
Hawaii
Honolulu
Daniel K. Inouye International Airport
Kahului
Kahului Airport
Kailua-Kona
Kona International Airport
Hilo
Hilo International Airport
Lihue
Lihue Airport
Idaho
Boise
Boise Airport
Illinois
Chicago
Midway International Airport
O'Hare International Airport
Indiana
Indianapolis
Indianapolis International Airport
Iowa
Des Moines
Des Moines International Airport
Kansas
Wichita
Wichita Eisenhower National Airport
Kentucky
Louisville
Louisville International Airport
Louisiana
New Orleans
Louis Armstrong New Orleans International Airport
Maine
Portland, ME
Portland International Jetport
Maryland
Baltimore
Baltimore–Washington International Airport
Massachusetts
Boston
Logan International Airport
Michigan
Detroit
Detroit Metropolitan Airport
Grand Rapids
Gerald R. Ford International Airport
Minnesota
Minneapolis/St. Paul
Minneapolis-Saint Paul International Airport
Mississippi
Jackson
Jackson International Airport
Missouri
Kansas City
Kansas City International Airport
St. Louis
St. Louis Lambert International Airport
Nebraska
Omaha
Eppley Airfield
Nevada
Las Vegas
McCarran International Airport
Reno/Tahoe
Reno-Tahoe International Airport
New Hampshire
Manchester
Manchester-Boston Regional Airport
New Mexico
Albuquerque
Albuquerque International Sunport
New York
Albany, NY
Albany International Airport
Buffalo
Buffalo Niagara International Airport
Long Island/Islip
Long Island MacArthur Airport
New York City
LaGuardia Airport
Rochester, NY
Greater Rochester International Airport
North Carolina
Charlotte
Charlotte/Douglas International Airport
Raleigh/Durham
Raleigh–Durham International Airport
Ohio
Cincinnati
Cincinnati/Northern Kentucky International Airport
Cleveland
Cleveland Hopkins International Airport
Columbus
John Glenn Columbus International Airport
Oklahoma
Oklahoma City
Will Rogers World Airport
Tulsa
Tulsa International Airport
Oregon
Portland, OR
Portland International Airport
Pennsylvania
Philadelphia
Philadelphia International Airport
Pittsburgh
Pittsburgh International Airport
Puerto Rico
San Juan
Luis Muñoz Marín International Airport
Rhode Island
Providence
T. F. Green Airport
South Carolina
Charleston
Charleston International Airport
Greenville/Spartanburg
Greenville-Spartanburg International Airport
Tennessee
Memphis
Memphis International Airport
Nashville
Nashville International Airport
Texas
Amarillo
Rick Husband Amarillo International Airport
Austin
Austin–Bergstrom International Airport
Corpus Christi
Corpus Christi International Airport
Dallas
Dallas Love Field
El Paso
El Paso International Airport
Harlingen/South Padre Island
Valley International Airport
Houston
George Bush Intercontinental Airport
William P. Hobby Airport
Lubbock
Lubbock Preston Smith International Airport
Midland/Odessa
Midland International Airport
San Antonio
San Antonio International Airport
Utah
Salt Lake City
Salt Lake City International Airport
Virginia
Norfolk
Norfolk International Airport
Richmond
Richmond International Airport
Washington
Seattle/Tacoma
Seattle–Tacoma International Airport
Spokane
Spokane International Airport
Washington, D.C.
Washington, D.C.
Ronald Reagan Washington National Airport
Washington Dulles International Airport
Wisconsin
Milwaukee
Milwaukee Mitchell International Airport
International Destinations
Southwest Airlines flies to more than 15 international destinations, which a particular focus on central and southern America. International destinations include Aruba, the Bahamas, Cancún, Cayman Islands, Cuba, Mexico, and the Turks and Caicos Islands.
STATE
CITY
AIRPORT
Aruba
Oranjestad
Queen Beatrix International Airport
Bahamas
Nassau
Lynden Pindling International Airport
Belize
Belize City
Philip S. W. Goldson International Airport
Cayman Islands
George Town
Owen Roberts International Airport
Costa Rica
Liberia
Daniel Oduber Quirós International Airport
San José
Juan Santamaría International Airport
Cuba
Havana
José Martí International Airport
Dominican Republic
Punta Cana
Punta Cana International Airport
Jamaica
Montego Bay
Sangster International Airport
Mexico
Cancún
Cancún International Airport
Cozumel
Cozumel International Airport
Puerto Vallarta
Lic. Gustavo Díaz Ordaz International Airport
San José del Cabo
Los Cabos International Airport
Turks and Caicos Islands
Providenciales
Providenciales International Airport
---
Baggage
Southwest Airlines rules for baggage are that passengers are permitted to carry two-piece of checked baggage and one piece of carry-on baggage onboard their flight.
Carry-on Baggage
Southwest Airline baggage requirements are that passengers are entitled to one item of carry-on baggage per person. This carry-on bag must not exceed 10 x 16 x 24 inches (25 x 40 x 60cm). In addition to this, passengers are allowed to bring one personal item with them on the flight, for example, a small rucksack, a handbag, a briefcase, or a laptop. This small personal item must not exceed the overall dimensions of 18.5 x 8.5 x 13.5 inches (46 x 22 x 34 cm). You musn't pack any prohibited items in your carry-on as they will be removed and thrown away at airporrt security. Prohibited items include liquids over 100ml, sharp objects, illegal substances and explosives.
Checked Baggage
Passengers are allowed two items of checked baggage free of charge. Southwest Airlines checked baggage weight limit is 50lb (22kg) per piece and its overall dimension is 62 inches (157 cm) (L x W x H).
---
Economy Class
All seats on Southwest flights are economy as standard; this is the only class on all flights.
Economy Class Facilities
Economy class passengers receive free in-flight entertainment, including films and tv shows. All seating is open-seating, meaning that passengers simply choose their seats once they are on the plane. This avoids having to rush to get to check-in or pre-select your seat.
Economy Class Seats
The seats on the Southwest fleet range from 31-33 inch pitch and 17 - 17.8 inches wide with 2 inches recline and adjustable headrests. This is reported to be one of the most comfortable economy seats on low-cost carriers, as the company has larger-than-average seats with enhanced cushion support in the seat.
---
Premium Economy Class
There is no premium economy currently available with this airline.
---
Business Class
Southwest has a booking fare called Business Select, which allows passengers certain privileges when flying with this airline. Although the onboard seating arrangements will be the same as every other passenger, such as being in the same cabin, Business Select passengers get priority features that enhance their experience.
Business Class Facilities
Passengers will get guaranteed priority boarding, which is perfect for the open-seating plan, as passengers can enter the plane first, choose their seat and settle before the rest of the passengers are permitted on the plane. Check-in is also quicker, with lines all being fast-tracked for security and check-in. Passengers in Business will also receive a complimentary premium drink voucher to use on the day of travel, which includes options of alcoholic beverages.
What is the Business Class Seats Like?
The seats for business class are just the same as economy class, which are described above.
---
First Class
There is currently no first-class offered on this airline.
---
In-Flight Entertainment
Southwest Airlines offers free in-flight entertainment for its passengers to sit back and enjoy the journey! You can watch live and on-demand TV, watch movies or listen to music on Southwest flights.
---
Food and Beverage
Southwest Airlines offers free soft drinks and coffee onboard but alcoholic drinks are available to buy. Peanuts and pretzels are free onboard! The menu onboard is available on their website.
---
WiFi
Enjoy fast WIFI when you fly with Southwest Airlines. Allowing you to stay connected while being thousands of feet in the air, ultra-fast WIFI gives you access to all of your favourite streaming services, emails, and messages, so you don't miss out on your favourite shows or important updates at work while you're flying. The airline's WIFI is available on Southwest flights, all-day WiFi only costs USD $8 (price as of 2020).
---
Check-in Information
Online Check-in
For passengers flying on Southwest Airlines, web check-in reservation is available on all flights. You can check in online by visiting the online check-in page and entering your confirmation number, first and last name. Online check-in opens 24 hours before to one hour prior to scheduled flight departure time.
Airport Check-in
Airport check-in can be completed by visiting the dedicated check-in counters at the airport of departure. Airport check-in opens three hours before the scheduled Southwest Airline departure time and generally closes 30 minutes to one hour before.
---
Frequent Flyer Program
Rapid Rewards
This airline operates a frequent flyer program called Rapid Rewards to reward its regular passengers.
In 2011, Rapid Rewards changed to a points system based on ticket cost. Members earn and redeem points based on a three-tier fare scale multiplier and the cost of the ticket. Changes also included no blackout dates, seat restrictions or expiring credits. It also adds more options to use points.
It's now easier than ever to collect frequent flyer points easily with Alternative Airlines and enjoy the benefits of your chosen alliance. If you have not yet chosen an Airline Alliance, check out our article to find out which frequent flyer program is best for you.
Collecting Points
When making your booking through Alternative Airlines, it is easy to collect your frequent flyer points. Simply select Rapid Rewards from the drop-down option during the flight-booking process and add your unique membership number.
---
Airline Alliance
Southwest Airlines is not a member of any airline alliance.
---
Fleet
The extensive fleet consists of Boeing 737-700s, Boeing 737MAXs, and Boeing 737-800s, delivering more than 4,000 SWAirlines flights per day in peak season. Southwest is the largest operator of the Boeing 737 worldwide. In total, the airline has a fleet of almost over 750 aircraft and carried more than 134 million passengers in 2019.
| AIRCRAFT | IN SERVICE | ORDERS |
| --- | --- | --- |
| Boeing 737-700 | 506 | 0 |
| Boeing 737-800 | 207 | 0 |
| Boeing 737 MAX 7* | 0 | 6 |
| Boeing 737 MAX 8* | 0 | 27 |
*Boeing 737 MAX aircraft are now being grounded, hence, the airline has 34 more 737 MAX in storage.
---
Hub Airport
Dallas Love Field
Dallas Love Field (DAL) is a city-owned airport located 6 miles outside of the city of Dallas. The airport was Dallas's main airport until Dallas Fort Worth International Airport opened in 1974. Dallas Love Field (DAL) is the hub for Southwest - the airline has a 95% market share at the airport. The airport only has a single terminal with 20 gates, numbered from 1-20. Alaska Airlines leases two gates (11 and 13), and Southwest leases the other eighteen gates.
Take the time to treat yourself or a famly member in duty-free stores - you could spend endless hours browsing the shops Dallas-Love field has to offer. There are also a range of Cafes and restaurents for you enjoy, incuding Chick-Fil-A, Dunkin Donuts, Starbucks and Chili's.
Other airlines that operate out of the airport include Southwest Airlines, Alaska Airlines, Delta Airlines, and Taos Air.
---
Deals and Discounts
Looking for discounted Southwest Airlines tickets? Save money on any Southwest reservation when booking with PayPal. See all our flight ticket promos and coupons. See all the reasons why it is safe to book flights with PayPal and the benefits. Book with Alternative Airlines today and buy flight reservations at a discount with our PayPal discount codes! You can get Travel agent discount codes with Alternative Airlines.
Alternative Airlines is an online flight search and travel agency that provides a huge amount of deals for Southwest flights. If you are looking for discounts on Southwest airfares then check out all the deals and offers you can save on!
---
Pay for Southwest Airline Tickets with Paypal
Buy Southwest tickets with Alternative Airlines and pay with PayPal. Alternative Airlines is a travel website that accepts PayPal for Southwest flight reservations. PayPal is one of the most popular payment methods used by Alternative Airlines customers. Pay for Southwest with PayPal easily and securely. All you need is an existing PayPal account to pay for flights using PayPal.
---
Emergency and Bereavement Flights
Buy your emergency Southwest flight with Alternative Airlines. If you are needing to buy a last-minute flight for a funeral or a family emergency, then Alternative Airlines will help you through this stressful process. See all information on flying in an emergency or information on bereavement flights with Alternative Airlines.
---
Payment Plans
Did you know you can buy your flights and pay for your Southwest tickets in instalments with Alternative Airlines? You can buy your flights now and pay at a later date using a payment plan with Affirm (US residents only) or PayPal Credit. At Alternative Airlines, all flights on Southwest are available to pay off in instalments, no matter what the route. To find out more about these payment methods, as well as all the other instalment options we offer, visit our buy flights on finance page.
---
How to book a flight on Southwest Airlines
To book fight southwest Airlines with Alternative Airlines, simply search your departure and destination cities into our search bar above. You can use our filters to select Southwest flights only.
When making a reservation with Alternative Airlines, you can also book a seat on your plane when purchasing your tickets, rather than waiting till check-in.
You can also book multi-city flights with Southwest.
---
Alternative Airlines to Southwest Airlines
The following airlines operate similar routes to the ones served by Southwest Airlines:
---
News
3rd February 2021
Southwest Airlines eyes new routes for 2021
Southwest Airlines announced last month that it will be adding an additional route between Kahului (Maui), Hawaii, and Long Beach, Calif. From March, Southwest Airlines will also commence an additional six new routes from Long Beach including Chicago (Midway), Dallas (Love Field), Honolulu (Oahu), Houston (Hobby), Kahului (Maui), Reno/Tahoe, and St. Louis. This news follows a difficult year for the travel industry, due to the Coronavirus pandemic, and suggests that, despite this, Southwest still sees continued growth in the future.
3 September 2020
Southwest Airlines new destinations
Southwest is looking to start its flights to Miami International Airport and Palm Springs International Airport within 2020.
24 February 2020
New destination for Southwest Airlines
Southwest Airlines plans to start seasonal daily flights between Denver and Steamboat Springs. The route is planned to commence in winter 2020. Currently, United Express is the only operator between the two destinations.
27 January 2020
Southwest to grow Hawaii service in 2020
Southwest is focused on growing its Hawaii service in 2020. The airline operates 14 daily flights from California to Hawaii via Oakland, Sacramento, and San Jose. This is in addition to 38 daily departures across its inter-island network.
In March 2020, Southwest will kick off new routes from Sacramento to Kahului, and from San Diego to Maui and Honolulu in April.
---
FAQs
Where does Southwest Airlines fly internationally?
Southwest Airlines flies to more than 10 international destinations including: Aruba, Bahamas, Belize, Cayman Islands, Costa Rica, Cuba, Dominican Republic, Jamaica, Mexico, Puerto Rico, and the Turks and Caicos Islands.
To begin your search for Southwest international flights, use the search form at the top of the page.
What are Southwest Airlines' rules regarding COVID-19?
With Southwest Airlines, you won't be required to wear a face-covering or mask on the plane, however, you'll need to check with the specific airport you'll be travelling to for their own policies regarding COVID-19.
If you'd like to wear a face-covering or mask on the flight, Southwest Airlines can provide one for you onboard.
How does Southwest Airlines seating work?
Southwest Airlines has an open seating policy, meaning seats are not assigned ahead of time. Passengers are split up into three boarding groups (A, B or C), along with a boarding position (1-60), which can be found on the boarding pass. This determines when you'll be able to board the plane and which seats you can choose from.
What other airlines fly to similar destinations?
There are many other airlines that fly similar routes to Southwest such as American Airlines, Continental Airlines, United Airlines, Delta and more!