Search & Buy Southwest Airlines Flights
Let's fly!

Select your payment method to view total prices including any payment fees:

Buy
Southwest Airlines

Flights

Search and Buy Southwest Airlines Flights Online with Alternative Airlines
Flights to and from Dallas
Make a Southwest Airlines reservation and find some amazing deals with discounted Southwest Airlines

tickets at Alternative Airlines
---
Southwest Airlines is a major low-cost US airline and is headquartered in Dallas, Texas. Southwest Airlines flies to many destinations including Chicago, Baltimore, Washington, Midway, Las Vegas, Denver, Dallas, Phoneix, Houston, Orlando, Atlanta, Los Angeles, Arizona, Oranjestad, Nassau, Belize City, Liberia, San Jose, Punta Cana, Mexico City and many others. Southwest Airlines carries the most domestic passengers of any US airline.
Southwest Airlines' extensive fleet consists of Boeing 737-300s, Boeing 737s, Boeing 737s and Boeing 737-800s. On May 2, 2011, Southwest Airlines completed the acquisition of AirTran Airways by purchasing all of the outstanding common stock, corporate identity and operating assets of AirTran Holdings, Inc., the former parent company of AirTran Airways. Southwest Airlines first announced the acquisition on September 27, 2010, and received final approval from the United States Department of Justice on April 27, 2011. After acquiring AirTran Airways, Southwest began a codeshare agreement with AirTran on February 14, 2013. The agreement ended after AirTran became fully integrated into Southwest on December 28, 2014.
How to book a flight on Southwest Airlines
Alternative Airlines are delighted to announce that you will now be able to make a Southwest Airlines reservation with Alternative Airlines. Southwest Airlines is a very popular airline customers and so we are very happy that they will now be able to buy Southwest flights online. Simply use the search bar above to find Southwest flights and compare prices with other airlines that fly your chosen route. If you only want a Southwest Airlines ticket, you can filter your search to just show SouthWest flights.
---
Southwest Airlines Frequent Flyer Program
Southwest Airlines operates a frequent flyer program called Rapid Rewards to reward its regular passengers with the airline. The original Rapid Rewards program offered one credit per one-way flight from an origin to a destination including any stops or connections on Southwest Airlines.
When 16 credits were accumulated in a 24-month period, Southwest awarded one free round-trip ticket that was valid for 12 months. On March 1, 2011, Rapid Rewards changed to a points system based on ticket cost. Members earn and redeem points based on a three-tier fare scale multiplier and the cost of the ticket. Changes also included no blackout dates, seat restrictions or expiring credits. It also adds more options to use points.
Its now easier than ever to collect frequent flyer points easily with Alternative Airlines and enjoy the benefits of your chosen alliance. If you have not yet chosen an Airline Alliance, check out our article to find out which frequent flyer program is best for you.
---
Southwest Airlines Route Map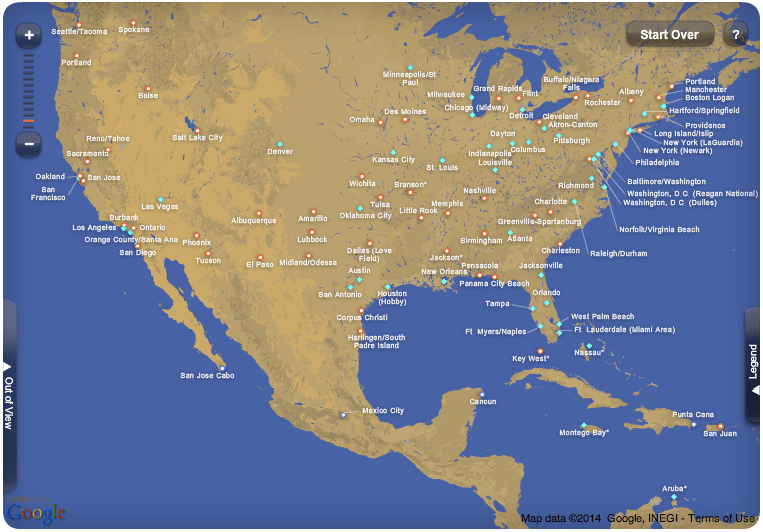 Popular Southwest Airlines Destinations
Dallas

Orlando
Los Angeles

Dallas
Houston

Dallas
Dallas

Denver
Dallas

Las Vegas
Baltimore

Dallas

---
Southwest Airlines Fleet
Boeing 737-300
Boeing 737-800
---
Southwest Hub Airport
Dallas Fort Worth International Airport
Dallas / Fort Worth International Airport is the main international airport serving Dallas. It is the main hub airport for American Airlines, UPS Airlines and Ameriflight. It has seven runaways and can handle nearly 65 million passengers every year.

Southwest Alternative Airlines
---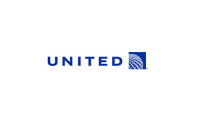 ---
Southwest Airlines Deals and Discounts
---
23rd August 2018
Southwest Airlines are tightening rules on emotional service animals on planes
The American airline, Southwest Airlines have enforced stronger rules on
bringing pets on planes and flying with emotional service animals
. Now on cats and dogs are allowed on the planes. Therefore, pigs, spiders, hedgehogs and ferrets are no longer allowed due to airline staff complaining abot biting, soiled cabins and allergies.
3rd July 2018
Southwest Airlines named America's favourite "value brand"
According to a survey carried out by Harris Poll, in which over 77,000 consumers were questioned, Southwest Airines have come out on top. The survey shows that the popular carrier for domestic flight reservations comes out on top for vlue. Well done southwest airlines for continued excellence!
2nd May 2018
Southwest Airlines gets applause from President Donald Trump
President Donald Trump has come forward to prais the crew members and passengers of a Southwest Airlines flight for their handling of an emergency landing two weeks ago after an engine exploded. 5 crew members and 5 passengers were invited to the Oval Office where they met Trump, who said that they were "some incredible people." The visit, arranged after the White House contacted the airline, was the crew's first public appearance since the April 17 incident, Southwest spokeswoman Brandy King said. Pilot Tammie Jo Shults, who joined Southwest in 1994, was in the first cohort of women Navy pilots to transition to tactical aircraft and served as an instructor pilot flying the EA-6B Prowler and F/A-18 Hornet. Trump said Shults and the rest of the crew "displayed exemplary leadership" during the episode. "You were calm and strong and cool."
Shults, with the help of her crew were able to land the plane safely in Philadelphia, but shrapnel broke a window while it was still in flight, partially sucking out Jennifer Riordan, 43, who was fatally injured. She was the only one of the 149 people aboard the plane who experienced harmful injuries.
9th April 2018
Southwest Airlines named on Tripadvisor's Top 10 airlines
Southwest Airlines has reached an impressive number 6 on Tripadvisor's newly released list of Top 10 airlines. As reported by one Tripadvisor user; "We choose to fly Southwest whenever we can. Their flights are on time and the service is friendly and efficient. We don't mind not having assigned seats. Bags fly free, and we always check ours. Frequent Flier miles are easy to accumulate with their membership program." Southwest airline's reputation continues to grow this way, as the list was compiled by taking into account the quantity and quality of airline reviews and ratings submitted over the last twelve months to TripAdvisor.
Southwest adds another destination from Nashville International Airport
Nashville International Airport has been announcing a slew of new flights recently, and here comes another one.
The airport announced today that Southwest Airlines, already the biggest carrier at BNA, will offer nonstop service to Oklahoma City starting Oct. 7.
The once-a-week flight will leave Nashville at 10 a.m. on Sundays. Return flights will arrive at 3:30 p.m.
"Nashville International Airport's roster of nonstop flights continues to grow, and with the addition of Oklahoma City, we're pleased to add yet another destination previously not served at BNA," Doug Kreulen, Metropolitan Nashville Airport Authority president and CEO, said in a news release. "We appreciate Southwest Airlines' continued commitment to our airport and the Nashville community."
Southwest adds 5 non-stop routes; also expands in Phoenix
Southwest Airlines will add five daily non-stop routes to its schedule. Of those, three will be daily service while two feature weekend-only service. The low-cost carrier also said it will beef up its presence in Phoenix by adding more flights to existing destinations.
Two of Southwest's new routes will come from its base at Houston Hobby, where daily non-stop service to Columbus, Ohio, and Louisville, Ky., will begin Oct. 3.
Additionally, Southwest will add daily non-stop service between Denver and Memphis. That route also begins Oct. 3. Southwest will offer one round-trip flight each weekday on all three routes.
Two other routes – Oklahoma City-Nashville and Denver-El Paso – will get Sunday-only non-stop service.
Southwest also is turning to Phoenix for growth. The carrier did not announce new non-stop routes, but said it will add one additional weekday flight to its existing schedules on five of its "most-popular" routes there. Once the additions begin on Oct. 3, Southwest's Phoenix schedule will change on the following routes:
- Austin: Increases to 5 weekday round-trips, up from 4
- Denver: Increases to 11 weekday round-trips, up from 10
- New Orleans: Increases to 2 weekday round-trips, up from 1
- San Antonio: Increases to 4 weekday round-trips, up from 3
- San Jose, Calif.: Increases to 7 weekday round-trips, up from 6
In addition to the new routes and expanded service in Phoenix, Southwest also revealed the return of several seasonal routes to its fall and winter schedule. Among those are:
- Albany-Las Vegas: Resumes Oct. 3; flights operates Sunday through Friday.
- Cleveland-Orlando: Resumes Oct. 6; Saturdays only.
- Milwaukee-Fort Myers, Fla.: Resumes Oct. 6; Saturdays only.
- Oakland-Tucson: Resumes Oct. 7; Sundays only.
Southwest Airlines makes a big impact with its January on-time arrivale atatistics
Southwest airlines has manags to score a punctuality rating of 80.9% of flights arriving on time, beating its competitor, Delta Airlines to the top spot. Delta Airline was appointed a rating of 80.4% by global aviation number cruncher OAG. As one of the four largest carrers in the USA, this is a great result, and Southwest did so after lagging in on-time performance for much of 2017 — an issue the carrier attributed to more crowded planes and bad weather, among other things.
Southwest's January numbers certainly suggest the carrier may (emphasis on "may") have found a way to handle these issues. Interestingly, the carrier's on-time results in January come as Southwest announced the appointment of a new vice-president of operations, a positon that had been vacant for a while, according to a Southwest spokeswoman. Southwest's January on-time results also come in the wake of something I saw on a Southwest flight departing from Chicago's Midway Airport last week that I had never before witnessed in many years of traveling on Southwest flights.
When all overhead bin space was filled to capacity before all passengers had boarded a flight to Nashville, two customer service agents and the pilot quickly materialized on the jetway to proactively start checking bags of those customers still waiting to board the plane. It was some quick thinking (and action) that probably helped the plane be able to push back closer to its scheduled departure time. United brought up the rear in third place, with 78.7% of their flights arriving on time.
Southwest Airlines is adding a new nonstop flight service between Houston and Grand Cayman
Southwest Airlines is adding a new nonstop flight service between Houston and Grand Cayman, Cayman Islands next summer, a flight that will operate weekly on Saturdays. The carrier is also adding new service from both Pittsburgh and Raleigh-Durham to Cancunon the Caribbean coast of Mexico.
Those flights will operate on Saturdays beginning June 9, 2018; next summer will be Southwest's largest-ever flight schedule to Cancun, with nonstop service from 16 gateway airports in the United States. Additionally, Southwest is increasing its summer flight service to Puerto Rico in 2018 with daily flights between Chicago-Midway and San Juan, Puerto Rico. That's along with augmented daily seasonal service between Houston Hobby and San Juan, with a second flight on Saturdays and Sundays, also beginning June 9, 2018.
Southwest Airlines' free bag policy has become part of its core identity
CAPA - Centre for Aviation senior analyst (the Americas) Lori Ranson, speaking at CAPA's 2017 Latin America Aviation Summit, stated (12-Sep-2017) that US low cost carrier Southwest Airlines is cleverly using ancillaries to differentiate itself, but without unbundling. While other US airlines are charging for checked bags, Southwest continues to include them within the price of tickets, She highlighted that while the airline may not be gaining revenue directly, the policy has become a major marketing tool promoting its brand. "The fact that Southwest does not charge for bags is now part of their core identity. To go against that now would create so much bad publicity. It's their philosophy now", she said.
Southwest donates plane to fly homeless animals from hurricane-ravaged Houston
Many victims of Hurricane Harvey sadly lost their homes — including quite a few who walk on four legs. When Texas shelters found themselves overrun with homeless pets after last month's storm, Southwest Airlines stepped in to help move dozens of animals across the country.
Southwest first partnered with Helen Woodward Animal Center of San Diego, California, in 2012 during Hurricane Sandy. Upon seeing the damage caused by Harvey, the shelter and airline quickly hooked up again. After operating several relief flights for customers and employees, Southwest donated a flight to transport about 60 cats and dogs from Houston to San Diego.
"The idea was to move animals who were already in the shelters when the hurricane hit and were now facing euthanization ... to make room for families' pets that become homeless after Harvey," explained Michelle Agnew, a spokesperson for Southwest.
On Aug. 31, the Helen Woodward staff flew to Houston's Operation Pets Alive (OPA!), where the homeless cats and dogs were being housed temporarily. The shelter staff determined how many animals were fit to fly and could be accommodated in California. Southwest then provided the aircraft to transport the pets on Sept. 5th.
Once in California, the animals received lots of love to help them recover from their ordeal.
"They're doing as well as they can considering the circumstances," said Mindy Wright, a representative of Helen Woodward Animal Center. "They were already in a tough situation, packed in close quarters without their normal routines or medications, and then had to go through the plane ride."
She continued, "By the time they got to us ... some aren't feeling well, some are recovering from trauma, and some are in line to get microchips, vaccinations, and other things we require before we can adopt them out."
Wright is pleased to report that the first round of animals — including a trio of dogs named Larry, Curly and Moe, and a couple of "hound puppies with squishy faces"— went up for adoption on Saturday.
Both Agnew and Wright expressed interest in making a similar effort after Hurricane Irma, though they'll need to assess the situation before knowing more details.
As for the rest of the Harvey survivors, they're in good hands until they're ready to find their fur-ever homes.
Southwest Airlines new reservations was successfully launched
After a three-year project to overhaul a reservation system the airline used for 30 years, Southwest and its project partner, Amadeus IT Group, took their new product live on Tuesday across the airline's operational system. The project to create Southwest and Amadeus' new Amadeus Altea Passenger Service System involved a team of more than 1,500 people from both Southwest and Amadeus.
May 2017
Southwest Airlines announced it was getting closer to Hawaii flights,
Southwest Airlines announced it was getting closer to Hawaii flights, a vacation destination travelers have been begging the nation's largest domestic airline to add for years. Flights to Hawaii are a high priority for Southwest Airlines and could begin as early as 2018. Southwest Airlines (WN, Dallas Love Field) sees the launch of flights to Hawaii as a priority. At present, aside from Virgin America (VX, San Francisco, CA), the only other LCC to connect Hawaii and the US mainland is Allegiant Air (G4, Las Vegas McCarran) which uses its dwindling fleet of B757-200s to run 2x weekly Las Vegas McCarran-Honolulu flights.
Southwest Airlines, Sacramento's largest airline carrier, has announced the airline's biggest boost in flights
Southwest Airlines, Sacramento's largest airline carrier, has announced the airline's biggest boost in flights at Sacramento International Airport since the recession over 12 years ago. 6 daily flights this year, including new routes to Long Beach and Spokane. South West Airlines have also added flights on existing routes to Seattle and San Diego. That brings Southwest's total to 80 flights a day in Sacramento, making the capital city the 16th busiest airport in Southwest's 100-city service base.
---
Search and Buy Flights with Southwest Airlines
Make a Southwest Airlines reservation and find some amazing deals with discounted Southwest Airlines tickets at Alternative Airlines. Southwest Airlines flies to many destinations, offering a cost effective and safe service to all its passengers. Let Alternative Airlines help find you cheap Southwest Airlines tickets and make reservations on Southwest Airlines today.
Browse the most popular Southwest Airlines flight routes to destinations within the Malaysian regions. Alternative Airlines can help you make reservations on Southwest Airlines. Use the following list of routes to help you plan your next flight. Southwest Airlines flights on Alternative Airlines to save big! Alternative Airlines is an online travel agency, specialising in booking lesser known airlines and remote destinations.
---
About Alternative Airlines
Alternative Airlines is an online flight search complete with customer service specialising in booking flights on lesser known airlines and to remote destinations. We offer you a wider choice of airlines supported by a team of customer service and travel specialists for help and advice on your travel plans. We specialise in finding the best available fares on the widest range of airlines and making them available to you online, with prices in the currency of your choice.
Alternative Airlines handles all your travel arrangements and payments, complete with ticketed confirmation. We do not direct you to other websites or service providers. We help you through the process. This is what makes us Alternative Airlines.Check out our reviews: Alternative Airlines - Feefo Reviews
Browse for flights, find some amazing deals, make a reservation and pay in the currency of your choice today with Alternative Airlines. Let Alternative Airlines help find you the best prices and make international and domestic flight reservations with us today.
Join the Alternative Airlines Members Club and get £100.00 back on your 5th booking with Alternative Airlines. You will have insight to many benefits and exclusive deals on over 650 airlines. Click on the Members section on the Alternative Airlines website for more information and join today. We are open every day from 8am until 8pm (UK local time).
---
How to pay
You can pay for your flights with Southwest Airlines in the currency and payment method of your choice when booking through Alternative Airlines.
We accept PayPal making flight purchases with Southwest Airlines easy and more secure for customers. PayPal is one of the leading forms of online payment, with more than 169 million accounts worldwide.