Information on Funeral and Coffin Flight Assistance
Let's fly!

Select your payment method to view total prices including any payment fees:
Flight Assistance
for Funerals and Coffins
Information on all flight assistance for bereaved passengers traveling for funerals, flying next to a dead body, or flying with coffins and corpses.
Airlines and airports will offer help to all passengers suffering with bereavement or traveling with coffins back to their homes or to a funeral. This is also known as compasisionate travel, where in the event of a death of a family member or unexpected critical illness, you will need to travel at short notice.
Request coffin assistance when you buy your flights with Alternative Airlines
We understand that many passengers need to travel for commiserating cirucmstances and Alternative Airlines are happy to arrange assistance for passengers suffering with bereavement or needing to fly with a coffin, a cadaver of for a funeral so that your flight journey is convenient and worry-free. Contact Alternative Airlines on +44 (0)1293 874 920 if you would like any information on services available to you through the airlines you select. We will contact the airline you are flying with that you require assistance on board and provide you with any additional information you may need.
Air travel for Funerals and with Coffins

You can request special assistance with Alternative Airlines if you are needing to travel with a coffin, just type in the requirements you need in "Special Assistance additional detail" box. This should help buying your flights with Alternative Airlines stress-free for you. We provide understanding of the different assistance for bereaving passengers, passengers flying with coffins or corpses, or for a last-minute funeral. It is perfectly fine to suffer bereavement on flights and if you feel that a passenger near you may feel uncomfortable around you, just make the flight attendant aware what may be the problem so they can assist you if you need it.
When reserving your tickets, if you have any special requests or any other queries related to these, please contact Alternative Airlines and we will contact the specified airline for you.
If you are a looking for a flight discount code for a funeral or need a airline ticket voucher code at last minute due to a death in the family or friend, you can access all our flight coupon codes. Airlines may not provide a flight ticket refund in the event of a death, however Alternative Airlines can offer a range of flight discount codes to help with cheaper air travel costs.
Top tips For
Flying with a Dead Body or Coffin
We are aware that many airlines have to transport dead bodies in their cargo hold. And we are therefore aware that this can be a distressing thought for passenger. So we are in contact with the airline for you to ensure that your requests for flying with a corpse or repatriating a coffin with a corpse are responded to. All dead bodies need to be transported in a secure casket and then encased in an airtray. Here are tips that you should follow when needing to travel with a coffin:
Tip 1: Get confirmation from a doctor that the person is deceased
This is important clarification in order to attain a death certificate which is needed for airline authorities and potential ticket refunds.
Tip 2: Get a death certificate
This is a legal requirement that the death is registered within the country that the person in question passed away. You will need this for ticketing reasons and also to attain a refund. Depending on an airline's regulations, you may be entitled for a refund if you have to cancel flight tickets due to a death. Please note, that this is dependant on the airline's ticket rules.
Tip 3: If traveling with a coffin, ensure that the funeral director liases with the coroner
For traveling with coffin purposes, the funeral director must liase with the coroner in order to gather documents needed to transport the coffin by air travel.
Tip 4: Be aware of security checks
Like everything else that is transported from one country to another, everything must go through security and X-Ray checks, which includes a coffin. We understand that this might be a sensitive matter but we advise not to put any metal objects in the coffin or anything that might delay the process.
Flying next to a Dead Body

We don't want to alarm you but deaths may occur during a flight journey due to sudden heart attacks or other illnesses. Because of this we are understand that this can be distressing for many passengers and not a situation you want to experience. In these circumstances, the cabin crew on the airline will first attempt to make the situation as comfortable as possible for all the passengers on the plane by storing the body away from the passengers. They will either be placed in first class if there is space, on a empty row of seats or on the floor of the galley. Again, we don't want to worry you of this as it doesn't happen very often but we want also want you to feel comfortable as possible in through your journey.
Bereavement flights, last minute funeral flights and flying with a dead body
FAQs
Can I book flights last minute for a family emergency?
Absolutely, we understand that family emergencies occur and you may need to fly at the last minute. These are also known as grievance flights and you may be put on standby at the airport for this incase a seat becomes free, if there are not any available. If there is a particular airline or flight route you need but there are not any available seats, we adivse you to Contact Alternative Airlines on +44 (0)1293 874 920. You can also book last minute flights for funerals and we are happy to look into a range of alternative flight routes for you. We cannot guarantee there will be availability of the exact flight you want if it is last minute but we offer a range of alternative airlines to make sure you get to where you want to go.
Are there cheap flights for funerals?
Some airlines may provide a discounted flight fare or airline ticket, but it can be down to certain terms and conditions such as availability, the destination or class you are choosing. Also, it is dependant on the airline policy, as they may use to offer it but no longer do. Please contact us and we will be happy to assist in this information. In case of canceling a flight and having to reschedule due to a family emergency or in the event of a death, then documentation will need to provided, such as a death certificate. All information regarding this is found above.
We recommend paying your flights with PayPal for this reason, as you will be able to get a refund quickly if circumstances change. Paying flights with PayPal for last-minute air travel or funerals is safe and convenient. Also you are able to grab a flight discount code if you are looking for cheap last minute flights.
How do I book a last-minute bereavement flight?
Some airlines will allow you to book a last-minute bereavement flight in the event of a family member's death and you miss a flight. Furthermore, there may be a discount to re-schedule for this reason. However, you may be required to present documents of the deceased or the funeral director that is arranging the funeral. Alternative Airlines will be able to help with this information for you and contact the airline to let them know of your circumstance. Not all airlines' policies allow a refund or a discount to change your flight ticket due to grievance. We advise to check the airline's bereavement policies or we can help you with this.
I need to cancel my flight for a family emergency
Not a problem, we will be happy to help if you are needing to rearrange or cancel your flight due to grievance or bereavement. Some airlines may provide a refund a last minute flight reservation for a funeral of family emergency. Regarding refunds, this will depend on the airline's policy that you are flying with. And in most cases, you will need to provide a death certificate for proof for the refund. See all information on refundable flights.
How to fly with a dead body?
All information on flying with a dead body or coffin can be found above, under top tips. We understand that this is a sensitive process and if you require further assistance, Alternative Airlines will be happy to help.
What are bereavement fares?
Bereavement fares, bereavement flights or compassions flights are flights that are bought in the event that a family member is dying or has died. Airlines may offer discounted flights for these reasons, however, we advise you to check with Alternative Airlines if this is possible. It is dependant on the airline's policy.
Need other flying services and assistance?
Read all our information on:
WHY
USE US
Alternative Airlines is an online flight search complete with customer service specialising in booking flights on lesser known airlines and to remote destinations. We offer you a wider choice of airlines supported by a team of customer service and travel specialists for help and advice on your travel plans. We specialise in finding the best available fares on the widest range of airlines and making them available to you online, with prices in the currency of your choice.

Alternative Airlines handles all your travel arrangements and payments, complete with ticketed confirmation. We do not direct you to other websites or service providers. We help you through the process. This is what makes us Alternative Airlines. Check out our reviews on Feefo or our reviews page. If you want to know a little bit more about us, read our blog for our alternative travel secrets and stories. Browse for flights, find some amazing deals, make a reservation and pay in the currency of your choice today with Alternative Airlines. Let Alternative Airlines help find you the best prices and make international and domestic flight reservations with us today.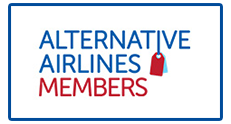 Join the Alternative Airlines Members Club and get £100.00 back on your 5th booking with Alternative Airlines. You will have insight to many benefits and exclusive deals on over 650 airlines. Click on the Members section on the Alternative Airlines website for more information and join today. We are open every day from 8am until 8pm (UK local time).