Facilities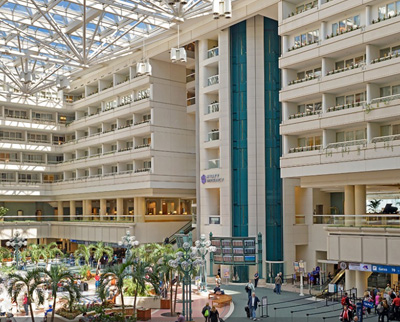 Inside the main airport building. Photo Credit: Greater Orlando Aviation Authority
Facilities Include:
The airside of the airport includes various facilities, including over 20 restaurants and 6 bars, duty-free shops. Shops include official Universal Orlando and Disney stores.
There is also currency exchange facility and free Wi-Fi service throughout the airport premises.
Moving walkways provide transportation between the parking garages and the main terminal.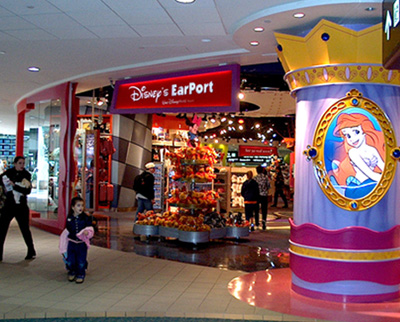 Airport Disney store. Photo Credit: Greater Orlando Aviation Authority
Lounges Include:
American Airlines – Admirals Club: Complimentary amenities and services include snacks, personal travel assistance, shower suites and a business center. Enjoy free meals and premium drinks.
Delta Air Lines – Sky Club: Complimentary amenities and services include drinks, including bar and alcoholic drinks, snacks and healthy meals, flight assistance, wi-fi, and entertainment system, including satellite TV.
United Club: Enjoy complimentary wi-fi, flight monitors, snacks and drinks, including United's premium wine and spirits program.
The Club at MCO: The airport has two lounges, located at Airside 1 and Airside 4. Access can be pre-purchased. A day pass costs 40 US Dollars. Passengers can enjoy complimentary snacks and beverages, including beer, wine and premium spirits, wi-fi, TV newspapers, magazines, shower facilities and comfortable and spacious seating.
USO Welcome Center: The USO Welcome Center is a military-only lounge located in the Main Terminal, A-Side, Level 1. The center caters to troops and military family members transiting through Orlando. Complimentary amenities and facilities include snacks and beverages, wi-fi, childrens play area, quiet area, library, TV, Xbox One, DVD and Blue-ray Player, PS4, work areas, phones, printers, computers, and luggage storage. For more information, check out our guide to US Military flights.
Book Lounge Passes for Orlando International Airport
Did you know that you can buy lounge passes for Orlando International Airport with Alternative Airlines? You can purchase them for The Club MCO (Gates 70-99) at Terminal B Concourse 4, and The Club MCO (Gates 1-29) at Terminal A Concourse 1.