Search and Buy WestJet Flights
Let's fly!

Select your payment method to view total prices including any payment fees:
Buy
WestJet

Flights

Search and Buy WestJet Flights Online with Alternative Airlines
Flights to and from Canada
Make a WestJet reservation and find some amazing deals with discounted WestJet tickets at Alternative Airlines
---
About WestJet
WestJet Airlines is a Canadian low budget airline which operates scheduled and charter flights with long haul routes.
WestJet flies mainly from Calgary International Airport and Toronto Pearson International Airport to Europe, Canada, Mexico, United States and Caribbean including Calgary, Toronto, Edmonton, Vancouver, Winnipeg, Kelowna, Victoria, Montreal, Halifax, Ottawa, Saskatoon and Regina.
WestJet fleet consists of Boeing 767s. WestJet Encore is WestJet's subsidiary regional airline, which commenced opeations on June 2013 with a fleet of Bombardier Q400 twin-turboprop aircraft.
WestJet has codeshare agreements with the following partners including American Airlines, Air France, British Airways, Cathay Pacific, China Airlines, China Eastern, China Southern, Delta Air Lines, Emirates, Japan Airlines, KLM, Korean Air, Philippine Airlines and Qantas. WestJet has interline agreements with many airlines including Transaero Airlines, United Airlines, US Airways, Virgin Australia, LAN Airlines, Pakistan International Airlines, Fiji Airways, Condor, Dragonair.
---
About Swoop
Swoop is a Canadian low-cost airline and a subsidiary of WestJet. It remains distinct from WestJet, with its own employees and check-in staff. The airline was founded in 2017 and will commence operations on June 20th 2018 from its base in Calgary, Alberta. The carrier will offer six weekly flights from Hamilton to Abbotsford, Edmonton, Winnipeg and Halifax; six weekly flights from Abbotsford to Hamilton; and three daily flights between Abbotsford and Edmonton.
---
Frequent Flyer Program
Passengers can benefit from West Jet Rewards.
WestJet operates a frequent flyer program called WestJet Rewards to reward regular passengers with the airline.
There are three tiers of membership with WestJet:
Teal
Silver
Gold
Members can earn miles and then free checked bags, companion flights and airport lounge vouchers. To earn WestJet dollars, passengers will need to provide your WestJet Rewards ID when booking WestJet flights, WestJet Vacations Packages, or book car rentals and hotels online.
---
Baggage
Each passenger with WestJet is allowed 1 free piece of carry-on baggage and one personal item total.
In March 2016, WestJet Encore inaugurated a new service between Toronto and Boston, which is the newest addition to WestJet's growing network. The new service will operate three times daily on WestJet Encore's fleet of Canadian-made Bombardier Q400 NextGen aircraft.
In November 2016, WestJet announced a new service to Phoenix-Mesa Gateway Airport from Calgary and Edmonton starting Jan. 19, 2017, just two days after competitor NewLeaf introduced its 2017 winter sun program with seasonal service on the same route. WestJet has announced it will begin serving Phoenix-Mesa Gateway Airport starting January 19th. Flights will be non-stop.
---
News
1st February 2018
WestJet Subsidiary Swoop announces flights to Mexico and US
The new ultra-low-cost carrier has bold plans to expand its horizons, planning operations in the southern U.S. and Mexico after it launches its Canada services in June. WestJet is counting on its Swoop brand to fend off a new breed of bargain carriers such as Flair Airlines while the fledgling carrier attempts to take market share from leisure operators Air Transat and Sunwing Airlines.
"In June, when we have all of the regulatory approvals, we will announce southern flying into the U.S. and Mexico, potentially the Caribbean as well," Bob Cummings, WestJet's executive vice president of strategy, said in an interview. "We will aggressively go after the cross-border opportunity, which is quite significant."
Swoop begins services to popular regional destinations such as Hamilton and Ontario on June 20th. Their one way fees will stat from less than $100. "Part of the strategy of Swoop is for it to be complementary to WestJet," Cummings said. "It made sense for us to start our network as largely Hamilton-based, with some Abbotsford. Over time, we will evolve and deploy into other markets." The operation mostly will focus on secondary airports, such as Hamilton, which is about 80 kilometers (50 miles) from Toronto.
9th October 2017
Canada's WestJet adds maiden B737 MAX 8s
WestJet (WS, Calgary) has taken delivery of its maiden pair of B737 MAX 8s following the handing over of C-FRAX (msn 60510) and C-FRAN (msn 60511) late last month.

The aircraft will be deployed on the Canadian carrier's flights between Calgary, Vancouver Int'l, and Toronto Pearson initially before being deployed on international services.

WestJet expects to take delivery of four B737 MAX 8s this year out of a current type order total of twenty-three. A further four are due next year at which time its first of seven B737 MAX 9s are due to arrive.
Source: ch-aviation
05th October 2017
WestJet adds Calgary - Mexico City route in March 2018
WestJet from March 2018 is adding Calgary – Mexico City route, initially operating 4 times a week from 14MAR18. Boeing 737-700 is scheduled to operate this route.

WS2200 YYC0940 – 1444MEX 73W x246
WS2215 MEX1545 – 2122YYC 73W x135

From 29APR18, service will expand to daily operation. In yesterday's report on Airlineroute, WestJet is also launching Vancouver – Mexico City service from 14MAR18. Flights to/from Vancouver will also increase to daily from 29APR18. The flight increase was not mentioned in yesterday's report.
28th September 2017
WestJet names ULCC unit Swoop
WestJet (WS, Calgary) has formally christened its nascent ultra low-cost carrier unit Swoop (Calgary). WestJet said in a statement Swoop would launch out of its Calgary hub in Summer 2018 using a fleet of ten high-density B737-800s.

"The city offers Swoop the opportunity to save costs through shared services with WestJet's corporate head office, the availability of existing infrastructure, and talented, experienced WestJetters to draw from. We are confident that these qualities will support our ultra-low-cost operations and our guests well into the future," Bob Cummings WestJet's Executive Vice-President (Strategy) and the executive member responsible for the launch of Swoop, said.

Featuring its own Air Operator's Certificate (AOC), Swoop will launch around the time fellow ULCC Jetlines (Vancouver Int'l) expects to complete its own certification drive.
Source: ch-aviation
16th August 2017
WestJet to begin Calgary-Denver flights in 2018
Canadian low-cost carrier WestJet will expand its route network to include Denver on 8 March 2018, when it launches flights to the city from Calgary, WestJet announces.
The carrier will operate flights once daily between Denver and Calgary using Boeing 737s, according to the company and flight schedules. In announcing the news, WestJet notes that Colorado is Canada's largest trading partner and that Canada is the second largest foreign investor in Colorado. Currently, nearly 150 people travel daily between the cities, according to Calgary-based WestJet.
WestJet will compete with United Airlines, which flies up to four times daily between Calgary and Denver using a mix of Airbus A319s, Boeing 737s, Bombardier CRJ200s and Embraer 175s, according to flight schedules.
August 2017
WestJet's new discount airline service not expected until next year.
WestJet's new discount airline service not expected until next year. WestJet says the launch of its new no-frills, low-cost airline won't be until next summer after initially announcing plans it would start offering flights later this year. The delay comes in part after the airline decided to switch to a lower-cost booking system, CEO Gregg Saretsky said Tuesday as the company posted its second-quarter results. He said WestJet also doesn't expect to get regulatory certificates until the first quarter of next year, which is when the airline aims to release an initial flight schedule and start selling tickets ahead of a June launch date for flights.
July 2017
WestJet announced a planned service expansion for its US and international service for winter 2017/18 season. Majority of these service will receive additional frequencies from 29OCT17.
Calgary – Cancun Increase from 14 to 16 weekly
Calgary – Los Angeles Increase from 11 to 14 weekly
Calgary – Palm Springs Increase from 18 to 20 weekly
Calgary – Phoenix Increase from 19 to 20 weekly
Calgary – Puerto Vallarta Increase from 12 to 14 weekly
Calgary – San Jose/Los Cabos Increase from 7 to 8 weekly
Edmonton – Cancun Increase from 5 to 6 weekly
Regina – Puerto Vallarta Increase from 1 to 2 weekly
Toronto – Antigua Increase from 2 to 3 weekly
Toronto – Cancun Increase from 11 to 15 weekly
Toronto – Ft. Lauderdale Increase from 11 to 14 weekly
Toronto – Liberia (Costa Rica) Increase from 4 to 5 weekly
Toronto – Montego Bay Increase from 13 to 14 weekly
Toronto – Nassau Increase from 7 to 9 weekly
Toronto – Orlando Increase from 12 to 15 weekly
Toronto – Puerto Plata Increase from 5 to 6 weekly
Toronto – Punta Cana Increase from 6 to 7 weekly
Vancouver – Cancun Increase from 6 to 7 weekly
Vancouver – Puerto Vallarta Increase from 7 to 8 weekly
Vancouver – San Jose/Los Cabos Increase from 4 to 5 weekly
May 2017
WestJet announces major order for 10 Boeing 787 Dreamliners. In June 2017, WestJet announced it was named favourite overall supplier for service and value and favourite airline in the low cost/hybrid category by Canadian travel agents in the 2017 Agents' Choice Awards by Baxter Travel Media.
WestJet also placed second in five categories including: airline (leisure/charter), airline (traditional), tour operator (WestJet Vacations), responsible travel and online booking resources.
April 2017
WestJet announced that it had been recognised as Best Airline in Canada and Travellers' Choice winner Mid-Sized and Low-Cost Airlines North America. TripAdvisor has highlightights the world's top carriers based on the quantity and quality of reviews and ratings for airlines worldwide gathered over a 12-month period.
March 2017
WestJet has modified a 2013 order with Boeing (BOE, Chicago O'Hare) for sixty-five B737 MAX which, at the time, entailed forty B737 MAX 8s and twenty-five B737 MAX 7s.A review of the Canadian carrier's 2016 earnings shows it rejigged the order to now include thirty B737 MAX 8s and ten B737 MAX 9s. WestJet says it has options to purchase ten more B737 MAX aircraft between the years 2020 and 2021.
In addition, WestJet's B737 MAX 7 and MAX 8 aircraft orders can each be substituted for the other model of aircraft, or for B737 MAX 9 aircraft. In terms of deliveries, the first four MAX 8s are due this year followed by four more in 2018 when the first three MAX 9s are also due. The first two MAX 7s are scheduled to deliver in 2019.
March 2017
WesJet announced it will double its Houston service witht he addition of a second nonstop flight starting in May. WesJet first launched its first Houston flight in September 2015.
The new WestJet flight departs IAH for Calgary at 8 a.m. every day except Sundays, and the return flight leaves Calgary at 6:45 p.m. and arrives in Houston at 11:44 p.m. WestJet also will continue to operate its original flight — which arrives in Houston at 3:24 p.m. and departs for Calgary at 5 p.m. — six days per week.
In November 2016, WestJet announcd it had partnered with McDonald's Canada in a move that will see the restaurant's McCafé Premium Roast coffee available on board WestJet aircraft. The first flight, taking place on November 21, 2016, from Toronto to Calgary, represents a global-first for McDonald's and an unprecedented next step in the McCafé coffee journey, which in recent years has continued its emphasis on providing Canadians with A New Way to Café. In October 2016, WestJet announced today the airline will increase its capacity out of John C. Munro Hamilton International Airport by 40 per cent in 2017 with the return of non-stop service to Edmonton and Halifax and a new route to Winnipeg. Four-time weekly service to Edmonton returns January 16 until October 28. Daily service to Halifax returns January 16 until October 28. Three-time weekly service to Winnipeg, starts January 17 until October 26. By January 2017, WestJet will be offering 27 weekly departures to seven non-stop destinations out of Hamilton to meet increasing guest demand. In addition, WestJet is now Edmonton International Airport's largest air carrier with almost 75 per cent more seats than the next largest carrier. Overall, WestJet's guests in Edmonton have a total of 55 daily departures to 28 different WestJet destinations to choose from.
---
Route Map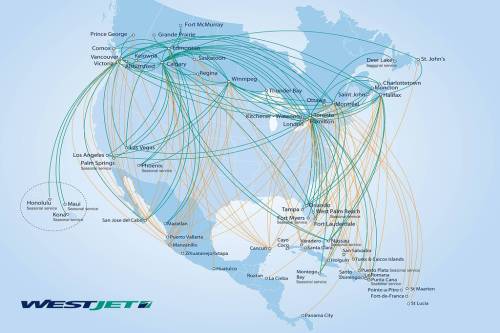 Popular Routes
Toronto

Halifax
Ottawa

Moncton
Toronto

Charlottetown
Sydney

Halifax
Toronto

St .John's
Calgary

Halifax

---
The Fleet
Boeing 737-600
Boeing 737-800
Boeing 737-700
Boeing 767-300ERW
---
Calgary International Airport
HUB Airport
Calgary International Airport is the international airport that serves Calgary, Alberta, Canada. Calgary International Airport acts as the hub airport for Air Canada West Jet, Flair Airlines, Air Canada Rouge and Air Canada Express. The airport has 4 runaways and can handle nearly 20 million passengers every year. Airlines which fly to and from Calgary International Airport include Air Canada, Air Canada Express, Air North, Air Transat, British Airways, Delta Airlines, KLM, Northern Air and many others.

---
---
Search and Buy Flights with WestJet
Make a WestJet reservation and find some amazing deals with discounted WestJet tickets at Alternative Airlines. WestJet flies to many destinations worldwide, offering a cost effective and safe service to all its passengers. Let Alternative Airlines help find you cheap WestJet tickets and make international and domestic flight reservations on WestJet today.
Browse the most popular WestJet flight routes to cities worldwide. Alternative Airlines can help you make reservations on WestJet for international flights to lots of destinations. Use the following list of routes to help you plan your next flight. Book WestJet flights on Alternative Airlines to save big! Alternative Airlines is an online travel agency, specialising in booking lesser known airlines and remote destinations.
---
About Alternative Airlines
Alternative Airlines is an online flight search complete with customer service specialising in booking flights on lesser known airlines and to remote destinations. We offer you a wider choice of airlines supported by a team of customer service and travel specialists for help and advice on your travel plans. We specialise in finding the best available fares on the widest range of airlines and making them available to you online, with prices in the currency of your choice.
Alternative Airlines handles all your travel arrangements and payments, complete with ticketed confirmation. We do not direct you to other websites or service providers. We help you through the process. This is what makes us Alternative Airlines.Check out our reviews: Alternative Airlines - Feefo Reviews
Browse for flights, find some amazing deals, make a reservation and pay in the currency of your choice today with Alternative Airlines. Let Alternative Airlines help find you the best prices and make international and domestic flight reservations with us today.
Join the Alternative Airlines Members Club and get £100.00 back on your 5th booking with Alternative Airlines. You will have insight to many benefits and exclusive deals on over 650 airlines. Click on the Members section on the Alternative Airlines website for more information and join today. We are open every day from 8am until 8pm (UK local time).
---
WestJet Chief Executive Officer (CEO) Gregg Saretsky has confirmed the Canadian budget carrier has applied to Transport Canada for designation to serve China.
Speaking to the Greater Vancouver Board of Trade last week, Saretsky said given the lengthy regulatory requirements that have to be met, he could not, as yet, confirm any dates or potential city pairs.

"We're looking east, west and south. We are entering into the century of the Asia Pacific region," he said. "Transport Canada will soon engage the Chinese delegation in Beijing."

At present, the only Canadian carrier to serve the Canada-China market is Air Canada which commands the lion's share of weekly seating capacity - 12,692 or 40.93% of the market. The ch-aviation capacity module shows that the remaining 59%, or 18,320 weekly seats, are shared among Chinese carriers including Air China, China Eastern Airlines, China Southern Airlines, Hainan Airlines, Sichuan Airlines, Xiamen Airlines, and Capital Airlines (China).

For its part, WestJet is a relatively recent entrant into the intercontinental market with its first transatlantic services starting in May last year. It currently serves London Gatwick, Dublin Int'l, and Glasgow Int'l in Europe from select points in Canada using a combination of B737NextGen and B767-300(ER) widebody capacity.

A recent order with Boeing (BOE, Chicago O'Hare) for ten firm B787-9s, the first three of which are due in 2019, gave the first inkling as to WestJet's expansion plans. In May, it mentioned that the B787-9's range of more than 14,000 kilometres would "give WestJet the ability to serve new destinations in Asia and South America, and to expand its service offerings into the European market."
Latest News:

WestJet are considering replacements for its four B767-300 aircraft as it explores more long-haul flights to Asia and South America!
WestJet are considering replacements for its four B767-300 aircraft as it explores more long-haul flights to Asia and South America!
Westjet Encore Wins FlightStats Award for Best On-time Performance
Westjet Encore Wins FlightStats Award for Best On-time Performance   Westjet Encore flights arrived on schedule over 90% of the time in 2015, the highest percentage among North America regional airlines, which earned FlightStats annual global on time performance award.
---
✂ WestJet Cuts Prices in a Competitive Market.
✂ WestJet Cuts Prices in a Competitive Market.
---
Westjet has upgraded its flights from Calgary and Edmonton to Hawaii.
Westjet has upgraded its flights from Calgary and Edmonton to Hawaii.
---
Westjet Achieves Over 30,000 Random Acts of Kindness
    Westjet Achieves Over 30,000 Random Acts of Kindness Everyone loves to give over the sessional period, but WestJet went that one step further by not only achieving it's goal of 12,000 random acts of kindness in 24 hours, but going that extra mile and achieving over 30,000, more than double the original target.
---
READ MORE ABOUT WESTJET
How to pay
You can pay for your flights with WestJet in the currency and payment method of your choice when booking through Alternative Airlines.
We accept PayPal making flight purchases with WestJet easy and more secure for customers. PayPal is one of the leading forms of online payment, with more than 169 million accounts worldwide.