Search and Buy Cheap WestJet Flights with Alternative Airlines
Make a Booking and Find Some Amazing Deals
---
About WestJet
WestJet Airlines is a Canadian low budget airline which operates scheduled and charter flights with long haul routes. The airline flies mainly from Calgary International Airport and Toronto Pearson International Airport to international destinations in Europe, North and Central America including the Caribbean and also domestic destinations in Canada. The airline's fleet is constantly updating and changing but currently consists of Boeing 767s.
WestJet was founded in 1996 as a low-cost airline competing with major players in the airline industry. Currently, the airline is the second-largest Canadian airline, after the national airline Air Canada.
The airline is the parent airline for WestJet Encore and Swoop.
---
WestJet Destinations
WestJet serves over 100 destinations in over 20 countries. The following tables summarise the current domestic and international destinations that WestJet currently serve.
Domestic Destinations
| CITY | AIRPORT | IATA |
| --- | --- | --- |
| Calgary | Calgary International Airport | YYC |
| Edmonton | Edmonton International Airport | YEG |
| Abbotsford | Abbotsford International Airport | YXX |
| Comox | CFB Comox | YQQ |
| Kelowna | Kelowna International Airport | YLW |
| Prince George | Prince George Airport | YXS |
| Vancouver | Vancouver International Airport | YVR |
| Victoria | Victoria International Airport | YYJ |
| Winnipeg | Winnipeg James Armstrong Richardson International Airport | YWG |
| Deer Lake/Corner Brook | Deer Lake Regional Airport | YDF |
| St. John's | St. John's International Airport | YYT |
| Halifax | Halifax Stanfield International Airport | YHZ |
| Sydney | Sydney/J.A. Douglas McCurdy Airport | YQY |
| Hamilton | John C. Munro Hamilton International Airport | YHM |
| Kitchener/Waterloo | Region of Waterloo International Airport | YKF |
| London | London International Airport | YXU |
| Ottawa | Ottawa Macdonald-Cartier International Airport | YOW |
| Toronto | Toronto Pearson International Airport | YYZ |
| Windsor | Windsor Airport | YQG |
| Charlottetown | Charlottetown Airport | YYG |
| Montreal | Montréal-Pierre Elliott Trudeau International Airport | YUL |
| Quebec City | Québec City Jean Lesage International Airport | YQB |
| Regina | Regina International Airport | YQR |
| Saskatoon | Saskatoon John G. Diefenbaker International Airport | YXE |
| Whitehorse | Erik Nielsen Whitehorse International Airport | YXY |
International Destinations
| COUNTRY | CITY | AIRPORT | IATA |
| --- | --- | --- | --- |
| Antigua and Barbuda | St. John's | V. C. Bird International Airport | ANU |
| Aruba | Oranjestad | Queen Beatrix International Airport | AUA |
| Bahamas | Nassau | Lynden Pindling International Airport | NAS |
| Barbados | Bridgetown | Grantley Adams International Airport | BGI |
| Belize | Belize City | Philip S. W. Goldson International Airport | BZE |
| Bermuda | Hamilton | L.F. Wade International Airport | BDA |
| Cayman Islands | George Town | Owen Roberts International Airport | GCM |
| Costa Rica | Liberia | Daniel Oduber Quirós International Airport | LIR |
| Costa Rica | San José | Juan Santamaría International Airport | SJO |
| Cuba | Cayo Coco | Jardines del Rey Airport | CCC |
| Cuba | Holguín | Frank País Airport | HOG |
| Cuba | Santa Clara | Abel Santamaría Airport | SNU |
| Cuba | Varadero | Juan Gualberto Gómez Airport | VRA |
| Curaçao | Willemstad | Hato International Airport | CUR |
| Dominican Republic | Puerto Plata | Gregorio Luperón International Airport | POP |
| Dominican Republic | Punta Cana | Punta Cana International Airport | PUJ |
| Dominican Republic | Samaná | Samaná El Catey International Airport | AZS |
| France | Paris | Charles de Gaulle Airport | CDG |
| Honduras | Roatán | Juan Manuel Gálvez International Airport | RTB |
| Ireland | Dublin | Dublin Airport | DUB |
| Italy | Rome | Leonardo da Vinci–Fiumicino Airport | FCO |
| Jamaica | Kingston | Norman Manley International Airport | KIN |
| Jamaica | Montego Bay | Sangster International Airport | MBJ |
| Mexico | Loreto | Loreto International Airport | LTO |
| Mexico | San José del Cabo | Los Cabos International Airport | SJD |
| Mexico | Manzanillo | Playa de Oro International Airport | ZLO |
| Mexico | Ixtapa/Zihuatanejo | Ixtapa-Zihuatanejo International Airport | ZIH |
| Mexico | Puerto Vallarta | Lic. Gustavo Díaz Ordaz International Airport | PVR |
| Mexico | Huatulco | Bahías de Huatulco International Airport | HUX |
| Mexico | Cancun | Cancun International Airport | CUN |
| Mexico | Cozumel | Cozumel International Airport | CZM |
| Mexico | Mazatlan | General Rafael Buelna International Airport | MZT |
| Mexico | Mérida | Manuel Crescencio Rejón International Airport | MID |
| Puerto Rico | San Juan | Luis Muñoz Marín International Airport | SJU |
| Saint Lucia | Vieux Fort | Hewanorra International Airport | UVF |
| Sint Maarten | Philipsburg | Princess Juliana International Airport | SXM |
| Spain | Barcelona | Barcelona–El Prat Airport | BCN |
| Trinidad and Tobago | Port of Spain | Piarco International Airport | POS |
| Turks and Caicos Islands | Providenciales | Providenciales International Airport | PLS |
| United Kingdom | Glasgow | Glasgow Airport | GLA |
| United Kingdom | London | Gatwick Airport | LGW |
| United States | Phoenix | Phoenix Sky Harbor International Airport | PHX |
| United States | Mesa | Phoenix–Mesa Gateway Airport | AZA |
| United States | Los Angeles | Los Angeles International Airport | LAX |
| United States | Orange County/Anaheim | John Wayne Airport | SNA |
| United States | Palm Springs | Palm Springs International Airport | PSP |
| United States | San Diego | San Diego International Airport | SAN |
| United States | San Francisco | San Francisco International Airport | SFO |
| United States | Denver | Denver International Airport | DEN |
| United States | Fort Lauderdale | Fort Lauderdale–Hollywood International Airport | FLL |
| United States | Fort Myers | Southwest Florida International Airport | RSW |
| United States | Miami | Miami International Airport | MIA |
| United States | Orlando | Orlando International Airport | MCO |
| United States | Tampa | Tampa International Airport | TPA |
| United States | Atlanta | Hartsfield–Jackson Atlanta International Airport | ATL |
| United States | Honolulu | Daniel K. Inouye International Airport | HNL |
| United States | Kahului/Maui | Kahului Airport | OGG |
| United States | Kona | Kona International Airport | KOA |
| United States | Lihue | Lihue Airport | LIH |
| United States | Las Vegas | McCarran International Airport | LAS |
| United States | New York City | John F. Kennedy International Airport | JFK |
| United States | New York City | LaGuardia Airport | LGA |
| United States | Nashville | Nashville International Airport | BNA |
| United States | Austin | Austin-Bergstrom International Airport | AUS |
| United States | Houston | George Bush Intercontinental Airport | IAH |
---
Payment Plans for WestJet Flights
Spread the cost of WestJet flights into 4 installments over 6 weeks with Sezzle. Longer term instalments over 6 or 12-month instalments can be done using PayBright at checkout. This helps make the cost of your WestJet flights more manageable by providing a finance option where you can pay in instalments. PayBright is a Canadian payment option which is only available to Canadian residents. Read more and discover how to use PayBright here, or read about our other payment and finance options here.
---
Route Map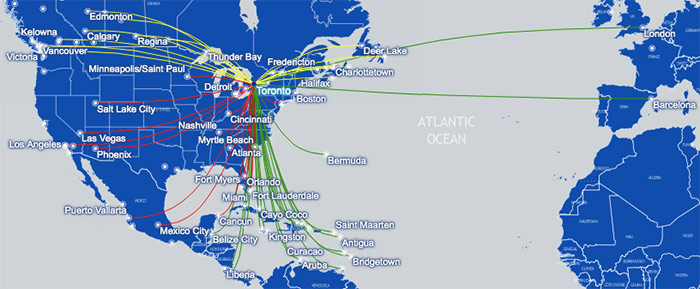 ---
WestJet Baggage
Carry-on Baggage
Each passenger is allowed one piece of free carry-on luggage and one personal item in total.
The carry-on luggage must be within the following dimensions: 53 x 23 x 38cm.
The personal item must be within the following dimensions: 41 x 15 x 33cm.
Checked Baggage
Any item of checked baggage must be no more than 23 kilograms, or 50 pounds in weight, and have dimensions within 157 total centimetres or 62 total inches.
The amount of free baggage you get included on in your fare is dependent on the ticket type you have purchased:
A basic, Econo or Member Exclusive get no free checked baggage in their flight
A EconoFlex ticket holder is intitled to 1 free checked bag
A passenger with a Premium or Business ticket are permitted 2 x free checked bags.
---
WestJet Class Information
Economy Class
Economy Class is the most basic cabin class that the airline offers.
Economy Class Facilities
Economy Class passengers flying domestic and short-haul international flights are given a complimentary snack and drink, while passengers on long-haul flights are given a complimentary meal and drinks.
Passengers seats are also fitted with a personal monitor in which passengers can access the airline's inflight entertainment system. However, this might not be available on certain short-haul and domestic flights.
What are Economy Class Seats Like?
Economy Class seats are comfortable with ample room for each passenger. The formation of the seats differs from aircraft to aircraft but is generally in a 2 x 2 or 3 x 3 formation on short-haul flights and 2 x 3 x 2 or 3 x 3 x 3 formation for long-haul flights.
Premium Economy
Premium Economy gives passengers the full Economy experience but with more comfort and some added extras.
Premium Economy Class Facilities
Premium Economy gives passengers priority boarding and check-in, as well as an additional baggage allowance. Each passenger on Premium Economy is treated a little more attentively, from the welcome glass of champagne they receive onboard to the special amenity kit.
Most Premium Economy seats are fitted with a personal monitor in which passengers can access Westjet's inflight entertainment portal, which has a range of TV shows, films and games to enjoy. For flights that don't have monitors fitted, passengers can still connect to the airline's inflight entertainment system via their own personal electronic device.
What Are Premium Economy Seats Like?
Premium Economy seats are designed to give passengers extra space and more comfort. All Premium Economy seats are set out in either a 2 x 2, 2 x 2 x 2, or 2 x 3 x 2 formation.
Business Class
Business Class is the most upscale cabin class and is available exclusively on the Boeing 787 Dreamliner.
Business Class Facilities
Business Class passengers can dine at any time with a choice of the airline's impressive inflight menu. Welcome drinks are received as soon as you arrive on board and the airline has a fantastic selection of Canadian and international wines.
Each passenger is given a Business Class amenity kit, access to the airline's lounge, priority check-in and boarding, as well as a bigger baggage allowance.
Each seat is fitted with a personal touch-screen monitor, which passengers can access the airline's inflight entertainment system through. The inflight entertainment system has a wide selection of television shows, movies and video games appropriate for all ages. Passengers are given noise-cancelling headphones so that they can enjoy the entertainment without interruption.
What Are Business Class Seats Like?
Business Class seats are within private pods, with a closable screen for extra privacy. Each seat transforms into a lie-flat bed, with blankets and pillows within each pod. Each seat has an overall seat pitch of 46 inches is 22 inches wide.
Each pod has an AC power outlet and USB port so that passengers can charge and power their electronic devices.
First Class
The airline doesn't have a First Class cabin.
---
WestJet In-Flight Entertainment
Passengers can download the WestJet app for free in order to stream hours of entertaining content directly from their phone, laptop or tablet. Flights not equipped with this system will be equipped with in-flight entertainment screens built into the back of the aircraft's seats.
Movies
The airline offers movies for all the family, from animated family movies to exciting new releases. The movie selection is frequently updated to keep you entertained on board your flight.
TV
The airline's selection of TV shows offers something for passenger's of all tastes and ages. Find sitcoms, cartoons and engaging documentaries onboard your flight.
---
Food
Meal Options
For Economy flights not on the Boeing 787, passengers are given a complimentary sweet or savoury snack, and can purchase any additional items from the onboard menu. Hot meals will be available for purchase on selected services, and passengers on flights longer than 2.5 hours can pre-purchase items from the menu up to 48 hours before travelling. For economy passengers on long-haul flights, passengers are offered complimentary food from the onboard menu which can be found online.
Passengers travelling in the premium cabin, for flights from 1 to 2.5 hours, passengers can enjoy a selection of sweet and savoury snacks. Flights over 2.5 hours can enjoy meals exclusive to the premium menu, which is included in their premium fare.
Enjoy Westjet's Canadian-landscape inspired menu in Business class, with a choice of salads, mains and desserts available at any time for your convenience.
Special Dietary Requirements
The airline provides a selection of eight special meals which can be arranged by calling the airline call centre up to 24 hours in advance. The meals available are:
Child meal
Diabetic meal
Hindu-meal (Non-vegetarian) meal
Muslim meal
Non-Lactose meal
Vegan meal
Drinks & Alcohol
Economy passengers are given complimentary soft drinks, tea and coffee. Additional beverages including beer, wine and spirits can be purchased on board.
Premium and Business Class passengers will enjoy a selection of beverages which is included in their fare. This includes alcoholic drinks such as wine, beer and spirits, but also hot and cold non-alcoholic drinks.
In addition, passengers in business class are offered a welcome drink of champagne.
---
WiFi
WestJet offer paid inflight WiFi on board most of their flights. This is available once the plane hits cruise altitude, and is found via the WestJet Connect app. You will need to download the WestJet Connect app on your personal device before you board the plane, or you will not be able to download it and use once in flight.
The internet can only be used for browsing the web, email services and scrolling through social media. You will not be able to stream videos such as Netlfix.
---
Check-In Information
- Online Check-in
Passengers can choose to check themselves in via the online check-in service. This is available between 24 hours and 60 minutes before your flight is due to depart, or until 45 minutes before your flight for domestic flights.
- Airport Check-in
You can use the self-serve kiosks at the airport to check-in up to 24 hours before your flight.
If you'd prefer to check-in with the airport staff, you can do this from 3 hours to 60 minutes before your flight by visiting the WestJet check-in counter.
---
WestJet Frequent Flyer
The airline operates a frequent flyer program called WestJet Rewards to reward regular passengers with the airline. There are currently three tiers of membership; Teal, Silver and Gold.
Members can earn miles and then free checked bags, companion flights and airport lounge vouchers. To earn WestJet dollars, passengers will need to provide your WestJet Rewards ID when booking flights, Vacations Packages, or book car rentals and hotels online.
---
Airline Alliance
WestJet is not currently part of any official airline alliance, however, it has several interline agreements with airlines including Transaero Airlines, United Airlines, US Airways, Virgin Australia, LAN Airlines, Pakistan International Airlines, Fiji Airways, Condor, and Dragonair.
---
Special Services
Travelling with a Family
Passengers who are travelling as a family will be able to get priority boarding when travelling with young children. In addition, you will be able to select your seats for children under 13 so that you can be seated close to your family for no extra cost. In addition, passengers will not be charged to store strollers and car seats. Finally, the great inflight entertainment system of WestJet means that kids are kept busy with the great entertainment for all ages.
Travelling with a wheelchair
Passengers can request special assistance at the airport by contacting the airline directly 48 hours before flying and arranging this. There are three different types of assistance, ranging from step access, carry-on access or no-step access.
Special service animals
Passengers are permitted to bring with them an assistance dog, emotional support dog, service animal or psychiatric service dog free of charge. This is dependent on contacting the airline before booking your flight, to ensure that you fit the necessary requirements to be allowed the animal onboard.
---
Book WestJet flights in English
Here at Alternative Airlines, we offer our customers the opportunity to book flights in English in order to have the easiest booking process possible. Use Alternative Airlines to reserve your Westjet flights in English and make the most of paring your way with our various payment options.
---
Seat Selection
Whether you want extra leg-room or a seat by the window, choosing your preferred seat can really enhance your in-flight experience. Alternative Airlines allows you to see seat availability and choose the seat that you want before your flight. Book WestJet flights with Alternative Airlines and choose your seat so that you're not disappointed with the seat that you're allocated! Find out how to book your seat here.
---
Book Westjet Flights on Finance
Spread the cost of your Westjet flights when you book with Alternative Airlines. We offer some great financing options from a range of Buy Now, Pay Later partners, allowing you to break the cost of your flights into manageable instalments. Please visit our dedicated Westjet Tickets — Fly Now Pay Later page for more details.
---
Fleet
The airline operates an all-Boeing fleet, which is common for low-cost carriers. The airline currently has over 120 aircraft in its fleet, with an additional 50 on order. The table below summarises the current fleet, which is correct of December 2019.
| AIRCRAFT | IN SERVICE |
| --- | --- |
| Boeing 737-600 | 13 |
| Boeing 737-700 | 52 |
| Boeing 737-800 | 39 |
| Boeing 737 MAX 7 | / |
| Boeing 737 MAX 8 | 13 |
| Boeing 737 MAX 10 | / |
| Boeing 767-300ER | 4 |
| Boeing 787-9 | 3 |
---
Hub Airport
Calgary International Airport
Calgary International Airport is an international airport that serves Calgary, Alberta, Canada. Calgary International Airport acts as the hub airport for Air Canada West Jet, Flair Airlines, Air Canada Rouge and Air Canada Express. The airport has 4 runways and can handle nearly 20 million passengers every year. Airlines which fly to and from Calgary International Airport include Air Canada, Air Canada Express, Air North, Air Transat, British Airways, Delta Airlines, KLM, Northern Air, Sunwing Airlines and many others.
---
Alternative Airlines
Please click on the logos below to find out more about airlines that fly similar routes to WestJet:
---
FAQ's
Where does WestJet fly?
WestJet is a Canadian-born airline that sells flights to the Caribbean, Central America, Europe, Mexico and the United States, in total, it flies to over 100 destinations. Within these regions, there are plenty of hot spots worth a visit, check out our blog on 5 of the cheapest places in the Caribbean and get some inspiration.
How do I contact WestJet customer service?
Alternative Airlines are always on hand to answer any queries or questions, either fill out one of our contact forms or our customer service team will provide you with tailored advice through 'Manage my Booking'.
Alternatively, WestJet offers its customers 24/7 social media support, simply send them a message on its Facebook or Twitter and await a reply.
When contacting the WestJet customer service team via telephone, the international phone numbers are listed on the airline's website under 'Contact Us'.
How much is seat selection on WestJet?
Alternative Airlines offer seat selection for WestJet flights once the flight times have been chosen. There is a seat map available to make choosing your seats even easier.
Across the 4 different seat fares (Basic, Econo, EconoFlex and Premium/Business) the price per seat ranges anywhere from 5-236 CAD.