Search & Buy Pakistan International Airlines Flights
Let's fly!

Select your payment method to view total prices including any payment fees:
Flying with children
Airlines will always try to sit children with their parents (subject to check-in)
Some airlines will allow travel for unaccompanied minors. Please email us to check.
More detailed information can be found here Travelling with children

Buy
Pakistan International Airlines

Flights

Pakistan International Airlines (PIA) Reservations with Alternative Airlines
Make a PIA Booking and Find Some Amazing Deals
---
About Pakistan International Airlines
Pakistan International Airlines (PIA) is the national airline of Pakistan and operates both domestic and international flights. The airline's hub airport is at Jinnah International Airport in Karachi and has codeshare agreements with China Southern Airlines, Etihad Airways, Thai Airways International and Turkish Airlines. The airline operates scheduled services to 29 international destinations in 25 countries across Asia, Europe and North America. Its main bases are Karachi, Lahore and Islamabad/Rawalpindi. PIA's vast network spans the globe. PIA, the flag carrier of Pakistan, is a host of famous international destinations.
PIA flies to many destinations including Kabul, Bahrain, Dhaka, Toronto, Beijing, Copenhagen, Paris, Delhi, Milan, Mumbai, Tokyo, Kuwait City, Kuala Lumpur, Quetta, Turbat, Zhob, Gilgit, Skardu, Chirtral and many others. Domestic destinations that Pakistan International Airlines fly to include Bahawalpur, Chitral, Dadu, Dalbandin, Dera Ghazi Khan, Faisalabad, Gilgit, Gwadar, Kadanwari, Karachi, Lahore, Islamabad, Peshawar, Quetta, Rahim Yar Khan, Skardu, Sialkot, Sawan, Sukkur, Turbat, Zamzama and Zhob.
Pakistan International Airlines' fleet consists of A320s, A310s, ATR 42 and 72s and B777s.
---

Pakistan International Airline Hub Airport
Jinnah International Airport
Jinnah International Airport is the main hub airport for Pakistan International Airport. It is the busiest international and domestic airport in Pakistan and is named after Muhammed Ali Jinnah, the founder of Pakistan. The Pakistani airport has two runways which handle 15 flights per hour.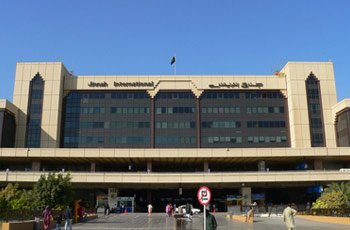 Photo credit: Waqas.usman
---
Pakistan International Airlines Baggage Allowance
Carry-on Baggage
The PIA baggage allowance for passengers flying in Economy Class and Economy Plus to bring one item of carry-on baggage with them on the plane. This baggage must not weigh more than 7kg and be no bigger than 115cm overall.
Checked Baggage
For domestic flights, the baggage allowance is one piece of luggage weighing no more than 20kg per passenger and for Business Plus, two pieces per passenger with a total weight of two pieces not exceeding 30kg. Excess Baggage will be per piece instead of per kg and additional piece up to 28 Kg will be charged at a flat rate regardless of the sector. The free baggage allowance will be two pieces of 28kg each for Economy Cabin and 32kg for Business Cabin (For the USA and Canada Only).
---
Pakistan International Airlines Check-In Information
Online Check-In
PIA passengers wanting to check-in online can do so through the Pakistan International Airlines web check-in page and entering your PNR or booking reference and your surname. Web check-in is available from 24 hours before your flight up until six hours before. This is only for flights travelling between Islamabad, Karachi and Lahore.
Airport Check-In
For passengers wishing to check in at the airport instead of online, or for passengers travelling a route that is not yet available for online check-in, they must report at the airport check-in desks. PIA recommends that passengers travelling domestically within Pakistan should arrive at the airport 2 hours before flights. For international flights, they recommend passengers arrive 4 hours before their scheduled flight arrival time.
---
Alternative Airlines to Pakistan International Airlines
Please click on the logos below to find out more about airlines that fly similar routes to Pakistan International Airlines:
---
Pakistan International Airlines Route Map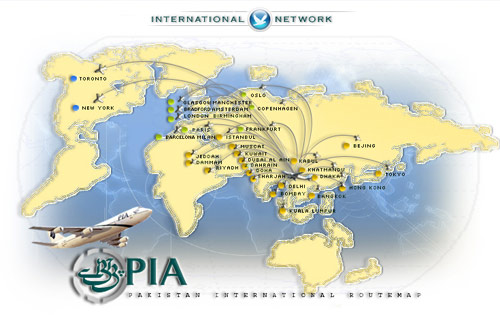 Pakistan International Airlines Popular Routes
Karachi

Turbat
Quetta

Karachi
Tokyo

Karachi
Karachi

Kuwait City
Mumbai

Karachi
Karachi

Zhob

---
Pakistan International Airlines Fleet
Airbus A310-300
ATR 72-500
Airbus A320-200
Boeing 777-200
ATR 42-500
Boeing 777-300ER
---
Buy Discounted PIA Tickets at Alternative Airlines
---
Pakistan International Airlines News
22nd May 2018
Pakistan International Airlines increases frequency of flights between Islamabad—Manchester
Pakistan International Airlines will fly between Islamabad International Airport (ISB) and Manchester Airport (MAN) seven times a week, starting from 2nd July 2018. The airline flew the same route on a variation of 5—6 times a week from July to October last year.
The service has an expected flight duration of 8 hours and 20 minutes and will carry passengers on either a 777-200ER or a 777-200LR aircraft.
28th February 2018
PIA keeps a stable 2017
Karachi is still the leading hub for Pakistan International airlines, and it's reported that the biggest market in the international community ins Saudi Arabia.A review of the past 10 years reveals several peaks and troughs in PIA's capacity. There were three years of consecutive growth between 2008 and 2011 which resulted in two-way seat numbers peaking at 8.9 million in 2011. There then followed three years of double-digit cuts which saw seat numbers fall to a low of 5.8 million in 2014, representing a 34% reduction in capacity versus the levels of 2011. PIA's annual reports for 2012 and 2013 explain a number of challenges the corporation faced during this period of cuts, including delays in new aircraft acquisitions to replace ageing types, economic challenges, prevailing law and order conditions in Pakistan, plus increasing competition. From 2015 onwards, the airline began adding capacity once again, with the strongest year-on-year increase taking place in 2016. From 2014 to 2017 two-way capacity had increased by 34%, although seat numbers remained static last year when looked against 2016, growing by a marginal 0.2%.
15th January 2018
Pakistan looks to privatise national airline
A source within the Pakistani government has suggested that the country will attempt to privatise Pakistan International Airlines (PIA) before the parliamentary elections later this year. The airline has been losing money to its well-capitalised competitors such as Etihad and Emirates. An attempt to privatise PIA in 2016 was stalled by staff protests but the new Privatisation Commission has drawn up new plans for the sale. There has been some interest in acquiring PIA by the previously mentioned rivals.
19th September 2017
PIA resumes flights to Bangkok, will use A320s
In its bid to increase revenue and expand clientele, Pakistan International Airlines (PIA) has resumed flights to Bangkok, marking the city as its 50th destination in the world.
"PIA's flight operation to Bangkok, [Thailand] from Karachi has commenced. The first flight PK 890 left for Bangkok from Jinnah International Airport, Karachi early Saturday morning," the national carrier said in a press release on Saturday. This is the second international destination the state-owned airline has added in a short span of one week. PIA commenced operations to Najaf, Iraq on Thursday. PIA did have Bangkok as a destination, but shortage of aircraft and ever-accumulating debt deterred it from keeping the city on its list.
September 2017
New PIA CEO to draw up revival plan by mid-Oct
The airlines said it would operate three direct flights to each of the new international destinations every week. Passages from major cities of Pakistan would be facilitated to travel to Karachi to catch the international connecting flight.
"PIA will operate the A320 aircraft for direct flights … between Karachi and Bangkok with convenient connections from major cities of Pakistan," it said in the statement."Flights to Bangkok make the total destinations on PIA's network to 50."A simple ceremony was held at the Jinnah International Airport Karachi where PIA senior officials greeted the passengers before departure of the flight for Bangkok.
September 2017
Pakistan International Airlines announces plans to increase profitable routes
Advisor to Prime Minister on Aviation, Sardar Mehtab Ahmed Khan at a ceremony organized at the Pakistan International Airlines (PIA) head office on the induction of 25 Cadet Pilots who will start duties on ATR aircraft soon. Sharing his views on the occasion, the advisor pointed out that the entire process of induction was done in a transparent manner.
The individuals had to go through entry test conducted by NTS, written examination and rigorous training, he said. The advisor congratulated the trainee pilots for becoming a part of PIA family and said that the induction of pilots is an ongoing process as pilots are retiring and PIA needs to induct fresh blood in its human resource. He said that PIA also has plans to induct more aircraft in its fleet and is trying its utmost to revive the less profitable routes with better planning including increase of frequency on profitable routes.
Sardar Mehtab said that the A-310 aircraft parked in Leipzig, Germany, is still a PIA property and the issue will be resolved upon completion of legal formalities including completion of enquiry being conducted by FIA. He said we are looking for a joint venture in the Technical Ground Support department of PIA for its betterment.
August 2017
Pakistan International Airlines increases frequency of Salalah-Karachi flights
Pakistan International Airlines (PIA) will fly four times a week to Karachi from Salalah, the Public Authority for Civil Aviation (PACA), Sultanate of Oman, announced on Wednesday. Shahzad Paracha, country manager of PIA Oman, said they will be starting four flights a week from September 4. "These flights will operate on Sunday, Monday, Thursday and Friday from Salalah," he said.
Paracha, however, clarified that PIA will stop operating direct flights to Islamabad, Lahore and Sialkot from Salalah. "Instead of flying to all these places, we will fly to Karachi and then passengers can fly to different parts of Pakistan." He also said that this will benefit Pakistani and Bangladeshi nationals, who stay in the Dhofar governorate.