Pakistan International Airlines (PIA) Reservations
Make a Booking and Find Some Amazing Deals
---
About Pakistan International Airlines
Pakistan International Airlines (PIA) is the national airline of Pakistan and operates both international and domestic flights. The airline's main hub bases are in Karachi, Lahore and Islamabad/Rawalpindi and it's primary hub airport is at Jinnah International Airport (KHI) in Karachi. It has codeshare agreements with China Southern Airlines, Thai Airways International and Turkish Airlines.
PIA was founded on October 1946 originally as Orient Airways, based in Calcutta in India later moving operations in 1947 to the newly independent state of Pakistan. It became a national carrier for Pakistan and merged with another airline in 1955, and which made PIA come into existence. The airline was is known for many things including being the first non-communist airline to fly to China and first-ever Asian airline to purchase jet aircraft by inducting a Boeing 707. The national carrier was the first airline ever to land in Norway.
PIA owns the honour of bringing into existence inflight entertainment system in the airline. The national carrier was first and the only airline of the world to purchase at the same time B-777-200LR, B-777-200ER and B-777-300. The airline also reached a state when every 30 seconds, its aircraft landed or departed from a location in the world and which it now operates nearly 100 flights a day. Pakistan International Airlines is known for giving pilot and cabin crew training to the employees of the world's top-ranked airlines with the likes of Emirates, Qatar Airways, Air Malta and Flydubai. PIA also leased its aircraft to Emirates in the earlier parts of their existence.
Did you know that when you book your Pakistan International Airlines flights through Alternative Airlines you can choose to pay using Pakistani Rupee? It's one of the 160 currencies that you choose from!
---
Pakistan International Airlines Destinations
As of October 2022, PIA flies to over 20 domestic and over 25 international destinations in 16 countries across Asia, the Middle East, Europe and North America. Jeddah is a major focus city for the airline where majority passengers fly from Islamabad, Karachi, Lahore, Peshawar, Faisalabad, Multan and Sialkot for Hajj and Umrah packages.
International Destinations
| Country | City | Airport |
| --- | --- | --- |
| Afghanistan | Kabul | Hamid Karzai International Airport (KBL) |
| Canada | Toronto | Toronto Pearson International Airport (YYZ) |
| China | Beijing | Beijing Capital International Airport (PEK) |
| Denmark | Copenhagen | Copenhagen Airport (CPH) |
| France | Paris | Charles de Gaulle Airport (CDG) |
| Italy | Milan | Milan Malpensa Airport (MXP) |
| Japan | Tokyo | Narita International Airport (NRT) |
| Kuwait | Kuwait City | Kuwait International Airport (KWI) |
| Malaysia | Kuala Lumpur | Kuala Lumpur International Airport (KUL) |
| Norway | Oslo | Oslo Gardermoen Airport (OSL) |
| Oman | Muscat | Muscat International Airport (MCT) |
| Qatar | Doha | Hamad International Airport (DOH) |
| Saudi Arabia | Dammam | King Fahd International Airport (DMM) |
| Saudi Arabia | Jeddah | King Abdulaziz International Airport (JED) |
| Saudi Arabia | Medina | Prince Mohammad bin Abdulaziz International Airport (MED) |
| Saudi Arabia | Riyadh | King Khalid International Airport (RUH) |
| Spain | Barcelona | Barcelona–El Prat Airport (BCN) |
| Thailand | Bangkok | Suvarnabhumi Airport (BKK) |
| United Arab Emirates | Abu Dhabi | Abu Dhabi International Airport (AUH) |
| United Arab Emirates | Al Ain | Al Ain International Airport (AAN) |
| United Arab Emirates | Dubai | Dubai International Airport (DXB) |
| United Arab Emirates | Sharjah | Sharjah International Airport (SHJ) |
| United Kingdom | Birmingham | Birmingham Airport (BHX) |
| United Kingdom | London | London Heathrow International Airport (LHR) |
| United Kingdom | Manchester | Manchester Airport (MAN) |
Domestic Destinations
Our domestic flights to Pakistan page will give you a breakdown on how to go about travelling within Pakistan with some great tips and FAQ's. PIA flies to all major cities, as well as numerous smaller airports, across Pakistan. :
| Province/Region | Airport |
| --- | --- |
| Bahawalpur | Bahawalpur Airport (BHV) |
| Chitral | Chitral Airport (CJL) |
| Dalbandin | Dalbandin Airport (DBA) |
| Dera Ghazi Khan | Dera Ghazi Khan International Airport (DEA) |
| Faisalabad | Faisalabad International Airport (LYP) |
| Gilgit | Gilgit Airport (GIL) |
| Gwadar | Gwadar International Airport (GWD) |
| Islamabad | Islamabad International Airport (ISB) (HUB) |
| Jinnah | Jinnah International Airport (KHI) (HUB) |
| Lahore | Allama Iqbal International Airport (LHE) (HUB) |
| Multan | Multan International Airport (MUX) |
| Panjgir | Panjgur Airport (PJG) |
| Peshawar | Bacha Khan International Airport (PEW) (Focus City) |
| Quetta | Quetta International Airport (UET) |
| Rahim Yar Khan | Shaikh Zayed International Airport (RYK) |
| Sialkot | Sialkot International Airport (SKT) |
| Skardu | Skardu Airport (KDU) |
| Sukkur | Sukkur Airport (SKZ) |
| Turbat | Turbat International Airport (TUK) |
---
Baggage Allowance
Carry-on Baggage
The PIA baggage allowance for passengers flying in Economy Class and Economy Plus to bring one item of carry-on baggage with them on the plane. For both domestic and international flights the baggage must not weigh more than 7kg and be no bigger than 115cm overall or should have dimensions of 38cm length x 22cm width x 55cm height. Business-class passengers baggage must not weigh more than 12kg and one small briefcase weighing no more than 5kg.
Checked Baggage
For domestic flights, the baggage allowance is one piece of luggage weighing no more than 20kg per passenger and for Business Plus, two pieces per passenger with a total weight of two pieces not exceeding 30kg. Excess Baggage will be per piece instead of per kg and additional piece up to 28kg will be charged at a flat rate regardless of the sector. The free baggage allowance will be two pieces of 28kg each for Economy Cabin and 32kg for Business Cabin (For the USA and Canada Only).
Excess Baggage
As of 1st April 2022, PIA announced their increased charges for excess baggage. For baggage over the allowance of 20kg, passengers will be subject to a charge of Rs.250 per kg over 20kg.
---
Check-In Information
Online Check-In
PIA passengers wanting to check-in online should see the Pakistan International Airlines web check-in page and then entering their PNR or booking reference and your surname. Web check-in is available from 24 hours before your flight up until six hours before. This is only for flights travelling between Islamabad, Karachi and Lahore.
Airport Check-In
For passengers wishing to check-in at the airport instead of online, or for passengers travelling a route that is not yet available for online check-in, they must report at the airport check-in desks. PIA recommends that passengers travelling domestically within Pakistan should arrive at the airport 2 hours before flights. For international flights, they recommend passengers arrive 4 hours before their scheduled flight arrival time.
---
Economy Class
The airline's Economy class offers an affordable fare, giving you the flexibility to decide which extras you need onboard.
Economy Facilities
Passengers on long-haul flights will be served a complimentary meal by the airline's expertly trained staff. The in-flight menu is made up of a range of Pakistani and international dishes. Typical lunch and dinner options include mutton curry served with rice, almonds, and raisins or Italian fettuccini pasta. In between meals, PIA serves snacks such as chicken kebabs, club sandwiches, mango charlottes, and BBQ chicken boti as well as a selection of hot and cold drinks. All PIA's meals served on-board are Halal.
PIA's In-flight entertainment system means you can relax and pass the time by watching movies and listening to music onboard the flight. Passengers can stay connected with their emails and contact through WiFi onboard.
What are PIA Economy seats like?
With PIA's basic fare, passengers can recline in the airline's original seating. The seat pitch is 32 inches and the seat width is 17 inches.
---
Premium Economy Class
Premium Economy Facilities
The airline's new Executive Economy class is available from anywhere in Pakistan to Manchester, Birmingham and Kuala Lumpur. Passengers will be able to check a larger quantity of baggage as well as gaining access to dedicated check-in counters.
What are Premium Economy seats like?
Once on board passengers will be able to stretch out in comfort with extra leg space as well as adjustable seating. You'll also dine in style with a delicious gourmet meal. The seat pitch is 49 inches and the seat has a width of 23 inches.
---
Business Class
Business Class Facilities
Those travelling from Karachi, Lahore and Islamabad are able to enjoy the privileges of the airline's exclusive porter service who are able to assist you at PIA's Business Plus check-in counters. Passengers will enjoy a cosy and serene atmosphere at any of the airline's Business Class lounges. Choose from a range of snacks or entertainment services in a modern and comfortable lounge where you can unwind before your flight.
PIA provides wheelchair/ambulifter facility to those old, aged, sick and disabled passengers who require special individual attention during ground handling at airports, on embarking/disembarking. Such passengers are required to furnish a Medical Information Form (MEDIF).
What are Business Class seats like?
Sit back and relax with maximum legroom in a more spacious seating with a generous amount of room to recline to.
---
First Class
The airline is yet to offer a first class service on its flights.
First Class Facilities
The airline is yet to offer First Class services, however, the Business Class offers passengers greater flexibility and comfort on board.
What are First Class seats like?
Although the airline is yet to offer a First Class service, the airline's Business Class seats offer generous legroom and pith so that you can get the sleep you need. The seat pitch is 90 inches and the width is 30 inches
---
Special Services
PIA offers a number of special services to its passengers. Please see below the following services it offers:
Wheelchairs
All of PIA's aircraft are equipped with on-board wheelchairs to assist passengers with mobility issues in moving throughout the cabin and the cabin crew can offer you with assistance moving within the aircraft cabin such as using the lavatory. If you require wheelchair assistance at the airport, you must inform PIA of this at the time of the booking. You can request this service by getting through to the airline's offices; or the Alternative Airlines customer service team if you have booked through our website. For more information on this please see our wheelchair assistance page.
Seating accommodation and aircraft accessibility for passengers with a disability
The airline provides priority seating for passengers with a disability and will do their utmost best to find you a suitable seat that is suited to your needs.
Walking sticks/canes, crutches and walking frames
Walking canes, frames, and crutches can be taken on the airline, provided they are put away in accordance with cabin safety requirements.
---
Frequent Flyer Program
PIA Awards Plus+ is the frequent flyer program. This program allows frequent flyers to get free tickets, excess baggage discounts, class upgrades, and a variety of rewards, special deals, and discounts. PIA Awards Plus+ has three tiers of membership – Emerald, Sapphire, and Diamond. Awards Plus+ miles can be gained by flying PIA and by purchasing and using the products and services of PIA's partners.
---
The Fleet
Pakistan International Airlines' fleet consists of more than 30 aircraft including A320s, ATR 42 and 72s and B777s.
As of 2022, Pakistan International Airlines consists of over 30 aircrafts:
| NUMBER IN OPERATION | AIRCRAFT TYPE | NUMBER OF PASSENGER SEATS |
| --- | --- | --- |
| 11 | Airbus A320-200 | 132 (162 x Economy and 8 x Business) |
| 4 | ATR 42-500 | 70 |
| 5 | ATR 72-500 | 48 |
| 6 | Boeing 777-200ER | 70 |
| 2 | Boeing 777-200LR | 310 (275 x Economy and 35 x Business) |
| 4 | Boeing 777-300ER | 442 (384 x Economy, 40 x Premium Economy and 18 x Business) |
---
Route Map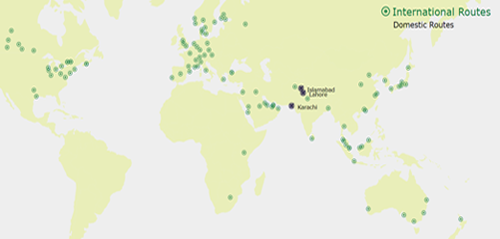 ---
Popular Routes
Karachi

Turbat
Quetta

Karachi
Tokyo

Karachi
Karachi

Kuwait City
Mumbai

Karachi
Karachi

Zhob
---
Hub Airport
Jinnah International Airport (KHI)
Jinnah International Airport (KHI) also formerly known as Drigh Road Airport or Karachi Civil Airport opened in 1947. The airport is based at Karachi, Sindh, Pakistan and serves serves as a hub for Pakistan International Airlines, Airblue, SereneAir and Vision Air International. Jinnah International Airport (KHI)is Pakistan's busiest international and domestic airport, the airport can handle nearly more than 7.3 million passengers every year.
The airport has two runways measuring 3,200m and 3,400m in length respectively. The runways can handle up to 15 flights an hour including the Boeing 747-400, Airbus A350 XWB & Antonov An-225 Mriya aircraft.
Other airlines which fly to and from Jinnah International Airport (KHI) include Emirates, Etihad Airways, Qatar Airways and Turkish Airlines, Gulf Air, Air China, Air Arabia many others.
---
Alternative Airlines to Pakistan International Airlines
Please click on the logos below to find out more about airlines that fly similar routes to Pakistan International Airlines:
---
Airline Alliance
Pakistan International Airlines is currently not part of any airline alliances.
---
Pakistan International Airlines Air News
5th November 2019
PIA launches new services for passengers
PIA has launched an application to facilitate passengers in online reservation and confirmation of seats through mobile phones.
Pakistan International Airlines Air News
18th October 2019
PIA to operate 13 flights on new International routes
Two routes will begin from Karachi to Toronto making PIA's total number of flights to Canada to five. Seven flights will be added to the Pakistan-Jeddah route, bringing the total number of flights to 42 per week. By the end of the month, there will be two weekly flights between Quetta and Jeddah, while two flights per week from Multan to Riyadh and Dubai. PIA has resumed flights from Islamabad to Kuala Lumpur on October 14. The airline is also aiming to increase the number of flights from Islamabad to Birmingham. The flag carrier will also start direct flights to America soon.
---
FAQ's
Can I buy Pakistan International Airlines flights on finance?
Yes... Through Alternative Airlines. Pakistan International Airlines doesn't offer flights on finance however through Alternative Airlines you can buy Pakistan International Airlines flights and spread the cost over time. We have over 40 different payment methods on site including lots of payment plan providers such as Klarna, Afterpay, Spotii, Zip, affirm, PayPal Credit and more. For more information check out our Buy Now, Pay Later page.
Does Pakistan International Airlines offer In-Flight Entertainment?
Pakistan International Airlines offers an inflight Entertainment System for a more fun and entertaining flight. Pakistan International Airlines offers in-flight entertainment on its Boeing 777 aircrafts.
Pakistan International Airlines cabin crew ensure that all passengers are looked after during your stay at the airport. The airport lounges offer the latest magazines, newspapers, WIFI, cable television and food & beverages.