Airblue Reservations with Alternative Airlines
Make an Airblue Booking Online and Find Some Amazing Deals
---
About
Airblue Limited (also known as airblue) is a low-cost carrier based in Pakistan. Its hub is located in Islamabad, Pakistan. Airblue operates scheduled flights linking Pakistani regional destinations with international destinations in Oman, Saudi Arabia and the United Arab Emirates. The airline was established in 2003 and started operations in June 2004 with three leased aircrafts serving Karachi–Lahore and Karachi–Islamabad with three daily return flights. The airline was inaugurated by the Ex-Prime Minister of Pakistan, Zafarullah Khan Jamali.
The airline started off strong, which allowed the airblue to compete directly with the flag carrier Pakistan International Airlines and the two other private carriers, flying more than 400,000 passengers in the first year with a load factor of over 90% (the load factor is the average amount of passenger seats filled per flight). This allowed the airline to expand into more domestic destinations in Pakistan. On 14 August 2005, Airblue launched its first international flight from Karachi to Dubai, United Arab Emirates. On June 4, 2007, Airblue launched its inaugural flight UK flight to Manchester. In 2011 the airline launched service to Istanbul using Sabiha Gokcen Airport (SAW), with full traffic rights between Pakistan and Manchester.
---
Destinations
As of October 2019, airblue flies to 5 international destinations in Saudi Arabia and the United Arab Emirates as well as 5 domestic destinations within Pakistan. Class is usually set out in a 3 x 3 formation. Seats are designed to give maximum comfort throughout the journey.
International Destinations
| AIRPORT | CITY AND COUNTRY |
| --- | --- |
| King Abdulaziz International Airport (JED) (Focus City) | Jeddah, Saudi Arabia |
| King Khalid International Airport (RUH) | Riyadh, Saudi Arabia |
| Abu Dhabi International Airport (AUH) (Focus City) | Abu Dhabi, United Arab Emirates |
| Dubai International Airport (DXB) (Focus City) | Dubai, United Arab Emirates |
| Sharjah International Airport (SHJ) | Sharjah, United Arab Emirates |
Domestic Destinations
| AIRPORT | CITY AND COUNTRY |
| --- | --- |
| Islamabad International Airport (ISB) (Focus City) | Islamabad, Pakistan |
| Jinnah International Airport (KHI) (HUB) | Karachi, Pakistan |
| Allama Iqbal International Airport (LHE) (Focus City) | Lahore, Pakistan |
| Multan International Airport (MUX) | Multan, Pakistan |
| Bacha Khan International Airport (PEW) | Peshawar, Pakistan |
---
The Fleet
As of October 2019, airblue fleet consists of the following aircraft:
5 Airbus A320-200
5 Airbus A321-200 A321
---
Baggage
Carry-on Baggage
Airblue permits one carry-on bag per person. This must be 7kg or less in weight and must fit within the dimensions of 22 x 15 x 8 inches.
Checked Baggage
Airblue baggage allowance depends on the class of ticket purchased. Each bag must fit the combined dimensions of 54 inches (Length x Height x Width) and must be under 30kg.
For Economy Premium, passengers are allowed 2 checked bags.
For Economy Standard, passengers are allowed 1 checked bag.
For Economy Discount, passengers aren't allowed any checked bags.
---
Check-In Information
Online Check-In
Airblue does not currently offer online check-in for their flights.
Airport Check-In
Airblue requires passengers flying domestically to check-in two and a half hours, or 2 hours before scheduled departure time. Check-in desks for domestic flights will close 30 minutes before departure time.
For passengers flying internationally, check-in opens 4 hours before departure times. This will close 1 hour before departure for international flights.
---
Economy Class
Economy Class is the only cabin class available on Airblue flights. It offers a straightforward service, with a few facilities and a welcoming cabin crew.
Economy Class Facilities
Passengers have the option of an in-flight meal, which is a light refreshment (such as a sandwich) and drinks on flights under two hours and a more substantial hot meal on longer flights.
There's no in-flight entertainment or any Wi-Fi connectivity on the aircraft, but passengers can use their own electronic devices during the flight.
Economy Class Seats
Economy Class is usually set out in a 3 x 3 formation. Each aircraft consists of 180 seats and are all designed to give maximum comfort throughout the journey.
---
Route Map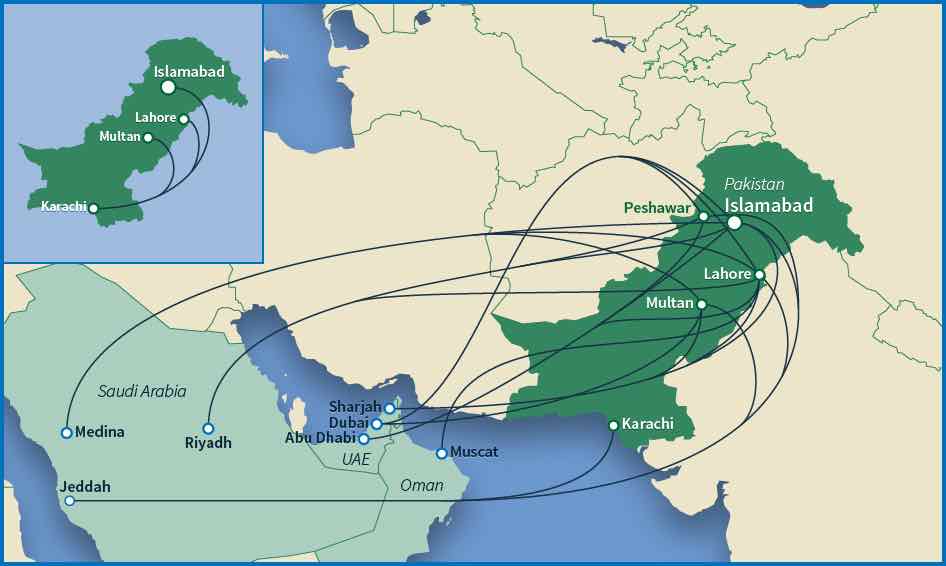 ---
Frequent Flyer Program
Airblue's frequent flyer program is called "Blue Miles". Passengers are able to start on the base level where sign up is free of charge. Once passengers accumulate enough miles, there are upgrades to the Blue Card followed by the Platinum Card.
---
Alternative Airlines to Airblue
Please click on the logos below to find out more about airlines that fly similar routes to Airblue:
---

Hub Airport
Jinnah International Airport (KHI)
Jinnah International Airport (KHI) is the airport hub for airblue, as well as Pakistan International Airlines, Serene Air and Vision Air International. The airport is located in Karachi, Sindh, Pakistan, one of Pakistan's busiest cities due to it being the largest city in Pakistan. There are currently 3 terminals, which are served by the airports 2 runways.
Other airlines which fly to and from Jinnah International Airport (KHI) include Emirates, Etihad Airways, Qatar Airways and Turkish Airlines and many others.
---
Airline Alliance
Airblue isn't currently in an airline alliance.
---
Special Services
Airblue doesn't currently have any information on special services it offers to its passengers.
---
Airblue News
28th February 2018
Turkish Technic win maintenance contract for Airblue.
Airblue has handed over their 4 Airbus A321s to Turkish Technic for maintenance. This heavy maintenance contract is a big win for Turkish Technic. Turkish Technic also are on the books of Atlasglobal, servicing their single-aisle fleet.