Search & Buy AtlasGlobal Flights
Airlines will always try to sit children with their parents (subject to check-in)
Some airlines will allow travel for unaccompanied minors. Please email us to check.
The fare is based on the child's age on the date of travel.
More detailed information can be found here Traveling with children
Most airlines will let infants travel with their parent(s) for free. However some airlines will charge up to 10% of the adult ticket price. Click on 'Price Breakdown' to find out more.
If you are pregnant, but due before the flight departure date, please contact us once your baby is born and has a name. We can then add him/her to your ticket.
Infants will not be given a seat. The airlines expect parents to travel with them on their lap.
Airlines regard infants as being under 24 months old.
The fare is based on the child's age on the date of travel.
More detailed information can be found here Traveling with children
Buy
AtlasGlobal

Flights
Book Flights Direct with Atlasglobal and Alternative Airlines
Make an Atlasglobal reservation and find some amazing deals with discounted AtlasGlobal tickets at Alternative Airlines
---
About Atlasglobal
Atlasglobal is a Turkish airline headquartered at Istanbul Atatürk Airport inIstanbul. The airline operates scheduled domestic and international passenger services as well as charter flights, offering passengers international standards of quality and comfort on board.
Atlasglobal flies to more than 50 destinations in 35 countires worldwide. These scheduled services are within Turkey, to Russia, Asia, CIS Russia, Europe and Middle East. Turkish destinations such as Adana, Antalya, Bodrum, Dalaman, Gaziantep, Istanbul and Izmir. International airports served include Amsterdam, Astana, Bishkek, Cologne, Dusseldorf, Erbil, Jeddah, Karanganda, Kharkiv, Kishinev, Kuwait, London, Lviv, Mykonos, Paris, Sharjah, Suleyaniyah, Tehran and Tiblisi.
In March 2015, Atlasjet's name changed to Atlasglobal. Established in 2001, Atlasglobal's mission is to bring premium airline service to strategic locations at high-class standards. Atlasglobal fleet comprises of a total of 18 Airbus aircrafts – 13 A321, 4 A320 planes and 1 A319 plane. Atlasglobal became the first IATA member private airline in Turkey IOSA certified. Originally, the airline began operations as just 2 aircraft and then expanded its global fleet to a total number of 26 aircraft, comprises on 1 Airbus A319, 8 A320 and 17 A321.
The airline has also established the Atlantic Flight Academy (AFA) to provide professional pilot and cabin crew training and the ATS team where a highly experienced and certified team of engineers and technicians provide maintenance services to various international airlines in addition to Atlasglobal.
The airline also has a subsidary airlines, called AtlasGlobal UA, which operates flights in Ukraine from Istanbul.
---
Atlasglobal Baggage
Carry-on Baggage
Economy: 1 x 8kg
Business: 2 x 8kg bags, weighing a combined total of 16kg.
Hand baggage should fit under the cabin seat or in the overhead cabin rack. It must not exceed dimensions of 25x45x56 cm and the weight should not exceed 8kg.
In addition, passengers are permitted a personal item, including items such as a camera, umbrella, suit, laptop or small hand bag.
Checked Baggage
Domestic Flights including North Cyprus Flights
Business (Opportunity): 20kg maximum weight
Business (Y.Flex): 30kg maximum weight
Business (Flexible): 30kg maximum weight
Economy Plus (Opportunity): 15kg maximum weight
Economy Plus (Restricted): 20kg maximum weight
Economy Plus (Y.Flex): 20kg maximum weight
Economy Plus (Flexible): 20kg maximum weight
International Flights
Business (Opportunity): 30kg maximum weight
Business (Y.Flex): 40kg maximum weight
Business (Flexible): 40kg maximum weight
Economy Plus (Opportunity): 20kg maximum weight
Economy Plus (Restricted): 30kg maximum weight
Economy Plus (Y.Flex): 30kg maximum weight
Economy Plus (Flexible): 30kg maximum weight
---
Atlasglobal Check-In Information
Online Check-In
Atlasglobal offer online check-in for most flights. This service will open 48 hours before departure, and closes 90 minutes before scheduled departure time.
Airport Check-In
Passengers should arrive at the airport at least 3 hours before scheduled departure time for their flights. Passengers can choose to check in at the airport using the self-service machine, or by visiting the check-in staff..
You can now book extra baggage when you buy your Atlasglobal flight with Alternative Airlines.
---
Atlasglobal Frequent Flyer Program
Atlasmiles offers you Platinum, Gold, Silver and Bronze card options, each full of different privileges.
Front seat selection privilege
Special check-in counter
Extra baggage allowance
Fast track system
Priority boarding application
Free business upgrade
Lounge use
Atlasmiles program enables you:
to buy missing miles,
to maintain your card status,
to recall your expires miles,
to extend your mile usage period,
to transfer your miles.
There is Atlas Junior Club card full of special opportunities and gifts for children.
---
Atlasglobal Popular Routes
Istanbul

Amsterdam
Istanbul

Astana
Istanbul

Bodrum
Istanbul

Lviv
Istanbul

Suleyaniyah
Istanbul

Jeddah
---
Atlasglobal Route Map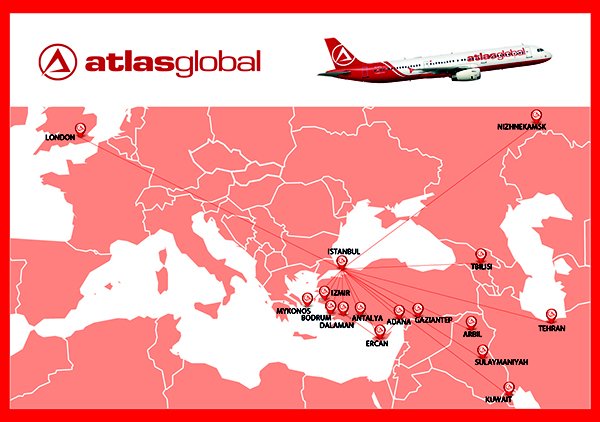 ---
Atlasglobal Destinations
| | | | | | | |
| --- | --- | --- | --- | --- | --- | --- |
| | | | Armenia | | Yerevan | |
| | | | France | | Paris | |
| | | | Germany | | Düsseldorf | |
| | | | Iran | | Tehran | |
| | | | Iraq | | Erbil | |
| | | | Israel | | Tel Aviv | |
| | | | Kazakhstan | | Aktau | |
| | | | | | Shymkent | |
| | | | Lebanon | | Beirut | |
| | | | Netherlands | | Amsterdam | |
| | | | Northern Cyprus | | North Nicosia | |
| | | | Russia | | Chelyabinsk | |
| | | | | | Moscow | |
| | | | Saudi Arabia | | Jeddag | |
| | | | | | Medina | |
| | | | Serbia | | Belgrade | |
| | | | Turkey | | Adana | |
| | | | | | Antalya | |
| | | | | | Bodrum | |
| | | | | | Dalaman | |
| | | | | | Gaziantep | |
| | | | | | Istanbul | |
| | | | | | İzmir | |
| | | | United Kingdom | | London | |
---
Atlasglobal Fleet

Airbus A319-100
Airbus A321-200
Bombardier CS300
Airbus A320-200
---
Alternative Airlines to Atlasglobal
Please click on the logos below to find out more about airlines that fly similar routes to Atlasglobal:
---

Atlasglobal Hub Airport
Istanbul Ataturk Airport
Istanbul Ataturk Airport is the main international serving Istanbul, Turkey and is the biggest airport in Turkey by total number of passengers. The airport serves as a hub for Atlasglobal, Onur Air, Pegasus Airlines and Turkish Airlines.Istanbul Ataturk Airport has three runaways and has a passenger capacity of 60 million per year.
Airlines which fly to and from Istanbul Ataturk Airport include Aegean Airlines, Aeroflot, Air Canada, Atlasglobal, Delta Airlines, EgyptAir, Iberia, KLM, Korean Air, Lufthansa, Malaysia Airlines, TAROM, Tajik Air, Turkish Airlines and Uzbekistan Airlines.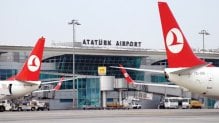 ---

Book Atlasglobal Flights in English
Book with Alternative Airlines to choose to book your Atlasglobal flights in English. With a completely English website and booking process, we provide a comprehensive booking process in a language that suits you. In addition, we also have a English-speaking customer service team available 8am-8pm UK time, ready to answer any questions or queries you may have about your booking.
---
Atlasglobal News
28th June 2018
AtlasGlobal and Somon Air strike codeshare partnership
AtlasGlobal and Somon Air are negotiating terms for a new codeshare partnership. The codeshare agreement will see Somon Air operate a service between Dushanbe and Istanbul on behalf of AtlasGlobal, a route that will be flown three times a week. Additionally, AtlasGlobal will operate a number of routes for Somon Air to Western European countries for Somon Air, including services from Istanbul, Düsseldorf and Paris.
While the exact date of when the codeshare agreement will come into effect is still undecided. Somon Air's Deputy Chief Executive said that both airlines are expecting to start sharing codes by the end of October at the latest.
3rd November 2017
AtlasGlobal to launch Tel Aviv - Istanbul flights
The Turkish carrier will offers a range of connect flights to popular European destinations including London, Paris and Amsterdam.
Turkish airline AtlasGlobal has announced that it is to launch scheduled flights between Tel Aviv and Istanbul (Attaturk Airport). Like fellow Turkish carriers Turkish Airlines and Pegasus, it will be offering a broad range of connecting flights to popular European cities such as London, Paris, Amsterdam, Zurich, Milan, Copenhagen, Stockholm and much more as well as tourist destinations around Turkey itself.
In the first stage, AtlasGlobal will offer four weekly flights between Tel Aviv and Istanbul on Tuesdays, Wednesdays, Fridays and Saturdays. Flights between Istanbul and Tel Aviv are scheduled for Mondays, Tuesdays, Thursdays and Fridays.
AtlasGlobal will offer "economy plus comfort" class tickets including a meal and up to 30 kilograms of baggage and business class with the usual trimmings on board, fast track check in and airport VIP lobby, and up to 40 kilograms of baggage.
AtlasGlobal is represented in Israel by Maman Aviation whose CEO Ofer Reinhardt says that the carrier will expand the number of flights if the demand requires it.
Return tickets between Tel Aviv and Istanbul will cost $200. Return flights to Amsterdam or Copenhagen via Istanbul will cost from $260. Flights to and from Paris via Istanbul will cost from $314 and to London from $415. Bookings can be made on the company's website.
18th August 2017
Atlasglobal resumes services to Najaf
Atlasglobal has resumed operations to Najaf (NJF) in Iraq on 15 August, a sector which it last served from itsIstanbul Atatürk (IST) base in December 2015 according to OAG schedule data. Flown twice-weekly (Tuesdays and Thursdays) by the carrier's A319s and A320s, the 1,709-kilometre sector faces two incumbents– with Turkish Airlines (daily) and Iraqi Airways (four times weekly) providing the competition.
As a result of this new route, Atlasglobal now offers four cities in Iraq, with Najaf flights joining existing rotations to Erbil, Baghdad and Sulaymaniyah.
22nd June 2017
AtlasGlobal launches direct Istanbul-Sarajevo flights
Turkish air carrier Atlas Global launched on Thursday direct flights between Bosnia's capital Sarajevo and Istanbul's Ataturk Airport, in line with its global growth strategy, Sarajevo airport said.
The direct service will fly out of Sarajevo four times a week, on Mondays, Tuesdays, Thursdays and Saturdays, a spokesperson for Sarajevo airport told SeeNews.
Atlas Global also recently launched flights between Istanbul and Serbia's Belgrade. The company currently flies a fleet of 26 Airbus planes to 50 destinations in 35 countries across Europe and Asia.
In 2016, Turkey was Bosnia's third biggest feeder market in terms of tourism, right behind neighbouring Croatia and Serbia. Overnight stays by Turkish tourist totalled 132,171 last year, equal to a 8.1% share.
Atlas Global, formerly known as Atlasjet International Airlines, is a subsidiary of Turkish travel and tourism services group Ets Ersoy Turistik Servisleri.
---