Book Atlasglobal Flights Direct with Alternative Airlines
Unfortunately, in February 2020, AtlasGlobal suspended all operations — please use the flight search above to find alternative airlines to the AtlasGlobal flight that you wanted or visit the pages below.
---
About
Important information, 27/11/2019: Atlasglobal has suspended all operations. Search for flights on similar airlines by using our search form.
Atlasglobal was a Turkish airline headquartered at Istanbul Atatürk Airport, Istanbul. The airline offered scheduled domestic and international passenger flights to destinations across Europe and Asia. Overall, AtlasGlobal flew to over 25 destinations on a scheduled basis and also offered charter flights.
The airline launched in 2001, initially only flying charter and cargo services under the name Atlastjet International Airlines. It flew its first scheduled flights in 2004, offer both domestic and international flight immediately.
In 2015, the airline rebranded to AtlasGlobal, which is the carrier name and brand that it used until it stopped flying. It also owned a subsidiary airline, called AtlasGlobal Ukraine, which operated flights in Ukraine from Istanbul.
In February 2020, AtlasGlobal filed for bankruptcy. Both AtlasGlobal and AtlasGlobal Ukraine ceased operations immediately.
---
Destinations
Domestic Destinations
| CITY | AIRPORT |
| --- | --- |
| Adana | Adana Sakirpasa Airport (ADA) |
| Antalya | Antalya Airport (AYT) |
| Bodrum | Milas-Bodrum Airport (BJV) |
| Dalaman | Dalaman Airport (DLM) |
| Gaziantep | Oguzeli Airport (GZT) |
| Istanbul | Istanbul Airport (IST) |
| Izmir | Adnan Menderes Airport (ADB) |
International Destinations
COUNTRY
CITY
AIRPORT
Armenia
Yerevan
Zvartnots International Airport (EVN)
Cyprus
Nicosia
Ercan Airport (ECN)
France
Bordeaux
Bordeaux Merignac Airport (BOD)
Paris
Charles de Gaulle Airport (CDG)
Germany
Düsseldorf
Düsseldorf International Airport (DUS)
Iran
Tehran
Tehran Imam Khomeini International Airport (IKA)
Iraq
Baghdad
Baghdad International Airport (BGW)
Erbil
Erbil International Airport (EBL)
Sulaymaniyah
Sulaymaniyah Internatio
Israel
Tel Aviv
Tel Aviv Airport (TLV)
Kazakhstan
Aktau
Aktau Airport (SCO)
Shymkent
Shymkent International Airport (CIT)
Kuwait
Kuwait
Kuwait International Airport (KWI)
Lebanon
Beirut
Rafic Hariri International Airport (BEY)
Netherlands
Amsterdam
Amsterdam Schiphol Airport (AMS)
Russia
Makhachkala
Uytash Airport (MCX)
Moscow
Moscow Domodedovo Airport (DME)
Saudi Arabia
Jeddah
King Abdulaziz International Airport (JED)
Medina
Prince Mohammad bin Abdulaziz Airport (MED)
Serbia
Belgrade
Nikola Tesla Airport (BEG)
United Kingdom
London
London Stansted Airport (STN)
---
Fleet
Atlasglobal had a fleet of over 15 aircraft, with all planes manufactured by Airbus. The airline had models such as the Airbus A319, A320, A321 and A330.
---
Route Map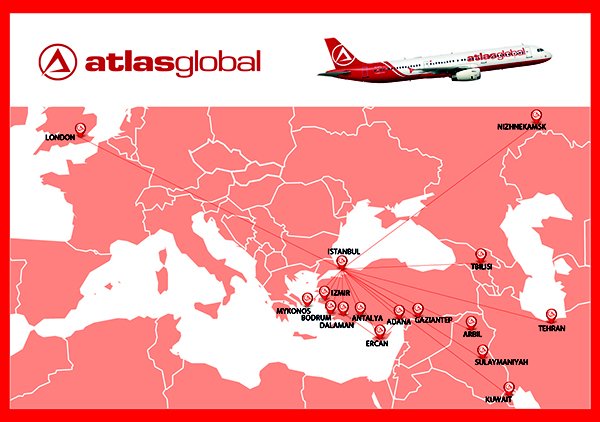 ---
Baggage
Carry-on Baggage
Economy Class passengers were entitled to one item of free carry-on baggage with a maximum weight of 8kg.
Business Class passengers were entitled to two items of free carry-on baggage with a maximum weight of 16 kg overall.
No one piece of baggage could exceed the dimensions of 25 cm x 45 cm x 56 cm (9.8" x 17.7" x 22").
In addition to this, passengers were allowed a free personal item, such as a purse, handbag, laptop and bag or other small item.
Checked Baggage
Passengers checked baggage allowance depended on the route flown and the cabin class and fare that passengers flew in.
CABIN CLASS
FARE
DOMESTIC FLIGHTS/
FLIGHTS TO KUWAIT
INTERNATIONAL FLIGHTS
FLIGHTS TO KUWAIT
ECONOMY
CLASS

PROMO
15 kg
20 kg
30 kg
SAVER
20 kg
30 kg
40 kg
VALUE
20 kg
30 kg
40 kg
FLEXI
20 kg
30 kg
40 kg
BUSINESS
CLASS

PROMO
20 kg
30 kg
40 kg
SAVER
30 kg
40 kg
50 kg
VALUE
30 kg
40 kg
50 kg
FLEXI
30 kg
40 kg
50 kg
Passengers could book extra baggage when they bought their Atlasglobal flight with Alternative Airlines.
---
Check-In
Online Check-In
Atlasglobal offered online check-in for most flights. To check-in online, passengers must have visited their online check-in page and entered their PNR number and last name. Online check-in opened 48 hours before departure and closed 90 minutes before.
Airport Check-In
Passengers could choose to check-in at the airport using the self-service machine or by visiting the check-in staff. Passengers should have arrived at the airport at least 3 hours before scheduled departure time for their flight.
---
Economy Class
Economy Class was Atlasglobal's most basic cabin class but still offered a high-quality cabin with a professional service.
Economy Class Facilities
Passengers were served complimentary food and drink on all flights and could select their seats at check-in.
Economy Class Seats
Economy Class seats offered 77 cm (30") of seat pitch.
---
Business Class
Business Class Facilities
Business passengers could benefit from fast track and lounge service. There were various refreshment areas within IGA Lounge which had a spacious and refreshing atmosphere. These lounges offered wireless internet and access to electrical outlets.
Passengers could also enjoy fast track and lounge service, as well as a minimum of 30 kg baggage allowance, priority check-in, a free meal and drink service.
Furthermore, passengers could the flying chef service, which was available on all flights lasting at least 3 hours, with exclusive tastes from Turkish and world cuisine.
Business Class Seats
Large leather seats could be adjusted to a sleeping position, with legroom of 100 cm (39").
---
In-Flight Entertainment
There was no& in-flight entertainment system onboard AtlasGlobal flights, however, the airline did have an in-flight magazine that passengers could enjoy.
---
WIFI
There was no WIFI system onboard any Atlasglobal flights.
---
Food
Atlasglobal offered all passengers complimentary food and drinks on all flights. On select international flights, passengers were served a hot meal, inspired by Western and Turkish cuisine.
---
Frequent Flyer Program
Atlasmiles
Atlasglobal operated a frequent flyer program called Atlasmiles. Atlasmiles allowed passengers to earn points and redeem them on flights.
Atlasmiles offered Platinum, Gold, Silver and Bronze card options, each full of different privileges. Privileges included:
Front seat selection privilege
Special check-in counter
Extra baggage allowance
Fast track system
Priority boarding application
Free business upgrade
Lounge use
There was an Atlas Junior Club card full of special opportunities and gifts for children.
---
Airline Alliance
Atlasglobal wasn't a member of any airline alliance. However, it did have codeshare agreements with Air France, KLM and Air Serbia.
---
Hub Airport
Istanbul Airport
Istanbul Airport was the main international airport in Turkey and the hub airport for Atlasglobal. The airport has one terminal, four runways and acted as the main gateway into the country. The airport opened in 2018 and has the capacity to handle 90 million passengers per year. Once fully completed, it was expected to be able to handle up to 200 million passengers per year.
Atlasglobal has used Istanbul Airport as its hub since the airport opened in 2018, having previously used Istanbul Atatürk Airport.
Onur Air and Turkish Airlines also use Istanbul Airport as a hub. Other airlines which fly to and from Istanbul Airport include Aegean Airlines, Aeroflot, Delta Airlines, EgyptAir, KLM, Korean Air, TAROM, Turkish Airlines and Uzbekistan Airlines.
---
Buy Atlasglobal flights with PayPal
You could pay for Atlasglobal flights with PayPal or PayPal Credit when booking through Alternative Airlines. It's was a safe and easy way to pay and a great way to save money on Atlasglobal reservations with an available flight coupon.
Although AtlasGlobal has now ceased, you can still book flights on 600+ other airlines at Alternative Airlines.
---
News
12th February 2020
AtlasGlobal permanently suspends all flights
AtlasGlobal has ceased operations. The airline had faced financial trouble in recent years and temporarily suspended all flights late last year. After restarting flights in December 2019, AtlasGlobal announced last month that it will suspend flights again on a temporary basis, with plans to re-launch on 9th February. However, when flights didn't relaunch, it raised suspicions amongst those in the airline industry that AtlasGlobal might not return.
On 12th February 2020, the airline filed for bankruptcy and posted a final 'goodbye' message on its social media channels. This news comes just a day after another European carrier, Air Italy, ceased operations.