Buy
Air Serbia

Flights
Book Direct with Air Serbia and Alternative Airlines
About Air Serbia
Air Serbia is the flag carrier and largest airline of Serbia.
Air Serbia began operations in October 2013 and has its hub at Belgrade Nikola Tesla Airport. The airline was formerly known as Jat Airways.
Air Serbia flies to many destinations including Abu Dhabi, Amsterdam, Athens, Banja Luka, Beirut, Belgrade, Berlin, Brussels, Bucharest, Copenhagen, Dubrovnik, Dusseldorf, Frankfurt, Gothenburg, Istanbul, Larnaca, Moscow, Milan, Paris, Podgorica, Prague, Malta, Stuttgart, Tivat, Varna and Vienna.
Air Serbia has codeshare agreements with many airlines including Aegean Airlines, Aeroflot, airBaltic, Air Berlin, Air France, Air China, Etihad Airways, KLM, LOT, Bulgaria Air and TAROM. Air Serbia began its operation in 2013 and is the legal successor of the companies Aeroput (1927), Yugoslav Airlines (1947) and Jat Airways (2003).
Air Serbia offers transport to overseas and international destinations in Asia, Australia and the USA through our codeshare partners and thanks to our strategic partner and shareholder Etihad Airways, the national airline of the United Arab Emirates.
Air Serbia Baggage Allowance
Carry-on Baggage
Passengers flying on Air Serbia in Economy Class are entitled to one item of free carry-on baggage that must not weight more than 8kg. Passengers flying on Air Serbia is Business Class are entitled to two items of carry-on baggage and each bag must not exceed the weight of 8kg. For both classes, the baggage can't exceed the dimensions of 40 x 20 x 55cm.
Checked Baggage
Passengers flying on Air Serbia in Economy Class are allowed to bring on one item of checked baggage that must be no heavier than 23kg. Passengers flying on Air Serbia in Business Class are entitled to two items of checked baggage and each bag must be no heavier than 32kg. The dimensions for bags must be no larger than a combined size of 158cm (length + width + height).
---
Air Serbia News
15th July 2018
Air Serbia will stop flying to German destination
Air Serbia has announced it will stop flying to Hamburg later this year. The Serbian airline will fly its last service to Hamburg on 27th October 2018 after strong competition from other airlines has made the Belgrade—Hamburg service performance dip. Air Serbia's Belgrade—Hamburg service was short-lived, only lasting two years from 2016—2018.
22nd May 2018
Air Serbia reduces flights to New York in late 2018
In quarter four of 2018, Air Serbia will change the frequency in which it flies the route between Belgrade Nikola Tesla Airport (BEG) and John F. Kennedy International Airport (JFK), New York. The Serbian airline currently flies the service three times a week, but from 1st November—12th December 2018, it will reduce the rate to two times a week.
The service which connects Serbia to East Coast USA carries passengers on an Airbus A330-200. The journey takes an estimated 9 hours and 40 minutes.
4th May 2018
Air Serbia launches branded fareson all routes
Air Serbia has decided to initiate branded fares on all passenger routes from this month. The sole route exempt from the new branded fares is that going to NYC, USA. According to the new fare policy, only Red and Silver brands will be receiving complimentary meals, although there are some grouped routes which will still receive meals despite the brand.
9th April 2018
Air Serbia commences route from Nis to Belgrade
It is possible that Air Serbia could be the first airline to service passengers from Nis airport to Belgrade. The transfer of Konstantin Veliki Airport to state ownership is a development decision motivated by the large investments needed by the Nis airport in a short period of time, said Serbian Deputy Prime Minister and Minister of Construction, Transport and Infrastructure Zorana Mihajlovic. "If we do not invest in the Nis airport, we will stay on 350,000 passengers, and if we continue investing, we will have 650,000 by 2021 and 750,000 passengers in 2027," Mihajlovic said. The government of Serbia has invested EUR 3.6 million in the Konstantin Veliki Airport over the last 3 years, and the City of Niš by means of subsidies of another EUR 2m.
3rd Jul 2017
Air Serbia's charter brand Aviolet sets new heights this summer
Air Serbia, the national airline of the Republic of Serbia, is recording strong travel demand for its Aviolet charter flights this summer.
So far the airline is set to operate approximately 600 return charter flights to popular destinations during the holiday season, in comparison to roughly 530 last year.
The Aviolet network has expanded to 23 cities across five countries this year, enabling leisure travellers to fly to summer hotspots such as Barcelona and Palma de Mallorca in Spain, Kefalonia and Heraklion in Greece, Palermo and Rimini in Italy, as well as Bodrum and Antalya in Turkey, and Enfida in Tunisia. The flights will be operated on a fleet of three Boeing B737-300 aircraft that have a comfortable all-economy cabin with 144 seats.
2nd June 2017
Air Serbia made history by launching a five-per-week transatlantic service between Belgrade and New York with Airbus A330 aircraft. The service reconnects Serbia and the United States with a non-stop Serbian-operated flight after a break of over 20 years.
| | | | | | |
| --- | --- | --- | --- | --- | --- |
| Flight Number | From | To | Departure | Arrival | Frequency |
| JU 0500 | Belgrade (BEG) | New York (JFK) | 07:50 | 12:00 | 1,2,4 |
| JU 0500 | Belgrade (BEG) | New York (JFK) | 13:15 | 17:25 | 5,6 |
| JU 0501 | New York (JFK) | Belgrade (BEG) | 14:40 | 05:30 | 1,2,4 |
| JU 0501 | New York (JFK) | Belgrade (BEG) | 19:30 | 10:20 | 5,6 |
1st June 2017
Air Serbia (JU) started flying to Venice four times a week, the Serbian airline announced. Venice will be the third destination in Italy flown by Air Serbia, besides Milan and Rome.
| | | | | | |
| --- | --- | --- | --- | --- | --- |
| Flight Number | From | To | Departure | Arrival | Frequency |
| JU 0560 | Belgrade (BEG) | Venice (VCE) | 07:05 | 09:00 | 2,4 |
| JU 0561 | Venice (VCE) | Belgrade (BEG) | 09:35 | 11:20 | 2,4 |
| JU 0564 | Belgrade (BEG) | Venice (VCE) | 18:10 | 20:05 | 1,7 |
| JU 0565 | Venice (VCE) | Belgrade (BEG) | 20:40 | 22:25 | 1,7 |
25th April 2017
Air Serbia is considering a 5 year development plan to renew ots regional fleet of 6 ATR72s
Several options are being looked into but will still keep the current ATRs as an aircraft type, because the ATR are great economics. It is not as fast as the Dash 8-400 and does not carry as many people but on the short routes that we employ those aircraft the ATR is the perfect aircraft. The 5 year plan, also sees Air Serbia reviewing the potential of its charter subsidiary Aviolet with an eye to expanding its offering.
March 2017
Air Serbia cancelled the Belgrade - Istanbul Ataturk route due to new codeshare agreement with AtlasGlobal.
This took place since 15th March 2017 and AtlasGlobal already serve this route.
In February 2017 Air Serbia and Montenegro Airlines announce codeshare expansion:
This will see 17 routes operated by Air Serbia carrying Montenegro Airlines' YM-coded flight numbers. From the first week of January 2017, planned codeshare routes include the following:

Montenegro Airlines operated by Air Serbia
Belgrade – Abu Dhabi
Belgrade – Athens
Belgrade – Banja Luka
Belgrade – Berlin Tegel
Belgrade – Bucharest
Belgrade – Copenhagen
Belgrade – Dusseldorf
Belgrade – Frankfurt
Belgrade – London Heathrow
Belgrade – Moscow Shremetyevo
Belgrade – Paris CDG
Belgrade – Podgorica
Belgrade – Prague
Belgrade – Sarajevo
Belgrade – Skopje
Belgrade – Sofia
Belgrade – Stockholm Arlanda
In December 2016, Air Serbia gas announced it is to launch a direct line to China. In June 2016, Air Serbia launched a regular service between Belgrade and New York, the first direct flight connection between Serbia and the U.S. in 24 years. The route is serviced five times a week by a 254-seat Airbus A330 wide-body twin-engine jet airliner. In 2013, Etihad Airways signed a strategic partnership deal to acquire 49% of then state-owned JAT Airways while getting a five-year management contract for the airline and rebranding it to Air Serbia in October of the same year. The remaining 51% of the carrier are held by the Serbian government. In December 2016, Air Serbia has assisted its Etihad Airways Partner, Air Seychelles, with the provision of a replacement Airbus A330 aircraft following a disruption to the island carrier's Paris-CDG service. The national airline of Serbia operated it's first-ever flight from Seychelles' main island of Mahé to Belgrade on Wednesday 7 November with more than 200 guests onboard, who then connected onwards to Paris-CDG. The operation follows a similar deployment of Air Serbia's Boeing 737-300 aircraft last month to another Etihad Airways Partner, airberlin.
In October 2016, Air Serbia, the national airline of the Republic of Serbia, has launched a promotion offering discounted fares for guests travelling in Economy Class without checked-in luggage.The offer applies to travellers flying between Belgrade and Athens, Frankfurt, Vienna and Zurich between 1 November and 15 December 2016 and 15 January and 25 March 2017. Guests who hold this reservation can still take advantage of Air Serbia's generous hand baggage allowance of 8kg. In October 2016, Air Serbia, the national airline of the Republic of Serbia, announced from 1 to 30 November will be accepting guests from other airlines and also those not flying in Air Serbia business class into its luxurious Premium Lounge at Belgrade's Nikola Tesla Airport.
In September 2016, Air Serbia announced it was to extend Hamburg flights to year-round following successful summer introduction. Air Serbia, the national airline of the Republic of Serbia, will extend its seasonal Hamburg service to year-round, following the new route's strong performance over the summer. From 4 October 2016 the airline will operate three weekly flights to Germany's biggest port city, which is home to more than 1.8 million people, as well as introduce a larger, 128-seat Airbus A319 aircraft on the route. The new Airbus A319 service will replace the current service operated on an 86-seat Bombardier CRJ-900 aircraft leased from Adria Airways, increasing the weekly seat capacity by 12 per cent to 768 seats and offering guests new business class booking options.
In August 2016, Air Serbia, the national airline of the Republic of Serbia, and Montenegro Airlines, the flag carrier of Montenegro, have signed a codeshare agreement that provides travellers with greater air connectivity when flying between Europe, the Middle East and North America. As part of the deal, Air Serbia will deepen its air links to Montenegro by placing its "JU" code on Montenegro Airlines' flights between Belgrade and Podgorica and Tivat. In addition, the Serbian carrier will codeshare on services between Podgorica and Rome. In return, Montenegro Airlines will tap into Air Serbia's growing network by adding its "YM" code on Air Serbia's flights between Belgrade and 32 destinations, including Tivat and Podgorica. This will provide unprecedented access between the two countries and offer Montenegro Airlines' passengers convenient travel options to major cities such as New York, Abu Dhabi, Paris and London via the Serbian capital.
Air Serbia has announced it will launch a third direct destination in Russia.
Russian authorities have permitted Belgrade-based Air Serbia to add Krasnodar as a third destination in Russia.m
Air Serbia can operate up to 7X-weekly services, Russia's Federal Air Transport Agency, Rosaviatsia.
Last year, Air Serbia began 3X-weekly Airbus A319 Belgrade-Saint Petersburg service. The carrier also operates on Belgrade-Moscow Sheremetyevo routes.
In February, Air Serbia announced it would suspend Belgrade-Istanbul service from March 14. In March 2017, Air Serbia also announced that it would send Airbus to Zagreb. From March 22nd 2017, one of the first commercial flights will be Belgrade - Zurich and an Airbus A330-200 aircraft will be used for this occassion.
---
Air Serbia Regional Route Map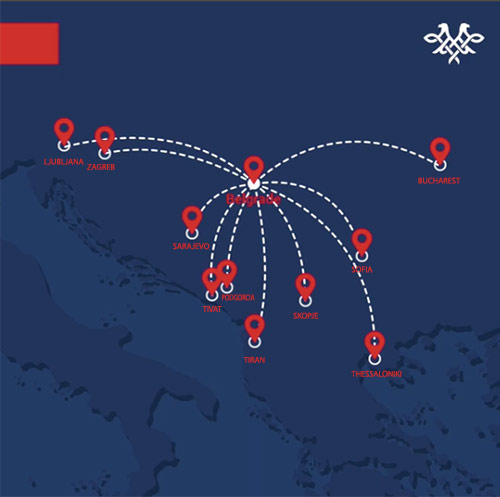 Air Serbia Popular Routes
Belgrade

Malta
Larnaca

Belgrade
Belgrade

Berlin
Bucharest

Belgrade
Belgrade

Dusseldorf
Athens

Belgrade

---
The Fleet
Airbus A319-100
ATR 72-500
---
Air Serbia Airport Hub
Belgrade Nikola Tesla Airport
Belgrade Nikola Tesla Airport is an international airport serving Belgrade, Serbia and is the hub airport for Wizz Air and Air Serbia. It has one runway and can handle nearly 5 million passengers every year. Other airlines which fly to and from this airport include Aegean Airlines, Aeroflot, Air Cairo, Air Serbia, Alitalia, Austrian Airlines, Belavia, Croatia Airlines, Etihad Airways, flydubai, Germanwings, LOT Polish Airlines, Lufthansa and many others.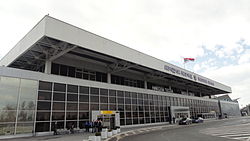 Alternative Airlines to Air Serbia
---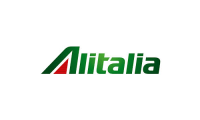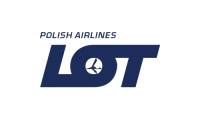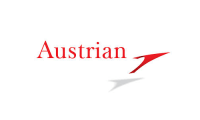 ---
Book Flights with Air Serbia
Make an Air Serbia reservation and find some amazing deals with discounted Air Serbia tickets at Alternative Airlines. Air Serbia flies to many destinations, offering a cost effective and safe service to all its passengers. Let Alternative Airlines help find you cheap Air Serbiatickets and make reservations on Air Serbia today.
Browse the most popular Air Serbia flight routes to destinations within the Serbian region. Alternative Airlines can help you make reservations on Air Serbia. Use the following list of routes to help you plan your next flight. Air Serbia flights on Alternative Airlines to save big! Alternative Airlines is an online travel agency, specialising in booking lesser known airlines and remote destinations.
Alternative Airlines is an Online Travel Agency bonded by the International Air Transport Association (IATA). We specialise in finding the best available fares on the widest range of airlines and making them available to you online, with prices in the currency of your choice.
Alternative Airlines handles all your travel arrangements and payments, complete with ticketed confirmation. We do not direct you to other websites or service providers.
We help you through the process. This is what makes us Alternative Airlines.
Browse for flights, find some amazing deals, make a reservation and pay in the currency of your choice today with Alternative Airlines.
Let Alternative Airlines help find you the best prices and make international and domestic flight reservations with us today.
Join the Alternative Airlines Members Club and get £100.00 back on your 5th booking with Alternative Airlines. You will have insight to many benefits and exclusive deals on over 650 airlines. Click on the Members section on the Alternative Airlines website for more information and join today.
We are open every day from 8am until 8pm (UK local time).
How to pay
You can pay for your flights with Air Serbia in the currency and payment method of your choice when booking through Alternative Airlines.
We accept PayPal making flight purchases with Air Serbia easy and more secure for customers. PayPal is one of the leading forms of online payment, with more than 169 million accounts worldwide.