Domestic Flights in Pakistan
Airlines will always try to sit children with their parents (subject to check-in)
Some airlines will allow travel for unaccompanied minors. Please email us to check.
The fare is based on the child's age on the date of travel.
More detailed information can be found here Traveling with children
Most airlines will let infants travel with their parent(s) for free. However some airlines will charge up to 10% of the adult ticket price. Click on 'Price Breakdown' to find out more.
If you are pregnant, but due before the flight departure date, please contact us once your baby is born and has a name. We can then add him/her to your ticket.
Infants will not be given a seat. The airlines expect parents to travel with them on their lap.
Airlines regard infants as being under 24 months old.
The fare is based on the child's age on the date of travel.
More detailed information can be found here Traveling with children


Domestic Flights in Pakistan
Disocver domestic flights in Pakistan in the search section above, or read on to learn more about Pakistan domestic flights including where to go and the best airlines for domestic flights. If you are looking for domestic flights in other countries, check out this page.
What is a
domestic flight?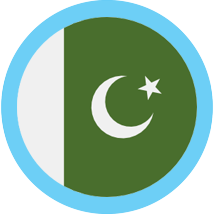 A domestic flight within Pakistan is a flight that departs and flies off from one destination in Pakistan, for example, Islamabad and lands at another destination in Pakistan, for instance, Karachi. As the flight doesn't leave Pakitan's territory, the flight will be known as a domestic flight because the departure destination and arrival destination is within the same country.
As a domestic flight means that one doesn't leave the country, you are not subject to border and immigration controls. Also, you aren't required to use your passport. However, you will still need a valid photo ID, so many people choose to use their passport anyway. Those living in Pakistan or have a reference with the country from out of Pakistan can use a Pak-identity card also known as a Nadra card instead of using a passport to travel domestically. Read more about travel documents here.
Why book

domestic flights

in Pakistan?
Pakistan is home to one of the busiest cities such as Karachi, the most populous city in Pakistan and the 5th most populous city proper in the world with the oldest architectural designs, dating back to the Victorian era, and some of the tallest, modern-day architectural wonders. 5 of the 14 highest independent peaks in the world including K2 which is the second tallest mountain in the world are in Pakistan. From the historical events, tourists have been discouraged to visit Pakistan, however, with recent changes in leadership and more control by taken by the military, Pakistan hopes to boost its tourism and infrastructure.
Pakistan is also a large country, measuring more than 880,000 sq km. Domestic flights are a great way of getting around. Many people decide to choose to fly domestically within Pakistan because saves time as air travel is much quicker. Pakistan's national flag carrier is Pakistan International Airlines which many passengers choose to fly with however many passengers also fly with low-cost airlines such as Airblue and Serene Air.
Busiest Airports in
Pakistan
Based on July 2017 to June 2018 data from Pakistan Airports Civil Aviation Authority of Pakistan. Based on passenger traffic of people arriving, departs or passes through the airport.
| Rank | Airport | City Served | Passengers | Airlines |
| --- | --- | --- | --- | --- |
| 1 | Jinnah International Airport | Karachi | 7,267,582 | Pakistan International Airlines, Airblue, Serene Air |
| 2 | Islamabad International Airport | Islamabad/Rawalpindi | 5,078,705 | Pakistan International Airlines, Airblue, Serene Air |
| 3 | Allama Iqbal International Airport | Lahore | 5,031,857 | Pakistan International Airlines, Airblue, Serene Air |
| 4 | Bacha Khan International Airport | Peshawar | 1,578,319 | Pakistan International Airlines, Airblue, Serene Air |
| 5 | Multan International Airport | Multan | 1,339,179 | Pakistan International Airlines, Airblue |
| 6 | Sialkot International Airport | Sialkot | 790,043 | Pakistan International Airlines, Airblue |
| 7 | Faisalabad International Airport | Faisalabad | 555,938 | Pakistan International Airlines, Airblue, Serene Air |
| 8 | Quetta International Airport | Quetta | 417,522 | Pakistan International Airlines, Airblue, Serene Air |
| 9 | Sukkur Airport | Sukkur | 114,081 | Pakistan International Airlines |
| 10 | Shaikh Zayed International Airport | Rahim Yar Khan | 87,341 | Pakistan International Airlines, Airblue |
What are the top

airlines

for domestic travel in Pakistan?
The following airlines are Pakistan's airlines which operate domestic flights within the country:
Pakistan's Domestic Flights
FAQs
Do I need to carry a passport for domestic flights in Pakistan?
This will depend on the airline you're travelling with. A form of photo identification such as Pak-Identity card or Nadra card should be enough for domestic travel within Pakistan. It's always important to check beforehand, so either contact us or the airline itself to check the airline's policy.
What is the baggage allowance on Pakistan domestic flights?
The baggage allowance differs depending on the airline, route and fare you are travelling on. Check your specific allowance with the airline directly or on your electronic ticket, because sometimes routes and aircraft that you may be travelling on may mean the baggage allowance varies. It is also important to check the dimension restrictions of baggage so that you are not charged for excess baggage amount at the check-in.
What time do I need to check-in at the airport for domestic flights in Pakistan?
Although the check-in times will vary depending on the airline and airport you are flying with, the check-in time for domestic flights is often later than it's for international flights, as passengers normally need less time to get through the immigration and border controls at the airport.
Can I buy domestic flights in Pakistan online?
Absolutely, you can buy domestic flights in Pakistan online with Alternative Airlines. Use our search bar at the top of the page to search for flights between your two chosen Pakistani destinations and simple click search flights. You'll then be shown all available flights from all airlines and then you can choose the best airline that suits you!