Search & Buy Saudia Flights
Let's fly!

Select your payment method to view total prices including any payment fees:
Airlines will always try to sit children with their parents (subject to check-in)
Some airlines will allow travel for unaccompanied minors. Please email us to check.
The fare is based on the child's age on the date of travel.
More detailed information can be found here Traveling with children
Most airlines will let infants travel with their parent(s) for free. However some airlines will charge up to 10% of the adult ticket price. Click on 'Price Breakdown' to find out more.
If you are pregnant, but due before the flight departure date, please contact us once your baby is born and has a name. We can then add him/her to your ticket.
Infants will not be given a seat. The airlines expect parents to travel with them on their lap.
Airlines regard infants as being under 24 months old.
The fare is based on the child's age on the date of travel.
More detailed information can be found here Traveling with children

Buy
Saudia

Flights

Search and Buy Flights Online with Saudia and Alternative Airlines
Make a Saudia reservation and find some amazing deals with discounted Saudia tickets at Alternative Airlines
---
Saudia Airlines or Saudi Arabian Airlines is the flag carrier airline of Saudi Arabia, based in Jeddah.
Saudia flies to many destination including Abha, Abu Dhabi, Al Ahsa, Al Baha, Al Ula, Wedjh, Al-Jawf, Lahore, Arar, Istanbul, Bisha, Bangalore, Alexandria, Cairo, Paris, Chennai, Surabaya, Kuala Lumpur, Medan, Kuwait City, Rome, Male, Algiers, Doha, Gurayat and many others.
The airline's main hub is at Jeddah-King Abdulaziz International Airport. Other major hubs are Riyadh-King Khalid International Airport and Dammam-King Fahd International Airport.
The airline is a SkyTeam alliance member. Saudia also own the company Flyadeal, who specialise in low-cost flights.
Saudi has codeshare agreements with Aeroflot, Air Europa, Air France, Alitalia, Garuda Indonesia, Gulf Air, Kenya Airways, KLM, Korean Air, Middle East Airlines and SriLankan Airlines.
Saudia's fleet consists of A319s, A320s, A321s, A330s, B77s, 787s and Embraer ERJ-170. In March 2016, Saudia launched new direct flights to the Maldives. Saudia is a member of the Arab Air Carriers Organisation.
---
Saudi offers customers three classes in most of its aircraft: First, Business and Guest Class.
On long-haul flights, passengers in First Class are given sleeping suits so they can change and be totally relaxed and comfortable. Saudi Arabian Airlines is a member of the prestigious Chaine des Roitsseurs, a symbol of Executive Meal is served whenever they are ready to have their meal.
Saudi Arabian Airlines' In-flight Entertainment features the latest state-of-the-art technology aimed at fulfilling passengers' entertainment needs especially on long-haul flights.
Guest Class passengers are entitled to carry one piece of luggage weighing 25kg maximum.
First Class and Business Class passengers are entitled to carry 2 pieces of luggage, each weighing 25kg maximum.
All Saudia Alfursian (Gold/Silver) members and SkyTeam members are allowed to carry one extra piece not exceeding 23kg. These apply for flights within Saudi Arabia.
On International flights, Guest Class passengers are allowed 2 pieces of baggage of up to 23kg and in Business and First Class 2 pieces of baggage of up to 32 kg.
Alfursan is the Frequent Flyer Program of Saudia which can provide customers with rewards, benefits and privileges. Alfursan members are entitled to a world of benefits and rewards that includes free tickets and upgrades, global lounge access, additional lounge allowance, priority wait-listing and many more.
---
20th June 2018
Saudia operates record 688 flights in 24 hours
Saudi Arabian Airlines (Saudia) has set a record by operating 688 fights in 24 hours with a schedule accuracy of about 86 percent, the national carrier announced.

The company said the record was attained after it launched the biggest operation in its history within its strategy for the summer which began on June 7 and will continue until Sept. 7.

Under this strategy, Saudia will operate more than 56,000 domestic and international flights with a capacity of more than 12 million seats in addition to the Haj, Umrah and extra flights during the same period which will together have a combined capacity of about two million seats.

Director General Saleh Bin Nasser Al-Jasir said the unprecedented operations in a single day was not a fluke but the result of an accumulated work and collective efforts by all the teams involved.

"This is a new achievement which will be added to the accomplishments of the national carrier and is at the same time an incentive to further improve performance," he said.

Jassir revealed that by the year 2020, Saudia will have a fleet of 200 aircraft of various models to cater to the needs and options of the passengers.

The director general on Monday inspected the lounges of King Abdulaziz International Airport including the platforms to serve the guests and the locations of the stationed security forces and people of special needs.

He asked the heads of the operational sectors and the support companies to be present in the field to provide the best of services to the passengers.
20th June 2018
Saudia restarts flights to Vienna after eight years
The airline will fly to the Austrian city four times a week
Saudi Arabian Airlines (Saudia) has restarted flights to Austrian capital Vienna eight years after suspending the route.
The airline began operating the four-time-weekly route from the King Abdulaziz International Airport in Jeddah via the King Khalid Airport in Riyadh to Vienna from June 16.
The service will be operated by a two-class Airbus A320, with the journey time under five and a half hours, a statement said.
"Saudia is pleased to be re-introducing Vienna to the airline's global destination route map after a stop in services in 2010," said Abdulrahman Altayeb, vice president, corporate communications said earlier this year.
"Vienna joins a range of other new routes to launch this summer season, and is a city that is popular with travellers both for leisure and business."
The carrier, which began flights to Moscow on June 12 – just ahead of the FIFA World Cup in Russia – also said it increased the number of daily flights to Russia to four for the first week of the tournament.
25th May 2018
Saudia says goodbye to stranded passengers
Saudi Arabian Airlines (Saudia), have managed to see off Bangladeshi passengers who have been stranded in Jeddah following a technical fault in the aircraft carrying them. The Saudia flight between Madinah and Dhaka was forced to make an emergency landing at King Abdulaziz International Airport in Jeddah on Monday due to a nose gear malfunction. The airline dealt with the passengers very well, evacuating the passengers and crew. The flight reservations were honoured today and all passengers have left Jeddah to go to their desired destination.
15th January 2018
Saudia introduces e-Visas
According to Gulf News, a number of countries' citizens are now eligible for electronic tourist visas. The list of countries eligible include the 25 European Schengen signatories, Japan, China, Taiwan, Singapore, Malaysia, Brunei, Australia, South Korea and South Africa. The issuance of the electronic visas is set to commence in the up coming weeks and should have a direct impact on the ease of journey for many Saudia passengers in the future.
12th December 2017
Saudi Airlines is ready to open new city terminal in Jeddah
A new city terminal for passengers travelling on state-run Saudi Airlines (Saudia) is set to open at King Abdulaziz International Airport in Jeddah on Wednesday. The new check-in facility, located outside the airport on Prince Saud Al-Faisal Street, allows passengers travelling from Jeddah with Saudia to check-in for their flight, drop baggage and then proceed directly to airport security checks.
The city terminal, with five check-in counters, aims to cut waiting times for passengers in queues and is the first of its kind to be opened outside the airport. After it opens on Wednesday, the terminal will operate from 10am to 6pm during week days, Mansour Al-Otaibi, public relations manager of Saudia said.
30th October 2017
Saudi Airlines confirms plans resume Baghdad flights
Saudia will operate flights from Jeddah barely two weeks after Saudi budget carrier flynas made the first commercial flight from Riyadh to Baghdad since 1990. State-owned Saudi Arabian Airlines will launch its first flight to Baghdad in 27 years on Monday, state media said, amid a thaw in ties between the Arab neighbours. State-owned Saudi Arabian Airlines will launch its first flight to Baghdad in 27 years on Monday, state media said, amid a thaw in ties between the Arab neighbours.
The airline, also known as Saudia, will depart from the Red Sea city of Jeddah barely two weeks after Saudi budget carrier flynas made the first commercial flight from Riyadh to Baghdad since 1990. "Saudi Arabian Airlines will inaugurate regular flights between the kingdom and Iraq after an interruption of 27 years," the official Saudi Press Agency reported on Sunday. "The resumption of flights is in line with growing ties between the two brotherly countries." Flights between Iraq and Saudi Arabia were suspended in August 1990 after former Iraqi president Saddam Hussein ordered his troops into neighbouring Kuwait.
After years of tense relations, ties between Sunni-ruled Saudi Arabia and Shiite-majority Iraq have begun looking up in recent months. Earlier this month Iraqi Prime Minister Haider al-Abadi and Saudi King Salman held the first meeting of the joint Saudi-Iraqi coordination council, which is aimed at upgrading strategic ties. Iraq is seeking economic benefits from closer ties with Riyadh as both countries suffer from a protracted oil slump. Saudi Arabia is also seeking to counter Iranian influence in Iraq. Private carrier flynas, in which Saudi billionaire Prince Al-Waleed bin Talal holds a 34-percent stake, also plans to expand its routes from Saudi airports to major cities across Iraq.
28th September 2017
Saudia commences flights between Jeddah and Mauritius
Saudi Arabian Airlines commenced flights between Jeddah (JED) and Mauritius (MRU) on 14 September. The 5,090-kilometre link will be flown by the SkyTeam member three times weekly on its fleet of 787-9s, with no other carrier operating direct competition.
"We hope that business between Mauritius and Saudi Arabia will grow and be sustainable. This will obviously improve trade and tourism between the two countries," said Nasser Al Jasser, DG of Saudi Arabian Airlines. Jeddah becomes the second destination in the Middle East served non-stop from Mauritius, with the other being Dubai, a route which Emirates operates twice-daily on its A380s.
27th September 2017
SAUDIA Receives Four Star Ranking from Airline Passenger Experience Association (APEX)
Saudi Arabian Airlines (SAUDIA), has received a 4-star rating from the Airline Passenger Experience Association (APEX) during an Award Ceremony at the Long Beach Convention Center on Monday, September 25, 2017. The Award Ceremony was held as part of the Apex Expo 2017, attended by more than 3,000 airline industry professionals including executives from 100 airlines, content providers, Original Equipment Manufacturers, systems manufacturers and others.
The Apex Airline Ratings are based on passengers' verified feedback, referred to as The Official Airline Ratings. Commenting on the recent Four-star rating by APEX, Saudi Arabian Airlines Director General, His Excellency Eng. Saleh bin Nasser Al-Jasser said: "Our team is dedicated to providing the highest standard of services to each of our guests. We have introduced a range of new products and technological enhancements, making it even more seamless and convenient to experience flying with SAUDIA."
APEX derived the ratings by collecting verified itineraries validated by geo-location and certified by external auditors. SAUDIA was one of 470 airlines subjected to passenger ratings. Receiving the 4-Star plaque from Apex on behalf of SAUDIA was Musaed Almusaed, SAUDIA Manager USA, Mexico and South America. Apex CEO Joe Leader and Apex Awards Master of Ceremonies Brian Kelly, CEO of The Points Guy, presented the plaque. SAUDIA flies more than 30 million passengers a year to more than 87 destinations worldwide on the latest widebody jets including B777-300s, B787-900 Dreamliners, Airbus A-330s and A320s.
The airline recently introduced three new routes on its global route map, to Multan (Pakistan); Port Sudan (Sudan); Mauritius and will start flying to Trivandrum from October 1st – the airline's eighth route in India. In the USA, SAUDIA flies nonstop to Saudi Arabia (Jeddah and Riyadh) daily from New York JFK International and Washington Dulles (IAD) and three times weekly from Los Angeles International Airport (LAX).
17th August 2017
Saudia will begin 3 X weekly Riyadh and Jeddah (Saudi Arabia) - Mauritius Boeing 787-9 service from September 14th 2017.
11th August 2017
Saudia Airlines to launch service to Mauritius
On September 14, Saudia Airlines will begin scheduled flights between Riyadh and Mauritius, with a one hour stop in Jeddah. The three-times weekly service will be operated with a Boeing 787-9 Dreamliner , providing in-flight entertainment and connectivity system, which includes over 2,500 hours of movies, television shows, games, music and more.
Marking the airline's third destination for this year and its 87th overall, Mauritius provides a variety of attractions including marine and eco-tourism ventures and it is an ideal destination for both couples and families. H.H. Saleh bin Nasser Al-Jasser, director general, Saudia Airlines, noted that as a full-service carrier, the airlines is committed to offering is customer an extensive selection of both business and leisure destinations.
May 2017
Saudia and China Southern Airlines have entered into codeshare agreement
Saudia is the only airline flying daily non-stop between the Kingdom and China, flying its state-of-the-art Boeing 777 between Jeddah and Guangzhou (CAN) — the hub of China Southern Airlines. Both Saudia and China Southern Airlines are members of the SkyTeam alliance. The new agreement now enables guests traveling with Saudia to Guangzhou to connect onwards to the cities of Beijing (PEK), Shanghai (PVG) and Wuhan (WUH).
Passengers flying with China Southern Airlines (CZ) will be able to access the Saudia network from Guangzhou, transiting through Dubai. The new codeshare enables guests traveling for business or leisure, to benefit from a single ticket reservation and onward baggage check-in all the way through to their final destination.
April 2017
Saudia announces direct flight from Jeddah to Multan, Pakistan
Saudia Airlines announced it was to launch its first direct flight from Jeddah to the Pakistani city of Multan from Saturday 1st April. Eight weekly round-trip flights have been scheduled.
The carrier is continuously developing its international operational plan with the aim of increasing its share in the international flight sector, and achieving new records in carrying pilgrims.
The company has finalized the creation of its office at the new destination. The first flight SV800 will take off at 02:50 from Jeddah and arrive at Multan Airport 09:30 Pakistan time. Flights to Multan — the airline's fifth direct-flight destination in Pakistan after Peshawar, Lahore, Karachi and Islamabad — will be on Monday, Wednesday, Thursday and Saturday.
Route Map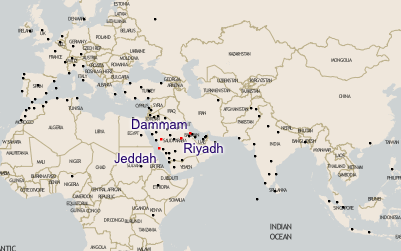 Popular Routes
Manchester

Jeddah
London

Jeddah
Mumbai

Manchester
Bahrain

Jeddah
Dammam

Cairo
Jeddah

Morroco

---
The Fleet
Airbus A319-100
Airbus A330-300
Airbus A320-200

Boeing 777-200
Boeing 747-400

Boeing 777-300ER
---
King Abdulaziz International Airport
HUB Airport
One of the busiest airports in Saudi Arabia with passenger and cargo flights. The airport is hub for Saudia and Flynas. Airlines that fly from and to King Abdulaziz International Airport include Aegean, Air Algerie, British Airways, Ethiopian Airlines, Egypt Air, Flydubai, Sudan Airways, Garuda Indonesia, Royal Falcon and Turkish Airlines.


SkyTeam Alliance is a leading global airline network, with 20 member airlines. SkyTeam alliance was founded in 2000 and now consists of member airlines such as Aerolineas Argentinas, AeroMexico, Air Europa, China Southern, Alitalia, China Airlines, Delta, Garuda Indonesia, Kenya Airways, KLM and others. SkyTeam Alliance network has nearly 16,323 daily flights, with 1,052 destinations in 177 countries.
---
---
Make a Saudia reservation and find some amazing deals with discounted Saudia tickets at Alternative Airlines. Saudia Airlines flies to many destinations worldwide, offering a cost effective and safe service to all its passengers. Let Alternative Airlines help find you cheap Saudia tickets and make international and domestic flight reservations on Saudia today.
Browse the most popular Saudia flight routes to cities worldwide. Alternative Airlines can help you make reservations on Saudia for international flights to lots of destinations. Use the following list of routes to help you plan your next flight. Book Saudia flights on Alternative Airlines to save big! Alternative Airlines is an online travel agency, specialising in booking lesser known airlines and remote destinations.
Alternative Airlines is an Online Travel Agency bonded by the International Air Transport Association (IATA). We specialise in finding the best available fares on the widest range of airlines and making them available to you online, with prices in the currency of your choice.
Alternative Airlines handles all your travel arrangements and payments, complete with ticketed confirmation. We do not direct you to other websites or service providers.
We help you through the process. This is what makes us Alternative Airlines.
Browse for flights, find some amazing deals, make a reservation and pay in the currency of your choice today with Alternative Airlines.
Let Alternative Airlines help find you the best prices and make international and domestic flight reservations with us today.
Join the Alternative Airlines Members Club and get £100.00 back on your 5th booking with Alternative Airlines. You will have insight to many benefits and exclusive deals on over 650 airlines. Click on the Members section on the Alternative Airlines website for more information and join today.
We are open every day from 8am until 8pm (UK local time)
Saudi Arabian Airlines (SAUDIA) is in its 72nd year of operations and is a member of the International Air Transport Association (IATA) and the Arab Air Carriers Organization (AACO).
At the 2017 Skytrax Awards held at the Paris Air Show in June, SAUDIA was awarded "World's Most Improved Airline" of the year. The award recognizes an airline's growth and improvement across a number of categories, in a single year.
The airline currently operates a fleet of 141 narrow and widebody Airbus and Boeing aircraft, and is the Global Launch Operator of the Airbus A330-300 Regional.
SAUDIA joined the SKYTEAM alliance in 2012 and is one of 20 member airlines. The airline has 11 codeshare partners including: Garuda Indonesia, China Southern Airlines, Air France, Royal Air Maroc, Alitalia, Korean Airlines, KLM, Middle East Airlines, Aeroflot, Air Europa and Oman Air.