Search & Buy Air Malta Flights
Select your payment method to view total prices including any payment fees:
Airlines will always try to sit children with their parents (subject to check-in)
Some airlines will allow travel for unaccompanied minors. Please email us to check.
The fare is based on the child's age on the date of travel.
More detailed information can be found here Traveling with children
Most airlines will let infants travel with their parent(s) for free. However some airlines will charge up to 10% of the adult ticket price. Click on 'Price Breakdown' to find out more.
If you are pregnant, but due before the flight departure date, please contact us once your baby is born and has a name. We can then add him/her to your ticket.
Infants will not be given a seat. The airlines expect parents to travel with them on their lap.
Airlines regard infants as being under 24 months old.
The fare is based on the child's age on the date of travel.
More detailed information can be found here Traveling with children
Buy
Air Malta

Flights
Search and Buy Air Malta Reservations with Alternative Airlines
Make an Air Malta Booking and Find Some Amazing Deals
---
About Air Malta
Air Malta is the flag carrier of Malta and is headquartered at Malta International Airport in Luqa, Malta.
Founded in April 1974, Air Malta commenced flights with services to London, Birmingham, Manchester, Rome, Frankfurt, Paris and Tripoli. Today, Air Malta connects Malta with over 35 major cities across Europe and the Mediterranean.
The airline operates to many destinations worldwide including Catania, Milan, Rome, Turin, Olbia, Cagliari, Parma, Venice, Berlin, Dusseldorf, Frankfurt, Hamburg, Hanover, Munich, Dresden, Bristol, Cardiff, Exeter, London, Manchester, Newcastle, Norwich, Lyon, Marseille, Paris, Geneva, Zurich, Benghazi, Tripoli, Vienna, Istanbul, Moscow, St Petersburg, Prague, Sofia, Brussels, Amsterdam, Budapest, Athens, Larnaca, Abu Dhabi, Stockholm, Warsaw, Algiers, Copenhagen and Oslo.
Air Malta has codeshare agreements with Aeroflot, Air France, Austrian Airlines, Brussels Airlines, Emirates, Etihad Airways, Lufthansa, Meridiana Fly, Swiss Airlines and Turkish Airlines. Air Malta's fleet consists of A319s and A320s.
---
Air Malta Baggage
Carry-on Baggage
Club Malta -1 piece of baggage with maximum weight of 15kg per person and 20cm x 40cm x 55cm dimensions
Economy Class - 1 piece of baggage of up to 10 kg.
Checked Baggage
Air Malta's Simply Fly and Best Value fare classes are entitled to 1 piece of baggage with 20kg.
For Spoil Yourself, Business Basic, Value and Anytime classes, passengers are entitled to 2 pieces of baggage of 20kg each.
---
Air Malta Seat Selection
Passengers are now able to select their Air Malta seats without leaving the Alternative Airlines website! Browse the available seats on your Air Malta flight and choose the best place on the plane to suit your needs. Whether you love to sit by the window or want to sit at the front due to a short layover, you can find the seat you need with Alternative Airlines. Visit our seat selection page to find out how to book your Air Malta seat.
---
Air Malta Frequent Flyer Program
Air Malta operates a frequent flyer program in which members are able to earn KMiles every time passengers travel on Air Malta schedule services. KMiles are gained depending on flight segment, type of service and fare.
These KMiles will be redeemable for free flights to any of our destinations within the schedule route network.
There are three Tiers of membership:
Temporary Tier Level
Permanent Tier Level
Diamond Tier Level
---
Alternative Airlines to Air Malta
Please click on the logos below to find out more about airlines that fly similar routes to Air Malta:
---

Air Malta Route Map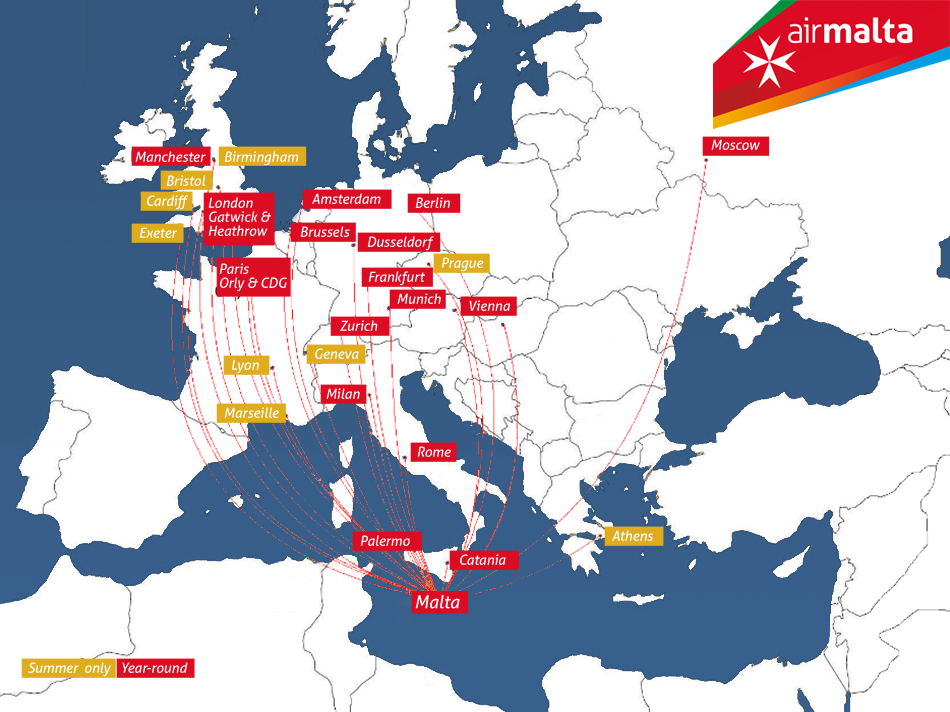 ---

Air Malta Popular Routes
Rome

London
Luqa

London
Catania

Milan
Algiers

London
Lyon

Venice
Istanbul

Sofia
---

Air Malta Fleet
A320-200
A319-100
---

Air Malta Hub Airport
Malta International Airport
Malta International Airport is the only airport in Malta and it serves the Maltese Islands. It is also the main hub for Air Malta and is also a focus city for Ryanair. The airport has two runaways and can handle 5 million passengers every year. Other airlines which fly to and from Malta International Airport include Aegean Airlines, Air Berlin, Air Serbia, Emirates, Brussels Airlines, Finnair, Lufthansa, Niki, Turkish Airlines, Vueling and many others.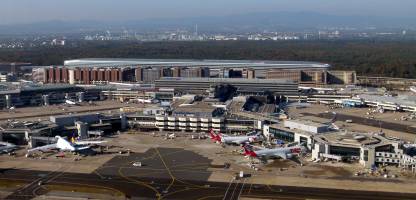 ---
Air Malta News
8th November 2018
Air Malta increases links to Germany
Air Malta has launched its new winter schedule, which includes 9 new destinations including 3 new German destinations; Munich, Frankfurt and Dusseldorf.
New destinations also include Lisbon, Cagliari, Malaga, Casablanca and Kiev.
25th June 2018
Air Malta Launches Boryspil Flights
On 19th June, Air Malta commenced flights between Luqa International Airport in Malta toKiev Boryspil. A colourful cake was served to mark the inaugural flight event. Charles Mangion, Chairman of Air Malta, had the honour of cutting the rainbow masterpiece.
Air Malta will offer weekly (Tuesdays) service on the 2,079km connection. This means that for 2018,Air Malta has launched 10 new routes from its home base, with Kiev joiningBucharest, Cagliari, Casablanca, Lisbon, London Southend, Malaga, Manchester, St. Petersburg and Venice Marco Polo on the Maltese airline's network.
Air Malta's next route inauguration will take place on 29th June to Lourdes in France.
20th June 2018
Air Malta's new Airbus A320neo joins the airline's fleet
The brand new 180-seater Airbus A320neo joined the Air Malta's fleet at the end of last week.
The new aircraft has aptly been registered on the Maltese aircraft register as 9H-Neo.
Air Malta is the 21st airline worldwide to be flying this new generation A320 with CFM engines. Straight out of the production line, the new A320neo is currently in Shannon, Ireland, where it has been repainted with the airline's intricate yet stunning livery.
The painting process required strong expertise and experience in order to have the multi-layered designs applied to the fuselage. In fact a skilled team of paint specialists and technicians using stencils, masks, different grades and layers of paint carried out the work.
Apart from the airline's colourful livery the aircraft has also been branded with cartoon characters to promote a Nickelodeon Treasure Hunt that will take place on the islands between 13 and 18 April 2019.
The partnership with media giant Viacom will see a week of Nickelodeon activities across the island, including a character parade, as well as a child-friendly treasure hunt and workshops.
Air Malta's chairman Dr Charles Mangion said: "Thanks to its new state-of-the-art aerodynamics and new generation engines the Neo offers unbeatable efficiency and environmental performance. On a Malta-London Heathrow flight, the airline will save up to 1.3 tons of fuel per trip, 6,200 tons of CO2 per year and a 24% reduction of CO2 emission per seat. Designed with the latest cabin features offering more cabin space and comfort, the aircraft also produces a 50% less noise footprint than the A320ceo. The new aircraft will offer Air Malta guests added comfort and an enhanced customer experience. It is no wonder that the A320 is the bestselling single-generation aircraft."
The Minister of Tourism Dr Konrad Mizzi added: "The arrival of the Neo marks and important step in the airline's history and development. Apart from enhanced fuel and environmental performance the aircraft fits perfectly with the airline's current fleet of A320ceos delivering seamless operation integration and also costs savings in terms of training of engineers and pilots. This type of aircraft will pave the way for a more modern Air Malta aircraft fleet and assist the airline to become the Airline of the Mediterranean."
The aircraft cabin interior offers 18-inch wide seats where passengers can enjoy more personal space in terms of comfort and leg room. The aircraft is also equipped with HD inflight entertainment screens.
31st May 2018
Air Malta preparing to open new routes to Africa
An air optimism can be felt about Air Malta's new routes. The Commercial Arja ta' ottimiżmu dwar ir-rotot il-ġodda tal-Air Malta. The Chief Commercial officer, Paul Sies told TVM that almost all of the company's aims have been met on almost all its routes. He added that at the moment the company is working to open new routes to African countries.
The majority of the 17 routes which Air Malta started operating this year appears to have met the projections of the company. Mr Sies said that the most popular routes were to Lisbon, Portugal and Kiev, Ukraine, while Venice so far has been disappointing.
"We are running at a 90% load factor, in the last few months, we are very happy about that, one of the most surprising routes is Kiev, a route which when you do the models and the studies, it showed it could work but it's a lot of dependencies, but it is working very well, we introduced it quite late but it's working with an 85% load factor, one of the routes we are less happy about is Venice," he said.
"I think that it is a public secret that we are looking at how we can re-connect Africa and sub Saharan Africa with Malta and really create a hub in Malta. This is one of the strategies we are working on and the other one is, really using the islands in the Mediterranean to connect Malta and Europe, and if you look at the success of what we are doing between Malta, Catania and Sardinia and South end, is a very good example of it, how we are developing the airline, not only to grow in Malta but beyond" said Mr Sies.
According to Chairman Charles Mangion, the challenge for Air Malta to be able to continue with its strategy is to motivate its employees in this ambitious project.
"If we want the company to be saved, this commitment is essential, and most of the time we do find this co-ooperation, but we need to see an even greater commitment, we need to understand that if we want to save Air Malta and see it grow, we need everyone to work towards this objective."
Dr Mangion said that last March, Air Malta for the first time in many years closed off its financial year without any losses, and is waiting for its accounts to be approved by the auditors.
23rd May 2018
London Southend welcomes the launch of daily flights by Air Malta
Air Malta has launched three new direct services to London Southend Airport in the past week.
The airline began by introducing a three times weekly connection on the 2,100-kilometre sector fromMaltaon 4 May, with this route operating on Tuesdays, Fridays and Saturdays.
It then launched a link on the 1,513-kilometre Cagliari sector on 6 May, followed by the introduction of the 1,928-kilometre Catania route on 7 May. The Cagliari and Catania routes will both be served twice-weekly with the former operated on Wednesdays and Sundays, and the latter on Mondays and Thursdays.
This means that Air Malta will offer one flight per day from Southend, year-round.
There is no competition on the Cagliari and Catania airport pairs, which are the only services Air Malta operates from a UK airport that do not feature a direct connection to Malta. On both the Sardinia and Sicily links, there is an option to travel onward to Malta after a short stop. The direct Malta flights are the only new link with incumbent competition, with easyJet already providing two flights per week. All three routes will be flown on Air Malta A320s.
"This winter we will extend the terminal by about one-third and that will give us terminal capacity for about 6.0-6.5 million passengers per year," Glyn Jones, CEO of Stobart Aviation, owners of London Southend Airport, informed anna.aero Chief Analyst Nick Preston. "We have told our shareholders that we will be handling 5.0 million passengers by 2023 and the work that we're doing with Air Malta is a great step in the right direction. Making these three routes work is absolutely crucial," continued Jones. "Air Malta is a flag carrier with a two-class product, so we're serving business class passengers and expanding our offering. If we can make this work and I am absolutely confident that we can, it will set a good example for other carriers to look at."
Joseph Galea, Acting CEO Air Malta said "Air Malta is very excited. London has always been a major destination for Maltese people, and Malta is a popular attraction for British people, so the connectivity we are now offering between Malta and London - plus Cagliari and Catania - makes it very exciting for us. Mostly we fly point to point, but the London Southend product gives us the opportunity to combine Sardinia and Sicily - it is already doing well, so we are thrilled as it is where we want to go in the future."
23rd April 2018
Air Malta to launch regular service to Romania's Bucharest - report
Flag carrier Air Malta said it will launch a regular service between Valetta and Romania's Bucharest Henri Coanda airport as of May 17, Malta Independent news daily reported.
Air Malta's new route from Valetta to Bucharest will be serviced once per week, on Thursdays, Malta Independent reported on Thursday.
The flights will be operated from Malta International Airport.
"The introduction of this new service follows our current growth strategy that will enable us to tap into new markets together with our travel partners," Air Malta's Chief Commercial Officer Paul Sies was quoted as saying.
So far, Air Malta has operated only charter flights to Bucharest.
Air Malta is the flag carrier airline of Malta, with its headquarters in Luqa and its hub at Malta International Airport. It operates services to destinations in Europe, Middle East and North Africa.
23rd April 2018
Air Malta adds a ninth aircraft to its fleet
Airbus A320 to be operational shortly, airline says
Air Malta has added a ninth aircraft to its fleet, as part of its plans to extend its route network and revive its ailing business.
The leased Airbus A320 landed in Malta late on Thursday and is expected to begin running flights on Air Malta's network within the coming days.
It has been reconfigured to the airline's specifications, with an Etihad Airways Engineering team applying Air Malta livery to the aircraft in Abu Dhabi.
As part of the preparatory process, the aircraft was also subjected to a six-year heavy maintenance check, Air Malta said in a statement announcing its latest fleet addition.
The aircraft is six years old, an Air Malta spokesman toldTimes of Malta.
Malta's national airline has come in for criticism over the past month for a series of flight delays, which sources inside the company have blamed on "hasty" decisions to lease aging planes.
The airline has denied that version of events, though last month it said that it had replaced a wet-leased aircraft following a raft of complaints.
Air Malta's summer schedule will add 17 new routes to its network, with three of those being flights between cities not involving Malta.
28th March 2018
Air Malta has expanded its operations fromMalta(MLA) this week, launching flights from its home base to Casablanca (CMN), Lisbon (LIS), Malaga (AGP) and Venice Marco Polo(VCE).
The first route to be inaugurated was the 2,105-kilometre link to the Portuguese capital which started 25 March. Air Malta will offer a twice-weekly (Thursdays and Sundays) service on its only route to Portugal, flown using a mixture of its A319s and A320s. Casablanca, Malaga and Venice services launched the following day, with these routes also seeing a twice-weekly operation.
Flights on the 2,031-kilometre sector to Africa will operate on Mondays and Thursdays. The 1,698-kilometre link to Spain will be flown on Mondays and Fridays, while the airline's latest route to Italy will see a Monday and Saturday rotation. Like Lisbon, the Casablanca and Malaga routes will be flown on a mixture of the carrier's short-haul Airbus fleet, while Venice will just be served by A320s according to OAG schedules.
Neither of the four services launched by Air Malta this week will face direct competition.
20th February 2018
Air Malta to fly from Southend to Malta, Sardinia and Sicily
Air Malta is to commence operation from London Southend Airport this summer to the popular Mediterranean destinations of Malta, Sardinia and Sicily. From May 4, the passengers will be abled to book direct flights to Malta with Air Malta – whose capital, Valletta, is the 2018 European Capital of Culture – three times a week on Tuesdays, Fridays and Saturdays.
It will also operate direct flights to Catania, Sicily, on Mondays and Thursdays, and to Cagliari, Sardinia, on Wednesdays and Sundays. These additions will also commence in May. Charles Mangion, chairman of Air Malta, said: "We are thrilled to be announcing flight services connecting Malta, Sicily, Sardinia and London. "This is more good news for Maltese, Sicilian, Sardinian and British tourists alike who now have the opportunity to visit these destinations through Air Malta's services. Indeed, these are interesting times for Air Malta." Glyn Jones, chief executive of Stobart Aviation, which owns London Southend Airport, added: "With our multi-award winning facilities, fast and frequent train services to London and market-leading record for punctuality, we look forward to providing an excellent service to passengers wanting to explore Malta, Sicily and Sardinia."
9th January 2018
Air Malta launches Catania-Vienna flights, quietly ditches direct Berlin service
Airline steps in after flyNiki ceased operations
Air Malta has introduced Catania-Vienna route in line with the government's strategy to establish the carrier as the Airline of the Mediterranean, Tourism Minister Konrad Mizzi has announced.
He said Air Malta stepped in after Austrian airline flyNiki stopped operations.
"Air Malta is looking for new profitable opportunities in order to grow its route network over the Mediterranean region," he said.
Air Malta over the past months increased its links with Sicily and introduced a scheduled service to Comiso along with those it has to Catania and Palermo. It is seeking to attract passengers from Sicily who will either be brought to Malta for onward destinations or will be flown directly from Sicily as is the case with the new service.
The new service will operate twice weekly.
Austrian low-cost airline flyNiki, headquartered at Vienna Airport, ceased operations on December 14. The airline was operating scheduled and charter services to European and North African leisure destinations from Vienna, Salzburg, Graz, Innsbruck and some German airports.
Hungarian airline WizzAir has also quickly stepped into the breach. It announced on Tuesday that it will base three aircraft in Vienna operating to various destinations, including a service to Malta from April.
Direct Berlin flights quietly stopped
Meanwhile, Air Malta has quietly ditched its direct flights to Berlin without making any prior announcements. A number of readers contacted Times of Malta, expressing their anger at the way Air Malta had suddenly dropped the route. In 2016, Air Malta announced it was increasing its flight frequency to up to three weekly flights on the Berlin route. Flights to Berlin can still be booked through Air Malta's website, but the routes on offer involve a stopover at either Frankfurt, Munich or Brussels. Many of the flight combinations to Berlin for this month now cost over €300.
Questions sent to the airline asking why the route had been dropped and why no public announcement was made about it remained unanswered at the time of writing. Tourism Minister Konrad Mizzi has said the new strategy for returning the national carrier to profitability involved increasing the number of flights and routes on offer. Dr Mizzi took to the floor in Parliament to announce a number of new routes, including to St Petersburg, Casablanca and Lisbon. No announcement was made about the decision to stop flights to the German capital, however. The airline has faced a long, uphill battle to return to profitability. Its revenues were down by approximately €25 million during the financial year ending March 2017 compared to the previous year. That meant ending the fiscal year with a loss of more than €13 million, a figure three times higher than the €4 million in the red it posted in March 2016. The government has recently closed off a number of collective agreements with the various unions representing the airline's workers.
Agreement with Air Malta's pilots remains elusive, with Dr Mizzi missing a self-imposed deadline to reach an agreement with them by the end of 2017. The pilots' union is holding out on signing, demanding a better pay package and improved conditions. The Times of Malta has previously reported how banks wanted the airline to conclude talks with all unions before they can green-light new credit facilities based on a new business plan. The four collective agreements which the airline wishes to conclude will cost an additional €16 million. However, the airline is hoping to increase its revenues by €100 million over the five-year period in order to return to the black.
13th November 2017
Air Malta to start services to Casablanca, Venice and St Petersburg next Summer
Air Malta will inaugurate a new twice weekly scheduled service every Monday and Thursday marking a return to one of the most important cities of Africa and the largest city in Morocco, Casablanca.
In line with its growth strategy Air Malta announced direct services to three destinations; Casablanca, Venice and St Petersburg for summer 2018. The destinations were announced during theWorld Travel Market, the annual leading global travel trade show being held in London between the 6th and the 8th November.
Present at the WTM were Minister for Tourism DrKonrad Mizzi, Air Malta's Chairman, DrCharles Mangion, Air Malta's Acting CEO,Joseph Galea and Chief Commercial Officer,Paul Sies.
Casablanca
Air Malta will inaugurate a new twice weekly scheduled service every Monday and Thursday marking a return to one of the most important cities of Africa and the largest city in Morocco, Casablanca. The Air Malta is resuming its services to Casablanca after an absence of around 10 years.
Thanks to short and convenient transfers throughMalta International Airport, this new Air Malta service will offer seamless flight connectivity between Casablanca and the European cities of Vienna, London, Rome, Amsterdam, Frankfurt, Prague, Munich, Brussels, Marseille, Catania, Milan and Zurich together with Tel Aviv. Air Malta will also provide full cargo services on this route opening up a new cargo gateway to/from Morocco and beyond.
Venice
Air Malta will re-start flying to Venice, one of the world's most romantic and enchanting cities, as from the 26th of March 2018. The Maltese airline will fly to Venice Marco Polo Airport with a twice a week every Monday and Saturday. If you're looking for a cheaper alternative to romantic Venice, discover affordable romantic destinations with our latest blog.
St. Petersburg
Air Malta will start operating a twice weekly scheduled service to St Petersburg, Russia, every Wednesday and Saturday as from the 29th March 2018. The flight schedule to the city will complement the three times weekly service to Russia's capital, Moscow, which will increase to a four weekly flight schedule in peak summer.
21st September 2017
Air Malta launches low-cost Go-Light option to fliers
Air Malta has introduced a new range of prices under the Go-Light brand.
The new product range includes a new product – Go Light, a hand luggage only one-way starting from just €39.
This type of fare, which is the first step Air Malta is taking to become a hybrid airline, gives guests the opportunity to travel on a low fare without having to sacrifice the level of service expected from a traditional airline.
Commenting on this announcement Malta minister for tourism Konrad Mizzi said that this initiative is part of the Air Malta's revitalisation process and is expected to increase sales in the coming weeks.
This complements decisions such as the return to Frankfurt, Tunis and to Manchester together with the decision to add another aircraft to the fleet next summer.
The minister announced that Air Malta is also working on a number of new routes and frequencies. In fact, the Malaga route was announced only yesterday and will commence as from summer 2018.
Air Malta chairman Charles Mangion added: "The changes introduced today are the first tangible proof of a changing National Airline.
"This is a bold step for us, aimed to offer an enhanced and superior product whilst also increasing much needed revenue.
"The hybrid model adopted provides guests with a unique platform that empowers them to build a tailor made product according to their wants and needs.
"These changes have been implemented following the feedback and comments received from customers."
24th August 2017
Air Malta to relaunch Manchester service
Air Malta is set to relaunch flights between Manchester and Malta
The airline had stated that the decision to axe the route would save it €2 million and the chance to focus on more profitable routes. In a press release this morning, it says the decision has "been reversed in line with Air Malta's growth strategy".
Commenting on the relaunch, UK and Ireland director of Malta Tourism Authority Peter Vella said:
"Capitalising on Malta's increasing popularity, we're looking forward to welcoming this flight back to Manchester, offering genuine Maltese hospitality from the moment of take-off."
Starting from May 1, 2018, the summer service will operate weekly until October 16, departing Tuesdays at 0730 from Malta, arriving in Manchester at 1005, with the return leg leaving Manchester at 1055 and landing in Malta at 1515.
The route joins Air Malta's existing summer UK routes, including Heathrow Terminal 4 (double daily and three times daily on a Friday), Gatwick South Terminal (daily), Birmingham and Bristol (weekly).
12th May 2017
Air Malta confirms reconnecting Malta to North Africa
Following the restart of scheduled services between the islands and Tunis Carthage Airport from June 26.
The new schedule will be operated 3 xWeekly on Mondays, Wednesday and Fridays.
Set to increase connectivity between Tunisia and Europe, with a short transit time though Malta International Airport, the carrier will also provide full cargo services on the route, thus facilitating the movements of goods.
"Now that the situation in Tunisia has stabilised, we want to be amongst the first airlines to connect Europe with the country again," said Paul Sies, chief commercial officer, Air Malta.
25th April 2017
Air Malta announces resuming of flights to Tunisia
Air Malta has announced it will recommence flight services between the islands and Tunis Carthage Airport from 26th June 2017. The airline are excited for the service to start again for the summer period and will fly 3 x weekly. Air Malta have been following the situation in North Africa every day and now that situation in Tunisia has stabilised, the airline want to be amongst the first of Airlines to connect Europe with the country again.
"Tunisia is a great destination and we are confident that it is going to be a great addition to our schedule as we connect Tunis not only with Malta, but also with a lot of our European destinations. The country is, ideal for weekend breaks and sun certain holidays," said Paul Sies, Air Malta's Chief Commercial Officer.
13th April 2017
Air Malta has announced scheduled services between Malta and Tel Aviv.
Air Malta will begin scheduled services between Malta and Tel Aviv, Israel, on 21st April 2017, flying 3 x Weekly during the summer. Tel Aviv is Israel's second largest City, a cosmopolitan and vibrant destination stretching along the Mediterranean Sea. It is rich in culture and hosts a large number of museums.
April 2017
Air Malta will begin its maiden scheduled services to the Middle East from April 21st onwards
Using a fleet of eight A320-200s and one A319-100, Air Malta currently serves 26 destinations across Italy, Germany, Austria, Switzerland, Czechia, Russia, Belgium, the Netherlands, Russia, and the United Kingdom. the Maltese carrier will begin 3x weekly Malta-Tel Aviv Ben Gurion, Israel, flights from April 21 onwards.
March 2017
Air Malta announced it was to offer scheduled flights to Israel
In a statement announcing the beginning of its summer schedule next Sunday, the airline said it had planned 150 weekly flights to 30 destinations using a fleet of eight aircraft. It was set to carry over 1.2 million passengers. The airline said that this summer it had increased frequencies on the Munich, Brussels, Amsterdam, Vienna, Zurich, Rome, Catania, Lyon, Palermo, Prague and Moscow routes.
It would operate with up to double daily flights in peak summer to Munich, Rome and Catania. The Maltese National airline intended to continue codeshare agreements with Air France, Alitalia, Aeroflot, Austrian Airlines, Emirates, Etihad, KLM, Lufthansa, Brussels Airlines, Czech Airlines, Meridiana, Swiss Airlines and Turkish Airlines.
March 2016
Air Malta wins award for punctuality
Air Malta won an award for punctuality in which it was awarded the Punctuality Award 2015 for Short Haul Airline at the 9th edition of the Brussels Airport Aviation Awards.
Air Malta operates 9 weekly flights to Brussels Airport and the airport handles 23 million passengers every year.
September 2016
Air Malta announce new route to Palermo
Air Malta announced excellent load factors on the first two months of operations of Air Malta's new route to Palermo. The twice weekly schedule to the Sicilian capital, which commenced on the 4th July, will be retained throughout winter 2016/7.
The services between Malta and Palermo are operating in addition to the 15 weekly flights to the island's other important city of Catania. This strong presence in the Sicilian market reinforces Air Malta's leading position serving the two islands and the national airline's commitment to both markets.
July 2016
Air Malta renews IATA registration
Air Malta successfully renewed its IATA Operational Safety Audit registration, following a comprehensive audit, carried out by a foreign IATA-accredited Audit Organisation. OSA is an internationally recognised evaluation system designed to assess the operational management and control systems of an airline.
The audit, which covers over 900 standards across all the organisation, verified the airline's operational departments including: Organisation and Management System, Flight Operations, Operational Control and Flight Dispatch, Aircraft Engineering and Maintenance, Cabin Operations, Ground Handling Operations, Cargo Operations and Security Management. Each department is audited for the required documented policy and procedures, as well as the correct implementation.
---