Search and Buy Air Malta Reservations with Alternative Airlines
Make an Air Malta Booking and Find Some Amazing Deals
---
About
Air Malta is the flag carrier of Malta and is headquartered at Malta International Airport in Luqa, Malta.
Founded in April 1974, this airline commenced flights with services to London, Birmingham, Manchester, Rome, Frankfurt, Paris and Tripoli. Today, they connect Malta with over 35 major cities across Europe and the Mediterranean.
The airline operates to many destinations worldwide including Catania, Milan, Rome, Turin, Olbia, Cagliari, Parma, Venice, Berlin, Dusseldorf, Frankfurt, Hamburg, Hanover, Munich, Dresden, Bristol, Cardiff, Exeter, London, Manchester, Newcastle, Norwich, Lyon, Marseille, Paris, Geneva, Zurich, Benghazi, Tripoli, Vienna, Istanbul, Moscow, St Petersburg, Prague, Sofia, Brussels, Amsterdam, Budapest, Athens, Larnaca, Abu Dhabi, Stockholm, Warsaw, Algiers, Copenhagen and Oslo.
This airline has codeshare agreements with Aeroflot, Air France, Austrian Airlines, Brussels Airlines, Emirates, Etihad Airways, Lufthansa, Meridiana Fly, Swiss Airlines and Turkish Airlines. The fleet consists of A319s and A320s.
---
Baggage Allowance
Carry-on Baggage
Club Malta -1 piece of baggage with maximum weight of 15kg per person and 20cm x 40cm x 55cm dimensions
Economy Class - 1 piece of baggage of up to 10 kg.
Checked Baggage
Air Malta's Simply Fly and Best Value fare classes are entitled to 1 piece of baggage with 20kg.
For Spoil Yourself, Business Basic, Value and Anytime classes, passengers are entitled to 2 pieces of baggage of 20kg each.
---
Seat Selection for your flight
Passengers are now able to select their Air Malta seats without leaving the Alternative Airlines website! Browse the available seats on your flight and choose the best place on the plane to suit your needs. Whether you love to sit by the window or want to sit at the front due to a short layover, you can find the seat you need with Alternative Airlines. Visit our seat selection page to find out how to book your Air Malta seat.
---
Frequent Flyer Program
Air Malta operates a frequent flyer program in which members are able to earn KMiles every time passengers travel on scheduled services. KMiles are gained depending on flight segment, type of service and fare.
These KMiles will be redeemable for free flights to any of our destinations within the schedule route network.
There are three Tiers of membership:
Temporary Tier Level
Permanent Tier Level
Diamond Tier Level
---
Economy Class
In economy class, passengers can experience a world-class service from the comfort of their seat.
Economy Class Facilities
Economy class includes hand baggage in the ticket fare, with the ability to purchase additional checked luggage if not detailed as free on their ticket or boarding pass. Passengers also have the ability to check-in online for their flights. There is also the ability to select a seat, for a small fee, in economy class.
Economy Class Seats
Passengers will have a 30 inch seat pitch on board their flights, with comfortable chairs to be able to sit back and enjoy the flight in.
---
Premium Economy Class
Premium Economy is currently not offered by this airline. Passengers can choose economy for a smooth service, or upgrade to business class for a taste of the luxury.
---
Business Class
Business Class offers its passengers the finest experience in the skies. With a smooth and easy airport experience, which transverses into a comfortable and relaxing journey on the plane, passengers will have their stress minimised and comfort maximised in Air Malta business class.
Business Class Facilities
Passengers can enjoy priority check-in for business class along with priority boarding. At the airport, passengers can also enjoy the airport lounge for business class passengers, at select airports. Passengers also get free hand and checked baggage on this class of fare.
What are the Business Class Seats Like?
Customers in business class will enjoy a roomier flight experience, with seat pitches of 34 inches. In business class, the middle seat is always left free, meaning that you have more room to make yourself comfortable without the possibility of strangers next to you. You will also be able to choose your preferred seat in business class.
---
First Class
Air Malta are yet to offer a first class. For a world-class premium experience, please select Business Class, the details of which are above.
---
Alternative Airlines
Please click on the logos below to find out more about airlines that fly similar routes:
---

Route Map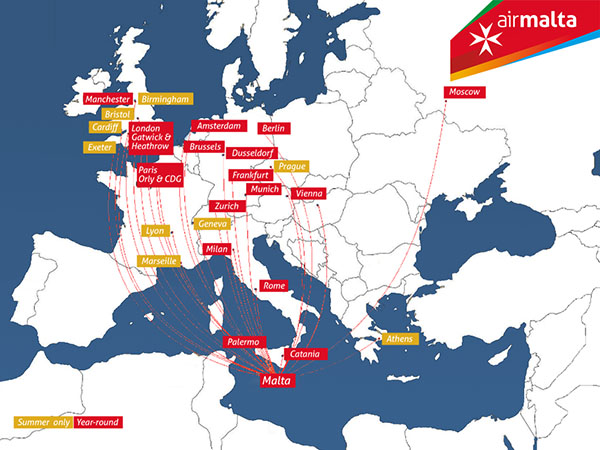 ---
Air Malta Destinations
Air Malta serves a number of international destinations mainly in Europe, for both year-round and seasonal flights, as per the table below:
| COUNTRY | CITY | AIRPORT | IATA |
| --- | --- | --- | --- |
| Austria | Vienna | Vienna International Airport | VIE |
| Belgium | Brussels | Brussels Airport | BRU |
| Czech Republic | Prague | Václav Havel Airport Prague | PRG |
| France | Lyon | Lyon-Saint Exupéry Airport | LYS |
| France | Marseille | Marseille Provence Airport | MRS |
| France | Paris | Paris-Charles de Gaulle International Airport | CDG |
| France | Paris | Paris-Orly Airport | ORY |
| Georgia | Tbilisi | Shota Rustaveli Tbilisi International Airport | TBS |
| Germany | Berlin | Berlin Tegel Airport | TXL |
| Germany | Düsseldorf | Düsseldorf Airport | DUS |
| Germany | Frankfurt | Frankfurt Airport | FRA |
| Germany | Munich | Munich Airport | MUC |
| Israel | Tel Aviv | Ben Gurion International Airport | TLV |
| Italy | Catania | Catania–Fontanarossa Airport | CTA |
| Italy | Cagliari | Cagliari Elmas Airport | CAG |
| Italy | Milan | Milan Linate Airport | LIN |
| Italy | Rome | Leonardo da Vinci-Fiumicino International Airport | FCO |
| Italy | Venice | Venice Marco Polo Airport | VCE |
| Malta | Malta | Malta International Airport | MLA |
| Netherlands | Amsterdam | Amsterdam Airport Schiphol | AMS |
| Poland | Warsaw | Warsaw Chopin Airport | WAW |
| Portugal | Lisbon | Lisbon Airport | LIS |
| Russia | Moscow | Sheremetyevo International Airport | SVO |
| Switzerland | Geneva | Geneva Airport | GVA |
| Switzerland | Zürich | Zürich International Airport | ZRH |
| Tunisia | Tunis | Tunis Carthage International Airport | TUN |
| Ukraine | Kiev | Boryspil International Airport | KBP |
| United Kingdom | Birmingham | Birmingham Airport | BHX |
| United Kingdom | London | London Gatwick International Airport | LGW |
| United Kingdom | London | London Heathrow International Airport | LHR |
| United Kingdom | London | London Southend Airport | SEN |
| United Kingdom | Manchester | Manchester Airport | MAN |
---

The Fleet
A320-200
A319-100
---

Hub Airport
Malta International Airport
Malta International Airport is the only airport in Malta and it serves the Maltese Islands. It is also the main hub for Air Malta and is also a focus city for Ryanair. The airport has two runways and can handle 5 million passengers every year. Other airlines which fly to and from Malta International Airport include Aegean Airlines, Air Berlin, Air Serbia, Emirates, Brussels Airlines, Finnair, Lufthansa, Niki, Turkish Airlines, Vueling and many others.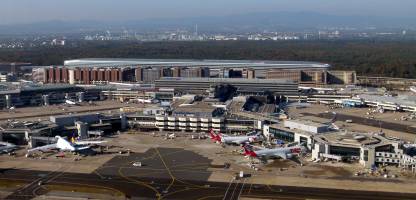 ---
News
5th August 2019
Malta MedAir leases A320 to Air Malta
Malta MedAir has leased one of its Airbus 320s to sister company Air Malta, with its first flight operating from Malta International Airport to Warsaw.
8th November 2018
Air Malta increases links to Germany
Air Malta has launched its new winter schedule, which includes 9 new destinations including 3 new German destinations; Munich, Frankfurt and Dusseldorf.
New destinations also include Lisbon, Cagliari, Malaga, Casablanca and Kiev.
25th June 2018
Air Malta Launches Boryspil Flights
On 19th June, the airline commenced flights between Luqa International Airport in Malta toKiev Boryspil. A colourful cake was served to mark the inaugural flight event. Charles Mangion, Chairman, had the honour of cutting the rainbow masterpiece.
Air Malta will offer weekly (Tuesdays) service on the 2,079km connection. This means that for 2018,Air Malta has launched 10 new routes from its home base, with Kiev joiningBucharest, Cagliari, Casablanca, Lisbon, London Southend, Malaga, Manchester, St. Petersburg and Venice Marco Polo on the Maltese airline's network.
Air Malta's next route inauguration will take place on 29th June to Lourdes in France.
20th June 2018
Air Malta's new Airbus A320neo joins the airline's fleet
The brand new 180-seater Airbus A320neo joined the fleet at the end of last week.
The new aircraft has aptly been registered on the Maltese aircraft register as 9H-Neo.
It is the 21st airline worldwide to be flying this new generation A320 with CFM engines. Straight out of the production line, the new A320neo is currently in Shannon, Ireland, where it has been repainted with the airline's intricate yet stunning livery.
The painting process required strong expertise and experience in order to have the multi-layered designs applied to the fuselage. In fact a skilled team of paint specialists and technicians using stencils, masks, different grades and layers of paint carried out the work.
Apart from the airline's colourful livery the aircraft has also been branded with cartoon characters to promote a Nickelodeon Treasure Hunt that will take place on the islands between 13 and 18 April 2019.
The partnership with media giant Viacom will see a week of Nickelodeon activities across the island, including a character parade, as well as a child-friendly treasure hunt and workshops.
Air Malta's chairman Dr Charles Mangion said: "Thanks to its new state-of-the-art aerodynamics and new generation engines the Neo offers unbeatable efficiency and environmental performance. On a Malta-London Heathrow flight, the airline will save up to 1.3 tons of fuel per trip, 6,200 tons of CO2 per year and a 24% reduction of CO2 emission per seat. Designed with the latest cabin features offering more cabin space and comfort, the aircraft also produces a 50% less noise footprint than the A320ceo. The new aircraft will offer guests added comfort and an enhanced customer experience. It is no wonder that the A320 is the bestselling single-generation aircraft."
The Minister of Tourism Dr Konrad Mizzi added: "The arrival of the Neo marks and important step in the airline's history and development. Apart from enhanced fuel and environmental performance the aircraft fits perfectly with the airline's current fleet of A320ceos delivering seamless operation integration and also costs savings in terms of training of engineers and pilots. This type of aircraft will pave the way for a more modern aircraft fleet and assist the airline to become the Airline of the Mediterranean."
The aircraft cabin interior offers 18-inch wide seats where passengers can enjoy more personal space in terms of comfort and leg room. The aircraft is also equipped with HD inflight entertainment screens.
31st May 2018
Air Malta preparing to open new routes to Africa
An air optimism can be felt about Air Malta's new routes. The Commercial Arja ta' ottimiżmu dwar ir-rotot il-ġodda tal-Air Malta. The Chief Commercial officer, Paul Sies told TVM that almost all of the company's aims have been met on almost all its routes. He added that at the moment the company is working to open new routes to African countries.
The majority of the 17 routes which Air Malta started operating this year appears to have met the projections of the company. Mr Sies said that the most popular routes were to Lisbon, Portugal and Kiev, Ukraine, while Venice so far has been disappointing.
"We are running at a 90% load factor, in the last few months, we are very happy about that, one of the most surprising routes is Kiev, a route which when you do the models and the studies, it showed it could work but it's a lot of dependencies, but it is working very well, we introduced it quite late but it's working with an 85% load factor, one of the routes we are less happy about is Venice," he said.
"I think that it is a public secret that we are looking at how we can re-connect Africa and sub Saharan Africa with Malta and really create a hub in Malta. This is one of the strategies we are working on and the other one is, really using the islands in the Mediterranean to connect Malta and Europe, and if you look at the success of what we are doing between Malta, Catania and Sardinia and South end, is a very good example of it, how we are developing the airline, not only to grow in Malta but beyond" said Mr Sies.
According to Chairman Charles Mangion, the challenge to be able to continue with its strategy is to motivate its employees in this ambitious project.
"If we want the company to be saved, this commitment is essential, and most of the time we do find this co-operation, but we need to see an even greater commitment, we need to understand that if we want to save Air Malta and see it grow, we need everyone to work towards this objective."
Dr Mangion said that last March, Air Malta for the first time in many years closed off its financial year without any losses, and is waiting for its accounts to be approved by the auditors.
23rd May 2018
London Southend welcomes the launch of daily flights by Air Malta
This airline has launched three new direct services to London Southend Airport in the past week.
The airline began by introducing a three times weekly connection on the 2,100-kilometre sector from Malta on 4 May, with this route operating on Tuesdays, Fridays and Saturdays.
It then launched a link on the 1,513-kilometre Cagliari sector on 6 May, followed by the introduction of the 1,928-kilometre Catania route on 7 May. The Cagliari and Catania routes will both be served twice-weekly with the former operated on Wednesdays and Sundays, and the latter on Mondays and Thursdays.
This means that Air Malta will offer one flight per day from Southend, year-round.
There is no competition on the Cagliari and Catania airport pairs, which are the only services they operate from a UK airport that do not feature a direct connection to Malta. On both the Sardinia and Sicily links, there is an option to travel onward to Malta after a short stop. The direct Malta flights are the only new link with incumbent competition, with easyJet already providing two flights per week. All three routes will be flown on A320s.
"This winter we will extend the terminal by about one-third and that will give us terminal capacity for about 6.0-6.5 million passengers per year," Glyn Jones, CEO of Stobart Aviation, owners of London Southend Airport, informed anna.aero Chief Analyst Nick Preston. "We have told our shareholders that we will be handling 5.0 million passengers by 2023 and the work that we're doing with Air Malta is a great step in the right direction. Making these three routes work is absolutely crucial," continued Jones. "Air Malta is a flag carrier with a two-class product, so we're serving business class passengers and expanding our offering. If we can make this work and I am absolutely confident that we can, it will set a good example for other carriers to look at."
Joseph Galea, Acting CEO, said "Air Malta is very excited. London has always been a major destination for Maltese people, and Malta is a popular attraction for British people, so the connectivity we are now offering between Malta and London - plus Cagliari and Catania - makes it very exciting for us. Mostly we fly point to point, but the London Southend product gives us the opportunity to combine Sardinia and Sicily - it is already doing well, so we are thrilled as it is where we want to go in the future."
---
FAQs
Can I pay for Air Malta flights in instalments?
Of course! At Alternative Airlines, we have 40+ payment methods and over 160 currencies to book with. Some payment plans available to book Air Malta flights include PayPal Credit, Klarna and Laybuy.