Airlines will always try to sit children with their parents (subject to check-in)
Some airlines will allow travel for unaccompanied minors. Please email us to check.
The fare is based on the child's age on the date of travel.
More detailed information can be found here Traveling with children
Most airlines will let infants travel with their parent(s) for free. However some airlines will charge up to 10% of the adult ticket price. Click on 'Price Breakdown' to find out more.
If you are pregnant, but due before the flight departure date, please contact us once your baby is born and has a name. We can then add him/her to your ticket.
Infants will not be given a seat. The airlines expect parents to travel with them on their lap.
Airlines regard infants as being under 24 months old.
The fare is based on the child's age on the date of travel.
More detailed information can be found here Traveling with children
Affordable Flights
Cancellation Protection
Protects
Trusted Choice
65,000 happy customers
Rated 4.5 Stars. Based on 3,581 service ratings over the past year
Dedicated customer service team on hand to help
Secure payments
Cancellation Protection
Protects
Trusted Choice
65,000 happy customers
Rated 4.5 Stars. Based on 3,581 service ratings over the past year
Dedicated customer service team on hand to help
Secure payments
Search and Buy
Affordable Flights
Find affordable flights at Alternative Airlines. Use our search form to search for flights with a choice of over 650 airlines.
What makes a flight affordable?

There are a number of things that can make a flight more affordable. Many believe that buying a flight at a specific time can make it more affordable, whether it be a certain day of the week or a certain time of a year. Others believe that when you fly is a more important factor than when you buy. You might also find that certain airlines tend to offer cheaper fares to certain destinations.
However, an affordable flight isn't always determined by the price of the flight. Sometimes, the way you pay can make the flight more affordable.
This page looks at the best way to find affordable flights.
Ways to find affordable flights
Take a look at the different ways that you can find affordable flights below.
Payment plan

Choosing to buy your flights on finance or on a payment plan is a great way to make your flight more affordable. You can't always guarantee cheap airfare but by using one of our financing options, you can loan the money now and pay it back at a time when you can afford to.
At Alternative Airlines, we have lots of different financing payment options that differ depending on where you are in the world.
If you're in the US, you can use Affirm to pay back the cost of your ticket in 3–12 months. If you're in Europe you can use Klarna to either delay paying back your flight until your next paycheck (30 or 60 da7s) with the pay later option or opt to pay later with a payment plan of between 3–24 months. If you're in the UK, you can use PayPal Credit to spread the cost of your flights over time. And, if you're in Canada you can use PayBright to pay for your flights on a payment plan.
Regardless of where you are or which option you choose, we have a payment plan that is sure to make your flights more affordable.
Find out more about our payment plan options.
The most affordable fare
By using our best fare finder tool, you can easily and quickly compare all flight prices on the week surrounding your original search and find the most affordable flight. The best fare finder tool can be found along with our other filters on the flight search results page after you've run a search with Alternative Airlines.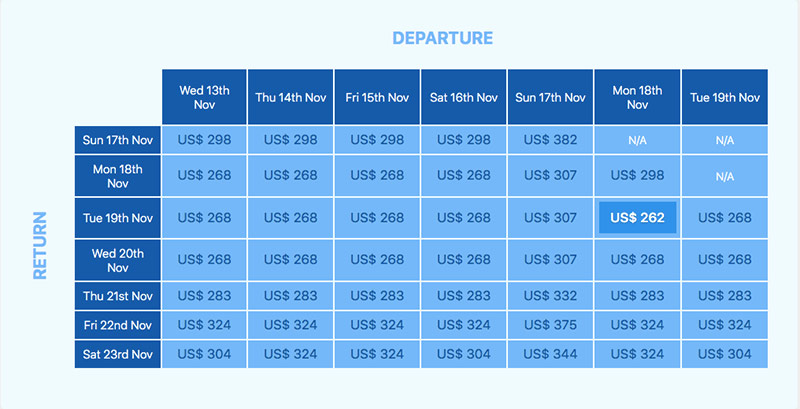 As long as you're flexible on the day and time that you can fly on, this is a great way to find the most affordable flight on the dates surrounding your flight. The best fare finder tool will highlight the most affordable day to fly on so that you don't have to do any of the hard work.
Find out more about the best fare finder tool and how to use it.
The most affordable time/day to buy a flight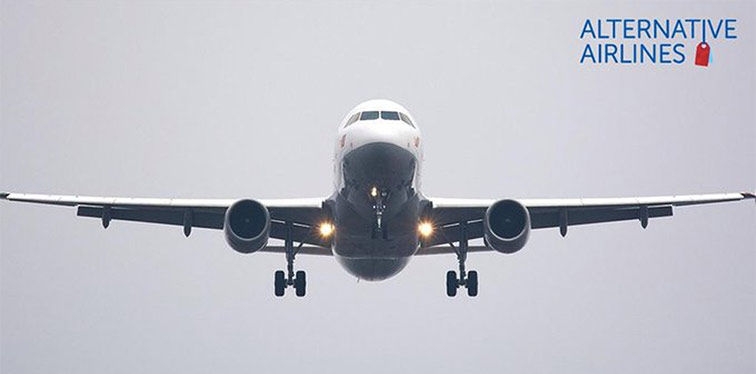 There are lots of 'tips and tricks' online that claim to know what time/day flights are most affordable. But most of them aren't true. That's why we've written a blog that uses real data and expert knowledge to look at each of these tips and determine whether they're a reliable way to find affordable flights and, if they're not, suggest other ways in which you can find affordable flights.
Read our blog on the cheapest day to buy flights to find out more.
The most affordable airline to fly on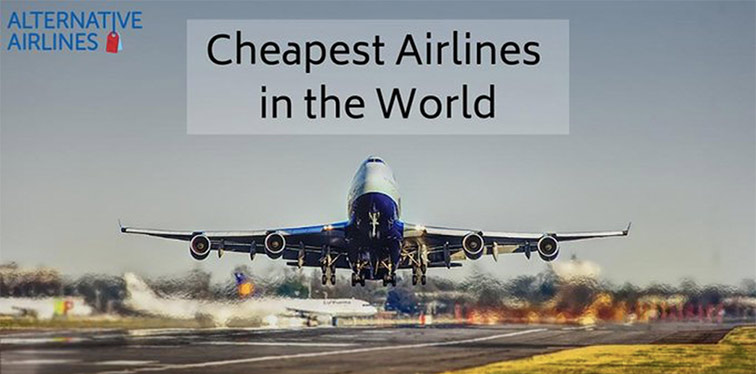 One of the best places to start when looking for affordable flights is to find out which airlines offer the cheapest tickets. If you're happy to fly on a low-cost airline instead of a full-service carrier, you can save massively on price. Or, if you're looking for something with a high standard of service but still at an affordable price, a hybrid airline might be a good choice for you.
There are thousands of airlines in the world, so finding the most affordable airline for the route that you want to fly on can be quite challenging without the right guidance. Fortunately, we've researched and written a blog on the cheapest airline in the world, which breaks down what the most affordable airlines are on each continent.
Read our blog on the cheapest airlines in the world to discover which airlines offer the most affordable flights.
Find an affordable destination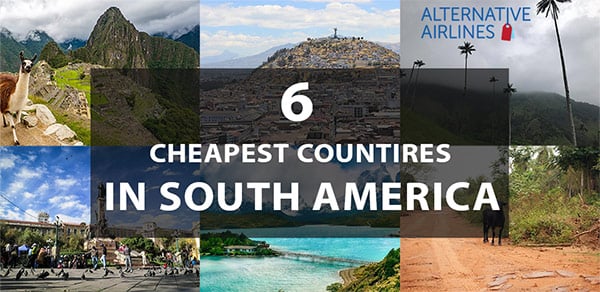 If you're travelling for leisure and don't have your heart set on a particular destination, one way to make your overall trip more affordable is to find a destination that is affordable.
If your flight is affordable, it doesn't automatically make your overall trip affordable. A cheap flight to an expensive destination will most likely end up costing you more in the long-run than a more expensive flight to a cheap destination.
If you choose a destination that is cheap, you can afford to spend a little more on the flights by using the money that you save on accommodation, food and activities in your chosen destination.
To help you find your dream cheap destination, we've written individual blogs on the cheapest destinations in each continent: