Viva Aerobus Reservations with Alternative Airlines
Make a Booking and Find Some Amazing Deals
---
About
VivaAerobus, also trading as Aeroenlaces Nacionales, S.A is a Mexican low-cost airline, owned by the Mexican bus group IAMSA. The airline began operations in November 2006 and initially flew from Monterrey to many Mexican domestic locations and by 2007 had announced its services to Austin Texas. However, this particular service ended in 2009.
The airline operates at 4 airports: Cancún International Airport (CUN), Guadalajara International Airport (GDL), Mexico City Airport (MEX) and Monterrey International Airport (MTY).
It was originally launched in 2006 and was co-owned by Mexico City-based passenger transport conglomerate IAMSA and Irelandia Aviation (founders of Ryanair). In December 2016, IAMSA bought out Irelandia Aviation's 49% interest in the company, making the airline 100% Mexican-owned. As part of that transaction, IAMSA sold its 25% stake in Colombian airline Viva Colombia to Irelandia Aviation.
The airline flies to 40 destinations in Mexico and the United States.
---
VivaAerobús Destinations
Domestic Destinations
| REGION | CITY | AIRPORT | IATA |
| --- | --- | --- | --- |
| Baja California | Mexicali | Mexicali International Airport | MXL |
| Baja California | Tijuana | Tijuana International Airport | TIJ |
| Baja California Sur | La Paz | La Paz International Airport | LAP |
| Baja California Sur | San José del Cabo | Los Cabos International Airport | SJD |
| Chiapas | Tuxtla Gutiérrez | Tuxtla Gutiérrez International Airport | TGZ |
| Chihuahua | Chihuahua | Chihuahua International Airport | CUU |
| Chihuahua | Ciudad Juárez | Ciudad Juárez International Airport | CJS |
| Coahuila | Torreón | Torreón International Airport | TRC |
| Durango | Durango | Durango International Airport | DGO |
| Guanajuato | León/El Bajío | Del Bajío International Airport | BJX |
| Guerrero | Acapulco | Acapulco International Airport | ACA |
| Jalisco | Guadalajara | Miguel Hidalgo y Costilla Guadalajara International Airport | GDL |
| Jalisco | Puerto Vallarta | Licenciado Gustavo Díaz Ordaz International Airport | PVR |
| Mexico City | Mexico City | Mexico City International Airport | MEX |
| Michoacán | Morelia | Morelia International Airport | MLM |
| Nuevo León | Monterrey | Monterrey International Airport | MTY |
| Oaxaca | Huatulco | Bahías de Huatulco International Airport | HUX |
| Oaxaca | Oaxaca | Oaxaca International Airport | OAX |
| Oaxaca | Puerto Escondido | Puerto Escondido International Airport | PXM |
| Puebla | Puebla | Puebla International Airport | PBC |
| Querétaro | Querétaro | Querétaro Intercontinental Airport | QRO |
| Quintana Roo | Cancún | Cancún International Airport | CUN |
| San Luis Potosí | San Luis Potosí | San Luis Potosí International Airport | SLP |
| Sinaloa | Culiacán | Culiacán International Airport | CUL |
| Sinaloa | Los Mochis | Los Mochis International Airport | LMM |
| Sinaloa | Mazatlán | Mazatlán International Airport | MZT |
| Sonora | Ciudad Obregón | Ciudad Obregón International Airport | CEN |
| Sonora | Hermosillo | Hermosillo International Airport | HMO |
| State of Mexico | Toluca/Mexico City | Toluca International Airport | TLC |
| Tabasco | Villahermosa | Villahermosa International Airport | VSA |
| Tamaulipas | Tampico | Tampico International Airport | TAM |
| Tamaulipas | Reynosa | General Lucio Blanco International Airport | REX |
| Veracruz | Veracruz | Veracruz International Airport | VER |
| Yucatán | Mérida | Mérida International Airport | MID |
| Zacatecas | Zacatecas | Zacatecas International Airport | ZCL |
International Destinations
| COUNTRY | CITY | AIRPORT | IATA |
| --- | --- | --- | --- |
| United States (California) | Los Angeles | Los Angeles International Airport | LAX |
| United States (Illinois) | Chicago | O'Hare International Airport | ORD |
| United States (Nevada) | Las Vegas | McCarran International Airport | LAS |
| United States (New York) | New York | John F. Kennedy International Airport | JFK |
| United States (Texas) | Houston | George Bush Intercontinental Airport | IAH |
---
Baggage Allowance
Carry-on Baggage
Hand luggage consisting of a carry-on bag and one personal item is included in the ticket price. These combined must be within the dimensions of 55 x 40 x 20 cm. The weight of these items must not be more than 10kg.
Checked Baggage
Checked baggage is not necessarily included in the ticket price, but instead depends on the ticket class that you have purchased. The permitted weight of the bag is also determined by the ticket class purchased. For example, VivaPlus has one 25kg checked bag included in the ticket price. See VivaAerobus's baggage policy to see full details.
---
Economy Class
The airline is a low-cost carrier, dedicated to lowering the cost for the customer. The airline offers one cabin class: economy
Economy Class Facilities
The modern aircraft means passengers can use their electronic devices at all times during the flight. The new fleet (all aircraft are under 4 years) offer greater storage space and more space in the overhead bins.
Depending on the length of your flight, complimentary snacks and beverages will be served. VivaAerobus has a buy on board program offering food and beverages for purchase.
There is the option to upgrade your economy ticket to book a seat with more space and extra legroom.
The airline also provides an in-flight magazine.
What are Economy Seats Like?
The comfortable economy seating comes with fold-down trays. Passengers can adjust their lighting and air-con.
---
VivaAerobus Check-In Information
Online Check-In
VivaAerobus provides online check-in starting 72 hours before departure and ending 4 hours before departure.
Airport Check-In
VivaAerobus also offer airport check-in. This begins 3 hours 45 minutes prior to departure for international flights and 2 hours and 45 minutes for domestic flights.
---
Route Map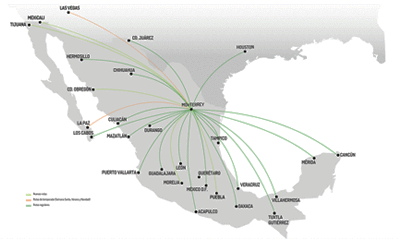 ---
Book in English
Make your reservation easier by choosing to book your VivaAerobus flights in English with Alternative Airlines. We have a trusted and reliable customer service team that is able to answer any of your queries in English. With Alternative Airlines you can enjoy the freedom of using the payment method and currency of your choice.
---
Frequent Flyer Program
The airline currently doesn't have a frequent flyer program.
---
Airline Alliance
The airline doesn't currently partake in any airline alliances.
---
WiFi Connectivity
Currently, the airline doesn't offer any WiFi connectivity.
---
In-flight entertainment
There is currently no In-flight connectivity on Viva Aerobus aircraft.
---
The Fleet
VivaAerobus operates Airbus aircraft, including: Airbus A320-200, Airbus A320neo, and Airbus a321neo on order.
---
Hub Airport
Monterrey International Airport
Monterrey International Airport (MTY) is one of two airports which serve the Mexican city of Monterrey and its surrounding areas. It is one of the most rapidly growing airports, with 2017 seeing it serve 9.7 million passengers. There are currently 3 terminals for the airport, which were renovated and expanded in 2003 and 2007. These terminals are served by its 2 runways. Other airlines that fly out of the airport include Aeromexico, Tar Aerolineas and Aerus.
---
Alternative Airlines
Please click on the logos below to find out more about airlines that fly similar routes:
---
News
27th October 2021
VivaAerobus relaunches Monterrey—San Antonio Route
Viva Aerobus is back to pre-COVID 19 levels. In August 2021, Viva Aerobus transported 1.39 million passengers through Mexican skies. This is 19% in growth compared to the same month in 2019 - the last record from before COVID-19. This is a positive sign for the coming months as air travel continues to recover.
18th February 2020
VivaAerobus relaunches Monterrey—San Antonio Route
VivaAerobus is set to relaunch flights from Monterrey, Mexico to San Antonio on 26th June 2020. The airline will operate the flight twice a week and will be its only link to San Antonio International Airport. Although this will be the only flight that VivaAerobus is offering to San Antonio, it will not be the first time that the airline will touch down at San Antonio International. The airline used to fly the same route first in 2011 and then later in 2014.
---
FAQs
Where does VivaAerobus fly to?
VivaAerobus operates domestic flights within Mexico as well as international flights to the US, including to New York, Chicago, Los Angeles, and Las Vegas.
Where can I book VivaAerobus flights?
Search and book your flights now with Alternative Airlines - simply use the search form at the top of the page. At Alternative Airlines we offer 40+ different ways to pay including Buy Now Pay Later options, cryptocurrencies and more! If you're looking to buy VivaAerobús flights on finance check out our Fly Now Pay Later - VivaAerobús page.