Search & Buy VivaAerobus Flights
Let's fly!

Select your payment method to view total prices including any payment fees:
Airlines will always try to sit children with their parents (subject to check-in)
Some airlines will allow travel for unaccompanied minors. Please email us to check.
The fare is based on the child's age on the date of travel.
More detailed information can be found here Traveling with children
Most airlines will let infants travel with their parent(s) for free. However some airlines will charge up to 10% of the adult ticket price. Click on 'Price Breakdown' to find out more.
If you are pregnant, but due before the flight departure date, please contact us once your baby is born and has a name. We can then add him/her to your ticket.
Infants will not be given a seat. The airlines expect parents to travel with them on their lap.
Airlines regard infants as being under 24 months old.
The fare is based on the child's age on the date of travel.
More detailed information can be found here Traveling with children

Buy
VivaAerobus

Flights

VivaAerobus Reservations with Alternative Airlines
Make a VivaAerobus Booking and Find Some Amazing Deals
---
About VivaAerobus
VivaAerobus, also trading as Aeroenlaces Nacionales, S.A is a Mexican low-cost airline, owned by the Mexican bus group IAMSA. VivaAerobus began operations in November 2006 and initially flew from Monterrey to many Mexican domestic locations and by 2007 had announced its services to Austin Texas. However, this particular service ended in 2009.
The airline operates at 4 airports: Cancún International Airport, Guadalajara International Airport, Mexico City Airport and Monterrey International Airport.
VivaAerobus was originally launched in 2006 and was co-owned by Mexico City-based passenger transport conglomerate IAMSA and Irelandia Aviation (founders of Ryanair). In December 2016, IAMSA bought out Irelandia Aviation's 49% interest in the company, making the airline 100% Mexican-owned. As part of that transaction, IAMSA sold its 25% stake in Colombian airline Viva Colombia to Irelandia Aviation.
---
VivaAerobus Baggage
Carry-on Baggage
Hand luggage consisting on a carry-on bag and one personal item is included in the VivaAerobus ticket price. These combined must be within the dimensions of 55 x 40 x 20 cm. The weight of these items must not be more than 10kg.
Checked Baggage
Checked baggage is not necessarily included in the ticket price, but instead depends on the ticket class that you have purchased. The permitted weight of the bag is also determined by the ticket class purchased. For example, VivaPlus has one 25kg checked bag included in the ticked price. See VivaAerobus's baggage policy to see full details.
---
VivaAerobus Check-In Information
Online Check-In
VivaAerobus provide online check-in starting 72 hours before departure, and ending 4 hours before departure.
Airport Check-In
VivaAerobus also offer airport check-in. This begins 3 hours prior to departure for international flights and 2 hours for domestic flights.
---
Book Viva Aerobus Flights in English
Make your reservation easier by choosing to book your Viva Aerobus flights in English with Alternative Airlines. We have a trusted and reliable customer service team that is able to answer any of your queries in English. With Alternative Airlines you can enjoy the freedom of using the payment method and currency of your choice.
---
Alternative Airlines to VivaAerobus
Please click on the logos below to find out more about airlines that fly similar routes to VivaAerobus:
---
VivaAerobus Hub Airport
Monterrey International Airport
Monterrey International Airport is one of two airports which serve the Mexican city of Monterrey and its surrounding areas. It is one of the most rapidly growing airports, with 2017 seeing it serve 9.7 million passengers. There are currently 3 terminals for the airport, which were renovated and expanded in 2003 and 2007. These terminals are served by its 2 runways. Other airlines that fly out of the airport include Aeromexico and Tar Aerolineas,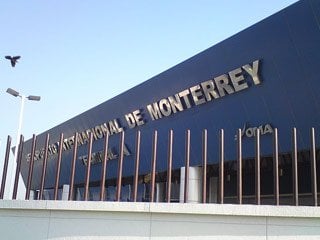 Photo Accreditation: LuisComonfort
---
Buy Discounted VivaAerobus Tickets at Alternative Airlines
---
VivaAerobus News
28th June 2018
Viva Aerobus - Take off from new York toMexico City Mexico City
From 18th October Viva Aerobus will flyfrom John F.KennedyInternational Airport - Mexico City.
This new route will strengthen Viva Aerobus's international competitiveness. The airline already offers a total of 92 routes to 40 destinations (7 of them international). So far in 2018, Viva Aerobus has already announced 7 new routes and will have started operations on 12 new flights by 2019.
23rd May 2018
VivaAerobus to launch new route between Mexico City and New York
VivaAerobus will launch a new service that will fly from Mexico to New York later this year. From 18th October2018, VivaAerobus will fly betweenMexico City International Airport (MEX) andJohn F. Kennedy International Airport once a day using an Airbus A320 aircraft. The journey is scheduled to run until 9th March 2019 and has a flight duration of 4 hours and 25 minutes.
23rd May 2018
VivaAerobus to partner with AMOS software
Swiss-AS announced that Mexican low-cost carrier Viva Aerobus has selected AMOS to replace its legacy system. AMOS has fit the bill for a cost effective, user friendly and automated business management solution to provide scalability, easy interfacing possibilities, stability and a high degree of optimization by using state-of-the-art technology.
This software initiative also includes the modernisation of the airline's IT systems and the Mexican carrier decided in favour of AMOS as the functional depth as well as Swiss-AS' implementation concept. The evaluation team realised that AMOS can support them to further reduce cost in aircraft maintenance and many examples prove that AMOS is the right choice when it comes to extensive fleet growth.
Ronald Schaeuffele, CEO, Swiss-AS, stated, "It is with great pleasure that Viva Aerobus has chosen AMOS. It is one of AMOS benefits that it can be implemented at most airlines without major customizations and to meet the needs of a fast growing airline."
10th May 2018
Viva Air names new CEO
The discount airline group Viva Air has named Felix Antelo as its new CEO. Grupo Viva Aerobus is especially pleased about this! Antelo, an Argentine with nearly two decades of aviation industry experience, will on May 15 formally take over as head of the Panama City-based group, which is majority controlled by Irelandia Aviation.
He has acted as CEO as LATAM Airlines Perú. "I have the big challenge of continuing to consolidate Viva Air in Latin America," said Antelo, noting Viva Air's expansion from its beginnings as VivaColombia into a regional carrier with operations in Peru, as Viva Air Peru. The new vision of Viva Air will be to carry more than 38 million passengers by 2020.
8th May 2018
Viva Aerobus opens new Chihuahua-Cancun route
Viva Aerobus celebrated the premiere of its new Chihuahua-Cancun route, the result of its commitment to expand air connectivity around Mexico. Airport and tourism officials carried out the classic ribbon cutting at the General Roberto Fierro Villalobos International Airport as a way to inaugurate a new ultra-low cost flight alternative. "With Viva Aerobus, passengers spend less and enjoy more.From the savings on your plane ticket you can extend your stay or carry out more activities.Thus, we become strategic allies for regional development in both destinations". "Our distinctive offer, which combines unrivalled prices and quality service, drives tourism," explained Yuri Salinas Director of Relations of Viva Aerobus.
The Saturday-only Viva Aerobus flight is a weekly services tarting at1,098 peso, offering more than 19,000 seats during the first year of operations. Viva Aerobus strengthens its presence in Chihuahua, while reinforcing its leadership in Cancun, a city from which it offers14 national and 3 international destinations. This new route responds to the growing preference and confidence of passengers in both cities.In the first quarter of 2018, Viva Aerobus reported a 28 percent growth in passenger traffic to / from the Cancun International Airport and a 9 percent increase in passenger traffic to / from the Chihuahua International Airport, compared to with the first quarter 2017. These figures are in addition to the constant and widespread growth that Viva Aerobus has achieved in its entire air network, having transported, in the first quarter of 2018, more than 2.1 million passengers representing an increase of 30 percent over the same period of the year.
20th April 2018
New Viva Aerobus Mérida-Tuxtla Gutiérrez direct flight to start operations in June
The low cost airline Viva Aerobus will open its new Mérida-Tuxtla Gutiérrez (Chiapas) direct flight on June 4, with which Yucatán expands and strengthens its regional air connectivity. The secretary of Tourism Promotion of Yucatan, Saul Ancona Salazar, and Viva Aerobus director of Route Planning, Rubén López, announced this agreement during the Tianguis Turístico México 2018 that took place in the port of Mazatlán. The new flight will start on June 4 and will have two departures from the international airport of Mérida, on Mondays and Thursdays. As a consequence, it is expected that by June 2019, Viva Aerobus will offer 38,000 available seats.
Ancona Salazar stressed that with this new Mérida-Tuxtla Gutiérrez route, the airline Viva Aerobus will have five destinations departing from Mérida: Monterrey, Veracruz, Mexico City, Guadalajara and Tuxtla. The head of Sefotur, held a meeting with Aeromexico executives to analyze the promotion strategies they will use to improve the dissemination of the international flight Mérida-Atlanta. "A new route means more growth for the destination, both for ours and for Tuxtla Gutiérrez, which is an important city," said Ancona Salazar. "These new flights position the Yucatan as a point of reference in tourism, strengthens the regional relationships and encourages the arrival of more visitors."
17th April 2018
VivaAerobus would love to manage data the way Amazon does
VivaAerobus VP network planning revenue management and e-commerce Javier Suarez, speaking at theCAPA Americas Aviation Summit, stated (16-Apr-2018) VivaAerobus would love to manage data the way Amazon does, and hopes to move in that direction.
6th March 2018
Viva Aerobus Launches Its New Route Mérida-Tuxtla Gutiérrez
Viva Aerobus has announced its new Mérida-Tuxtla Gutiérrez route. The flights will begin next June 4 with two weekly frequencies: on Monday and Thursday. During the first year of operations of this route, Viva Aerobus will offer more than 38,000 seats with the firm purpose of meeting the growing demand of its passengers.
"Viva Aerobus continues revolutionizing the way of traveling, distinguishing itself by a service that is able to combine competitive prices and personalized trips. That is our definition of connectivity ", said Juan Carlos Zuazua.
This business model has resulted in an important passenger growth from and to Mérida by 38% in 2017, thus achieving a market share of 18%. In this way, Viva Aerobus captains the region as the operator that offers most destinations from Mérida International Airport. Moreover, Viva Aerobus strengthens its presence in Tuxtla Gutiérrez, reinforcing its leadership as the airline that also offers more destinations from Chiapas International Airport. Such connectivity has resulted in a 40% increase in the number of passengers transported to and from this destination in 2017, having reached a market share of 25% in the previous year.
"We are proud to add another national route to our offer. As allies and ambassadors of Mexico, we are excited to link the secrets of the Mayan world with the wonders of the biodiversity in Chiapas", mentioned Juan Carlos Zuazua.
19th January 2018
VivaAerobus becomes largest operator in Mexico
Last year, Monterrey Airport welcomes 9.7 million passengers in 2017, a number driven by domestic travel growth. Passenger numbers have grown by 48% in the last decade. Aeromexico lost its crown as the leading capacity power for the airport to VivaAerobus despite operating a number more flights from Monterrey. VivaAerobus was the largest provide of departing domestic seats and has increased its seat umbers by 14.6%
7th December 2017
VivaAerobus new route to Las Vegas
Viva Aerobus Celebrates Its New Route from Mexico City to Las Vegas. Hugh Sinnock, Vice President of Customer Experience for Las Vegas Convention and Visitors Authority, and Juan Carlos Zuazua, general director of Viva Aerobus, announced the economic, touristic and connectivity boost that the new direct route Mexico-Las Vegas will offer.
It is the first international route that Viva Aerobus launches from Mexico City, which reaffirms the airline´s commitment to driving connectivity to more and more destinations based on a real low-cost option and it is expected to transport more than 100 thousand passengers per year. Flights begin operations on December 16 with a daily frequency. This new route is a result of Viva Aerobus strategy focused on customers.
"Each new route is backed by the deep knowledge we have of our passengers. Our vocation is to satisfy their needs and preferences. Thus, we know how and where they want to travel and Mexico is the second most important international market for Las Vegas", said Juan Carlos Zuazua. "We are excited to see that our alliances with airlines continue to expand, achieving greater nonstop options for Mexicans," said Hugh Sinnock, VP of Customer Experience for LVCVA.
"With Viva Aerobus's new daily route, we anticipate close to $ 78 million in annual economic impact. More than 1.2 million Mexican travelers visit Las Vegas every year, and this new service offers continued growth to help us achieve our goal of increasing international visits over the next decade", he concluded.
In words of Juan Carlos Zuazua, this new route is an ally of tourism, business and the growing industry of conventions for both, Mexico and the United States, by connecting the wide cultural offer of Las Vegas, "World Capital of Entertainment", and Mexico City, the city with most museums in the world.
"With the start of this new route, we close a very successful year for Viva Aerobus. We are very proud to celebrate 11 years of service to Mexico with 23 new routes launched only in 2017, a year that will end with nearly 8 million passengers who gave us their preference and confidence. This will mean an approximate growth of more than 20%. Compared to 2016", said Zuazua said.
28th November 2017
VivaAerobus 3Q net profit up 33% as passengers, load factor surge
Grupo VivaAerobus, holding company of Mexican LCC VivaAerobus, posted a MXN409 million ($22.5 million) net profit for the 2017 third quarter, up 33.1% over MXN307.5 million net income in 3Q 2016. The company attributed the results to increased 3Q load factor and capacity, driven by competitive pricing. Net income margin was 18%, up 1.6 points from 3Q 2016.
The airline had a 91% passenger load factor during the quarter, up 2.7 points year-over-year (YOY); passenger numbers were up 16.5% YOY to 2.3 million. The LCC's third-quarter capacity showed a 15.9% YOY increase to 2.6 billion ASKs. VivaAerobus completed its transition to an all-Airbus fleet in November 2016 and as of Sept. 30 operates a fleet of 21 A320ceos and two A320neos. The company has an additional 38 A320neos on order. By 2022, the LCC's fleet will reach 55 aircraft, all in a single-class seating, maximum seating density configuration.
Third-quarter revenue totaled MXN2.3 billion, up 21.3% YOY, 59% of which were passenger revenues and 41% "complimentary" (ancillary) revenue. Operating expenses totaled MXN1.8 billion, up 19.2% YOY, which the company attributed to the capacity increase associated with rising fuel costs and exchange rate variations. "For the third time in a year, our quarterly results show the soundness of our business model … the company was able to record a solid EBITDAR [margin] growth of 41.8%, one of the highest in the aviation industry in the world," Grupo VivaAerobus CEO Gian Carlo Nucci said. "Our solid results mainly stemmed from higher capacity and tariff growth, added to a better operating environment led by the industrial recovery … the results prompt us to continue monitoring the profitability of our routes and quickly adapt to a changing environment, which this year has not been insignificant."
The airline's third-quarter passenger traffic increased 19.4% to 2.4 billion RPKs. RASK increased 4.7% YOY to MXN86.2 cents. CASK was up 2.9% to MXN66.2 cents. New routes announced during the quarter included winter service between Monterrey-Huatulco, Monterrey-Queretaro and Culiacan-Chihuahua, as well as a new 3X-weekly service between Leon-Tijuana. The airline offers 79 regular routes in addition to the three seasonal routes, covering 33 destinations across Mexico, as well as Houston, Texas. The airline describes itself as "the carrier with the lowest costs inLatin America[with] rates comparable to bus transportation."
VivaAerobus was originally launched in 2006 and was co-owned by Mexico City-based passenger transport conglomerate IAMSA and Irelandia Aviation(founders of Ryanair). In December 2016, IAMSA bought out Irelandia Aviation's 49% interest in the company, making the airline 100% Mexican-owned. As part of that transaction, IAMSA sold its 25% stake in Colombian airline Viva Colombia to Irelandia Aviation.
28th November 2017
VivaAerobus will begin operations in Costa Rica starting December 1st with the route San Jose - Cancun.
VivaAerobus will provide operations in Costa Rica starting December 1st with the route San Jose-Cancun.The route will have initially a frequency of two times a week, Tuesdays and Fridays and only during the high season, with rates starting as low as $150.00. This is part of the expansion plan of Viva Aerobus that is already offering services from Mexico to Los Angeles and Las Vegas.Viva Aerobus has 13 flights out of Cancun to other destinations in Mexico; while Costa Rica will be the third international route out of Cancún, the other two are Cancún-New York and Cancún-Chicago. This is another low-cost alternative to travel directly from Costa Rica to Cancun, which competes with Volaris and Aeromexico.
19th October 2017
Viva Aerobus announces new charter flights in the US from Cancun to Chicago, Illinois and Newark, New Jersey.
Cancun-Chicago flights will start operations on February 17; and Cancun-New York-Newark flights will begin in March 31. Viva Aerobus will operate these 2 new routes in collaboration with the US tour operator Vacation Express. Viva Aerobus, Mexico's ultra-low-cost airline, continues to diversify its expanding flight offerings. For the first time, Viva offers Cancun-Chicago charter flights (with 1 weekly frequency starting on Feb. 17, 2018) and Cancun-New York-Newark charter flights (with 1 weekly frequency starting on Mar. 31, 2018).
With these new routes, Viva Aerobus serves its growing and varied passenger market, particularly in Cancun, where Viva has operated for more than 10 years and has reported a significant growth of 28% between January and August 2017, compared to the same period of the previous year. Viva Aerobus already offers 14 destinations from Cancun and celebrates the launching of 20 new routes so far this year, reaching a total of 85 routes (seven international) to 36 different destinations (five international).
"We continue strengthening our commitment to meet the needs of all types of travelers, offering them a variety of options that allow them to enjoy personalized travels with a real ultra-low-cost option. This way, more people will be able to enjoy the experience of flying with us wherever they want, especially those who wish to enjoy the wonders that the Mexican Caribbean offers ", said Juan Carlos Zuazua, general director of Viva Aerobus. "We are very excited to work hand in hand with Viva Aerobus and to strengthen ties between Mexico and the United States to boost tourism. This alliance promises greater accessibility for Mexican and US travellers seeking to enjoy the beauties of both countries", said Rene Jongmans, President of Vacation Express.
In addition to these two new routes, Viva Aerobus will also operate charter flights from Cancun to other destinations in the United States for Vacation Express, and also from Los Cabos and Puerto Vallarta to destinations in Canada for Sunwing Vacations, the tour operation division of the largest integrated travel company in North America.
---
Search and Buy VivaAerobus Flights
Book VivaAerobus flights with Alternative Airlines. Find amazing deals with discounted VivaAerobus flights at Alternative Airlines. VivaAerobus flies to many destinations worldwide, and Alternative Airlines offers a cost effective and safe service to all its passengers. Let Alternative Airlines help find you alternatives for cheap VivaAerobus tickets. Make international and domestic flight reservations on VivaAerobus flights today.
Browse the most popular VivaAerobus flight flights to cities. Alternative Airlines can help you make reservations on VivaAerobus flights to lots of destinations. Book VivaAerobus flights on Alternative Airlines and save money. Alternative Airlines is an online travel agency, specialising in booking lesser known airlines and remote destinations.
---