Search and Buy TAR Aerolíneas Flights with Alternative Airlines
Make a Booking and Find Some Amazing Deals
---
About TAR Aerolíneas
TAR Aerolíneas (also known as Tar Aerolineas) is a Mexican regional airline based in Querétaro, Mexico and operates scheduled services to 24 domestic destinations throughout Mexico. The airline was founded in 2011 and first began operating in 2014 between Querétaro and Guadalajara.
Initially, TAR Aerolineas began operating the central region of the country, offering services on routes not served or insufficiently served by other airlines and it's mission is to become the flagship company of regional aviation in our country, with presence and network of particular connectivity in each of the regions. Recently the airline has begun the expansion of routes to the southeast of the Mexican Republic.
---
Destinations
The airline's strength is growing it's multiregional routes to destinations including the Yucatán Peninsula, the Gulf of México, the Pacific, the Mid North region and the South. TAR Aerolineas flies to many destinations including Mexicali, Juarez City, Hermosillo, Chihuahua, Culiacan, Durango, Keep, Monterrey, Tampico, Queretaro, Mazatlan, Aguascalientes, Saint Louis, Tampico, Queretaro, Toluca, Vallarta Port, Zihuatanejo, Acapulco, Huatulco, Oaxaca, Veracruz, Tuxtla Gutierrez, Carmen City and Merida.
| CITY | AIRPORT | IATA |
| --- | --- | --- |
| Acapulco | Acapulco International Airport | ACA |
| Aguascalientes | Aguascalientes International Airport | AGU |
| Chihuahua | Chihuahua International Airport | CUU |
| Ciudad del Carmen | Ciudad del Carmen International Airport | CME |
| Ciudad Juárez | Ciudad Juárez International Airport | CJS |
| Culiacán | Culiacán International Airport | CUL |
| Durango | Durango International Airport | DGO |
| Guadalajara | Miguel Hidalgo y Costilla Guadalajara International Airport | GDL |
| Hermosillo | Hermosillo International Airport | HMO |
| Huatulco | Bahías de Huatulco International Airport | HUX |
| Ixtapa/Zihuatanejo | Ixtapa-Zihuatanejo International Airport | ZIH |
| León | Del Bajío International Airport | BJX |
| Los Mochis | Los Mochis International Airport | LMM |
| Manzanillo | Playa de Oro International Airport | ZLO |
| Mazatlán | Mazatlán International Airport | MZT |
| Mérida | Mérida International Airport | MID |
| Mexicali | Mexicali International Airport | MXL |
| Monterrey | Monterrey International Airport | MTY |
| Oaxaca | Oaxaca International Airport | OAX |
| Puerto Escondido | Puerto Escondido International Airport | PXM |
| Puerto Vallarta | Licenciado Gustavo Díaz Ordaz International Airport | PVR |
| Querétaro | Querétaro Intercontinental Airport | QRO |
| San Luis Potosí | San Luis Potosí International Airport | SLP |
| Tampico | Tampico International Airport | TAM |
| Tijuana | Tijuana International Airport | TIJ |
| Torreón | Torreón International Airport | TRC |
| Veracruz | Veracruz International Airport | VER |
---
Economy Class
Economy facilities
Currently, TAR Aerolineas offers one class fare on its flights: the standard economy. Onboard, you can enjoy some light refreshments.
Economy Seating
Enjoy comfortable and spacious seating with a good amount of legroom. The team will be on-hand to help.
---
TAR Aeorlíneas Baggage
Carry-on Baggage
Passengers flying on TAR Aerolíneas are permitted to bring one piece of carry-on baggage with them on the flight, free of charge. This baggage must not weigh more than 10kg and must fit within the dimensions of 22 x 39 x 30cm.
Carry-on items exceeding the permitted size or weight must be transported as checked baggage. All items are subjected to security checks and no prohibited items are allowed onboard.
Checked Baggage
Passengers flying on TAR Aerolíneas are permitted to check one piece of baggage, free of charge. This baggage must not weigh more than 25kg and must fit within the overall dimensions of 158cm.
Checked baggage exceeding 32kg will not be accepted by the airline due to health and safety reasons. However, checked baggage can be added to your booking.
---
Check-In Information
Online Check-In
You can check-in by visiting the TAR Aeroliíneas check-in page and selecting Tu vuelo/Check-in. Just enter your flight details and click 'Web Check-In'.
All passengers are recommended to check-in online to save time queuing at the airport.
Airport Check-In
TAR Aerolineas airport check-in is available on the day of your flight. You can check-in by visiting the TAR Aeorlíneas check-in desks at the airport. We recommend that you get to the airport at least two hours before your scheduled flight departure time to allow time to check-in, drop any checked baggage and go through security.
---
Frequent Flyer Program
TAR Aerolineas has a frequent flyer program called Star Wallet. Star Club benefits are also offered, where the Lounge rooms are the perfect place while waiting for your flight boarding, enjoy a good read, drinks and food, in a comfortable and comfortable place. TAR Aerolineas also offers TAR Assistance in which travel safely. The validity of the assistance is 12 hours before, up to 12 hours after the flight, on simple trips. Round trips cover the stay at the destination, with a maximum of 30 continuous days, and up to 12 hours after the return flight.
---
Book Tar Aeorlíneas flights in English with Alternative Airlines
With Alternative Airlines, you can buy Tar Aerolineas flights in English! We take the confusion out of your booking with a safe and secure booking process, entirely in English! Browse from 100s of different domestic flights around Mexico and pay in the currency of your choice. You can also contact our excellent English-speaking customer service team with any concerns about your Tar Aerolineas reservation.
---
Fleet
The airline operates a fleet of 10 Embraer ERJ 145s.
---
TAR Aeorlíneas Route Map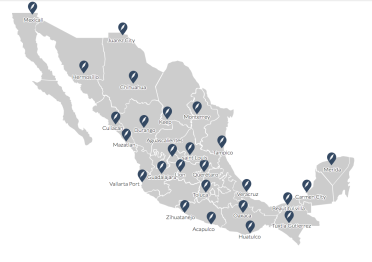 ---
Hub Airport
Querétaro Intercontinental Airport
Querétaro Intercontinental Airport is an international airport in Querétaro and the hub airport for TAR Aerolineas. Querétaro Intercontinental deals with both domestic and international services. The airport has just one terminal which can hold close to one million passengers per year, however, plans to build a new terminal has been discussed in recent years.
Querétaro Intercontinental Airport opened in 2004 and currently serves over five different airlines, including VivaAerobus, Volaris and American Eagle.
---
Alternative Airlines to Tar Aeorlíneas
Alternative flights to Tar Aerolineas are Volaris, VivaAerobus, Interjet, AeroMexico and many more that can be booked with Alternative Airlines.