Search & Buy TAR Aerolíneas Flights
Select your payment method to view total prices including any payment fees:
Airlines will always try to sit children with their parents (subject to check-in)
Some airlines will allow travel for unaccompanied minors. Please email us to check.
The fare is based on the child's age on the date of travel.
More detailed information can be found here Traveling with children
Most airlines will let infants travel with their parent(s) for free. However some airlines will charge up to 10% of the adult ticket price. Click on 'Price Breakdown' to find out more.
If you are pregnant, but due before the flight departure date, please contact us once your baby is born and has a name. We can then add him/her to your ticket.
Infants will not be given a seat. The airlines expect parents to travel with them on their lap.
Airlines regard infants as being under 24 months old.
The fare is based on the child's age on the date of travel.
More detailed information can be found here Traveling with children
Buy
TAR Aerolíneas

Flights
Tar Aerolineas Reservations with Alternative Airlines
Make a Tar Aerolineas Booking and Find Some Amazing Deals on your Tar Aerolineas Reservation
---
About TAR Aeorlíneas
TAR Aerolíneas is a Mexican regional airline based in Querétaro, Mexico an operates scheduled services to 24 national destinations throughout Mexico. The airline was founded in 2011 and began operating in 2014 between Querétaro and Guadalajara and now operates a fleet of 10 Embraer ERJ 145s
The airline's aim is to become the strongest regional airline in Mexico with a multiregional growth strategy to destinations including: Yucatán Peninsula, the Gulf of México, the Pacific, the Mid North region and the South. TAR Aerolineas flies to many destinations including Mexicali, Juarez City, Hermosillo, Chihuahua, Culiacan, Durango, Keep, Monterrey, Tampico, Queretaro, Mazatlan, Aguascalientes, Saint Louis, Tampico, Queretaro, Toluca, Vallarta Port, Zihuatanejo, Acapulco, Huatulco, Oaxaco, Veracruz, Tuxtla Gutierrez, Carmen City and Merida.
TAR Aerolineas' mission is to become the flagship company of regional aviation in our country, with presence and network of particular connectivity in each of the regions. Initially, TAR Aerolineas began operating the central region of the country, offering services on routes not served or insufficiently served by other airlines. Recently the airline has begun the expansion of our routes to the southeast of the Mexican Republic.
TAR Aerolineas offers a frequent flyer program called Star Wallet in which the program allows customers to pre-pay for all trips and save up to 12% on purchases. In addition, members get the ability to book until the last seat of the plane at a preferential rate, it can be used at any time for any route and for any date, no restriction on travel dates and there is a ease of billing on each reservation. TAR Aerolineas also offers TAR Assistance in which travel safely, taking advantage of the benefits that our assistance program has for you. The validity of the assistance is 12 hours before, up to 12 hours after the flight, in simple trips. Round trips cover the stay at the destination, with a maximum of 30 continuous days, and up to 12 hours after the return flight. TAR Aerolineas offers the Star Club benefits where the Lounge rooms are the perfect place while waiting for your flight boarding, enjoy a good read, drinks and food, in a comfortable and comfortable place. Know the rooms that we have available for you. Flying with STAR Club allows 20% discount for adults 60 years or older and 20% discount to children under 18. Hand luggage is 2 pieces of up to 10kg in total.
---
TAR Aeorlíneas Baggage
Carry-on Baggage
Passengers flying on TAR Aerolíneas are permitted to bring one piece of carry-on baggage with them on the flight, free of charge. This baggage must not weight more than 10kg and must fit within the dimensions of 22 x 39 x 30cm.
Checked Baggage
Passengers flying on TAR Aerolíneas are permitted to check one piece of baggage, free of charge. This baggage must not weigh more than 25kg and must fit within the overall dimensions of 158cm.
---
TAR Aeorlíneas Check-In Information
Online Check-In
You can check-in by visiting the TAR Aeroliíneas check-in page and selecting Tu vuelo/Check-in. Just enter your flight details and click 'Web Check-In'.
Airport Check-In
TAR Aerolineas airport check-in is available on the day of your flight. You can check-in by visiting the TAR Aerolineas check-in desks at the airport. We recommend that you get to the airport at least two hours before your scheduled flight departure time to allow time to check-in, drop any checked baggage and go through security.
---
Book Tar Aerolineas flights in English with Alternative Airlines
With Alternative Airlines, you can buy Tar Aerolineas flights in English! We take the confusion out of your booking with a safe and secure booking process, entirely in English! Browse from 100s of different domestic flights around Mexico and pay in the currency of your choice. You can also contact our excellent English-speaking customer service team with any concerns about your Tar Aerolineas reservation.
---
TAR Aeorlíneas Destinations
TAR Aerolíneas go to a wide range of airports in Mexico, including Aguascallientes, Guadalajara, Acapulco, Oaxaca, Durango, Monterrey, Tampico, Toluca, Chihuahua, Veracruz, León, San Luis, Mazatlán Hermosillo, Ixtapa, Puerto Vallarta and many more.
---
TAR Aeorlíneas Route Map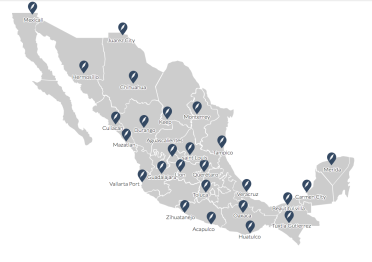 ---
TAR Aerolíneas Hub Airport
Querétaro Intercontinental Airport
Querétaro Intercontinental Airport is an international airport in Querétaro and the hub airport for TAR Aerolineas. Querétaro Intercontinental deals with both domestic and international services. The airport has just one terminal which can hold close to one million passengers per year, however, plans to build a new terminal has been discussed in recent years.
Querétaro Intercontinental Airport opened in 2004 and currently serves over five different airlines, including VivaAerobus, Volaris and American Eagle.
---
Buy Discounted TAR Aerolíneas Tickets at Alternative Airlines
---
TAR Aeorlíneas News
31st May 2018
Long in the tooth: planes are getting on in years at some airlines
Passengers who fly on Mexico's best-known airlines travel on planes that are most likely less than 10 years old.
But some aircraft operated by smaller airlines, charter providers and freight companies are much older, meaning they require a lot more maintenance to operate optimally and are possibly at greater risk of suffering a mechanical failure.
The May 18 crash of a 39-year-old airplane in Havana, Cuba, in which all but one of the 113 passengers and crew died, has called into question the age of the planes operated by Mexican airlines.
The plane that plummeted to the ground shortly after take-off was owned by Mexican-owned Aerolíneas Damojh but had been leased to Cuba's national airline Cubana. Seven Mexicans, including six crew members, were among the fatalities.
While according to the Civil Aviation Agency (DGAC), the average age of the fleets operated by Mexican airlines is nine years, there is considerable variation between them.
Budget carrier Volaris has the newest planes in Mexico with an average age of five years, followed by Viva Aerobus, 5.4 years; Aeromar, 5.8; Interjet, 6.9; and Aeroméxico, 8.1 years.
In contrast, the planes operated by Querétaro-based regional airline TAR and Cabo San Lucas-based Calafia are on average 19 years old.
Cargo airline Estafeta's planes are even older, averaging 24 years, while the planes in the fleets operated by Magnicharters and cargo carrier Aero Unión are the oldest of all, at 28.7 and 30.9 years on average respectively.
However, the aviation agency said that in accordance with international standards there are no regulations that prohibit or restrict the operation of older aircraft in the country, although aviation experts say that when a plane is more than 20 years old it begins to suffer from aircraft "fatigue."
DGAC assistant director Rafael García Gijón told the newspaper El Universalthat when a plane has been correctly maintained and is deemed to be airworthy, it can continue to operate reliably.
But some aviation experts say older planes should be limited to transporting cargo.
According to aeronautical engineer David Ziman, the commercial lifespan of a plane is 20 years, 50,000 flying hours or 75,000 take-off and landing cycles.
There was an effort in 2016 to introduce controls.
National Action Party (PAN) politician Jorge López Martín presented an initiative to Congress to change the Civil Aviation Law to prohibit planes older than 20 years from offering passenger services due to safety concerns.
López has charged that there is corruption on the part of DGAC when conducting safety verifications, which allows older planes to continue flying but "places passengers at risk."
Miguel Ángel Yúdico, the secretary of a national transportation union that counts aviation-sector employees among its members, said some airlines substitute damaged parts from their planes with the same parts from other planes in order to pass DGAC revisions.
That practice, he said, caused a now-defunct TAESA airline plane to crash, adding that "there are parts that you can't just remove and put back."
February 2018
TAR Aerolineas choses Revenue Management System
airRM has been selected to provide TAR with a state-of-the-art revenue management, inventory control, and reporting tool kit. This will enable TAR to identify sales opportunities, maximize passenger revenues, closely control pricing, and analyze performance: "At TAR Airlines we are committed to continue growing and serving more customers in Mexico and beyond; that´s why we have selected airRM as cornerstone of this growth process," said Miguel Legorreta, Director of Revenue Management & Pricing.
" While recognized for large metropolises, Mexico is home to dozens of smaller cities, separated from the capital and each other by long distances and difficult terrain, but connected by enterprising airlines such as TAR Aerolineas. Like LCCs and full-service carriers, regional carriers will take advantage of airRM's unique inventory control features and reporting, combined with RMS's industry-leading support to maximize their revenues," said Christine Nickelsen-Sutton, Manager of Sales & Support.
---