Search & Buy Sunwing Airlines Flights
Let's fly!

Select your payment method to view total prices including any payment fees:
Airlines will always try to sit children with their parents (subject to check-in)
Some airlines will allow travel for unaccompanied minors. Please email us to check.
The fare is based on the child's age on the date of travel.
More detailed information can be found here Traveling with children
Most airlines will let infants travel with their parent(s) for free. However some airlines will charge up to 10% of the adult ticket price. Click on 'Price Breakdown' to find out more.
If you are pregnant, but due before the flight departure date, please contact us once your baby is born and has a name. We can then add him/her to your ticket.
Infants will not be given a seat. The airlines expect parents to travel with them on their lap.
Airlines regard infants as being under 24 months old.
The fare is based on the child's age on the date of travel.
More detailed information can be found here Traveling with children

Buy
Sunwing Airlines

Flights

Sunwing Airlines Reservations with Alternative Airlines
Make a Sunwing Airlines Booking and Find Some Amazing Deals
---
About Sunwing Airlines
Sunwing Airlines is a Canadian low-cost airline headquartered in Toronto, Canada. Sunwing Airlines offers many flights to the United States, Mexico, the Caribbean, Central America and South America.
In 2004, Sunwing Vacations had become the second largest tour operator in the Ontario, Canada area. The idea of creating an airline was established a year later and within a short space of time. By November 2005, Sunwing Airlines flew their first flight, a Boeing 737-800 which departed form Toronto Pearson Airport. A year later, November 2006, the airline flew its first flight out of the Montreal-Trudeau airport. By 2008, the airline had expanded its operations to 29 cities.
In 2015, Sunwing Airlines had finalised a deal to take on 2 Boeing 737-800 and 4 Boeing 737 MAX 8 aircraft.
---
Sunwing Airlines Baggage
Carry-on Baggage
Passengers are permitted 1 x carry-on bag for Sunwing Airlines flights. The carry-on bag must not exceed 5kg in weight, and 23 x 40 x 51cm in dimensions.
In addition, passengers are permitted a personal item on board, which can include items such as a handbag, purse, laptop bag and camera bag.
Checked Baggage
Passengers are permitted one free checked bag on Sunwing Airlines flights with a Sunwing Vacations package (excluding U.S.) and Sunwing Vacations cruise package. The allowance is 23kg, unless travelling with a Elite Plus ticket in which the allowance is 30kg. Passengers can purchase additional bags as per the Sunwing Airlines website.
For flights to and from Mexico, Caribbean and Central America, or within Canada and to/from the U.S. there are no free baggage allowances. Passengers can purchase baggage items from $26.25.
For any route, the baggage must fit the combined linear dimensions of 158cm (Length + Height + Width)
---
Sunwing Airlines Check-In Information
Online Check-In
Sunwing Airlines allows passengers to check in between 12 and 1 hours before their flight is scheduled to depart. When you check in online, you will have the option of choosing your seat on the plane. When you purchase your air ticket with us, you can use the information on your travel Document to check-in via the Sunwing Airlines Official Website.
Airport Check-In
Passengers can alternatively check-in at the airport. This service will open 3 hours prior to departure, and will close 60 minutes before scheduled flight departure time.
---
Alternative Airlines to Sunwing Airlines
Please click on the logos below to find out more about airlines that fly similar routes to Sunwing Airlines:
---

Sunwing Airlines Hub Airport
Montreal- Pierre Elliot Trudeau International Airport
The Montreal- Pierre Elliot Trudeau International Airport, formerly known as Montreal-Dorval International Airport, is located in the Island of Montreal which is quite isolated from the centre of the city, at about 20 kilometres. It is one of the two big airports in Montreal managed by the Aeroports de Montreal, a non-profit organisation.
---

Sunwing Airlines Destinations
| | | | | | | |
| --- | --- | --- | --- | --- | --- | --- |
| | | | Aruba | | Oranjestad | |
| | | | Bahamas | | Freeport | |
| | | | | | Nassau | |
| | | | Belize | | Belize City | |
| | | | Canada | | Bagotville | |
| | | | | | Calgary | |
| | | | | | Charlottetown | |
| | | | | | Deer Lake | |
| | | | | | Edmonton | |
| | | | | | Fredericton | |
| | | | | | Gander | |
| | | | | | Halifax | |
| | | | | | Kelowna | |
| | | | | | Kitchener | |
| | | | | | London | |
| | | | | | Moncton | |
| | | | | | Montreal | |
| | | | | | North Bay | |
| | | | | | Ottawa | |
| | | | | | Quebec City | |
| | | | | | Regina | |
| | | | | | Saint John | |
| | | | | | Saskatoon | |
| | | | | | Sault Ste. Marie | |
| | | | | | Sept-Iles | |
| | | | | | St John's | |
| | | | | | Stephenville | |
| | | | | | Sudbury | |
| | | | | | Thunder Bay | |
| | | | | | Toronto | |
| | | | | | Val-d'Or | |
| | | | | | Vancouver | |
| | | | | | Victoria | |
| | | | | | Windsor | |
| | | | | | Winnipeg | |
| | | | Caribbean Netherlands | | Bonaire | |
| | | | Costa Rica | | Liberia | |
| | | | Cuba | | Camagüey | |
| | | | | | Cayo Coco | |
| | | | | | Cienfuegos | |
| | | | | | Holguín | |
| | | | | | La Havana | |
| | | | | | Manzanillo | |
| | | | | | Santa Clara | |
| | | | | | Santiago de Cuba | |
| | | | | | Varadero | |
| | | | Curaçao | | Willemstad | |
| | | | Dominican Republic | | La Romana | |
| | | | | | Puerto Plata | |
| | | | | | Punta Cana | |
| | | | | | Samaná | |
| | | | Honduras | | La Ceiba | |
| | | | | | Roatan | |
| | | | Jamaica | | Montego Bay | |
| | | | Mexico | | Acapulco | |
| | | | | | Cancún | |
| | | | | | Cozumel | |
| | | | | | Huatulco | |
| | | | | | Ixtapa | |
| | | | | | Los Cabos | |
| | | | | | Manzanillo | |
| | | | | | Mazatlán | |
| | | | | | Puerto Vallarta | |
| | | | Panama | | Río Hato | |
| | | | Saint Lucia | | Vieux Fort | |
| | | | Sint Maarten | | Sint Maarten | |
| | | | St. Vincent & the Grenadines | | St. Vincent | |
| | | | United States | | Baltimore | |
| | | | | | Boston | |
| | | | | | Buffalo | |
| | | | | | Cincinnati | |
| | | | | | Fort Lauderdale | |
| | | | | | Milwaukee | |
| | | | | | Nashville | |
| | | | | | Newark | |
| | | | | | Orlando | |
| | | | | | St. Petersburg | |
---

Sunwing Airlines Route Map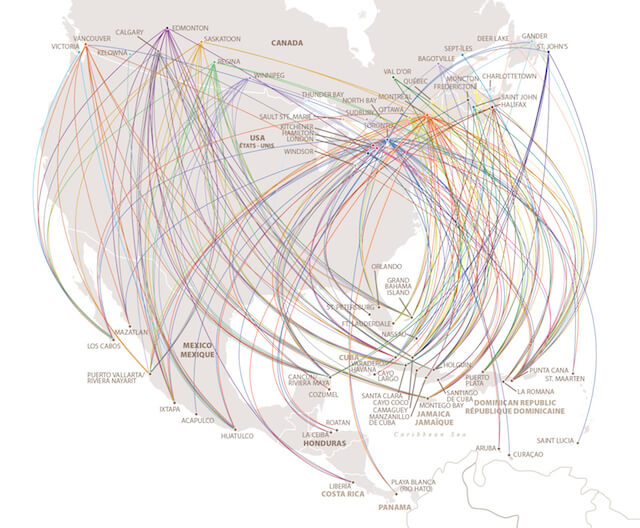 ---

Sunwing Airlines Fleet
Boeing 737-800
Boeing 737 MAX 8
---
Buy Discounted Sunwing Airlines Tickets at Alternative Airlines
---
Sunwing Airlines News
20th June 2018
Hahn Air adds Sunwing to global network through new interline agreement
Hahn Air has signed an interline agreement with Sunwing Airlines, allowing travel agents to access more vacation options through eight GDSs.
The German airline announced that it has activated ticketing on the HR-169 document for Sunwing Airlines, which means that Sunwing can now be booked in Abacus, Amadeus, Apollo, Galileo, Infini, Sabre, Topas and Worldspan GDSs under its own code and issued on Hahn Air's insolvency-safe ticket worldwide.
With this new agreement, Sunwing joins Hahn Air's network of over 350 air, rail and shuttle partners.
"We are pleased to finalise this agreement with Hahn Air that will now mean we can offer our wide range of flights to the sun to an increased audience both in Canada and in our destinations," said Andrew Dawson, President of Tour Operations.
Steve Knackstedt, Hahn Air's Vice President of the Airline Business Group, added: "We're happy to help Sunwing optimise its distribution strategy and offer wider exposure through eight Global Distribution Systems. Now travel agents, who wouldn't otherwise be able to access services of this major player in the field of leisure travel, can offer their customers additional vacation options, generating incremental business for Sunwing."
19th June 2018
Sunwing increases travel options from Kelowna; adds weekly flight to Los Cabos, Mexico
Sunwing will be expanding its flight services from Kelowna for this coming winter to include a direct flight service to Los Cabos in Pacific Mexico for the first time; departing Saturdays from December 15, 2018 until April 20, 2019. With the addition of this new flight, residents of Kelowna can look forward to three convenient options to escape the cold. The travel company will also be resuming their popular weekly flight services into Cancun, Mexico and Varadero in Cuba.
Known for enjoying up to 360 days of sunshine each year, Los Cabos boasts numerous opportunities for adventure. Travellers can take advantage of numerous Sunwing Experiences such as teeing off at world-class golf courses, snorkelling and scuba diving or explore the beautiful coastal landscape on an ATV.One of the oldest parts of the southern Baja Peninsula, this tropical paradise features famous landmarks such as the Cabo San Lucas Arch and the traditional town of San Jose del Cabo; famed for its art scene.
President of Tour Operations, Andrew Dawson, welcomed the news. "We are delighted to be providing our customers in Kelowna with even more travel options this coming winter. Los Cabos is consistently one of our popular vacation destinations and we're sure this new service will be well received."
Sunwing is one of the country's biggest travel providers to the popular Pacific Mexican destination. With the addition of the new flight service from Kelowna, the travel company will offer direct access to Los Cabos from 11 airports coast to coast.
"We are excited for additional direct service to Los Cabos for YLW passengers," said Sam Samaddar, Airport Director. "We've heard from passengers that they want to see more service to sunny destinations, and this is just one way we're working to make this a reality."
Vacationers that take advantage of this new flight service could be among the first guests to experience the highly-anticipated Riu Palace Baja California, an adults only resort slated to open in December. Boasting stunning views of Los Cabos' coastline, this all inclusive property will offer four sparkling infinity pools that overlook the ocean, five specialty restaurants and a host of premium amenities such as 24-hour room service and free Wi-Fi throughout the resort. What's more, guests will also enjoy access to facilities at the neighbouring Riu Sante Fe, such as the new Splash Water World water park. Vacationers who book their RIU vacation package with Sunwing also enjoy exclusive RIU®-topia inclusions such as unlimited à la carte dining, spa discounts, in-room liquor dispensers and much more.
Families will also appreciate the five-star accommodations and extensive activity programs at the recently-enhancedKrystal Grand Los Cabos. While the younger guests are enjoying the supervised activities at the kids and teens clubs, parents can take some time to themselves and relax in the beautiful infinity pool, dine at one of the resort's five specialty restaurants onsite or sip on their favourite beverage while admiring the views from the resort's panoramic Sky Bar.
All vacation packages include return flights on Sunwing Airlines where passengers can look forward to starting their vacation off in style with award-winning inflight service that includes a welcome sparkling wine toast, buy on board Sunwing Café menu with selections inspired by Food Network Canada Celebrity Chef, Lynn Crawford and backpacks for children filled with games and toys.
13th June 2018
Sunwing Airlines Announces New Flight From Vancouver, Canada to Liberia, Costa Rica
Sunwing Airlines announced today the opening of a new route that will connect Vancouver, Canada and Liberia in Costa Rica, starting December 23, 2018.
The flight will initially operate only from December 23 through March 31, departing on Sundays, to offer Canadians an opportunity to escape the cold weather of those months and enjoy the warm summer in Costa Rica.
This is the second direct flight announced to the Daniel Oduber Airport in Liberia, in the recent days, whenAero Mexico confirmed a new route between Mexico City and Guanacaste.
President of Tour Operations for Sunwing, Andrew Dawson, commented on the news.
"We're very pleased to be introducing Costa Rica for the coming winter. As well as being renowned for its eco tours and adventures, this popular destination also stands out for the quality of its accommodation. With this new service, our Vancouver customers will be able to choose between two of our consistently most popular top-rated resorts, Riu Palace Costa Rica and Riu Guanacaste, or be among the first guests to experience the new Planet Hollywood Costa Rica, opening this fall. As an added benefit, we will be operating the flight service on our new Boeing 737 MAX 8 airplanes. The improved fuel efficiency of the MAX will also enable us to offer an increased number of direct flight services from our Western airports" reads the news by Sunwing Travel Group.
"It gives me great joy to give such great notice in such a short period of time, since one of the commitments I took under my administration is the strengthening of tourism from Mexico, Canada and the United States, markets of great importance for Costa Rica in terms of affinity and distance", commented Maria Amalia Revelo, Minister of Tourism.
24th May 2018
Sunwing seizes opportunity as Air Transat ditches Saskatoon
Hours after Air Transat confirmed it would scrap flights in and out of Saskatoon this winter, Sunwing unveiled plans to keep flying vacationers to Mexico, the Dominican Republic and Jamaica.
In a news release issued this week, Sunwing Airlines Inc. said it plans to provide weekly flights out of the city beginning Nov. 5 — leading to praise from the Saskatoon Airport Authority's chief executive.
"Skyxe Saskatoon Airport appreciates the dedication of our air carrier partner, Sunwing Airlines, who has remained committed to the Saskatchewan market," Stephen Maybury said in the Sunwing news release.
"Offering our customers the convenience of departing from their local airport is one of our key commitments," wrote Andrew Dawson, Sunwing's head of tour operations.
Sunwing issued its news release shortly after Air Transat said it would stop offering service out of the city. Air Transat declined an interview request but spokeswoman Debbie Cabana provided a written statement.
"We are currently in a transition period related to our fleet reconfiguration. This, combined with certain decisions of a commercial nature, has prompted us to make adjustments to our flight programs," Cabana wrote.
"These include reduced flight frequency in certain markets and, in some cases, complete market withdrawal."
The situation in Regina is identical to Saskatoon, with Air Transat confirming its plan to exit the market and Sunwing seizing the opportunity to confirm its plan to continue flying out of the Queen City.
"We are delighted to see Sunwing provide our community with so many exciting options to escape the cold weather this winter," Regina Airport Authority CEO James Bogusz said in a statement.
A spokeswoman for WestJet, which also flies to vacation destinations, said in an email that the Calgary-based airline doesn't comment on route additions or extra flights for competitive reasons.
2nd May 2018
Sunwing and the Canadian Transport Agency
The Canadian Transport Agency (CTA) is ensuring that it dots the i's and crosses the t's to ensure that Sunwing passengers are offered the best possible care. The CTA are inquiring into flight incidents on a couple of international flights for which complaints have been filed.This inquiry's aim is to deduce whether Sunwing treated its passengers in a manner consistent with its terms and conditions of carriage for international flights (tariff) and whether those terms and conditions are reasonable.
3rd April 2018
Sunwing's fuel bill may be compensated by unruly passenger
A man from Canada has potential to be charged $A22,700 after his drunken and disorderly behaviour caused the Sunwing aeroplane to make an emergency return to the airport while accompanied by two F-15 U.S. Air Force jets. The man has pleaded guilty to various charges of aggressive and disorderly conduct committed during a Cuba-bound Sunwing flight last summer. The 40-year-old man will be sentenced April 18 and prosecutors are requesting Nassios, the man in question, pay damages and serve three years probation, according to court documents, CTV News reported.
The massive fine factors in the carrier's aeroplane fuel, landing fees, overtimes salaries for Sunwing employees and hotel costs for the 170 stranded passengers. The incident happened July 6, 2017, when the Sunwing flight left Pierre Trudeau International Airport in Montreal for Cuba. Nassios allegedly began making threats and acting "aggressively" on board. For the safety of the passengers the flight turned around shortly after takeoff and returned to the airport.
1st March 2018
Sunwing launches Jamaica month
The Caribbean island of Jamaica is Sunwing's location of the month. Agents can take advantage with extra incentives. Sunwing has made Jamaica its destination of the month to showcase all the top-rated hotels, resorts and experiences the 'home of all right' has to offer. Until March 31st, agents can earn double the STAR Agent Reward Points that convert into cash on all new bookings to Jamaica. As well, each time an agent makes a booking to any participating resort, they'll be entered into a weekly contest for a chance to win an all-inclusive vacation for two in Jamaica.
The more bookings agents make; the more chances they have to win. What's more, agents will have the opportunity to learn about the pristine beaches, authentic cuisine, rich heritage and natural wonders that characterise this island of contrasts during a webinar about the destination. The English webinar will take place Thursday, March 8 at 2 p.m. EST, while the French webinar will occur Wednesday March 7th at 2 p.m. EST. Participants of each webinar will be entered into a draw to win two air seats to Jamaica with Sunwing.
17th November 2018
Sunwing launches new direct flight service from Vancouver to Montego Bay, Jamaica
The Caribbean island of Jamaica just got a little closer to Vancouverites with the announcement that Sunwing will be offering a new direct flight service from Vancouver to Montego Bay. The tour operator already offers vacation packages from the city to Jamaica, however, this winter will be the first time that the island has been accessible via a direct flight service that will operate weekly between December 19, 2017 and April 17, 2018. Once the service commences, the carrier is expected to be the only airline offering the route direct from Vancouver.
President of Tour Operations, Andrew Dawson, welcomed the news. "We have been offering vacation packages from Vancouver to Montego Bay for three years and are certain that the introduction of a direct flight service will be well received by vacationers in search of a tropical escape this winter."
As the #1 for adult, family and luxury vacations, Sunwing offers travellers plenty of options to explore this beautiful island of contrasts. One of Jamaica's newest resorts, Royalton Negril Resort & Spa features a host of luxurious amenities including unlimited reservation-free dining, stylish outdoor lounges and nightly entertainment together with a wide range of complimentary sports and children's activity programs. Couples and honeymooners can enjoy the Hideaway at Royalton Negril which boasts a dedicated beach area, adults only infinity pool, and exclusive bar and restaurant.
Travellers can also opt for the recently opened Sensatori Azul Beach Resort Jamaica, which combines an enviable location on the legendary Seven Mile Beach with varied à la carte dining experiences, extensive pool complex and a fully-equipped fitness centre. Younger guests will love the excellent daily kids programs including Silly Science Lab, Arts & Crafts and My Gym programs plus Mommy and Baby play sessions for tots.
All Sunwing packages include return flights on Sunwing Airlines where passengers can sit back and relax while on board, with award-winning inflight service that includes a sparkling wine toast, complimentary non-alcoholic beverage service and buy on board selection of light meals and snacks, including menu choices inspired by Food Network Canada Celebrity Chef, Lynn Crawford. Passengers also benefit from a generous complimentary 23kg checked luggage allowance.
3rd August 2017
Sunwing Airlines offers new flight service from Saskatoon to Mazatlan
Sunwing is pleased to announce it will be offering a new weekly flight service from Saskatoon to Mazatlan, Mexico this winter that will depart Thursdays between December 21, 2017 and March 29, 2018 inclusive. The addition of the new service confirms Sunwing as the top Canadian provider of flights to Mazatlan, with flights from seven airports across the country to this popular Pacific Mexico destination. Nicknamed the 'Pearl of the Pacific', Mazatlan is located on Mexico's Gold Coast along the Pacific, and offers excellent sport fishing, water sports and cultural excursions.
17th May 2017
MAEL announced support to Sunwing Airlines
Monarch Aircraft Engineering Limited (MAEL) has signed an agreement to be the airline's maintenance technical handling agreement with Sunwing Airlines. The agreement commences in from May 2017 and will provide Sunwing Airlines a full suite of line maintenance services to support the operator's Boeing 737-800 based at Leeds Bradford Airport.
4th May 2017
Sunwing Airlines offers new routes between Canadian Provinve of Newfoundland and Cuba
Sunwing Airlines have announced that from May 2017, they will offer new routes between the Canadian Province of Newfoundland and Cuba. This is due the airline planning to fly a 1 x Weekly service: Gander - Deer Lake - Varadero - Gander - Deer Lake.
---
Search and Buy Sunwing Airlines Flights
Make a Sunwing Airlines reservation and find some amazing deals with discounted Sunwing Airlines tickets at Alternative Airlines. Sunwing Airlines flies to many destinations worldwide, offering a cost effective and safe service to all its passengers. Let Alternative Airlines help find you cheap Sunwing Airlines tickets and make international and domestic flight reservations on Sunwing Airlines today.
Browse the most popular Sunwing Airlines flight routes to cities worldwide. Alternative Airlines can help you make reservations on Sunwing Airlines for international flights to lots of destinations. Book Sunwing Airlines flights on Alternative Airlines to save big! Alternative Airlines is an online travel agency, specialising in booking lesser known airlines and remote destinations.
---