Search and Buy Flair Airlines Flights with Alternative Airlines
Make a Booking and Find Some Amazing Deals
---
About
Flair Airlines is a Canadian low-cost airline based in Edmonton, Alberta in Canada. The airline operates chartered and scheduled passenger flights domestically within Canada on a low-cost model. From its hub in Edmonton International Airport (YEG), Canada, the airline operates services to domestic destinations in Canada such as Toronto, Vancouver and Calgary.
In addition to the main base of Edmonton International Airport (YEG), the airline has a secondary hub at Vancouver International Airport (YVR). 'Flair Air' was established in 2005 as a cargo airline operating services between Cuba and Canada, with occasional charter services. It wasn't until 2017 that the airline was renamed to Flair Airlines, and became a scheduled airline.
In June 2017, Flair Airlines made it clear that it bought a travel company called New Leaf. Flair Airlines were operating Newleaf flights, as it wasn't licensed as an airline. Flair Airlines kept most of the Newleaf staff after the acquisition. The NewLeaf brand officially retired on July 2017 and NewLeaf flights are now operated under Flair Airlines.
In 2018, Flair Airlines made a hub transition from Kelowna International Airport (YLW) to Edmonton International Airport (YEG). Flair Air is recognisable for its green and black branding, which it introduced in 2019, shortly after it changed its name to Flair Airlines.
Flair Airlines currently operates 16 regularly scheduled flights within Canada using 3 Beinubf 737-800 that can carry a total of 567 passengers at one time.
Did you know that Alternative Airlines allows you to pay for your flights in over 160 different currencies and you can also do so with the Canadian Dollar?
---
Destinations
As of August 2022, Flair Airlines operates domestic flights to destinations around Canada and to some international destinations. This includes destinations such as Calgary, Edmonton, Halifax, Saint John, Winnipeg, Vancouver and more. If you're looking to fly within Canada, our guide to domestic flights within Canada offers lots of helpful information.
Domestic Destinations
| CITY | IATA | AIRPORT |
| --- | --- | --- |
| Calgary | YYC | Calgary International Airport |
| Charlottetown | YYG | Charlottetown Airport |
| Edmonton | YEG | Edmonton International Airport (Hub) |
| Fort McMurray | YMM | Fort McMurray International Airport |
| Halifax | YHZ | Halifax Stanfield International Airport |
| Kelowna | YLW | Kelowna International Airport |
| Ottawa | YOW | Ottawa Macdonald-Cartier International Airport |
| Prince George | YXS | Prince George Airport |
| Regina | YQR | Regina International Airport |
| Saint John | YSJ | Saint John Airport |
| Saskatoon | YXE | Saskatoon John G. Diefenbaker International Airport |
| Toronto | YYZ | Toronto Pearson International Airport |
| Vancouver | YVR | Vancouver International Airport (Secondary Hub) |
| Winnipeg | YWG | Winnipeg James Armstrong Richardson International Airport |
International Destinations
| CITY | IATA | AIRPORT |
| --- | --- | --- |
| Phoenix | AZA | Phoenix-Mesa International Airport |
| Tucson | TUS | Tucson International Airport |
| Los Angeles | LAX | Los Angeles International Airport |
| Palm Springs | PSP | Palm Springs International Airport |
| San Francisco | SFO | San Francisco International Airport |
| Fort Lauderdale | FLL | Fort Lauderdale-Hollywood International Airport |
| Orlando | SFB | Orlando Sanford International Airport |
| Las Vegas | LAS | Harry Reid International Airport |
| New York City | JFK | John F. Kennedy International Airport |
| Nashville | BNA | Nashville International Airport |
| San José del Cabo | SJD | Los Cabos International Airport |
| Cancún | CUN | Cancún International Airport |
---
Baggage
Carry-on Baggage
Flair Airlines allows passengers one free personal bag weighing less than 7 kg / 15 lbs with dimensions no greater than 16cm x 33cm x 43cm (6in x 13in x 17in). This item must be able to fit under the seat in front of the passenger's seat.
Larger carry-on baggage for the overhead compartment can be purchased for an additional fee on the website or at the airport. If purchased, this carry-on bag can weigh a maximum of 10kg / 22lbs and measure a maximum of 22 x 40 x 55cm (9 x 16 x 22in).
Checked Baggage
The airline does not currently include any free checked baggage in its fares. However, items of checked baggage can be purchased online at the time of booking, or the airport for a higher price. Any item of baggage, regardless of the number of bags, must not weigh more than 23kg / 51lbs and must also fit within the combined linear dimensions (L+W+H) of 158cm (62").
---
Check-In Information
Online Check-in
Passengers can check-in online for their Flair Airlines flights. This process will save passengers time and money at the airport, and allow them to print their boarding pass at home to go straight to bag drop or security at the airport. Passengers can simply head to the Flair website with flight details at hand to complete the online check-in process and print their boarding pass.
Airport Check-in
Passengers who have not been able to check-in online must do so at the airport at the Flair posted ticket counter. This service will open 3 hours before the flight departure time and will close 60 minutes before the flight is due to depart.
---
Class Information
Economy Class
Flair Airlines currently only offers Economy seating. However, there are two types of bundles, Basic Bundle and Big Bundle, in addition to the standard seat-only fare.
What are Economy Facilities like?
The Basic Bundle includes 1 x checked bag, priority boarding and TravelFlex (ability to change flights without incurring change fees).
The Big Bundle includes 1 x checked bag, 1 x carry-on bag, priority boarding, and TravelFlex.
Passengers who have not selected a bundle still get a comfortable flying experience, with friendly staff, the ability to purchase food and drinks on board, and the ability to purchase baggage for your flight.
Economy seating
Enjoy comfortable and spacious seating with a good amount of legroom. The team will be on-hand to help.
Premium Economy
There is currently no premium economy class onboard. For more facilities and extras, purchase a bundle mentioned above.
Business Class
Business Class is currently not available.
First Class
First Class is currently not available.
---
In-Flight Entertainment
This Flair airline does not currently provide any in-flight entertainment onboard its flights, as it prioritises keeping the cost down of flights with its no-frills policy.
---
Food
Passengers can purchase snacks and sweets on board the flight. Items available include pastries, crisps, hummus, soup and chocolate.
Passengers can choose from a selection of drinks available for purchase, such as hot drinks of tea, coffee and hot chocolates, soft drinks such as iced tea, energy drinks and sodas, and also alcoholic beverages such as spirits or cocktails.
---
WiFi
There are currently no WiFi services available onboard this airline.
---
Frequent Flyer
Currently, there is no frequent flyer rewards program for Flair Airlines.
---
Airline Alliance
Flair Airlines currently have no airline alliances with any other airlines.
---
Fleet
As of February 2021, Flair Airlines' fleet currently consists of 3 aircraft, with 14 more on order. As part of its recent expansion, the airline announced that it would be acquiring additional aircraft by early 2021.
| AIRCRAFT | IN SERVICE | ORDERS |
| --- | --- | --- |
| Boeing 737-800 | 3 | 1 |
| Boeing 737 MAX 8 | / | 13 |
---
Hub Airport
Edmonton International Airport
Flair Airlines is based at Edmonton International Airport (YEG) in the Canadian Province of Alberta. It is the fifth busiest in the country in terms of passenger traffic, and the 9th busiest for aircraft movements. In addition, the airport facilitates airlines meaning it connects to other Canadian cities and also to major cities in the United States, Mexico, the Caribbean, Central America and Europe.
This airport is a focus city of Swoop and WestJet. Airlines that operate out of Edmonton International include Air Canada Express, Alaska Airlines, United Airlines and WestJet.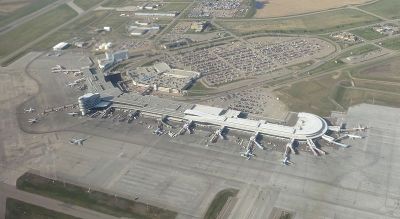 ---
Alternative Airlines to Flair Airlines
Please click on the logos below to find out more about airlines that fly similar routes to Flair Airlines:
---
Special Services
Mobility Assistance
Flair Airlines request that passengers needing mobility assistance such as wheelchair assistance, contact the airline directly at least 72 hours before flying. They will be able to arrange airport assistance as well as special aisle assistance whilst onboard.
Visual or Hearing Impaired
Passengers who are visual or hearing impaired are requested to contact the airline directly to arrange any additional services or support for their flight.
Special Service Animals
Animals that are professionally trained and certified are allowed to travel with disabled passengers in the cabin at the customer's feet. This currently is at no extra cost to the passenger. Emotional support animals are also permitted, at the discretion of Flair.
Passengers with Autism Spectrum Disorder (ASD)
Flair Airlines is Canada's first 'autism aware' certified airline. Contact the airline if you require assistance for your flight, or read our tips and advice for flying with ASD.
---
Deals and Discounts
Travellers can save money on their next Flair Airlines flight reservation with Alternative Airlines' flight deals and offers! If you are looking to get a discount on your Flair Airlines flight tickets, then book with us at Alternative Airlines with a flight promo code when paying with PayPal and PayPal Credit.
---
FAQ's
Can I buy Flair Airlines flights on finance?
Of course! At Alternative Airlines we take pride in offering 40+ payment methods in over 160 currencies. This includes a range of buy now, pay later options such as Klarna, Affirm, Zip, Uplift, Tabby and more. With Buy Now, Pay Later flights you can split the cost of your flight in easy-to-pay instalments. Please bear in mind that the payment method available at checkout will depend on the country you reside in.
Who owns Flair Airlines?
Flair Airlines is 58% owned by Canadian citizens. The parent company of Flair Airlines is 777 Partners. They are a Miami-based investment firm leasing company that holds 25% stake in Flair Airlines.