Search & Buy Flair Airlines Flights
Airlines will always try to sit children with their parents (subject to check-in)
Some airlines will allow travel for unaccompanied minors. Please email us to check.
The fare is based on the child's age on the date of travel.
More detailed information can be found here Traveling with children
Most airlines will let infants travel with their parent(s) for free. However some airlines will charge up to 10% of the adult ticket price. Click on 'Price Breakdown' to find out more.
If you are pregnant, but due before the flight departure date, please contact us once your baby is born and has a name. We can then add him/her to your ticket.
Infants will not be given a seat. The airlines expect parents to travel with them on their lap.
Airlines regard infants as being under 24 months old.
The fare is based on the child's age on the date of travel.
More detailed information can be found here Traveling with children
Buy
Flair Airlines

Flights
Flair Airlines Reservations with Alternative Airlines
Make a Flair Airlines Booking and Find Some Amazing Deals
---
About Flair Airlines
Flair Airlines is a Canadian low-cost airline based in Kelowna, British Columbia in Canada. Alternative airlines to Flair Airlines are WestJet and Air Canada. The airline operates a chartered passenger, low-cost airline and cargo services in Canada, Caribbean and United States as well as international destinations.
Flair Airlines is based at Edmonton International Airport. The main bases for the low-cost carrier function of the airline are John C. munro Hamilton International Airport and Winnipeg James Armstrong Richardson International Airport. The airline was established as a charter airline in 2005 and became a scheduled airline in 2017. Flair Airlines operates over 100 scheduled flights a week to 7 Canadian destinations.
---
Flair Airlines Fleet
The Flair Airlines airline's fleet size is 7 Boeing 737 aircraft. Apart from its domestic scheduled service, Flair Airlines also supplies large aircraft contract and ad hoc charter services. Prior to establishing Flair, its owner, Jim Rogers, spent over 35 years working in partnership to build Kelowna Flightcraft (now KF Aerospace) into one of Canada's largest multi-disciplined aviation organizations.
---
Flair Airlines Discounts and Deals
Save money on your next Flair Airlines flight reservation with Alternative Airlines flight deals and offers! If you are looking to get a discount on your Flair Airline flight tickets, then book with us at Alternative Airlines with a flight promo code.
---
Flair Airlines Baggage
Carry-on Baggage
Flair Airlines allows passengers one free personal bag weighing less than 7kg with dimensions no greater 15cm x 33cm x 43cm (6in x 13in x 17in). Larger carry-on baggage can be purchased for an additional fee.
Checked Baggage
Prepaid baggage can be purchased for an additional fee from the Flair Airlines website. Checked baggage on Flair Airlines flights must not weigh more than 23kg and must not exceed 158cm in total linear dimensions.
---
Flair Airlines Check-in
Online Check-in
Online check-in for flair airlines opens 24 hours before flight departure and closes one hour prior.
Airport Check-in
All Flair Airlines customers should check in online using the Flair Airlines website. If you need to check a bag, please arrive at the airport desk at least 60 minutes before the scheduled flight departure.
---
Flair Airlines Fare Types
Flair Airlines offers two types of fares, Loonie and Toonie. Loonie fare includes carry on baggage, is non-refundable, advance purchase 7 days minimum, upgrade to higher fares allowed and changes allowed for a fee. Toonie fare includes changes for a fee, refundable with a penalty, 1 carry on and 1 checked bag, seat assignment for free, advance purchase 0 days minimum, downgrade of fare not allowed.
---
Flair Airlines Destinations
| | | | | | | |
| --- | --- | --- | --- | --- | --- | --- |
| | | | Canada | | Abbortsford | |
| | | | | | Calgary | |
| | | | | | Edmonton | |
| | | | | | Halifax | |
| | | | | | Hamilton | |
| | | | | | Kelowna | |
| | | | | | Toronto | |
| | | | | | Vancouver | |
| | | | | | Victoria | |
| | | | | | Winnipeg | |
| | | | United States | | Las Vegas | |
| | | | | | Miami | |
| | | | | | Orlando | |
| | | | | | Palm Springs | |
| | | | | | Phoenix-Mesa | |
| | | | | | St. Pete-Clearwater | |
---
Flair Airlines Route Map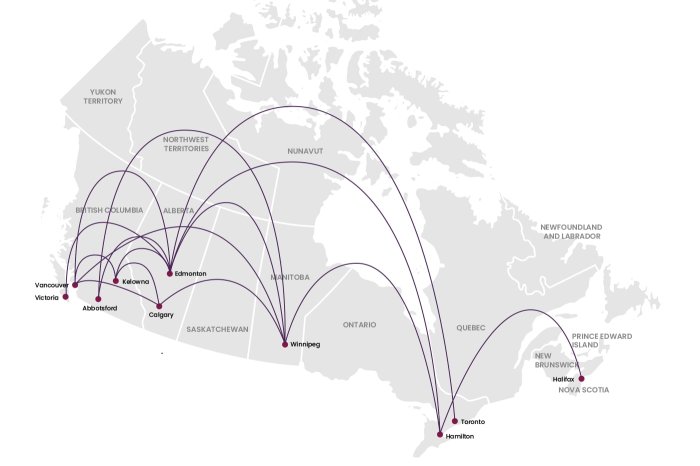 ---
Flair Airlines Hub Airport
Edmonton International Airport
Flair Airlines is based at Edmonton International Airport in the Canadian Province of Alberta. It is the fifth busiest in the country in terms of passenger traffic. Airlines that operate out of Edmonton International include Air Canada Express, Swoop, United Airlines and WestJet.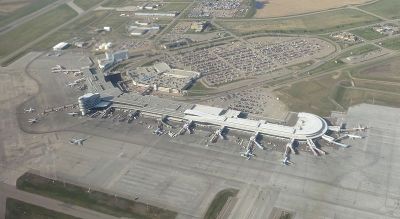 Photo credit: Thankyoubaby
---
Alternative Airlines to Flair Airlines
Click on the logos below to discover more airlines that fly similar routes to Flair Airlines:
---
Flair Airlines News
31st August 2018
Flair Airlines sees success for first flown Summer
The low-fare airline Flair Airlines has seen a successful summer as it doubled its capacity in June. With this, they expanded their network to over 10 cities. This includes Halifax, Victoria. The airline is moving its headquarters to Edmonton form Kelowna at the end of 2018. Flair Airlines' aircraft will arrive in 2019 and this year they saw over 200 weekly flights operated.
19th June 2018
Flair Airlines expands network
Flair, Canada's only operating low-fare airline, launches service from Halifax Stanfield International Airport, Calgary International Airport and Victoria International Airport. This marks Flair's commitment to expanding its route network as was announced earlier this year. With today's addition of Halifax, Calgary and Victoria - coupled with increased frequency on its existing routes - Flair has effectively doubled its flights and now has services stretching coast to coast.
Cities in which Flair flies to and from benefit significantly with lower airfares as a direct consequence of Flair's market presence: Since Flair launched service from Edmonton and Winnipeg (as an example) both communities have already reported 30-40% reductions in ticket prices (source: Kayak.com).
Echoing this, Flair's Executive Chairman, David Tait, commented, "In barely a year, Flair has had a tremendous impact in lowering the price of air travel in Canada and we are confident these new locations will be no different. We offer Canadians the opportunity to travel more often, to explore the country and, for small business owners, maybe visit out-of-province customers more often. We are delighted to bring spread our Flair throughout the country."
Flair Airlines will increase its flights per week from 90 to 188 beginning immediately - effectively increasing its direct, one stop and connectivity throughout its entire network.
17th April 2018
Flair Airlines' expansion called 'shot across the bow of WestJet'
Kelowna-based Flair Airlines is going to offer new direct flights from Winnipeg to Calgary and Vancouver as it increases its flights per week to 208 in June. (CBC)
A Canadian aviation analyst says a move by Kelowna-based Flair Airlines to expand westward could be an effort to capitalize on some weaknesses in the market.
The low-cost airline is more than doubling its flights per week and adding new service to destinations that include Saskatoon and Calgary.
Flair Airlines has also announced new direct flights from Winnipeg to Calgary and Vancouver as it increases in June its flights per week to 208 from the 90 it currently offers.
CEO Jim Scott said in a statement that Canadians will benefit significantly because every time the airline enters a market, fares drop almost immediately by more than 20 per cent on the routes it serves.
Flair bills itself as the country's only low-cost airline, and Scott says the expanded flight schedule is a clear indication that the demand is strong for such an option.
Robert Kokonis, a Toronto-based aviation consultant, says it's an aggressive strategy.
"Two routes out of Calgary to Winnipeg and Vancouver, I mean that's taking a shot across the bow of WestJet because that's head office and the second largest base after Toronto."
Flair will also begin flying from Halifax, Saskatoon, Prince George and Victoria, resulting in a more than doubling of its flights per week.
Kokonis says there are likely two factors behind the expansion. First is the recent labour problems at WestJet sparked by the launch of its new low-cost airline, Swoop, which is scheduled for June. And second, the delay of another ultra-low cost airline, Jetlines.
"So, with that uncertainty there — Jetlines not launching this summer — with WestJet's labour turmoil, I think Flair has decided to go after a lot of these routes in a more focused fashion," he said.
Kokonis says that if Flair expands carefully, going after people who travel rarely or not at all, there should be room in the market.
He says the winners will be consumers, who should see a drop in ticket prices as soon as this summer.
27th March 2018
Flair Airlines flight lands safely at Kelowna airport
An aircraft that took off from the Kelowna airport this afternoon developed a landing gear problem and had to return to the airport.
Flair Airlines flight 310 had difficulties retracting its landing gear, according to a release from the City of Kelowna which operates the airport.
The flight took off at approximately 1:35 p.m. today, March 18, for Vancouver, but due to the landing gear problem, had to turn around and return to the airport. It landed safely at around 2:19 p.m.
9th January 2018
Flair Airlines fires up four Canadian domestic city pairs
Cutting the ribbon at Toronto Pearson to open Flair Airlines' new service to Edmonton are Mirza Smajic, Director of Passenger Sales & Marketing, Flair Airlines, and Scott Armstrong, Director of External Communications, Greater Toronto Airport Authority (GTAA). The airline will operate the 2,689-kilometre link on its 737-400s.
Flair Airlines, which now operates a fleet of six 737-400s, added four new routes to its network this week. It will now operate from Edmonton (YEG) to Toronto Pearson (YYZ), Kelowna (YLW) and Vancouver (YVR). The carrier has also inaugurated a link from Vancouver to Kelowna. All four routes are poised to face intense direct competition. The average sector length of the four routes is 1,082 kilometres and the mean weekly frequency is 4.8.
14th December 2017
Flair Airlines enters Interline Agreement with Hahn Air
The German scheduled airline Hahn Air announced a new partnership with Flair Airlines (F8). The Canadian low-cost carrier from British Columbia has joined Hahn Air's network of more than 300 partners to benefit from its distribution services. Specifically choosing the HR-169 product, Flair Airlines expands its commercial reach to more than 100,000 travel agencies in over 190 markets worldwide, enabling the issuance of its flights on the HR-169 ticket through the Amadeus GDS.
"We are very excited about this new era of optimised distribution where Flair Airlines has the ability to reach Hahn Air's large network of travel agencies worldwide", said Mirza Smajic, Director of Passenger Sales and Marketing Commercial Department Schedule Flights at Flair Airlines. "New business opportunities mean higher yields and, mainly, more satisfied travelers who get to discover some of the best Canadian destinations using our low-cost services."
"By welcoming Flair Airlines into our partner network, we are proud to add another low-cost carrier with attractive domestic routes and the highest standards", says Steve Knackstedt, Vice President of the Airline Business Group at Hahn Air. "We recognise the untapped sales potential of Flair Airlines and with our services we create an extensive international reach and strong financial standing to provide market coverage in its offline markets."
4th December 2017
Flair Airlines changes its ultra low cost model by eliminating carry-on fee
Flair Airlines Ltd. is tinkering in Canada with the ultra low-cost airline model used in the U.S. and Europe by eliminating carry-on luggage charges in response to consumer demand. Effective immediately, the B.C.-based carrier will remove its $30 carry-on baggage fee. Flair is "redefining" the ultra low cost carrier model in Canada. The airline started last summer by taking over the operations of New Leaf. Discount airlines keep fares low by charging a series of ancillary fees including baggage, seat selection, use of credit cards and food purchases. Some of the world's largest airlines of this type earn as much as 46 per cent of their revenues from extra fees. Flair Airlines allows for one small personal item, and now one carry-on bag per person free of charge. Standard luggage sizes apply. Passengers will be required to pay for other checked bags. "We want our passengers to have a positive experience with us, and if that requires us removing this fee, then we are delighted to respond," stated Lapointe.
15th November 2017
Flair Airlines and Voyages a la Carte announce new distribution partnership
Flair Airlines, the airline that is reinventing domestic air travel in Canada, and global airline consolidator Voyages a la Carte, today announced a new multi-year strategy partnership, under which Voyages a la Carte is now offering all Flair Airlines flights and fares on their new B2B platform (Agencia Global). Flair Airlines Ltd is a Canadian Airline headquartered in Kelowna, BC. The company operates an aircraft fleet of 7 Boeing 737 -400s. Flair Airlines provides scheduled service from seven Canadian destinations. Additionally, the company operates a successful charter service.
11th September 2017
Flair Airlines announces expansion
Flair Airlines announced an expansion of their route network by adding service to three additional airports: Toronto Pearson Airport, Vancouver International Airport and Kelowna International Airport. Today's announcement marks a significant milestone for Flair Airlines. "The addition of these three airports directly extends our reach into some of Canada's larger and more popular destinations. Flair is thrilled to expand and bring with us our low fares and welcome new passengers," stated Chris Lapointe, Vice President Commercial Operations. Flair Airlines plans to be operating 12 aircraft by the spring of 2019. Since last year, Flair has flown over 376,600 passengers on over 3090 flights.