Buy Flights in
Canadian Dollars

with Alternative Airlines

Search for flights from over 650 airlines with Alternative Airlines and pay in Canadian dollars (CAD). We offer over 25 international payment methods, many of which are available when you pay in Canadian Dollars. You can buy flights in Canadian dollars using PayPal and Sezzle when booking with Alternative Airlines!
---
How to Book flights In
Canadian dollars
Buy flights in Canadian Dollars (CAD) by following these two simple steps.
STEP
1
Change the currency from the default to Canadian Dollar (CAD)
Once you've selected CAD, fill out the search form with your desired dates of travel and departure and arrival airports.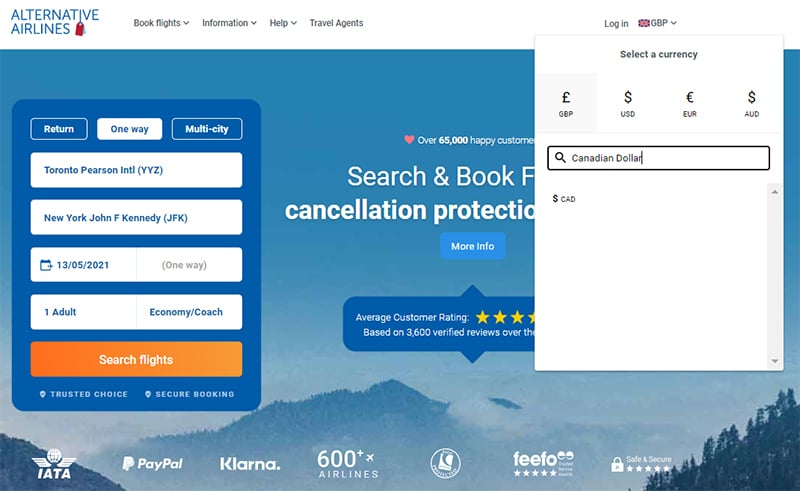 STEP
2
Your flight search results will now display with all prices in Canadian dollars. Just select the fare that's best suited to you and confirm your selection to complete the booking in CAD.
You can find the cheapest flights in Canadian Dollar (CAD) if you use our best fare finder too.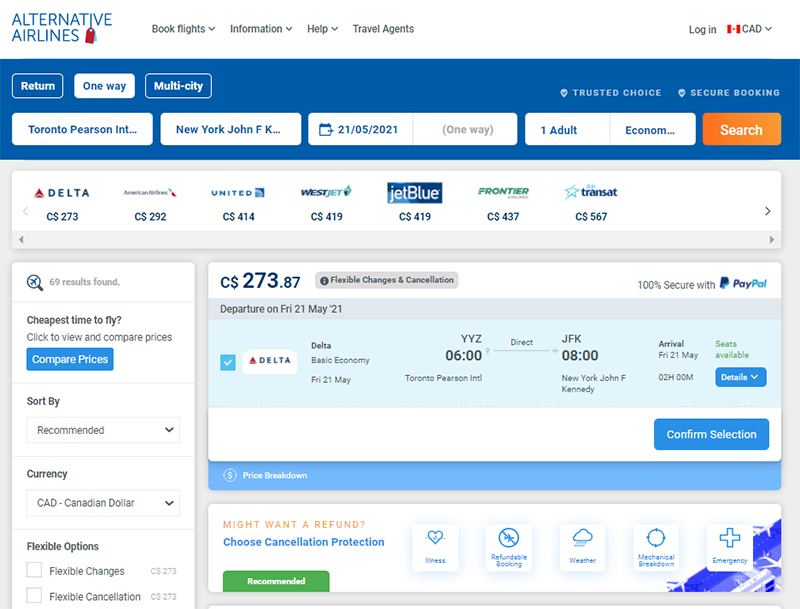 ---
About the canadian dollar (cad)
In the 1950s Canada decided to have a floating currency; however, in 1962 the currency became a fixed exchange rate again at 0.925 USD = 1 Canadian Dollar. The peg was kept until 1970. After 1970, the Canadian dollar became a floating currency.
---
Book flights on Finance
Did you know that if you're a Canadian resident, booking flights in Canadian Dollar (CAD), then you can choose from lots of payment plan options when you book your flights through Alternative Airlines. There's no need to pay for your airfare upfront - spread the cost of your flights over time!
Below are some of our popular payment options, but we also offer lots of other payment methods. Find out more here:
DISCOVER ALL OUR PAYMENT PLAN OPTIONS
Pay for flights over time with Sezzle

Sezzle is one of our most popular payment plan options! With Sezzle, you can book your flights today, then pay back over time. Choose from any of the airlines available to book through Alternative Airlines, then pay in 4 installments over 6 weeks, completely interest-free. There are so many reasons to love paying for your flights with Sezzle - take a look at our Sezzle FAQ page to find out more.
Sezzle is currently available to U.S. and Canadian citizens paying in $USD or $CAD.
Pay for flights over time with Quadpay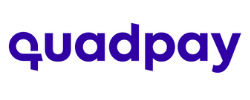 Split the cost of your flights into four installments, paid over six weeks, with QuadPay. Search for flights with any of the hundreds of airlines that we ticket, then select 'Quadpay' at checkout. You only need to pay the first 25% today! Find out more about booking flights with Quadpay.
Quadpay is accepted in the U.S and Canada for customers paying in $USD or $CAD.