Search and Buy XiamenAir Flights with Alternative Airlines
Make a XiamenAir Booking and Find Some Amazing Deals
---
About XiamenAir (Xiamen Airlines)
XiamenAir, (Chinese: 厦门航空 ) formerly known as Xiamen Airlines, is a Chinese airline and was the first privately-owned Chinese airline. The airline has hubs at Xiamen, Fuzhou and Hangzhou and flies to major cities in China and extends to Hong Kong, Macau, Taiwan and other countries in Southeast Asian countries. Most of its flights originate from Xiamen Gaoqi International Airport, but also some from Fuzhou Changle International Airport and Hangzhou Xiaoshan International Airport.
Operations commenced in 1984 as a domestic airline which connected Fujian to the rest of China. The airline is owned by a number of shareholders; China Southern Airlines, Xiamen Construction and Development Group, and Fujian Investment & Development Group. The airline also has two subsidiaries; Hebei Airlines and Jiangxi Airlines.
The airline currently has a fleet of over 160 aircraft, flying to over 70 destinations, both domestic and international. In addition, the airline was recently awarded the 'Best Airline in Mainland China' 19 consecutive times by the Airline Service Survey.
Did you know? With Alternative Airlines, you can book your XiamenAir flights and pay later using our Buy Now Pay Later plans at checkout. Read our fly now pay later with XiamenAir for more information!
---
The Fleet
XiamenAir's fleet currently consists of 167 aircraft, with an additional 23 on order. (Correct as of August 2019)
| AIRCRAFT | IN SERVICE | ORDERS |
| --- | --- | --- |
| Boeing 737-700 | 7 | / |
| Boeing 737-800 | 138 | 3 |
| Boeing 737 MAX 8 | 10 | 10 |
| Boeing 737 MAX 10 | / | 10 |
| Boeing 787-8 | 6 | / |
| Boeing 787-9 | 6 | / |
---
XiamenAir Destinations
Domestic Destinations
| Province | CITY | AIRPORT |
| --- | --- | --- |
| Anhui | Chizhou | Chizhou Jiuhuashan Airport (JUH) |
| Beijing | Beijing | Beijing Capital International Airport (PEK) |
| Anhui | Hefei | Hefei Xinqiao International Airport (HFE) |
| Chongqing | Chongqing | Chongqing Jiangbei International Airport (CKG) |
| Chongqing | Wanzhou | Wanzhou Wuqiao Airport (WXN) |
| Fujian | Fuzhou | Fuzhou Changle International Airport (FOC) |
| Fujian | Quanzhou | Quanzhou Jinjiang International Airport (JJN) |
| Fujian | Wuyishan | Wuyishan Airport (WUS) |
| Fujian | Xiamen | Xiamen Gaoqi International Airport (XMN) |
| Gansu | Lanzhou | Lanzhou Zhongchuan International Airport (LHW) |
| Guangdong | Guangzhou | Guangzhou Baiyun International Airport (CAN) |
| Guangdong | Shenzhen | Shenzhen Bao'an International Airport (SZX) |
| Guangdong | Zhuhai | Zhuhai Jinwan Airport (ZUH) |
| Guangxi | Guilin | Guilin Liangjiang International Airport (KWL) |
| Guangxi | Nanning | Nanning Wuxu International Airport (NNG) |
| Guizhou | Guiyang | Guiyang Longdongbao International Airport (KWE) |
| Hainan | Haikou | Haikou Meilan International Airport (HAK) |
| Hainan | Sanya | Sanya Phoenix International Airport (SYX) |
| Hebei | Shijiazhuang | Shijiazhuang Zhengding International Airport (SJW) |
| Heilongjiang | Harbin | Harbin Taiping International Airport (HRB) |
| Henan | Zhengzhou | Zhengzhou Xinzheng International Airport (CGO) |
| Hubei | Wuhan | Wuhan Tianhe International Airport (WUH) |
| Hunan | Changsha | Changsha Huanghua International Airport (HHA) |
| Inner Mongolia | Hohhot | Hohhot Baita International Airport (HET) |
| Inner Mongolia | Hulunbuir | Hulunbuir Hailar Airport (HLD) |
| Jiangsu | Huai'an | Huai'an Lianshui Airport (HIA) |
| Jiangsu | Lianyungang | Lianyungang Baitabu Airport (LYG) |
| Jiangsu | Nanjing | Nanjing Lukou International Airport (NKG) |
| Jiangsu | Wuxi | Sunan Shuofang International Airport (WUX) |
| Jiangsu | Xuzhou | Xuzhou Guanyin Airport (XUZ) |
| Jiangsu | Yancheng | Yancheng Nanyang International Airport (YNZ) |
| Jiangxi | Ganzhou | Ganzhou Huangjin Airport (KOW) |
| Jiangxi | Nanchang | Nanchang Changbei International Airport (KHN) |
| Jilin | Changchun | Changchun Longjia International Airport (CGQ) |
| Liaoning | Dalian | Dalian Zhoushuizi International Airport (DLC) |
| Liaoning | Shenyang | Shenyang Taoxian International Airport (SHE) |
| Ningxia | Yinchuan | Yinchuan Hedong International Airport (INC) |
| Qinghai | Xining | Xining Caojiabao International Airport (XNN) |
| Shaanxi | Xi'an | Xi'an Xianyang International Airport (XIY) |
| Shandong | Jinan | Jinan Yaoqiang International Airport (TNA) |
| Shandong | Qingdao | Qingdao Liuting International Airport (TAO) |
| Shanghai | Shanghai | Shanghai Hongqiao International Airport (SHA) |
| Shanxi | Datong | Datong Yungang Airport (DAT) |
| Shanxi | Taiyuan | Taiyuan Wusu International Airport (TYN) |
| Shanxi | Yuncheng | Yuncheng Guangong Airport (YCU) |
| Sichuan | Chengdu | Chengdu Shuangliu International Airport (CTU) |
| Sichuan | Luzhou | Luzhou Yunlong Airport (LZO) |
| Sichuan | Mianyang | Mianyang Nanjiao Airport (MIG) |
| Tianjin | Tianjin | Tianjin Binhai International Airport (TSN) |
| Tibet | Lhasa | Lhasa Gonggar Airport (LXA) |
| Xinjiang | Ürümqi | Ürümqi Diwopu International Airport (URC) |
| Yunnan | Kunming | Kunming Changshui International Airport (KMG) |
| Yunnan | Lijiang | Lijiang Sanyi Airport (LJG) |
| Zhejiang | Hangzhou | Hangzhou Xiaoshan International Airport (HGH) |
| Zhejiang | Ningbo | Ningbo Lishe International Airport (NGB) |
| Zhejiang | Zhoushan | Zhoushan Putuoshan Airport (HSN) |
International Destinations
| COUNTRY | CITY | AIRPORT |
| --- | --- | --- |
| Australia | Melbourne | Melbourne Airport (MEL) |
| Australia | Sydney | Sydney Kingsford Smith International Airport (SYD) |
| Cambodia | Phnom Penh | Phnom Penh International Airport (PNH) |
| Cambodia | Siem Reap | Siem Reap International Airport (REP) |
| Cambodia | Sihanoukville | Sihanouk International Airport (KOS) |
| Canada | Vancouver | Vancouver International Airport (YVR) |
| France | Paris | Charles de Gaulle Airport (CDG) |
| Hong Kong | Hong Kong | Hong Kong International Airport (HKG) |
| Indonesia | Denpasar | Ngurah Rai International Airport (DPS) |
| Indonesia | Jakarta | Soekarno–Hatta International Airport (CGK) |
| Japan | Osaka | Kansai International Airport (KIX) |
| Japan | Shizuoka | Shizuoka Airport (FSZ) |
| Japan | Tokyo | Narita International Airport (NRT) |
| Macau | Macau | Macau International Airport (MFM) |
| Malaysia | Kota Kinabalu | Kota Kinabalu International Airport (BKI) |
| Malaysia | Kuala Lumpur | Kuala Lumpur International Airport (KUL) |
| Netherlands | Amsterdam | Amsterdam Airport Schiphol (AMS) |
| Philippines | Cebu | Mactan-Cebu International Airport (CEB) |
| Philippines | Clark | Clark International Airport (CRK) |
| Philippines | Davao City | Francisco Bangoy International Airport (DVO) |
| Philippines | Kalibo | Kalibo International Airport (KLO) |
| Philippines | Manila | Ninoy Aquino International Airport (MNL) |
| Singapore | Singapore | Singapore Changi International Airport (SIN) |
| South Korea | Jeju | Jeju International Airport (CJU) |
| South Korea | Seoul | Incheon International Airport (ICN) |
| Taiwan | Kaohsiung | Kaohsiung International Airport (KHH) |
| Taiwan | Taipei | Taipei Songshan Airport (TSA) |
| Taiwan | Taipei | Taiwan Taoyuan International Airport (TPE) |
| Thailand | Bangkok | Suvarnabhumi Airport (BKK) |
| Thailand | Phuket | Phuket International Airport (HKT) |
| United States | Los Angeles | Los Angeles International Airport (LAX) |
| United States | New York City | John F. Kennedy International Airport (JFK) |
| Vietnam | Ho Chi Minh City | Tan Son Nhat International Airport (SGN) |
---
Route Map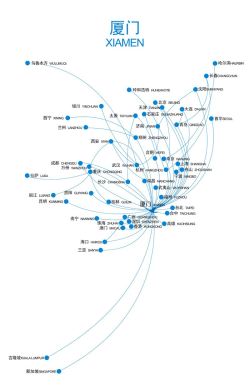 ---
XiamenAir Baggage
Carry-on Baggage
There is a free baggage allowance of 5kg in all service classes. All carry-on baggage must not exceed the dimensions of 55 x 40 x 20cm. Passengers flying in First Class are entitled to two items of free carry-on baggage per passengers. Passengers flying in all other service classes are entitled to one item of free carry-on baggage.
Checked Baggage
Domestic Flights
For domestic flights, passengers are permitted 40kg of checked luggage for First Class, 30kg for Business Class and 20kg for Economy Class.
International Flights
For international flights between China and Europe/Korea/Southeast Asia, and flights between Mainland China and Hong Kong/Macau/Taiwan:
First and business class passengers are permitted 2 x 32kg.
Economy class passengers are permitted 1 x 23kg.
All items of checked baggage(regardless of class) must fit the combined linear dimensions (Length + width + height) of 158cm.
For international flights between China and Australia/Canada/USA/Japan:
First-class passengers are permitted 3 x 32kg.
Business-class passengers are permitted 2 x 32kg.
Economy class passengers are permitted 2 x 23kg.
All items of checked baggage(regardless of class) must fit the combined linear dimensions (Length + width + height) of 158cm.
---
XiamenAir Check-In Information
Online Check-in
Xiamen Airlines are yet to offer an online check-in service for their flights.
Airport Check-in
Passengers must head to the XiamenAir check-in counters to complete check-in. For domestic flights, the counters are open 90minutes before departure, and will close 30 minutes before the flight is due to depart. International flights will open 120 minutes before the flight, and close 40 minutes before departure.
---
XiamenAir Hub Airport
Xiamen Gaoqi International Airport
Xiamen Gaoqi International is an international airport serving the city of Xiamen in Fujian Province, China. Xiamen Gaoqi International Airport has one runway and can handle nearly 25 million passengers every year. In 2018, the airport was the 11th busiest airport in China for cargo traffic and the 13th busiest for passenger traffic. Xiamen Gaoqi International Airport is the hub airport for Xiamen Airlines. Other airlines which fly to Air China, Air Macau, Beijing Capital Airlines, Cambodia Angkor Air, Cebu Pacific, Chengdu Airlines, China Eastern Airlines, China Southern Airlines, China Express Airlines, Cathay Dragon, Hebei Airlines, Chongqing Airlines and many others.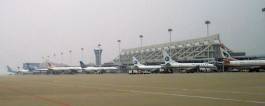 ---
XiamenAir Class Information
Economy Class
Economy class is arranged in a 3-3-3 layout and contains individual in-flight entertainment screens, seat USB ports and universal power outlets. Passengers also get a pair of flight socks, blanket, pillow and a water bottle. The seats in economy are reasonable, with enough legroom and comfortable chairs to help you enjoy your flight.
On flights which are longer, passengers can enjoy a choice of complimentary main dishes with tasty and universal options available.
Premium Economy
There is currently no premium economy class service onboard Xiamen Airlines planes.
Business Class
Business class is only available on select planes in the XiamenAir fleet. Business-class seats are very similar to first class, with large seats and ample legroom, with large and soft reclining airline seats. Passengers can enjoy premium meals and drinks (including alcoholic options), all served on china or glassware.
In business class, passengers receive an amenity kit and pyjamas, thick blankets and two pillows.
First Class
First class is also only available on selected aircraft. First-class seats are arranged in a 2-2 configuration, giving each passenger a large area of personal space with wide and comfortable chairs, complete with a cushion.
Passengers in first class can also enjoy the airport lounge at selected airports.
---
Alternative Airlines to XiamenAir
Please click on the logos below to find out more about airlines that fly similar routes to XiamenAir:
---
XiamenAir In-Flight Entertainment
From the personal in-flight entertainment devices on the back of seats, passengers can access the variety of entertainment that XiamenAir provide. From the latest Hollywood movies to travel shows or comedy TV shows, to music and reading material, there is sure to be something to appeal to every type of passenger.
---
XiamenAir Food
XiamenAir provides a great meal service on flights that are long enough. Passengers can enjoy tasty and balanced meals, with a wide variety of cuisines to choose from.
Drinks
There is a wide selection of drinks to choose from on XiamenAir. These range from soft drinks such as coke or lemonade, to hot drinks such as a range of teas or coffee, or alcoholic beverages such as liqueurs, beers, wines or other spirits.
On some flights and fares, passengers will receive complimentary drinks, but can also be purchased when they are not provided.
Special Meals
If you have any special dietary requirements such as dietary, medical or religious, then you can request a special meal in advance before your flight. The meals available to order include vegetarian oriental meal (VOML), vegetarian vegan meal (VGML), vegetarian lacto-ovo meal (VLML), seafood meal (SFMl), fruit platter meal (FPML), vegetarian raw meal (RVML), child's meal (CHML), baby meal (BBML), diabetic meal (DBML) or Moslem meal (MOML).
---
XiamenAir WiFi
On selected planes and services, there is a free WiFi service onboard for all passengers.
---
XiamenAir Frequent Flyer
Egret Miles is this airline's frequent flyer program. Passengers can collect points on qualifying flights, with more points being awarded for flying in first class. When enough points have been collected, passengers can then spend the points on flights.
---
XiamenAir Airline Alliance
XiamenAir is part of SkyTeam Alliance, the leading global airline network, with 20 other member airlines. SkyTeam alliance was founded in 2000 and now consists of member airlines such as Aerolineas Argentinas, AeroMexico, Air Europa, China Southern, Alitalia, China Airlines, Delta, Garuda Indonesia, Kenya Airways, KLM and others. SkyTeam Alliance network has nearly 16,323 daily flights, with 1,052 destinations in 177 countries.
---
XiamenAir Special Services
Passengers who need special services on board the plane can request such services via the 'Application Form for Air Travel for Passengers With Special Needs' and submit it to the airline. Alternatively, they should contact the airline directly as far in advance as possible (usually 72 hours at least) to detail any requests they have.
---
XiamenAir News
7th June 2018
First Boeing 737 Max for Xiamen Airlines
Xiamen Airlines has taken delivery of its first Boeing 737MAX, expanding its fleet to 200 aircraft. This is the latest milestone in a period of strong growth from the airline, which has added on average 20 aircraft to its fleet every year since 2013.
The Chinese passenger airline counted 100 aircraft in its fleet in 2013 and has now doubled that number. During this period, the airline's operating profits also increased year by year, booking gross profits exceeding RMB 10bn (approximately US$1.5bn).
Over the past five years, civil aviation passenger volume in the USA, Europe and China recorded an average annual growth rate of roughly 4%, 6% and 10%, respectively, while the airline experienced an average growth rate of 15%. It has been profitable for 31 consecutive years.
After expanding its fleet in 2013, the airline sped up its expansion into international markets. The airline bought its first Boeing 787 Dreamliner in August 2014 and launched its first intercontinental flight, between Xiamen and Amsterdam in the Netherlands, in July 2015.
Over the following two years, the airline launched 10 intercontinental flights to cities across Europe, North America and Oceania. All the intercontinental flights are now serviced by Boeing 787s.
---