Search & Buy Xiamen Airlines Flights
Airlines will always try to sit children with their parents (subject to check-in)
Some airlines will allow travel for unaccompanied minors. Please email us to check.
The fare is based on the child's age on the date of travel.
More detailed information can be found here Traveling with children
Most airlines will let infants travel with their parent(s) for free. However some airlines will charge up to 10% of the adult ticket price. Click on 'Price Breakdown' to find out more.
If you are pregnant, but due before the flight departure date, please contact us once your baby is born and has a name. We can then add him/her to your ticket.
Infants will not be given a seat. The airlines expect parents to travel with them on their lap.
Airlines regard infants as being under 24 months old.
The fare is based on the child's age on the date of travel.
More detailed information can be found here Traveling with children
Buy
Xiamen Airlines

Flights
Search and Buy XiamenAir Flights Online with Alternative Airlines
Make a Xiamen Airlines Booking and Find Some Amazing Deals
---
About Xiamen Airlines
XiamenAir, (Chinese: 厦门航空 ) formerly known as Xiamen Airlines, is a Chinese airline and was the first privately owned Chinese airline. The airline has bases in Xiamen, Fuzhou and Hangzhou and covers major cities in China and extends to Hong Kong, Macau, Taiwan and Southeast Asian countries. It operates many flights from its hub at Xiamen Gaoqi International Airport and also Fuzhou Changle International Airport and Hangzhou Xiaoshan International Airport.
Operations commenced in 1984 and its main shareholders are China Southern Airlines, Xiamen C & D Corporation and Jizhong Energy Resources Ltd. The all-Boeing fleet consists of 123 aircraft and operates more than 55 domestic routes and 40 international and regional routes.
The airline flies to many destinations including Beijing, Changchun, Changsha, Chengdu, Chongqing, Dalian, Datong, Fuzhou, Fuzhou, Guangzhou, Guilin, Haikou, Hangzhou, Harbin, Hohhot, Jinan, Kunming, Lanzhou, Lhasa, Lijiang, Luzhou, Mianyang, Nanchang, Nanjing, Nanning, Ningbo, Qingdao, Amsterdam, Denpasar, Jakarta, Tokyo, Macau, Kuala Lumpur and many others.
XiamenAir has codeshare agreements with Malaysia Airlines, Japan Airlines, Korean Air, KLM, Hebei Airlines, Garuda Indonesia, China Airlines, China Southern Airlines and China Eastern Airlines.
---
Baggage Allowance
Carry-on Baggage
XThere is a free baggage allowance of 5kg in all service classes. All carry-on baggage must not exceed the overall dimensions of 155cm (length x width x height). Passengers flying in First Class are entitled to two items of free carry-on baggage per passengers. Passengers flying in all other service classes are entitled to one item of free carry-on baggage.
Checked Baggage
There is a free baggage allowance of 40kg for each First Class passenger.
30kg for each Business Class passenger
20kg for Economy Class passengers.
---
First Class
First Class passengers, and VIP cardholders, may enjoy the First Class Lounge services before their flights.
---
Check-In Information
Online check-In
Passengers can now check-in to your flight directly from the comfort of their own computer! The airline offers you a check-in process so passengers can print their boarding pass and receive their e-booking pass via their email address. This web check-in also allows passengers to add luggage in advance, choose your seat, pick a meal option and other amenities before they fly. Please click the link to find out more about Xiamen airlines online check-in and check-in to your flight online.
Airport Check-In
If they're not able to check-in for their flight online, passengers can check-in for their flight at the airport. Airport check-in can be completed by visiting the XiamenAir check-in agent at the XiamenAir check-in counters at the airport of departure. The airline asks that passengers arrive at least 90 minutes before their scheduled flight departure to check-in at the airport.
---
Destinations
Domestic Destinations
| | | | |
| --- | --- | --- | --- |
| Beijing | Changchun | Changsha | Chengdu |
| Chizhou | Chongqing | Dalian | Datong |
| Fuzhou | Ganzhou | Guangzhou | Guilin |
| Guiyang | Haikou | Hangzhou | Harbin |
| Hefei | Hohhot | Hong Kong | Hulunbuir |
| Jinan | Kunming | Lanzhou | Lhasa |
| Lianyungang | Lijiang | Luzhou | Macau |
| Mianyang | Nanchang | Nanjing | Nanning |
| Ningbo | Qingdao | Quanzhou | Sanya |
| Shanghai | Shenyang | Shenzhen | Shijazhuang |
| Taiyuan | Ürümqi | Wanzhou | Wuhan |
| Wuxi | Wuyishan | Xiamen | Xi'an |
| Xining | Xuzhou | Yancheng | Yinchuan |
| Yuncheng | Zhengzhou | Zhoushan | Zhuhai |
| Yangon | Shenzhen | Liuzhou | |
International Destinations
Amsterdam
Bangkok
Beijing
Cebu
Davao City
Denpasar
Ho Chi
Minh City
Jakarta
Jeju
Kalibo
Kaohsiung
Kota Kinabalu
Kuala Lumpur
London
Los Angeles
Manila
Melbourne
New York City
Osaka
Paris
Phnom Penh
Phuket
Seattle
Seoul
Shizuoka
Siem Reap
Singapore
Sydney
Taipei
Tokyo
Vancouver
---
Route Map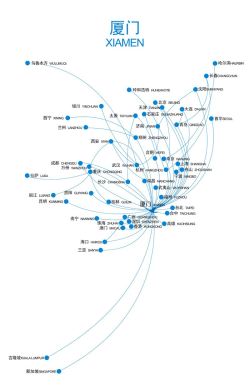 ---
Popular Routes
Amsterdam

Xiamen
Beijing

Bangkok
Xiamen

Chongqing
Fuzhou

Guangzhou
Hong Kong

Xiamen
Shanghai

Shenyang
---
Fleet
Boeing 737-800
Boeing 737-700
Boeing 757-200
Boeing 787-8
Cormac ARJ21-700
---
Hub Airport
Xiamen Gaoqi International Airport
XiXiamen Gaoqi International is the international airport serving the city of Xiamen in Fujian Province, China. Xiamen Gaoqi International Airport is the hub airport for Xiamen Airlines. Other airlines which fly to Air China, Air Macau, Beijing Capital Airlines, Cambodia Angkor Air, Cebu Pacific, Chengdu Airlines, China Eastern Airlines, China Southern Airlines, China Express Airlines, Dragonair, Hebei Airlines, Chongqing Airlines and many others. Xiamen Gaoqi International Airport has one runway and can handle nearly 25 million passengers every year.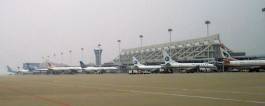 ---
Alliance
SkyTeam Alliance is a leading global airline network, with 20 member airlines. SkyTeam alliance was founded in 2000 and now consists of member airlines such as Aerolineas Argentinas, AeroMexico, Air Europa, China Southern, Alitalia, China Airlines, Delta, Garuda Indonesia, Kenya Airways, KLM and others. SkyTeam Alliance network has nearly 16,323 daily flights, with 1,052 destinations in 177 countries.
---
Alternative Airlines
---
News
7th June 2018
First Boeing 737 Max for Xiamen Airlines
Xiamen Airlines has taken delivery of its first Boeing 737 Max, expanding its fleet to 200 aircraft. This is the latest milestone in a period of strong growth from the airline, which has added on average 20 aircraft to its fleet every year since 2013.
The Chinese passenger airline counted 100 aircraft in its fleet in 2013 and has now doubled that number. During this period, the airline's operating profits also increased year by year, booking gross profits exceeding RMB 10bn (approximately US$1.5bn).
Over the past five years, civil aviation passenger volume in the USA, Europe and China recorded an average annual growth rate of roughly 4%, 6% and 10%, respectively, while the airline experienced an average growth rate of 15%. It has been profitable for 31 consecutive years.
After expanding its fleet in 2013, the airline sped up its expansion into international markets. The airline bought its first Boeing 787 Dreamliner in August 2014 and launched its first intercontinental flight, between Xiamen and Amsterdam in the Netherlands, in July 2015.
Over the following two years, the airline launched 10 intercontinental flights to cities across Europe, North America and Oceania. All the intercontinental flights are now serviced by Boeing 787s.