Jiangxi Airlines Reservations with Alternative Airlines
Make a Jiangxi Airlines Booking and Find Some Amazing Deals
---
About
Jiangxi is a Chinese low-cost airline which is headquartered in Nanchang Changbei International Airport in Jiangxi. The airline offers domestic flights in China, flying to over 20 destinations in more than 15 Provinces.
It was founded in 2014 after an agreement was signed by XiamneAir and the Jiangxi local government about establishing an airline in the province. It was then granted its air operator's certificate in December 2015. The Chinese airline's logo displays a crane, which is said to represent the natural beauty of the region. The colours were chosen for the logo — blue and white — represent the porcelain which is typically made in the region.
---
Economy Class
Currently, Jiangxi Air offers one class fare on its flights: the standard economy.
Economy Seating
Passengers can enjoy comfortable and spacious seating with a good amount of legroom.
---
Fleet
The Jiangxi Airlines fleet currently includes 10 Boeing 737-800, which have the capacity to carry 170 passengers per aircraft.
---
Destinations
PROVINCE
CITY
AIRPORT
IATA
Beijing
Beijing
Beijing Capital International Airport
PEK
Fujian
Xiamen
Xiamen Gaoqi International Airport
XMN
Guangdong
Zhanjiang
Zhanjiang Airport
ZHA
Zhuhai
Zhuhai Jinwan Airport
ZUH
Guangxi
Beihai
Beihai Fucheng Airport
BHY
Guizhou
Guiyang
Guiyang Longdongbao International Airport
KWE
Hainan
Haikou
Haikou Meilan International Airport
HAK
Henan
Zhengzhou
Zhengzhou Xinzheng International Airport
CGO
Inner Mongolia
Hailar
Hulunbuir Hailar Airport
HLD
Hohhot
Hohhot Baita International Airport
HET
Manzhouli
Manzhouli Xijiao Airport
NZH
Jiangsu
Nanjing
Nanjing Lukou International Airport
NKG
Jiangxi
Ganzhou
Ganzhou Huangjin Airport
KOW
Nanchang
Nanchang Changbei International Airport
KHN
Liaoning
Dalian
Dalian Zhoushuizi International Airport
DLC
Shenyang
Shenyang Taoxian International Airport
SHE
Ningxia
Yinchuan
Yinchuan Hedong International Airport
INC
Shaanxi
Xi'an
Xi'an Xianyang International Airport
XIY
Shandong
Jinan
Jinan Yaoqiang International Airport
TNA
Qingdao
Qingdao Liuting International Airport
TAO
Shanxi
Taiyuan
Taiyuan Wusu International Airport
TYN
Sichuan
Chengdu
Chengdu Shuangliu International Airport
CTU
Tianjin
Tianjin
Tianjin Binhai International Airport
TSN
Xinjiang
Korla
Korla Airport
KRL
Urumqi
Ürümqi Diwopu International Airport
URC
---
Baggage
Carry-on Baggage
The weight limit for free carry-on baggage is 10kg. The size of each carry-on item must not exceed 20cm x 40cm x 55cm. Any carry-on items that exceed the weight limit will be checked into the hold.
Checked Baggage
First Class passengers are permitted a baggage allowance of 40kg. Business Class passengers are permitted a baggage allowance of 30kg and Economy Class Passengers are permitted a luggage weight limit of 20kg. Babies are not permitted a baggage allowance.
---
Check-In Information
Online Check-In
Find online check-in available on the Jiangxi Airlines website. You can check-in by entering the relevant flight details on the page.
Airport Check-In
Check-in desk closing time varies according to the airport. However, in general, Jiangxi Airlines' check-in desks close between 30-45 minutes prior to flight departure. All boarding gates are closed 15 minutes prior to departure.
---
Route Map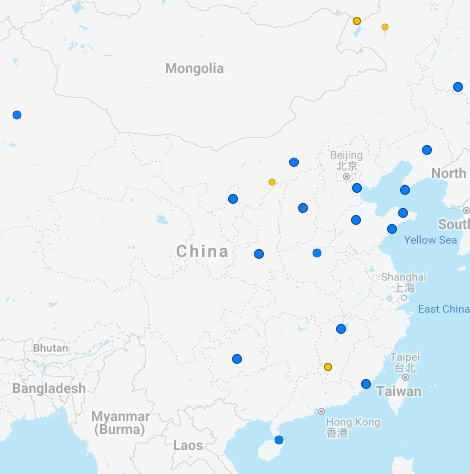 ---
Hub Airport
Nanchang Changbei International Airport
Jiangxi Airlines is based at Nanchang Changbei International Airport in Nanchang, the capital of the Jiangxi Province. The airport began operations in September 1999. It has one runway which is 2,800 metres long as well as one terminal with six gates. Various Chinese airlines operate out of the airport including China Eastern Airlines, China United Airlines, Eastar Jet, Shenzhen Airlines and Scoot.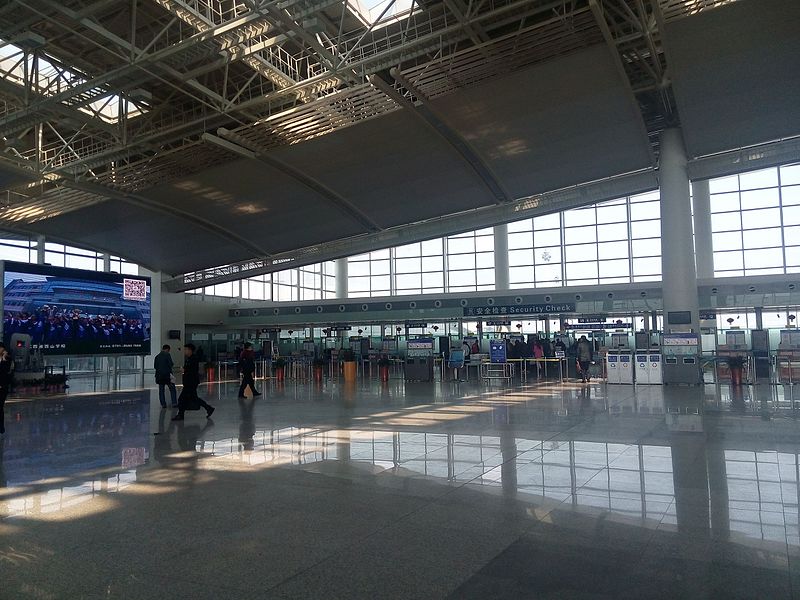 Photo Credit: Qa003qa003
---
Alternative Airlines to Jiangxi Airlines
Please click on the logos below to find out more about airlines that fly similar routes to Jiangxi Airlines: