Search and Buy Shenzhen Airlines Flights
Let's fly!

Select your payment method to view total prices including any payment fees:
Buy
Shenzhen Airlines

Flights

Search and Buy Shenzhen Airlines Flights with Alternative Airlines
Flights to and from Shenzhen
Make a Shenzhen Airlines reservation and find some amazing deals with discounted Shenzhen Airlines tickets at Alternative Airlines.
Check out what people are saying about Alternative Airlines – Alternative Airlines Feefo Reviews
---
Shenzhen Airlines is a Chinese airline, operating both domestic and international flights.
Shenzhen Airlines flies to many destinations including Hefei, Beijing, Chongqing, Fuzhou, Quanzhou, Xiamen, Lanzhou, Guangzhou, Shantou, Shenzhen, Zhanjiang, Zhuhai, Guilin, Nanning, Haikou, Sanya and many others. Shenzhen Airlines also operates international flights to Hanoi, Bangkok, Ho Chi Minh, Kuala Lumpur, Singapore, Jakarta and Bali.
The airline is headquartered in Shenzhen, Guangdong, China.
Shenzhen Airlines was founded in November 1992 and started operations on September 1993. Air China and Shenzhen International Total Logistics are the major shareholders in Shenzhen Airlines.
Shenzhen Airlines is part of Star Alliance, the global airline network that was established by five airlines, Air Canada, Lufthansa, Scandinanvian Airlines, THAI and United. It has now grown to 28 members and its acceptance by the market has been recognised by numerous awards, including the Air Transport World Market Leadership Award, Best Airline Alliance by both Business Traveller Magazine and Skytrax. Shenzhen Airlines joined Star Alliance in 2012.
Shenzhen Airlines has codeshare agreements with Air China, All Nippon Airways, Asiana Airlines, Dragonair, EVA Air, Singapore Airlines, SilkAir.
Shenzhen Airlines' fleet consists of Airbus A319, A320 and Boeing 737s.
---
Frequent Flyer Program
In conjunction with Air China, Shenzhen Airlines operates a frequent flyer program called Phoenix Miles, whereby frequent travellers are rewarded for travelling with Shenzhen Airlines.
Passengers can earn 6 Phoenix Miles for every RMB 10 spent.
---
Baggage
Shenzhen Airlines operates a free baggage allowance for domestic and international flights:
First Class - 40kg and 2 piece of hand baggage with a maximum weight of 5kg
Business Class - 30kg and 1 piece of hand baggage
Economy Class - 20kg and 1 piece of hand baggage
Star Alliance Gold members are also entitled to an extra 20kg of baggage.
---
News
5th February 2018
Shenzhen Airlines additional flights
To compensate for the increase in flight demand, caused by Lunar New Year, Shenzhen Airlines will run additional flights every Sunday between 4th February and 25th February, ferrying people from Chuan-chou and Taipei (Tawan). The 2018 Chinese New Year begins on Friday, February 16.
10th January 2018
Shenzhen Airlines operates 1.8m flight hours in past 3 years
Shenzhen Airlines operated (Jan-2018) 1.82 million flight hours and 774,000 frequencies over the past three years with average growth of 6.3% and 7.2% p/a, respectively. The carrier handled 25.97 million passengers in the first 11 months of 2017, an increase of 3% year-on-year, and load factor averaged 82.2%.
21st September 2017
Shenzhen Airlines adds Wuxi - Hong Kong service in W17
Shenzhen Airlines at the launch of winter 2017/18 season plans to offer additional service to Hong Kong, as the airline schedules Wuxi – Hong Kong route. From 29OCT17, Boeing 737-800 aircraft will operate this route on daily basis.

ZH9095 WUX1310 – 1540HKG 738 D
ZH9096 HKG1650 – 1910WUX 738 D

This route is currently served exclusively by China Eastern.
21st September 2017
Shenzhen Airlines doubles Nantong - Osaka service in W17
Shenzhen Airlines in winter 2017/18 season is expanding Nantong – Osaka Kansaiflights, currently served twice a week. From 29OCT17, operational frequency will be doubled to 4 times a week, on board Airbus A320 aircraft.

ZH9061 NTG1310 – 1620KIX 320 26
ZH9061 NTG1340 – 1650KIX 320 47

ZH9062 KIX1720 – 1850NTG 320 26
ZH9062 KIX1750 – 1930NTG 320 47
Shenzhen metro reaches airport
Shenzhen's latest infrastructure investment in mobility has been line 11 of the metropolitan metro.
At the moment 4 stations of the 18 planned are operational, ant the remaining 14 will be operational at the end of the year. Each train for line 11 has two special coaches designed for airport passengers, with extra luggage space and seats.
To access these coaches fares may apply. Connections with other metro or bus lines are available at Futian, the city centre. All stations operating at the moment offer domestic flight check-in facilities.
The service operates with a 10 minute frequency but they are expected to go up to 2.5 minutes when the line is fully operational.
Shenzhen Airlines suspend pilot over Lantau incident
Last month a Shenzhen airlines aircraft aborted landing at Hong Kong International Airport. Spokespeople for the company have stated that the failed landing was due to violation of standard procedures by the captain of the airplane. However the Civil Aviation Department states after various investigations that the failed landing did not compromise the safety of any of the passengers or nearby estructures. The airline states the pilot took instructions meant for another aircraft's pilot and aborted landing. Minutes after he steered right and over the mountains of Lantau, violating standard procedure which states pilots should steer left and up over Lantau's sea.
In August 2016, Shenzhen Airlines launched a direct flight between Shenzhen and Osaka, the western Japanese commercial city. The 151-seat Airbus A320 aircraft flies the route four times a week on every Monday, Wednesday, Friday and Sunday. Meanwhile, Shenzhen Airlines still runs a flight from Shenzhen to Osaka with a stop in Fuzhou. The non-stop flights linking Beijing with Osaka and Wuxi with Osaka are also in operation. Shenzhen Airlines is planning to launch a direct flight between Shenzhen and Tokyo in the near future. In February 2016, the New Terminal 2 of Lanzhou Zhongchuan Airport was put into service and the Terminal 4 building of Xiamen Gaoqi International Airport has already been put into service by December 28th.
In April 2017, Shenzhen Airlines, Air China's subsidiary, ordered 8,000 units of Recaro Aircraft Seating CL5710 business-class and BL3530 economy seats, which will be installed on the carrier's 37 Boeing 737 MAX linefit and 14 Airbus A320 aircraft retrofit. The CL5710 business-class seat has a leg rest and a minimum seat pitch of 45 inches. the BL3530 economy-class seat includes "practical inflight entertainment ideas for connecting personal electronic devices as well as useful storage spaces and surfaces for tablet PCs, smartphones or e-readers." It has a 29- to 34-inch seat pitch. In May 2017, Shenzhen Airlines announced it anticipates significant growth in passenger demand. To prepare, it is considering Inmarsat's SwiftBroadband-Safety (SB-S), Inmarsat said. The airline plans to launch an in-flight evaluation of the next-generation IP-based broadband service for flight decks on an Airbus A320. The SB-S platform is to be installed using Cobham Avionics' Aviator 200D hardware. Inmarsat's solution can facilitate in-flight communications and secure, real-time, in-air information.
---
Route Map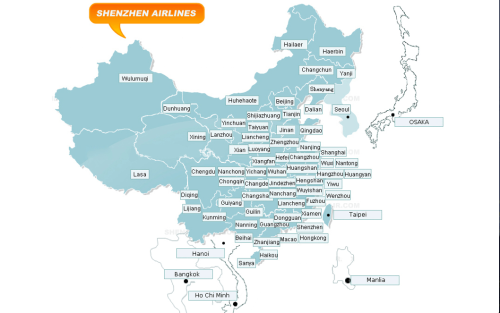 Popular Routes
Shenzhen

Beijing
Seoul

Shenzhen
Hangzhou

Shanghai
Shenzhen

Taipei
Xian

Shenyang
Shenzhen

Nanjing

---
The Fleet
Airbus A319-100
Boeing 737-800
Airbus A320-200
Boeing 737-900
---
Shenzhen Bao'an International Airport
HUB Airport
Shenzhen Bao'an International Airport is an airport located near to Shenzhen, Guangdong, China.
Shenzhen Airport is the hub for Shenzhen Airlines and is a focus city for China Southern Airlines and Hainan Airlines. Airlines which fly to and from Shenzhen Bao'an International Airport include Air China, Asiana Airlines, Chengdu Airlines, China Airlines, China Eastern Airlines, China Southern Airlines, Spring Airlines, Xiamen Airlines and many others.


Star Alliance is the leading global airline network, which has 27 member airlines. Star Alliance was founded in 1997 with the five founding airlines: Scandinavian Airlines, Thai Airways International, Air Canada, Lufthansa and United Airlines. The alliance has grown considerably now to airlines which fly to 1,321 airports and 193 countries, carrying 637 million passengers every year!
---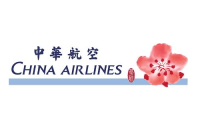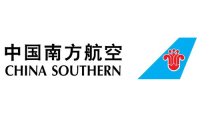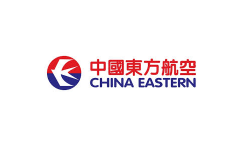 ---
Book Flights with Shenzhen Airlines
Make a Shenzhen Airlines reservation and find some amazing deals with discounted Shenzhen Airlines tickets at Alternative Airlines. Shenzhen Airlines flies to many destinations offering a cost effective and safe service to all its passengers. Let Alternative Airlines help find you cheap Shenzhen Airlines tickets and make international and domestic flight reservations on Shenzhen Airlines today.
Browse the most popular Shenzhen Airlines flight routes to destinations worldwide. Alternative Airlines can help you make reservations on Shenzhen Airlines for international flights to lots of destinations. Use the following list of routes to help you plan your next flight. Book Shenzhen Airlines flights on Alternative Airlines to save big! Alternative Airlines is an online travel agency, specialising in booking lesser known airlines and remote destinations.
Alternative Airlines is an Online Travel Agency bonded by the International Air Transport Association (IATA). We specialise in finding the best available fares on the widest range of airlines and making them available to you online, with prices in the currency of your choice.
Alternative Airlines handles all your travel arrangements and payments, complete with ticketed confirmation. We do not direct you to other websites or service providers.
We help you through the process. This is what makes us Alternative Airlines.
Browse for flights, find some amazing deals, make a reservation and pay in the currency of your choice today with Alternative Airlines.
Let Alternative Airlines help find you the best prices and make international and domestic flight reservations with us today.
Join the Alternative Airlines Members Club and get £100.00 back on your 5th booking with Alternative Airlines. You will have insight to many benefits and exclusive deals on over 650 airlines. Click on the Members section on the Alternative Airlines website for more information and join today.
We are open every day from 8am until 8pm (UK local time).
Based in the fastest growing city in the world, situated close to Hong Kong, Shenzhen airlines is a major domestic airline in China, with a growing network of international flights in the Asia Pacific Region.
Shenzhen Airlines Flights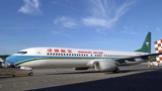 Owned jointly by Air China and the Shenzhen Municipal Government, the airline operates flights throughout China from its base in Shenzhen, as well as from hubs at Guangzhou, Nanning, Wuxi, Shenyang, Zhengzhou, Yunnan, Shandong and Jiangsu.
The growing international network already includes Osaka, Seoul, Manila, Ho Chi Minh City, Hanoi, Bangkok, Kuala Lumpur, Singapore, Jakarta and Denpasar Bali.
Shenzhen Airlines Flights to Shenzhen
Shenzhen Airlines already operates a fleet of more than 100 Airbus and Boeing jets, including A319 and A320, and B737-700/800/900. Future expansion plans will see the airline operating more than 180 aircraft before the end of 2015.
Shenzhen Airlines' new logo depicts "National Roc" - a divine bird whose wings stretch as if they are huge clouds drifting as far as the horizon
Shenzhen Airlines is a truly Chinese airline, but one that operates to cities where other airlines fail to fly. We'd be interested in any comments on the on-board service offered or observations on the check-in procedures from anyone who has flown with them.
READ MORE ABOUT SHENZHEN AIRLINES
How to pay
You can pay for your flights with Shenzhen Airlines in the currency and payment method of your choice when booking through Alternative Airlines.
We accept PayPal making flight purchases with Shenzhen Airlines easy and more secure for customers. PayPal is one of the leading forms of online payment, with more than 169 million accounts worldwide.