Loong Air Reservations with Alternative Airlines
Make a Loong Air Booking and Find Some Amazing Deals
---
About Loong Air
Founded in 2012, Loong Air is an airline based at Hangzhou Xiaoshan International Airport which offers domestic and international services to over 25 destinations in East and South Asia. Loong Air flies to many destinations including Beijing, Sichuan, Yunnan, Inner Mongolia and Hainan, Shaanxi, Hubei, Henan, Ningxia, Chongqing, Inner Mongolia, Guangdong, Jiangsu, Guangxi, Shandong, Yunnan, Heilongjiang, Zhejiang, Hainan, Guizhou, Guangdong, Liaoning and many others.
---
Loong Air Fleet
Loong Air's fleet consists of a mix of Airbus and Boeing aircraft. Loong Air uses its Airbus aircraft — the Airbus A320-200 and Airbus A320neo — to operate scheduled passenger services and the Boeing aircraft — the Boeing 737-300F — to operate cargo. Overall, Loong Air has more than 35 aircraft within its fleet.
---
Book Loong Air Flights in English
Search for Loong Air flights with Alternative Airlines and buy your Loong Air tickets in English. Alternative Airlines offer a flight booking system for Loong Air flights that is completely in English from start to finish. Contact our dedicated English speaking customer service team, who are on hand to help in case you have any queries or questions about booking Loong Air airline tickets.
---
Loong Air Baggage
Carry-on Baggage
Loong Air allows passengers to bring carry-on baggage into the cabin with a maximum weight of 5kg and a maximum size of 20 x 40 x 55 cm.
Checked Baggage
The free baggage allowance for checked baggage will depend on which class passengers are flying in on their Loong Air flight.
In Economy Class, Loong Air passengers are entitled to 20kg of checked baggage, which is included in the price of their airfare.
In Super Economy Class, Loong Air passengers are entitled to 30kg of checked baggage, which is included in the price of their airfare.
---
Loong Air Check-In
Online Check-In
Online check-in is unavailable on Loong Air flights.
Airport Check-In
Check-in for Loong Air flights must be done at the airport. Airport check-in can be completed by visiting the designated Loong Air check-in location or boarding gate at the airport of departure. Loong Air airport check-in closes between45—30 minutes before flight departure time. Please allow plenty of time for airport check-in, security and baggage drop.
---
Loong Air Route Map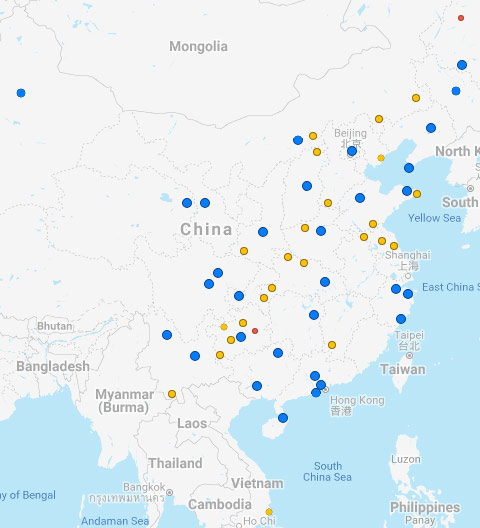 ---
Loong Air Economy Class
In economy class, passengers can enjoy a comfortable flight with extra benefits such as tasty food and snacks on board. The seats have ample legroom for passengers to enjoy their flight, with friendly and helpful staff to help with any problems.
---
Loong Air Hub Airport
Hangzhou Xiaoshang International Airport
Loong Air is based at Hangzhou International Airport, which is the principal airport serving Hangzhou which is a major city in the Yangtze River Delta region in China. Other airlines which fly to the airport include Air China, Air Macau, Beijing Capital Airlines, Chengdu Airlines, China Eastern Airlines, China Express Airlines, China United Airlines, Hainan Airlines, Hebei Airlines, Juneyao Airlines, Lion Air, Okay Airways, Shangdong Airlines, Shenzhen, Sichuan Airlines and many more.
---
Alternative Airlines to Loong Air
Please click on the logos below to find airlines that fly similar route to Loong Air: