Chengdu Airlines Reservations with Alternative Airlines
Make a Chengdu Booking and Find Some Amazing Deals
---
About Chengdu Airlines
Chengdu Airlines (成都航空公司) is a subsidiary of Sichuan Airlines based in Chengdu, China. Chengdu Airlines operates a network of scheduled domestic flights from it's hub in Chengdu. Chengdu Airlines, originally named United Eagle Airlines, was founded in 2004 by China Northwest Airlines. It operates flights to more 50 locations within China. In 2011, they won the National Civil Aviation May 1 Labor Certificate" honorary title. As a newly established airline, it won the National Federation of Trade Unions awarded the national "Ankang Cup" competition winning units in the industry for the first time. Chengdu Airlines flies to numerous destinations across China including Fuzhou, Xiamen, Shezhen, Lianyungang, Nanjing, Jining, Qingdao, Shanghai, Hiakou, Hohhot, Xining, Yinchuan, Heihe, Fuyuan, Jiamusi.
---
Chengdu Airlines Fleet

Chengdu Airlines fleet consists of Airbus A319-100 Airliners, Airbus A320-200 Airliners and Comac ARJ21-700 aircraft. In total, Chengdu Airlines has over 42 aircraft within its fleet.
---
Book Chengdu Airlines Flights in English
Find Chengdu Airlines flights in English with Alternative Airlines. Enjoy a straightforward booking experience completely in English. Alternative Airlines offers you the chance to book Chengdu Airlines flights in English as well as having the chance to contact our customer service team for any further enquiries related to your booking.
---
Chengdu Airlines Baggage
Carry-on Baggage
Chengdu Airlines carry-on baggage must not weigh more than 5kg per piece and should not exceed the dimensions of 55 x 35 x 25 cm.
Passengers flying Economy Class and Business Class on Chengdu Airlines are entitled to one item of carry-on baggage per passenger.
Passengers flying First Class on Chengdu Airlines are entitled to two items of carry-on baggage per passenger.
Checked Baggage
Passengers flying on Chengdu Airlines are entitled to 20kg of checked baggage per person.
---
Chengdu Airlines Check-in
Online Check-In
Online check-in is currently unavailable on Chengdu Airlines flights.
Airport Check-In
Chengdu Airlines airport check-in opens two hours before flight departure time and closes 45 minutes before. Airport check-in can be completed by presenting travel documents to one of the Chengdu Airlines check-in agents at the Chengdu Airlines check-in desk.
---
Chengdu Airlines Hub Airport
Chengdu Shuangliu International Airport
Chengdu Airlines is based at Chengdu Shuangliu International Airport, which is the major international airport that serves Chengdu and is the capital of China's Sichuan province. The airport is located approximately 16 kilometers southwest of downtown Chengdu to the north of Shugngliu District. The airport handles over 42 million passengers annually. It was known to be one of the world's busiest airport.
Other airlines that fly to Chengdu Shuangliu International include Loong Air, SilkAir, Hunan Airlines, Rulli Airlines, Urumqi Air, Hebei Airlines and China United Airlines.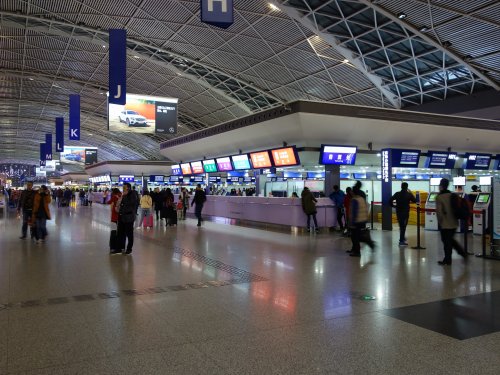 Photo credit: Tyg728
---
Buy Discounted Chengdu Airlines Tickets at Alternative Airlines
---
Chengdu Airlines News
27th March 2018
Chinese-produced ARJ21 launches 10-day 'demonstrative operations' in Inner Mongolia
An ARJ21 is seen at Ulanhot airport in Inner Mongolia. The jet has launched a 10-day "demonstrative operations" to prepare for its highland operation.
China's first domestically developed regional jet, ARJ21, launched a 10-day "demonstrative operations" on Tuesday in Inner Mongolia to prepare for its highland commercial operation.
The jet, operated by Chengdu Airlines, the first commercial operator of the jet, is operating return flights daily between Hohhot and Ulanhot through March 30 with onboard passengers, said Commercial Aircraft Corporation of China, its developer.
It is the first time that the ARJ21 has returned to Inner Mongolia after it started flying commercially in 2016. The jet made its test flights in low temperature and highland conditions in Hulun Buir in Inner Mongolia for its airworthiness certification between 2010 and 2014.
The 90-seat ARJ21 was designed to fly in conditions prevalent in China's central and western regions. It can take off and land at nearly all the highland airports in the country. It can also fly in temperature of minus 30 degrees Celsius, according to COMAC which has won 453 orders for the jet from 21 customers at home and abroad.
The airline flies four ARJ21s between Chengdu, capital of Sichuan Province, and Shanghai as well as other cities in the east, central and southwest of the country. They have flown over 50,000 passengers since it began commercial operations in June 2016.
December 2017
Chengdu Airlines puts ARJ21 on regional route
Chengdu Airlines has put the Comac ARJ21 regional jet on its first regional route, after using the jet on services to major domestic cities for over a year.
The carrier is now using the aircraft on the Chengdu-Shangrao route. Shangaro is a city in northwest of Jiangxi province.
In a statement, Comac says the aircraft will be able to launch or raise frequencies on point-to-point routes between small and medium-sized cities. It will also help these cities connect more economically.
Chengdu Airlines has so far used the ARJ21 on services from Chengdu to Shanghai, Changsha, Jiana and Hefei..
The airline had previously told FlightGlobal that it will first ply the ARJ21 on services to established domestic airport, to ensure the aircraft's safe and reliable operations, as well as to help build customer awareness of the indigenous jet.
It took delivery of its first ARJ21 in November 2015, and put it into operations in June 2016, between Chengdu and Shanghai.
---