Sichuan Airlines Reservations with Alternative Airlines
Make a Booking with Amazing Deals
---
About
Sichuan Airlines is an airline headquartered at Chengdu Shuangliu International Airport in Chengdu, Sichuan in China where it mainly operates scheduled domestic flights out of as well as Chongqing Jiangbei International Airport.
The airline began operations in 1988 between Chengdu and Wanzhou. In August 2002, it was reorganised and the Sichuan Airlines Group, which is owned by the provincial government, became the major shareholder (40%). The other shareholders include are China Southern Airlines, Shandong Airlines and Shanghai Airlines.
The first long-haul overseas route was launched in June 2012, with flights from its Chengdu hub to Vancouver, Canada. Its second long-haul flight, from Chengdu to Melbourne, Australia, was launched in February 2013 with three weekly services. On 17th October 2016, the airline launched twice-a-week service from Chengdu via Hangzhou to Los Angeles.
In November 2016 Sichuan Airlines announced it will launch a non-stop flight between Chengdu and Dubai, operating twice a week.
---
Destinations
Sichuan Airlines' many destinations include Anhui, Beijing, Chongqing, Fujian, Gansu, Guangdong, Guangxi, Guizhou, Hainan, Hebei, Heilongjiang, Henan, Taipei, Kathmandu, Male, Taiwan, Dubai, Jakarta, Singapore, Bangkok, Moscow, Melbourne and New Zealand, Sydney and many others.
---
Book Sichuan Airlines Flights in English
Make your booking as straightforward and simple as possible by booking your Sichuan Airlines flight with Alternative Airlines. We offer our customers an easy way to book Sichuan Airlines flights in English as well as the opportunity to book flights with PayPal.
---
Hub Airport
Chengdu Shuangliu International Airport
Chengdu Shuangliu International Airport is the major international airport serving Chengdu, the capital of China's Sichuan Province. Shuangliu International Airport is the hub airport for Sichuan Airlines as well as Chengdu Airlines. The airport has two runways and can handle nearly 40 million passengers.
Other airlines which fly to and from Chengdu Shuangliu International Airport include AirAsia, Air China, Air Maca, Asiana Airlines, Beijing Capital Airlines, British Airways, China United Airlines, Hainan Airlines, EVA Air, China Express Airlines, Juneyao Airlines, KLM, Kunming Airlines, Loong Air, Shanghai Airlines and Ruili Airlines many others.
---
Route Map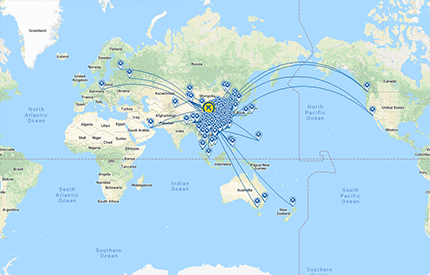 ---
Fleet
Airbus A319
Airbus A320
Airbus A321
Airbus A330-300