Search & Buy Sichuan Airlines Flights
Let's fly!

Select your payment method to view total prices including any payment fees:
Airlines will always try to sit children with their parents (subject to check-in)
Some airlines will allow travel for unaccompanied minors. Please email us to check.
The fare is based on the child's age on the date of travel.
More detailed information can be found here Traveling with children
Most airlines will let infants travel with their parent(s) for free. However some airlines will charge up to 10% of the adult ticket price. Click on 'Price Breakdown' to find out more.
If you are pregnant, but due before the flight departure date, please contact us once your baby is born and has a name. We can then add him/her to your ticket.
Infants will not be given a seat. The airlines expect parents to travel with them on their lap.
Airlines regard infants as being under 24 months old.
The fare is based on the child's age on the date of travel.
More detailed information can be found here Traveling with children

Buy
Sichuan Airlines

Flights

Sichuan Airlines Reservations with Alternative Airlines
Make an Sichuan Airlines Booking and Find Some Amazing Deals
---
About Sichuan Airlines
Sichuan Airlines is a regional airline headquartered at Chengdu Shuangliu International Airport in Chengdu, Sichuan in China. Sichuan Airlines destinations now include Anhui, Beijing, Chongqing, Fujian, Gansu, Guangdong, Guangxi, Guizhou, Hainan, Hebei, Heilongjiang, Henan, Taipei, Kathmandu, Male, Taiwan, Dubai, Jakarta, Singapore, Bangkok, Moscow, Melbourne and New Zealand, Sydney and many others. Sichuan Airlines operates mainly scheduled domestic flights out of Chengdu Shuangliu Airport and Chongqing Jiangbei International Airport. As of July 2016, Sichuan Airline's fleet in total is a size of 109 aircraft. Currently operating using the very favoured A319-100, A320, A321 and A330 aircraft, Sichuan Airlines aircraft can accommodate anywhere between 132 and 301 passengers.
Established on 19 September 1986, with operations starting 14 July 1988 between Chengdu and Wanzhou. In August 2002 it was reorganised and the Sichuan Airlines Group, which is owned by the provincial government, became the major shareholder (40%). The other shareholders are China Southern Airlines (39%), Shandong Airlines (10%), Shanghai Airlines (10%) and Gingko Restaurant Co.(1%). The airline launched its first long-haul overseas route in June 2012 with flights from its Chengdu hub to Vancouver, Canada. Its second long-haul flight, from Chengdu to Melbourne, Australia, was launched in February 2013 with three weekly services. On October 17, 2016 the airline launched twice-a-week service from Chengdu via Hangzhou to Los Angeles.
In November 2016 Sichuan Airlines announced it will launch a non-stop flight between Chengdu and Dubai and that they were expecting to receive their first A350-900 aircraft. This comes as part of a leasing agreement signed between the Chinese carrier and AerCap for three A350-900 aircraft.The new Airbus A350-900 can accommodate up to 325 passengers in a standard 3 class configuration. Commencing on 14th December 2016, the new international service will operated twice a week, departing the Sichuan provincial capital on Wednesdays and Saturdays, with the return flights respectively returning the next day. It is believed that Sichuan Airlines will operate using their Airbus A330 aircraft offering a total of 245 seats in all cabins.
---
Book Sichuan Airlines Flights in English
Make your booking as straightforward and simple as possible by booking your Sichuan Airlines flight with Alternative Airlines. We offer our customers an easy way to book Sichuan Airlines flights in English as well as the opportunity to book flights with Paypal.
---
Sichuan Airlines Route Map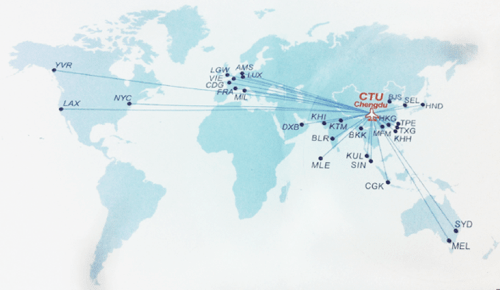 ---
Sichuan Airlines Popular Routes
Hangzhou

Nanning
Chengdu

Moscow
Chengdu

Dubai
Sydney

Chengdu
Beijing

Shanghai
Chengdu

Nanning
Chengdu

Istanbul
---
Sichuan Airlines Fleet
Airbus A321
Airbus A330-200
---
Sichuan Airlines Hub Airport
Chengdu Shuangliu International Airport
Chengdu Shuangliu International Airport is the major international airport serving Chengdu, the capital of China's Sichuan Province. Shuangliu International Airport is the hub airport for Sichuan Airlines as well as Chengdu Airlines. The airport has two runways and can handle nearly 40 million passengers.
Other airlines which fly to and from Chengdu Shuangliu International Airport include AirAsia, Air China, Air Maca, Asiana Airlines, Beijing Capital Airlines, British Airways, China United Airlines, Hainan Airlines, EVA Air, China Express Airlines, Juneyao Airlines, KLM, Kunming Airlines, Loong Air, Shanghai Airlines and Ruili Airlines many others.

Alternative Airlines to Sichuan Airlines
---
---
Sichuan Airlines News
27th June 2018
Sichuan Airlines adds Swiss service - Chengdu – Prague – Zurich
On 23rd June the launch of Sichuan Airlines' first flight to Chengdu took place from Zurich. The airline launched a new European link (from Chengdu - Zurich). This new route is an extension to the existing Chengdu-Prague itinerary. This will be operated 2 x weekly (Wednesdays and Saturdays) with A330 fleet.
21st June 2018
Sichuan Airlines applies for Boston service
Sichuan Airlines is seeking approval from the US Department of Transportation (DOT) to open service to Boston, Massachusetts.
The Chengdu-based carrier plans to launch the service 17th December with 2 x weekly flights operated by an A350-900, which iwill be delivered soon. Sichuan is expected to introduce 4 A350-900 aircraft, configured with 28 business - and 303 economy-class seats, in 2019. The airline secured clearance from the Civil Aviation Administration of China (CAAC) for the new service 25th December 2017.
The airline plans to transport 55,608 passengers on this new service with an average load factor of 75%.
In 2017, Sichuan Airlines reportedly transported 24,000 passengers on the Hangzhou-Los Angeles route and 28,000 passengers on Jinan-Los Angeles route. The average load factor on these 2 routes was less than 60%.
In 2014, Hainan Airlines opened Beijing-Boston service and launched Shanghai-Boston service in 2015. In 2017, Hainan Airlines carried 160,100 passengers on its Beijing-Boston route with an average load factor of 78%, and transported 61,000 passengers on the Shanghai-Boston route with an average load factor of 74.7%.
15th May 2018
Sichuan Airline's co-pilot almost sucked out of the plane!
Sichuan Airlines had a dramatic evening when a flight from southwestern China to Tibet turned chaotic when a windshield burst open in mid-air, sucking the co-pilot from his controls and nearly out of the window. The windshield shattered on Sichuan Airlines Flight 3U8633 causing the co-pilot to almost be thrown out of the plane. The plane was flying at 30,000 feet at the time on its way to Lhasa, the capital of Tibet. Pilot Liu Chuanjian diverted the flight and made an emergency stop in Chengdu, capital of the Sichuan Province. The CAA said the windshield showed no signs of malfunction that required any maintenance prior to the incident. None of the 128 passengers on board were injured, however a member of cabin crew sustained minor injuries. The passengers were put another flight to their destination, according to reports.
13th April 2018
China's Jiuzhaigou airport to resume ops in early-2Q18
Jiuzhaigou airport in central China is set to resume scheduled passenger operations on April 18, 2018, following a four-month suspension caused by the closure of the neighbouring Jiuzhaigou National Park, The Standard has reported.

According to the ch-aviation schedule module, the airport will be served by Sichuan Airlines (3U, Chengdu) with 4x weekly service to Chengdu, operated with A319-100 equipment.

The suspension of the service followed an earthquake which caused devastation in parts of the Sichuan province in August 2017. While the airport itself was not destroyed, the neighbouring National Park, the main tourist attraction in the area, was closed until a partial re-opening in early March 2018.

For the time being, no other carrier announced service to Jiuzhaigau airport.
3rd April 2018
Sichuan Airlines to add fifth freedom flights to Zurich in June
Sichuan Airlines has secured approval to use fifth freedom rights to extend a route from Chengdu, China to Prague, Czech Republic and onto Zurich, Switzerland beginning June 23.
The new twice-weekly Chengdu-Prague-Zurich Airbus A330 service is expected to become the first fifth freedom flight from Chengdu to transport passengers to a third country.
Currently, the domestic regional carrier operates international services that include twice-weekly Chengdu-Prague service and two European routes to Moscow and St. Petersburg.
Sichuan Airlines chairman Li Haiying had previously said the carrier planned to open five international routes this year—all originating from Chengdu—to Copenhagen, Boston, Cairo and Tel Aviv, in addition to Zurich.
Sichuan Airlines operates a fleet of 132 aircraft on more than 270 routes. The carrier uses 11 Airbus A330s on 48 international routes.
Last year, the airline leased four Airbus A350s and ordered 10 A350s in February, which are scheduled to be delivered from May to facilitate the international expansion.
6th March 2018
Sichuan Airlines launches 5 international routes
The Chengdu-based carrier, Sichuan Airlines, intends to expand operations by adding five intercontinental routes this year. These routes will do to Zurich, Switzerland, Cpenhagen, Denmark, Boston, USA, Cairo, Egypt, and Tel Aviv, Israel. All of these proposed ideas have been probationally approved and are set to launch in May. In addition, Sichuan is also considering opening a new intercontinental route to Panama. "We haven't fully decided [whether to open Panama route] and this Panama route still needs verification," Li said.
Alternative Airlines Ltd - Incorporated in England: 02885223 © 2019 All rights reserved