Search and Buy Juneyao Airlines Flights
Let's fly!

Select your payment method to view total prices including any payment fees:
Buy
Juneyao Airlines

Flights

Book Flights Direct with Juneyao Airlines and Alternative Airlines
Flights to and from Shanghai
Make a Juneyao Airlines reservation and find some amazing deals with discounted Juneyao Airlines tickets at Alternative Airlines
---
Juenyao Airlines is a regional Chinese airline based in Changning District, Shanghai.
The airline was founded in 2005 as a subsidiary of Shanghai JuneYao and began operations in September 2006.
9Air is the low-cost carrier subsidiary of Juneyao Airlines and has a codeshare agreement with Shenzhen Airlines.
Juneyao Airlines flies to many destinations including Baotou, Beihai, Beijing, Changchun, Changsha, Changzhi,
Chengdu, Dalian, Chongqing, Fuzhou, Guilin, Guiyang, Hailar, Shanghai, Tianjin, Wenzhou, Wuhan, Sanya,
Qingdao, Nanning and many others.
Juneyao Airlines currently operates 41 A320-200s and 14 A321-200s on scheduled passenger flights throughout China
as well as to South Korea, Japan, Thailand, Russia, Hong Kong, Taiwan and Macau. The CPM caters primarily to LCCs and
hybrid airlines whose route networks compliment those of Star Alliance.
Juneyao Airlines is planning to join Star Alliance's Connecting Partner Model programme ahead of its planned expansion,
by the end of 2016, to facilitate rapid expansion across the world.
While successful candidates will not become fully-fledged members of the alliance, they will be able to enter into
bilateral commercial agreements with select member airlines, which may include additional Frequent Flyer
Programme-based privileges.
Juneyao Airline has kept a good record of safety operation since its beginning. In July 2009, Juneyao Airlines passed
the audit of the International Air Transport Association (IATA) and officially received the IATA Operational Safety Audit
(IOSA) registration certificate.
Juneyao Airlines owns the youngest fleet in China and the average age of the aircrafts is only 2.5-year.
Additionally, in terms of hardware, Juneyao Airlines boasts its unique provision of brand-new aircrafts,
the biggest seat pitch and adjustable head rest to provide passengers with more comfortable cabin layout;
in terms of software, the airline strives to make continual improvements of service to passengers.
---
Baggage
On Juneyao Airlines flights, the free baggage allowance (inclusive of checked and unchecked baggage)
for 1 passenger with an adult or child ticket are:
First Class - 40kg
Business Class - 30kg
Economy Class - 20kg
The volume of the baggage should not exceed 40cm x 60cm x 100cm.
Each baggage piece of the checked baggage cannot exceed 50 kgs in weight or 100 × 60 × 40cm in volume.
Baggage that exceeds the above-mentioned measurements can only be transported after obtaining our prior consent.
For flights that meet the international transportation conditions, there is the special regulation that each item of
checked baggage cannot exceed 32 kgs in weight.
---
News
3nd November 2017
Juneyao Airlines opens three new services to Philippines
Juneyao Airlines commenced operations from Shanghai Pudong (PVG) to Cebu (CEB) and Kalibo(KLO), along with a new connection from Nanjing (NKG) to Kalibo on 31 October. Each route will be operated three times weekly. The 2,256-kilometre Nanjing-Kalibo airport pair will be flown by A320s, while the 2,325-kilometre Shanghai Pudong-Cebu route will be operated by A321s. Neither of these services will face any direct competition during W17/18. The 2,161-kilometre Shanghai Pudong-Kalibo route will be flown on the airline's A320s and will directly compete with an existing daily frequency flown by Philippines AirAsia. According to OAG schedules, the three new routes are Juneyao Airlines' only direct connections to the Philippines this winter season.
17th August 2017
Juneyao Airlines to open base at Beijing's new airport
China's Juneyao Airlines plans to set up a base at Beijing's new airport, which is scheduled to go into formal operation in 2019.
The Shanghai-based carrier said the move is part of an international expansion strategy to increase capacity in the Beijing market by 2020. Juneyao is a Star Alliance connecting partner.
So far nine carriers have committed to move to the new airport. These include China Eastern and China Southern airlines, plus their respective subsidiaries, which will occupy a 40% share of the new airport
in terms of passenger boardings. The others include Hebei Airlines, Capital Airlines, China Post Group, Donghai Airlines, Spring Airlines and Okay Airways.
The Civil Aviation Administration of China (CAAC) has required all SkyTeam members to move to Beijing's new airport. Other non-SkyTeam carriers, excluding Air China and
Hainan Airlines that will continue to operate at Beijing Capital Airport, can choose whether or not to move to Beijing's new airport.
It is widely speculated that oneworld founding member American Airlines will move to Beijing's new airport as the US carrier plans to move to
Terminal 2 from Terminal 3 of the Beijing Capital Airport Sept. 20. The move enables Dallas/Fort Worth-based American to deepen cooperation with China Southern, which also operates out of Terminal 2.
In March, American agreed to make a $200 million equity investment in China Southern as part of a long-term partnership.
May 2017
Juneyao Airlines announced it has become a Star Alliance 'Connecting Partner'
Juneyao Airlines (HO, Shanghai Hongqiao) is now scheduled to join Star Alliance as a 'Connecting Partner' next week.
Benefits to passengers using the Shanghai-based carrier include access for Star Alliance Gold members to lounges,
fast-track security, additional baggage, and priority check-in, boarding, standby and baggage delivery.
The perks are only available for flights connecting with a Star Alliance flight.
Star Alliance introduced its Connecting Partner Model (CPM) program in December 2015 to allow select budget
airlines to enter into bilateral commercial agreements with select member airlines. South African Airways
(SA, Johannesburg O.R. Tambo) low-cost carrier subsidiary Mango Airlines (JE, Johannesburg O.R. Tambo)
is another connecting partner Star Alliance has integrated.
Juneyao Airlines started operations in 2006. It currently operates a fleet of 42 A320-200s and 18 A321-200s on
domestic Chinese routes and short-haul international flights to neighbouring countries such as Japan,
South Korea, and Thailand.
The carrier plans to open new routes to North America, Europe, and Australia by 2020.
May 2017
Juneyao Airlines announced it expects to take delivery of the first three of its five B787-9s in 2018 and will
deploy the widebody aircraft on new routes to Europe, Australia, and the United States.
The order for the five aircraft – Juneyao's first widebodies – was finalised in February, with options for an
additional five of the same type. Last week, while celebrating its addition to the Star Alliance family as a
Connecting Partner. Juneyao Airlines said that the first B787-9s were expected in September 2018 with a
total of three delivered that year. A further two are due in 2019 as per the Boeing agreement announced
earlier this year.
The Boeing (BOE, Chicago O'Hare) aircraft will join Juneyao's current all-Airbus
(AIB, Toulouse Blagnac) fleet of forty-one A320-200s and twenty-one A321-200s. The carrier began operations
in 2006 and currently serves domestic Chinese destinations and short-haul international flights to neighbouring
countries such as Japan, South Korea, Thailand, and Russia. Its 9 Air (AQ, Guangzhou) low-cost unit is also
in the process of expanding its own operational niche having applied to the Civil Aviation Administration of China
(CAAC) for authority to start international flight operations.
April 2017
Juneyao Airlines announced it was making its third adjustment to its planned Nanjing - Phuket service launch.
The airline originally filed daily operation from 26MAR17, but this has been pushed back to 01MAY17 and 07MAY17
in recent weeks. Latest adjustment last week shows service commencing on 15MAY17. In April 2017, China's
Juneyao Airlines reported a net profit of CNY1.25 billion ($180 million) in 2016, up 19% over a net income of CNY1.05
billion in 2015.Operating revenue for the year rose 22% to CNY9.9 billion, while operating expenses increased 28%
to CNY7.7 billion. The Shanghai-based carrier cited continuous market demand growth and its double-brand
model with Guangzhou-based low-cost subsidiary 9 Air as main reasons for the improved performance.
Juneyao operates more than 80 domestic and international routes from Shanghai to neighboring countries,
accounting for an 8.5% share of the Shanghai market, up from 7.8% from 2013-2015.

15MAY17 as inaugural flight:

HO1345 NKG2250 – 0340+1HKT 320 D
HO1346 HKT0440 – 1045NKG 320 D
---
Route Map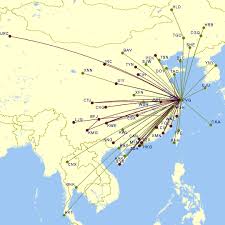 Popular Routes
Shanghai

Kaohsiung
Shanghai

Xiangyang
Beijing

Hangzhou
Xiamen

Shanghai
Shanghai

Taipei

---
The Fleet
---
Shanghai Pudong International Airport
HUB Airport
Shanghai Pudong International Airport is the major international airport serving Shanghai, China. It is the hub airport for China Eastern Airlines and Shanghai Airlines and Juneyao Airlines. Shanghai Airport has 4 runaways and can handle nearly 55 million passengers every year.
Other airlines which fly to and from Shanghai Pudong International Airport include Air France, Air India, Aeroflot, Aeromexico, Air New Zealand, Air Macau, Asiana Airlines, Beijing Capital Airlines, Spring Airlines, Shanghai Airlines, Shenzhen Airlines and many others.

---
---
Book Flights with Juneyao Airlines
Make a Juneyao Airlines reservation and find some amazing deals with discounted Juneyao Airlines tickets at Alternative Airlines. Juneyao Airlines flies to many destinations offering a cost effective and safe service to all its passengers. Let Alternative Airlines help find you cheap Juneyao Airlines tickets and make international and domestic flight reservations on Juneyao Airlines today.
Browse the most popular Juneyao Airlines flight routes to destinations worldwide. Alternative Airlines can help you make reservations on Juneyao Airlines for international flights to lots of destinations. Use the following list of routes to help you plan your next flight. Book Juneyao Airlines flights on Alternative Airlines to save big! Alternative Airlines is an online travel agency, specialising in booking lesser known airlines and remote destinations.
Alternative Airlines is an Online Travel Agency bonded by the International Air Transport Association (IATA). We specialise in finding the best available fares on the widest range of airlines and making them available to you online, with prices in the currency of your choice.
Alternative Airlines handles all your travel arrangements and payments, complete with ticketed confirmation. We do not direct you to other websites or service providers.
We help you through the process. This is what makes us Alternative Airlines.
Browse for flights, find some amazing deals, make a reservation and pay in the currency of your choice today with Alternative Airlines.
Let Alternative Airlines help find you the best prices and make international and domestic flight reservations with us today.
Join the Alternative Airlines Members Club and get £100.00 back on your 5th booking with Alternative Airlines. You will have insight to many benefits and exclusive deals on over 650 airlines. Click on the Members section on the Alternative Airlines website for more information and join today.
We are open every day from 8am until 8pm (UK local time).
Juneyao Airlines

Juneyao Airlines Co. Ltd. (Juneyao Airlines) is a subsidiary company of Shanghai Juneyao (Group) Co. Ltd, one of China's Top 100 Private Companies and is headquartered in Shanghai with bases at Hongqiao and Pudong International Airports.
Juneyao Airlines network
Juneyao Airlines operates domestic flights within mainland China, but also has services to Hong Kong, Macao and neighbouring countries with Shanghai as a hub airport.
Juneyao Airlines launched operations on September 25, 2006 and growing quickly had a fleet of 37 brand-new Airbus A320 aircraft by November 2014 flying to over 50 cities, including Beijing, Tianjin, Hong Kong, Macao, Guangzhou, Chongqing, Urumqi, Shenzhen, Wenzhou, Changsha, Qingdao, Sanya, Taiyuan, Kunming, Chengdu, Dalian, Harbin, Shenyang, Changchun, Yantai, Fuzhou, Xiamen, Taizhou, Changzhi, Beihai, Longyan, Guilin, Baotou, Hohhot, Hailar, Wuhan, Shijiazhuang, Zhengzhou, Haikou, Nanning, Dongying, Nanchang, Zhuhai, Guiyang, Xi'an.
Juneyao international services
International destinations include Chiangmai, Phuket, Bangkok, Jeju and Gangwon-do.
JuneYao Airlines has the reputation of being the fastest-growing airline in China, with the youngest fleet.
JuneYao Airlines started its formal operation in September 2006.

Juneyao Airlines to acquire 5 A320s between now and 2018!
Juneyao Airlines to acquire 5 A320s between now and 2018!
READ MORE ABOUT JUNEYAO AIRLINES
How to pay
You can pay for your flights with Juneyao Airlines in the currency and payment method of your choice when booking through Alternative Airlines.
We accept PayPal making flight purchases with Juneyao Airlines easy and more secure for customers. PayPal is one of the leading forms of online payment, with more than 169 million accounts worldwide.