9 Air Reservations with Alternative Airlines
Make a 9 Air Booking and Find Some Amazing Deals
---
About 9 Air
9 Air, also known as Jiu Yuan in Chinese, is a Chinese airline which launched in 2015 and is headquartered at Guangzhou Baiyun International Airport, Guangzhou.
9 Air flies to over 20 destinations overall. It mainly serves destinations within China such as Changchun, Harbin, Guangzhou, Nanjing, Haikou and Wenzhou, but also flies internationally to Myanmar. One of 9 Air's most popular service is a daily 6-hour flight from Guangzhou to Harbin with a stopover in Wenzhou.
The airline is a low-cost carrier that is a subsidiary of Juneyao Airlines and its aircraft cabin is made of up entirely of Economy Class.
9 Air offers 3 types of fares: the lowest fare allows passengers to carry-on a small piece of luggage, the middle class allows checked luggage and the premium economy includes checked luggage and a meal on board.
---
Fleet
The Chinese carrier's fleet consists of Boeing 737s, there are 19 Boeing 737-800 and one Boeing 737MAX8. Two more Boeing 737MAX8 are expected to be delivered once the grounding for the aircraft type is over.
---
Destinations
Domestic Destinations
Changshun
Changsha
Dalian
Guangzhou
Guiyang
Harbin
Haikou
Haliar
District
Hohhot
Jieyang
Korla
Lanzhou
Nanchang
Nanjing
Nanning
Ningbo
Sanya
Shaoyang
Shenyang
Shihezi
Tianjin
Urumqi
Xi'an
Xishuangbanna
Wenzhou
Wuxi
Zhengzhou
International Destinations
---
Baggage Information
Checked Baggage Allowance
9Air Basic has not got any checked baggage allowance.
9Air Standard has got 10kg checked baggage allowance for domestic flights and 20kg for international flights.
9Air Plus has got 40kg checked baggage allowance.
Passengers with infant tickets do not have a baggage allowance but may have a pushchair/stroller free of charge.
Carry-On Baggage Allowance
On domestic flights, hand luggage dimensions should be less than 20cm x 40cm x 30cm, and it should not exceed 7kg in weight.
Excess Baggage
If you wish to purchase any excess baggage and cannot do so on our booking process, please contact our customer service team. They will be more than happy to assist you.
---
Economy Class
9 Air's Economy Class is the airline's only cabin class and is designed to give passengers a comfortable and efficient service.
Economy Class Facilities
Passengers are given the opportunity to pre-book a number of extras for their flight. These include seats, in-flight meals and extra baggage.
Passengers that don't pre-order a meal will still be given the opportunity to order the airline's in-flight menu, which has a great variety of snacks and drinks.
Economy Class Seats
Economy Class seats are set out in a 3 x 3 formation. Seats are comfortable and give a good amount of space and room.
---
Food and Beverage
The airline does not offer any in-fligt meal services. However, passengers can order food online with the airline. Food has to be pre-ordered 12 hours before the flight.
There are different meal options for passengers to choose from. This includes sandwich, Western fried rice, meat noodles and more.
---
9 Air Route Map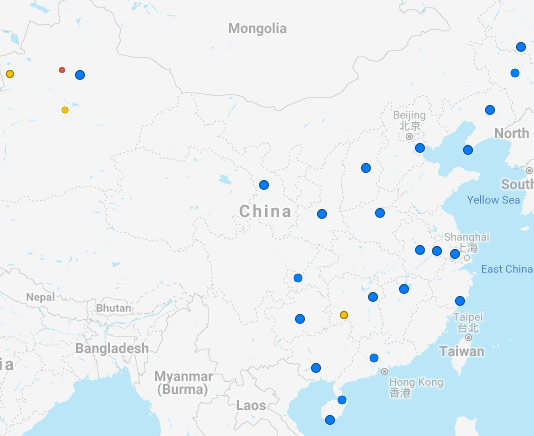 ---
Check-In Information
Online Check-In
Online check-in is not available for airline.
Airport Check-In
Airport check-in counters closes 45 minutes prior to departure time. Please leave plenty of time for check-in as the airline has the right to deny boarding.
Alternative Airlines recommend passengers to arrive at the airport two hours prior to departure time. Please remember to bring your travel documents with you when you travel.
---
Hub Airport
Guangzhou Baiyun International Airport
9 Air's Hub Airport is Guangzhou Baiyun International Airport, based in Guangzhou, the capital of Guandong province in China. It is the 6th busiest passenger airport in Asia, and China's 3rd busiest for cargo traffic. The airport has 2 terminals, alongside the FedEx Asia-Pacific hub.
Other airlines that fly to Guangzhou Baiyun International Airport is Okay Airways, Lanmei Airlines, Loong Air, Sichuan Airlines and China United Airlines.
---
News
30th April 2018
9 Air to receive first B737 MAX
9 Air will take delivery of its first B737 MAX next year, and is planning to use it to develop its maiden international routes. According to CAPA, the aircraft will be deployed on flights to northern Japan once in service.
TheJuneyao Airlines (HO, Shanghai Hongqiao) budget subsidiary ordered thirty B737 MAX and twenty B737NextGens from Boeing (BOE, Chicago O'Hare) in 2014. It currently operates elevenB737-800s on scheduled flights to seventeen destinations that span China's eastern seaboard as well as its interior as far west as Urumqi.
The China Daily has, meanwhile, confirmed that Air China is scheduled to be China's B737 MAX launch operator. The flag carrier is due to take delivery of the country's first B737 MAX at some point this year.
Source: ch-aviation