Search & Buy Air Macau Flights
Select your payment method to view total prices including any payment fees:
Airlines will always try to sit children with their parents (subject to check-in)
Some airlines will allow travel for unaccompanied minors. Please email us to check.
The fare is based on the child's age on the date of travel.
More detailed information can be found here Traveling with children
Most airlines will let infants travel with their parent(s) for free. However some airlines will charge up to 10% of the adult ticket price. Click on 'Price Breakdown' to find out more.
If you are pregnant, but due before the flight departure date, please contact us once your baby is born and has a name. We can then add him/her to your ticket.
Infants will not be given a seat. The airlines expect parents to travel with them on their lap.
Airlines regard infants as being under 24 months old.
The fare is based on the child's age on the date of travel.
More detailed information can be found here Traveling with children
Buy
Air Macau

Flights
Air Macau Reservations with Alternative Airlines
Make an Air Macau Booking and Find Some Amazing Deals
---
About Air Macau
Air Macau is the flag carrier of Macau and operates to many destinations both within China and internationally. These destinations include Bangkok, Beijing, Changsha, Chengdu, Chongqing, Hangzhou, Hefei, Kaohsiung, Macau, Nanjing, Nanning, Ningbo, Osaka, Manila, Daegu, Seoul, Shanghai, Shenyang, Shenzhen, Taipei and many others. Air Macau is owned by China National Aviation Corporation, STDM, EVA Air and the Government of Macau. Most of Air Macau's flights are across the Taiwan Strait with many flights scheduled between Macau and Taipei and Macau and Kaohsiung. Air Macau completed all certifications of ISO9001 in December 2005 and in March 2009, completed the IATA Operational Safety Audit (IOSA).
Air Macau is owned by China National Aviation Corporation (CNAC), Air China (20%), EVA Air, STDM and the Government of Macau. Air Macau has codeshare agreements with Air China, All Nippon Airways, Asiana Airlines, Philippine Airlines, Shenzhen Airlines.
---
Air Macau Fleet
Air Macau was established in 1994 and has a fleet consisting of A321s, A320s and A319s.
---
Air Macau Alliances
Star Alliance
Air Macau is an affiliate of the Star Alliance, by being part of Air China Limited. This alliance also contains airlines such as Singapore Airlines, Lufthansa, Copa Airlines, Avianca, ANA, Adria and Swiss.
---
Air Macau Frequent Flyer Programme
Air Macau operates a frequent flyer program called Phoenix Miles to reward regular passengers with the airline. Air Macau and All Nippon Airways launched frequent flyer program cooperation from July 2010. Air Macau Privileges members will earn mileages on all scheduled flights operated by All Nippon Airways and marketed by All Nippon Airways or Air Macau and redeem Award Travel on all scheduled flights operated by All Nippon Airways.
---
Air Macau Baggage Allowance
Checked Baggage
Air Macau entitles passengers in Business Class to 30kg of baggage. For customers in Economy Class, the baggage allowance is 20kg.
Carry-on Baggage
Passengers are permitted 1 piece of hand luggage with the maximum weight of 7kg.
---
Air Macau Check-in
Online Check-in
Online check-in is available on the Macau Air website. The time web check-in opens will vary according to the airport you are flying from.
Airport Check-in
Air Macau also offer airport check in. Passengers should check in at the airport 2 hours before flight departure. The check-in airport counter will close 40 minutes before scheduled departure time, unless flying from the following airports:
Beijing Airport check-in counter will close 1 hour before scheduled departure time
Pudong Airport check-in counter will close 50 minutes before scheduled departure time
Hangzhou Xiaoshan Airport check-in counter will close 45 minutes before scheduled departure time
Chongqing Jiangbei Airport check-in counter will close 45 minutes before scheduled departure time
---
Book Air Macau Flights in English
We book Air Macau flights in English to allow for the best booking service. Alternative Airlines is a trustworthy company which books flights in a quick and secure manner. Our website is easy to use, from searching to flights to our full booking process in English.
---
Air Macau Hub Airport
Macau International Airport
Macau International Airport is an international airport located in the special administrative region of Macau. Airlines which fly to and from Macau International Airport include AirAsia, Air China,Bassaka Air, Cebu Pacific, China Eastern Airlines, China Southern Airlines, EVA Air, Hainan Airlines, Jin Air, Juneyao Airlines, Philippine Airlines, Shanghai Airlines and Shenzhen Airlines. The airport has one runaway and can handle nearly 10 million passengers every year.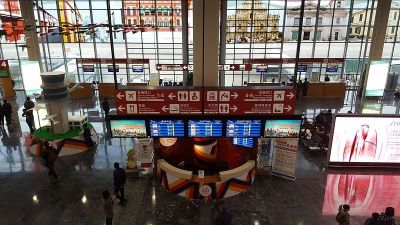 Photo Credit:Doraemon.tvb
---
Air Macau Popular Routes
Macau

Bangkok
Osaka

Macau
Taipei

Macau
Macau

Kaohsiung
Taiyuan

Macau
Seoul

Macau
---
Air Macau Route Map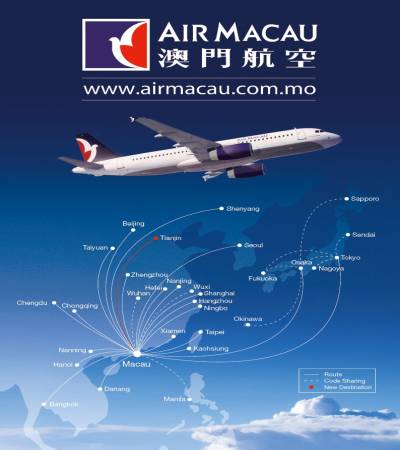 ---
Alternative Airlines to Air Macau
Please click on the logos below to find out more about airlines that fly similar routes to Air Macau:
---
Air Macau News
14th June 2018
Air Macau to start charter flights to Nagoya this summer
Air Macau has announced that in August 2018 they will start flying a charter service from its base in Macau to Nagoya. The charter flight will only run from 11th August 2018 until 17th August 2018 and it will operate three times a week. Air Macau will carry passengers on an Airbus A321 and the flight duration is expected to be 3 hours and 30 minutes. This is just the latest charter flight that Air Macau have added to their network. The airline has been operating a number of charter flights for years. The airline added an extra 80 charter flights in February of this year.
10th May 2018
Macau | Air carriers operating at local airport reportedly not requested to change online references to Macau
Airline carriers operating at the Macau International Airport (MIA) have not received requests from China to remove references from their websites or in promotional material suggesting that Macau, Hong Kong and Taiwan are independent parts or countries from China, MNA has learned
Macau (MNA) – Airline carriers operating at the Macau International Airport (MIA) have not received requests from China to remove references from their websites or promotional material suggesting that Macau, Hong Kong and Taiwan are independent parts or countries from China, a MIA spokesperson confirmed to Macau News Agency (MNA) on Sunday.
We sought clarification from the MIA – the Civil Aviation Authority of the Macau SAR (AACM) was unavailable for comment – after Reuters reported on Saturday that China's Civil Aviation Administration had sent a letter to a number of US air carriers requesting the latter to change the way they refer to the three localities mentioned above.
The White House labeled the move as 'Orwellian nonsense.'
'This is Orwellian nonsense and part of a growing trend by the Chinese Communist Party to impose its political views on American citizens and private companies,' the White House was quoted as saying by the news agency.
Speaking to MNA, MIA's spokesperson said that they had not received any notifications related to the matter.
The request from China was extended to a total of 36 foreign companies including the American ones, according to Reuters.
There are currently some 27 airlines operating at the Macau airport, located in Taipa, with the city having initialed air services agreements with some 47 countries, of which 40 have been officially signed, according to the airport's website.
Hainan Airlines, for instance, indicates the name 'Macau' in its flight search engine as 'Macau (MFM), Macao (SAR of China),' while 'Taipei' shows as 'Taipei (TPE), Taiwan, China.'
Cebu Pacific Air, a Philippine airline company uses 'Macau (China)' and 'Taiwan (China).'
Air Macau, a local air carrier, on the other hand, only indicates 'MFM-Macau' and 'TPE-Taipei Taoyuan,' on its website, similar to the way Tigerair, a Taiwanese air carrier, uses Macau's name in its flight search engine, with no specific reference to the city as being part of China.
MNA was unsuccessful in its attempt to get a reply from Air Macau by the time this story went online.
No specific details about the 36 foreign companies approached by Reuters were released in its report, although the agency revealed that a spokesperson for Airlines for America – a trade group representing United Airlines, American Airlines, and other major carriers – said yesterday that it was working with the US government to determine "next steps" regarding the matter, while Delta Airlines removed references to Taiwan and Tibet as 'countries' from its website on January.
2nd February 2018
Macau adds 24 flights to Taiwan for Lunar New Year
Air Macau, Juneyao Airlines and China Eastern will all operate additional flights to compensate for the rise in demand over the Lunar New Year. The Civil Aviation Authority of Macau has approved 80 extra charter flights, of which 24 will begin or end their route in the special administrative region of Taiwan. The other flights will serve destinations such as China, Vietnam, Japan and Thailand. This is set to begin on Sunday and last until the end of February.
7th September 2017
Air Macau continues pilot recruitment programme in South America and Europe
Air Macau will continue in 2018 with the programme to recruit captains to fly Airbus 320 aircraft in South America and Europe, and the recruitment drive in Europe will take place in April of that year, the airline said in a statement sent to Macauhub.The recruitment programme began in São Paulo, Brazil, from 28 June to 7 July, and received 21 applications and 15 candidates passed the written test and 11 passed the interview stage.
The aim of this action in Sao Paulo was to recruit A320 captains and increase Air Macau's media presence in both Brazil and South America, a sub-continent where the Portuguese-speaking country is the largest economy.Air Macau said in the statement that pilots from Portuguese-speaking countries are more easily able to live in Macau because of a "friendly international environment" and because Portuguese is one of the two official languages of the territory.The company stressed that it is recruiting captains to make a contribution to the development of both Macau and China, seeking to coordinate this action with the "Belt and Road" initiative and with the role that Macau plays in the economic and trade relationship between China and Portuguese-speaking countries.
June 2017
Air Macau to expand Macau-Taipei Taoyuan service
Air Macau during summer peak season plans to expand Macau – Taipei Taoyuan service, currently served 4 times daily. From 16JUL17 to 31AUG17, overall service will increase to 5 daily, with Airbus A319 aircraft. The new flight departs in mid-afternoon from Macau, early-evening hours from Taipei.

NX602 MFM0835 – 1035TPE 320 D
NX610 MFM1200 – 1340TPE 319 D
NX9622 MFM1625 – 1815TPE 319 D
NX618 MFM1735 – 1915TPE 321 D
NX620 MFM2040 – 2230TPE 321 D
March 2017
Air Macau announced the official launch of the Air Macau Operation Building located at Avenida do Aeroporto
The event, which featured an eye-dotting ceremony, had more than 60 honourable guests present to witness the opening of the new building, according to a statement from the airlines. With a total surface area of more than 23,200 square feet, the three-story Air Macau Operation Building consists of meeting rooms and multi-purpose rooms to facilitate better operations.
In April 2017, Air Macau announced it was adding Komtasu charters in May 2017. Air Macau in the first week of May 2017 plans to operate charter flights on Macau – Komatsu market, on board Airbus A321 aircraft. The airline will operate a total of 2 round-trip flights.
April 2016
Air Macau launched its third Japanese route
Air Macau launched its third route to Japan on 28 March. The carrier will operate four times weekly on the 2,084-kilometre route between Macau (MFM) and Fukuoka (FUK) using its A321s. The new sector will face no direct competition. Air Macau already serves Osaka Kansai and Tokyo Narita in Japan with daily flights. In total this summer the airline will operate to 24 destinations from Macau, of which 15 are in China, three in Japan, two each in Taiwan and Vietnam, and one each in South Korea and Thailand. The new route to Fukuoka will be operated as a codeshare with All Nippon Airways every Monday, Tuesday, Friday and Saturday.
2015 was a mixed year for the company, overall the number of passengers in 2015 rose eight per cent from a year earlier to 2.37 million, while post-tax profits were 34.05 million patacas. Air Macau was founded in September 1994, with its maiden flight to Beijing on 9th November 1995. It is a regional carrier with its head office and base in Macao. It serves 23 routes, including Beijing, Tianjin, Shanghai, Chongqing, Chengdu, Shenyang, Zhengzhou, Taiyuan, Nanjing, Hangzhou, Ningbo, Hefei, Nanning, Xiamen, Taipei, Kaohsiung, Tokyo, Osaka, Fukuoka, Seoul, Bangkok, Hanoi and Da Nang. Air Macau accounts for 40 per cent of the flights and 40 per cent of the passengers at Macao airport. In 2008, Air Macau started to change its market and business model, from being a trans-shipment centre between the two sides of the Strait to a 'point-to-point' market with Macao at its centre, as a city of tourism, leisure and entertainment.
In December 2016, Macau International Airport (MIA) celebrated a record-breaking milestone yesterday when it welcomed its six millionth traveler from mainland China. The local airport has brought in a number of passengers equal to ten times the city's population. When the project is concluded, the airport will be able to accommodate between 7.5 and 7.8 million passengers annually. Air Macau now has 17 aircraft, all Airbuses. The newest arrival is the "Taipa" which flew from Toulouse to Macao on January 29 this year and entered the fleet. Air Macau has a key role in this, to bring visitors not only from the mainland but also from all over Asia. Currently, it flies twice a day to South Korea: once a day to Tokyo and Osaka: three times a day to Bangkok: five times a day to Taiwan: and once a day to Hanoi. On March 28, it also opened a new route, flying to the Japanese city of Fukuoka.
Pay for flights in USD or 70 other currencies of your choice with Alternative Airlines.
Choose from over 18 payment methods, including PayPal, Apple Pay , Fly now Pay later and Alipay
Check out all of our payment methods here.
---
Search and Buy Air Macau Flights
Make a Air Macau reservation and find some amazing deals with discounted Air Macau tickets at Alternative Airlines. Air Macau flies to many destinations worldwide, offering a cost effective and safe service to all its passengers. Let Alternative Airlines help find you cheap Air Macau tickets and make international and domestic flight reservations on Air Macau today.
Browse the most popular Air Macau flight routes to cities worldwide. Alternative Airlines can help you make reservations on Air Macau for international flights to lots of destinations. Use the following list of routes to help you plan your next flight. Book Air Macau flights on Alternative Airlines to save big! Alternative Airlines is an online travel agency, specialising in booking lesser known airlines and remote destinations.
---
About Alternative Airlines
Alternative Airlines is an online flight search complete with customer service specialising in booking flights on lesser known airlines and to remote destinations. We offer you a wider choice of airlines supported by a team of customer service and travel specialists for help and advice on your travel plans. We specialise in finding the best available fares on the widest range of airlines and making them available to you online, with prices in the currency of your choice.
Alternative Airlines handles all your travel arrangements and payments, complete with ticketed confirmation. We do not direct you to other websites or service providers. We help you through the process. This is what makes us Alternative Airlines. Check out our reviews on Feefo or our reviews page. If you want to know a little bit more about us, read our blog for our alternative travel secrets and stories.
Browse for flights, find some amazing deals, make a reservation and pay in the currency of your choice today with Alternative Airlines. Let Alternative Airlines help find you the best prices and make international and domestic flight reservations with us today.
---